This easy Creamy Taco Dip with Meat recipe is a delicious way to enjoy leftover Mexican taco meat! I assure you it is delicious. Thus, Try making your own through this recipe!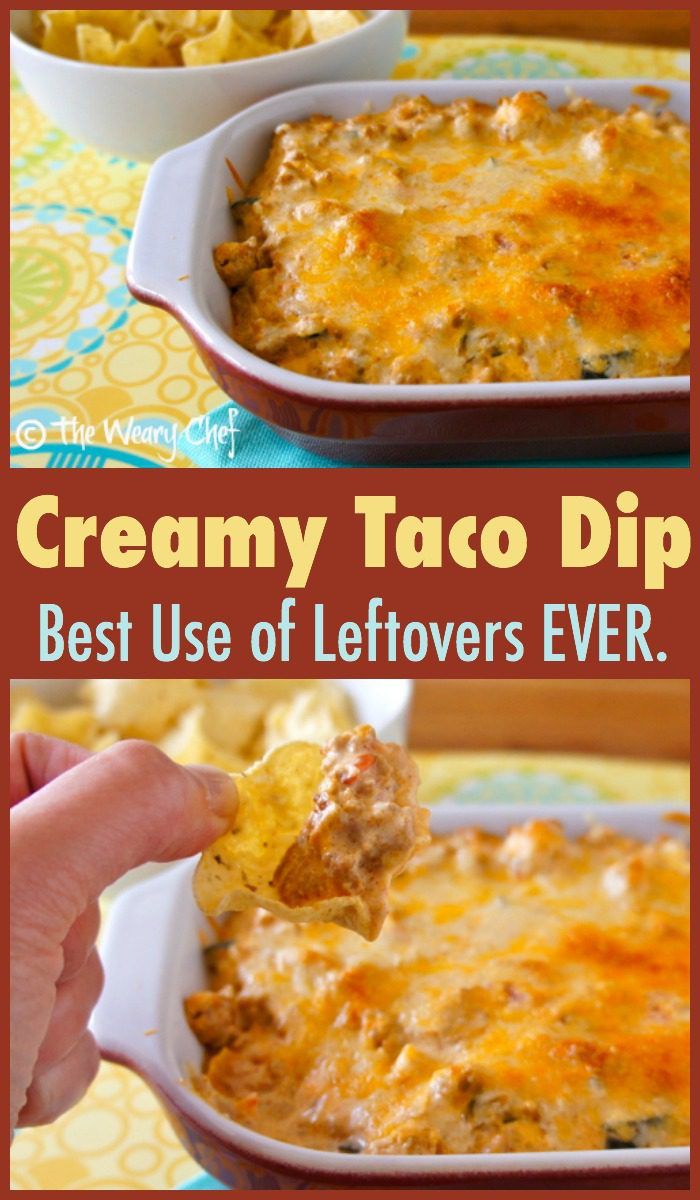 Have you noticed that ground turkey is almost always sold in 20 oz? packages? Why is that?! Most recipes call for a pound of ground meat, but if you decide to use turkey, you can expect to have an extra four ounces on hand. That's fine in most cases. The more (meat), the merrier, right? Even so, you might end up with a little more leftovers than usual.
Case in point: I always use ground turkey when I'm making Mexican dishes like taco salad or taquitos, and I usually have at least a cup of meat leftover. Sure, leftover taco meat is great for making more tacos, but why not turn it into a rich, creamy Mexican taco dip with meat? It's easy to do with only three extra ingredients! It is definitely a dip recipe that you will love with your taco. Ingredients are probably within your reach and found in your kitchen and fridge.
Creamy Taco Dips
This dish is very popular worldwide with a lot of variations. Everyone makes it according to taste. This is very tasty and mouthwatering. This could simply move for a snack or dinner instead of just an appetizer. Try it out at your upcoming gathering. It's not just exciting, but each layer offers unique flavors and sensations that go well together. Each item also contributes color to the dish, which enhances the appeal of this snack.
This meal is a favorite in Mexico. One crucial component in this whole process is taco seasoning, which combines the flavors of the other ingredients. Occasionally referred to as the "seven-layer dip." The typical version is no longer authentic because the original recipe was altered to suit American tastes. Hot beef taco dip that is creamy, cheesy, and delicious is ideal for both family dinners and parties. It is made using taco spice, Velveeta cheese, cream cheese, salsa, and ground beef.
It is the perfect cheese dip to dip your preferred crispy tortilla chips or corn chips in since they are rich and creamy. Taco Dip with meat is excellent on game day or whenever you feel the need for a snack. A cold taco dip that is out of this world wonderful and is made with seasoned cream cheese and sour cream to make a creamy foundation and topped with your favorite taco toppings. Also popular are movie nights and get-togethers with friends. You can enjoy your fellowship with them, even more, when you have this dish.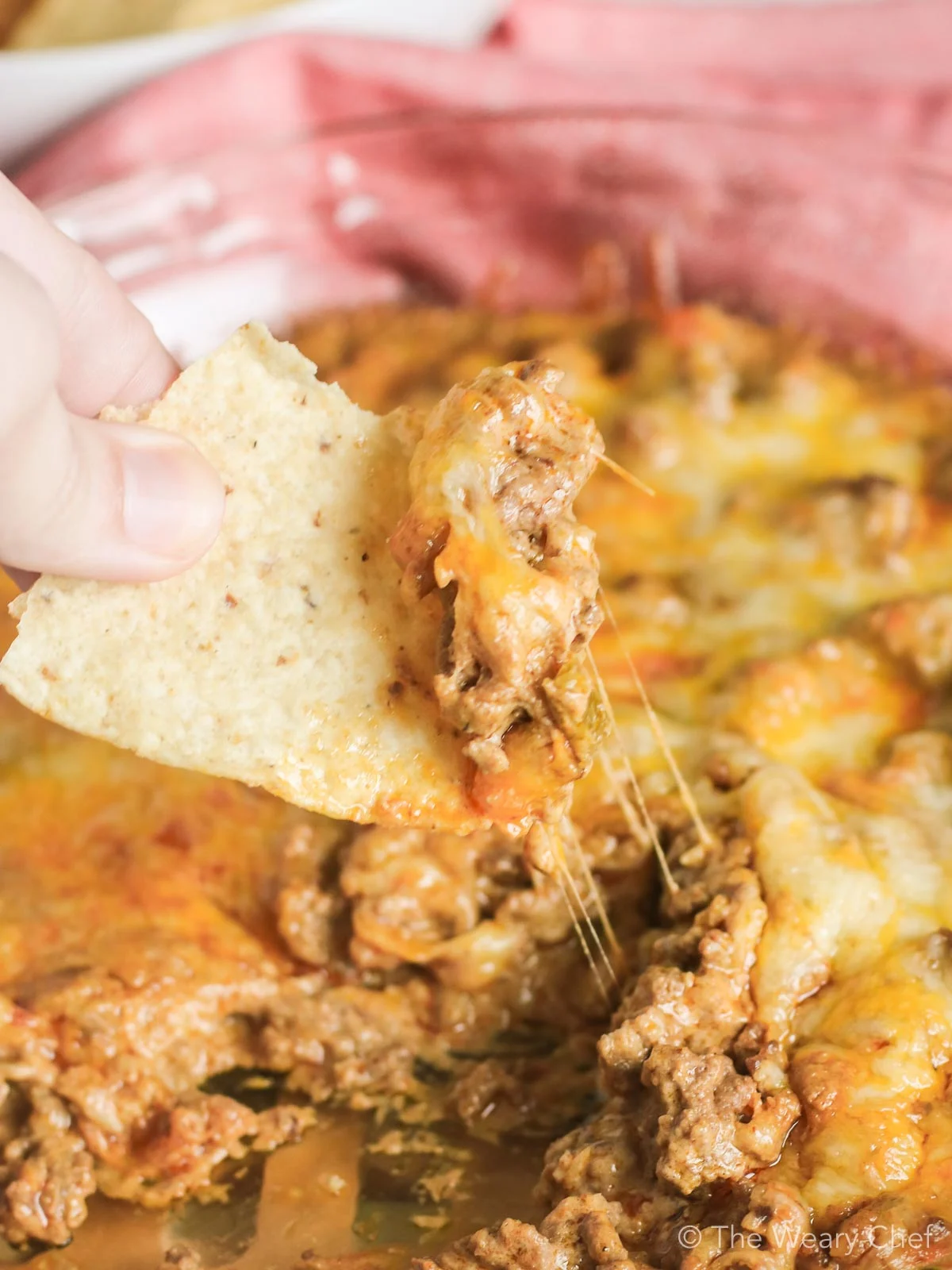 Taco Dip Ingredients Measurements
The measurements here are approximate because the amount of meat you have on hand will vary. I would suggest about 1 part cream cheese to 4 parts meat and add salsa until it's a good consistency for dipping. With these simple ingredients, you can't really go wrong even if the amounts are tweaked a bit. Enjoy! Have a great time exploring and making this!
(P.S. Lots of people have told me they don't understand the words "leftover" and "taco meat" together, and I get that. I can eat tacos almost indefinitely too, so of course, you could make meat just for this recipe if you never have leftovers. It's definitely worth it!!)
How To Make Creamy Taco Dip with Meat?
Print
Taco Dip with Meat and Cheese
You only need to add a couple ingredients to leftover taco meat to make a rich, delicious dip!
2

cups

cooked, seasoned taco meat

1/2

cup

reduced-fat cream cheese

1/2

cup

salsa I used a mix of green and red salsas

1/2

cup

shredded Mexican cheese
tortilla chips
Instructions
Preheat oven (or toaster oven!) to 375 degrees F. Spray a small baking dish with cooking spray.
Add meat, cream cheese, and salsa to a small saucepan, and heat over medium heat. Stir frequently until cream cheese is melted and mixture is bubbly. (You could also do this in the microwave, stirring ever 30 seconds or so.)
Spread meat mixture evenly into prepared baking dish, and sprinkle cheese over the top. Bake in preheated oven for 15 minutes, or until cheese is melted and starting to brown. Serve with chips for dipping.
Author:

Prep Time:

5

Cook Time:

15

Category:

All Time Favorite Recipes, Appetizers and Snacks, Mexican Food

Cuisine:

Mexican
Nutrition Information
Per serving:
| | | | |
| --- | --- | --- | --- |
| Calories | 279 kcal | Carbohydrates | 9 g |
| Protein | 33 g | Fat | 37 g |
| Saturated Fat | 21 g | Potassium | 502 mg |
| Iron | 3mg | sodium | 1322 mg |
| Vitamin A | 1845IU | Fiber | 2 g |
| Sugar | 5 g | Vitamin C | 5 mg |
| Cholesterol | 149 mg | Calcium | 479 mg |
You NEED these Mexican dip recipes too! (Trust me.)
Why Will You Make This Recipe?
This dish is a fantastic way to give your next game day or Taco Tuesday a fresh spin.
Very simple and quick.
Everyone will enjoy this tasty taco dip with meat.
Everyone's favorite taco toppings and flavors are tacos.
Just three ingredients and three seasoning spices make up the base dip.
An excellent recipe for preparing ahead. When ready to serve, only add the toppings.
It is adaptable; you may use it on tacos, over rice, or with tortilla chips.
It's a meaty, cheesy dip packed with all your favorite taco ingredients and ideal for your upcoming gathering.
Making it is extremely simple! The ingredients are simply layered, baked, and served.
Variations
Replace the cheddar with pepper jack or quest Blanco cheese.
Add chopped green onions, green chilies, or jalapenos to your dip to give it some extra flavor.
Refried beans or black beans are excellent additions for more protein.
You can make your own taco seasoning or use your favorite store-bought seasoning combination.
Serve dip with chips and your preferred toppings. Extra toppings, black olives, shredded cheddar cheese, and sauce are all excellent choices.
You may make this recipe into a chilly layered taco dip even though it is one of our favorite warm taco dip recipes. It's a simple cold taco dip that is essentially a 7-layer taco dip with beef added.
What To Serve With Taco Dip?
You can serve the dip with French fries to create a hearty and filling meal.
To regular pasta, add taco dip. For those who prefer to try out new and unusual combinations, this fusion dish is ideal.
With tortilla chips, nachos, and vegetable sticks, the dip goes delightfully.
Storage Tips
Serve: The Creamy Layer Taco Dip shouldn't be left out at room temperature for longer than two hours.
Store: The dip will remain fresh for one week if it is wrapped in plastic wrap or placed in an airtight container.
Freeze: The dip will not stay well in the freezer because of the cream-based coating. It's best to eat fresh simply.
Final Thoughts
Mexican recipes have been a favorite treat for a lot of people throughout the world. Because of its appetizing dishes, people have been exploring it. With this particular Mexican dip, it will be a game-changer when partnered with your tacos. Enjoy a flavorful dip that will surely break your palates. Try it out!