Read on to find out which two WordPress comment plugins ensure that your readers receive your responses and that you don't miss replying to comments.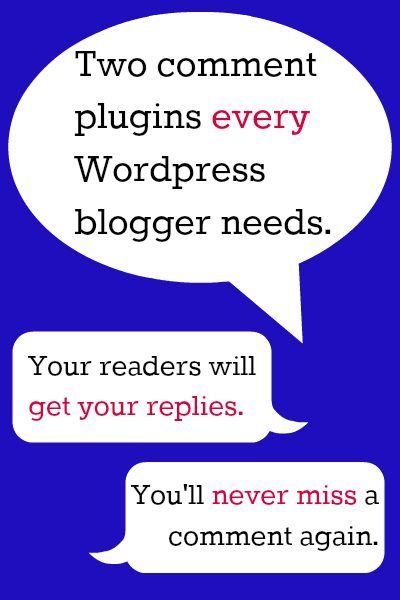 Why We Need Comment Plugins
Ask any blogger what they love about blogging, and I bet "getting comments from readers" will be pretty close to the top of the list. We don't write to just hear ourselves type. We want to know that someone is actually reading our posts and to hear their feedback. Blogging is the most rewarding when it's a two-way street.
So, we all love comments. Now what? Just like we want to hear from our readers, visitors who take the time to leave us a note want to get a response! If I go to a blog and see that the author isn't replying to reader comments, I am much less likely to leave a message. Sometimes those bloggers are replying to readers by email instead of with a WordPress comment.
This is a great way to know the reader will get your message, but then other visitors get the impression that you aren't replying. Plus, sometimes a public comment thread can turn into a group discussion, but if responses are all via email, you miss your chance for that kind of community discussion.
How the Comment Plugin Helps WordPress Bloggers
So then we should just reply to comments within WordPress, right? That way the responses are there for the world to see. There's just one problem: The original commenter will probably never see your reply! Who has time to remember where they left comments and go back and check for a response? Thankfully, there's a plugin to fix this problem: Comment Reply Notification.
This plugin is really simple. It just sends a copy of your reply by email, so you know your response will be received. You can customize the email to your liking. You can also add links in the email to your social media pages or email subscription form. It's a great way to have another chance to connect with visitors and possibly turn them into subscribers. Here's an example of my comment reply email: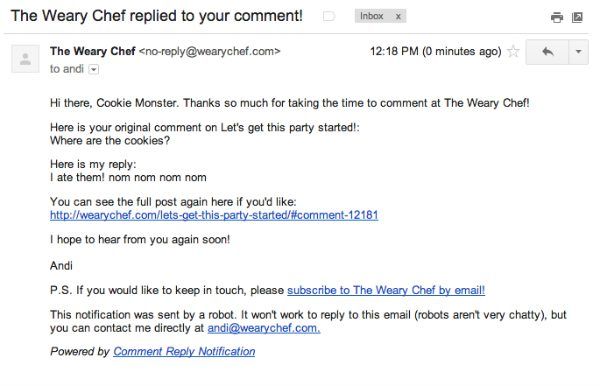 How Do the Comment Plugins Work?
There is one finicky thing about Comment Reply Notification: It only works when you reply in the Comments section of your WordPress admin panel. If you reply from the iPhone app, notifications window, or directly from the post, the email notification won't go out. (ETA: Replying from the post may work for some users; it seems to depend on your theme/plugins.) The trouble is, WordPress doesn't make it easy to figure out which comments you've replied to. Lately, I have been getting more comments, which makes me very happy, but I have also been having a hard time keeping track of which ones I've answered.
I was thrilled to recently find the plugin called Comments Not Replied To. It adds a column to your comments page indicating whether or not the author has replied to a comment. Not only that, you can filter by comments that are missing replies, making your job even easier! The only trick to this one is that you have to reload the page for the status of a comment to change from "not replied" to "replied," but that isn't a big deal. Here's what the comment screen looks like with the plugin installed: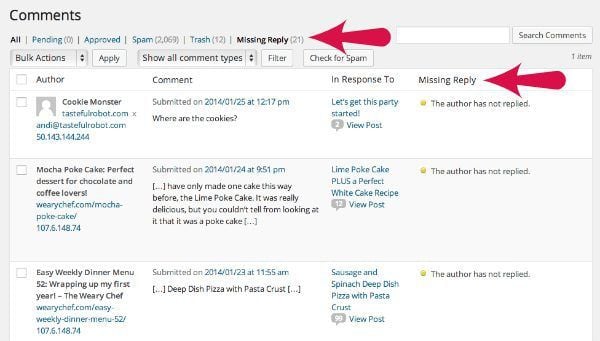 With these two WordPress comment plugins, I know that I am effectively replying to every single visitor who takes the time to leave me a comment. Now, go get busy interacting with your readers!