This Mexican chicken soup recipe could literally be made in 10 minutes if you have diced, cooked chicken on hand! It's a perfectly quick and tasty weeknight dinner. I want to tell you about some unrelated kitchen fails today, but I'll keep showing you photos of this soup so we all remember why we're here.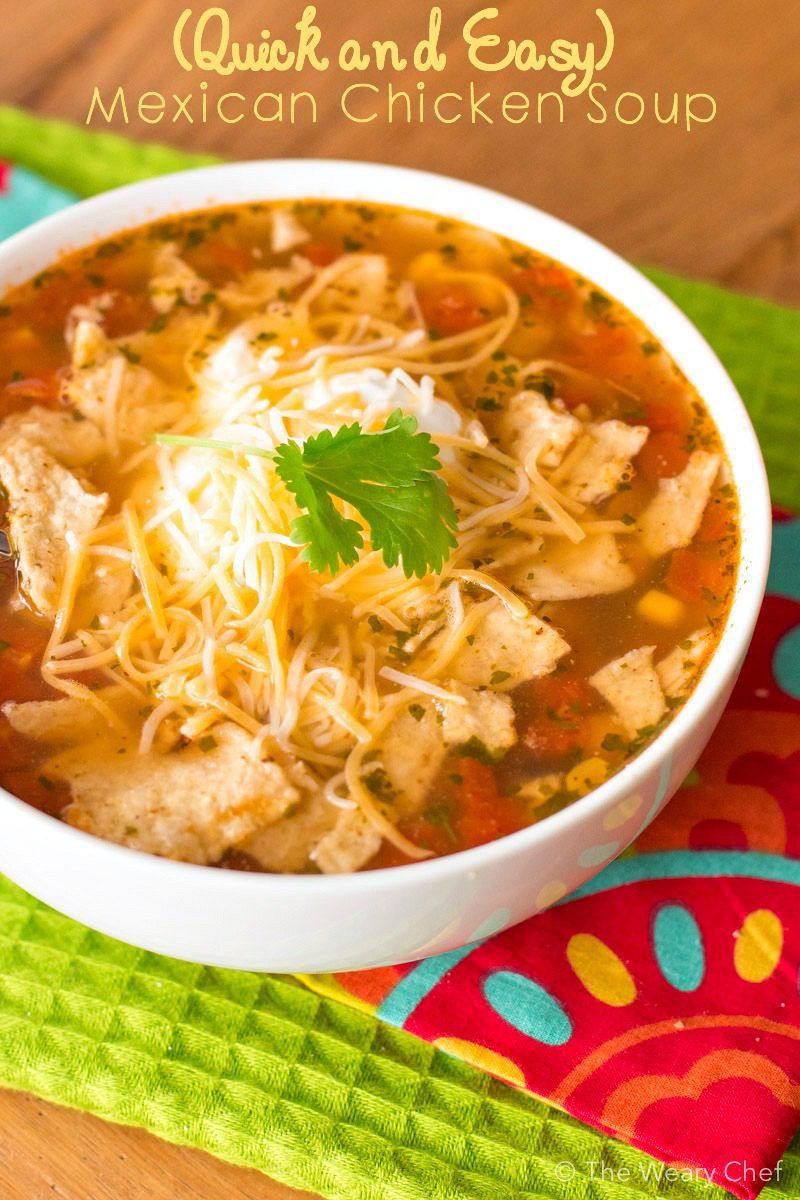 Folks, let me be frank: Not everything I cook is a winner. Since my recipes are simple, I usually can tell how they will be before I actually make them. I don't usually use complicated techniques or adventurous ingredient combinations, so when I get a recipe idea, I pretty much know how it will turn out. Sometimes I make mistakes though. Either ideas aren't as good as I hoped, measurements are off, I use the wrong ingredient, or something else goes wrong.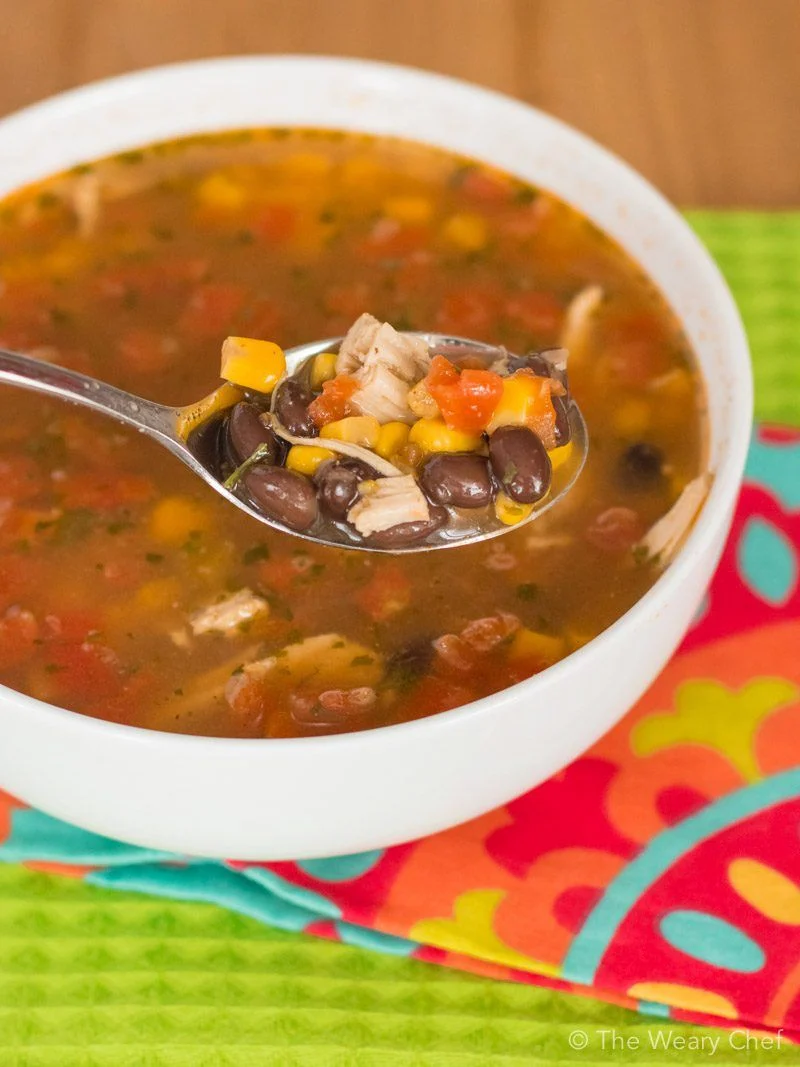 Take last Wednesday for example. I cooked a lot that day, but nothing came out quite right. I got a bread maker and got right to work on making spelt bread. It came out as bread all right, but it was super dense and kind of flavorless. Back to the drawing board on that one, but we still managed to eat it. Something has to be seriously bad before I'll throw it away. I hate wasting food!
Later I planned to make good ol' Cream of Chicken Soup with Wild Rice, a classic at our house and one I thought I could make with my eyes closed. In this case, I should have eaten it with my eyes closed because it turned out PURPLE.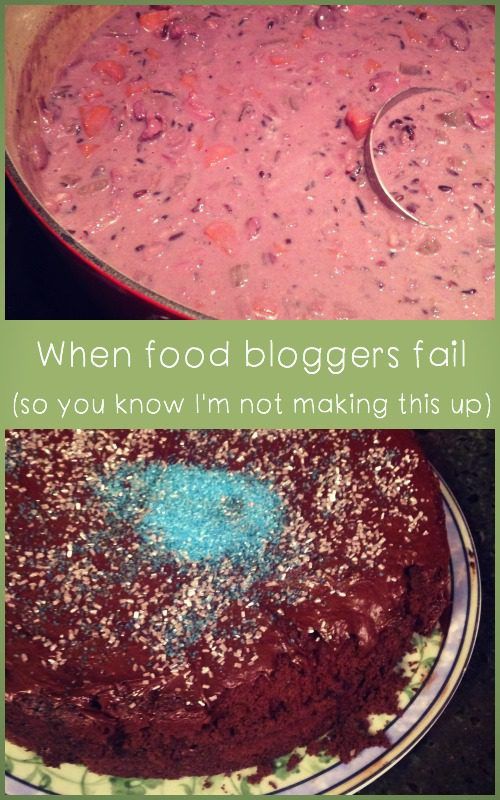 Let me just tell you, black rice isn't the same as wild rice. Black rice is the same as forbidden rice, which turns into purple rice when you cook it. As soon as I dropped that black rice into the pot, I saw a cloud of purple appear and knew what I had done. Again, I sure as heck wasn't going to waste a perfectly good pot of soup. It still tasted as good as ever, and we all had a good laugh about the color. (It was also perfect for dunking the mediocre bread I made earlier in the day.)
Wait for it. This easy Mexican chicken soup is coming…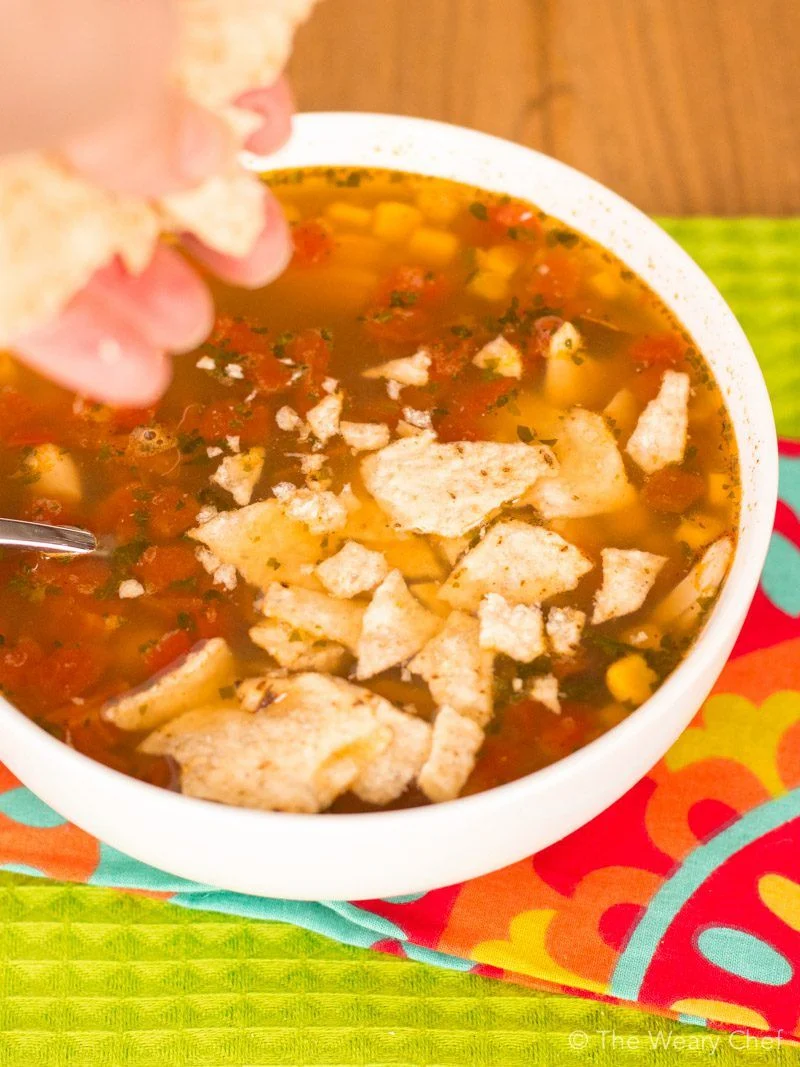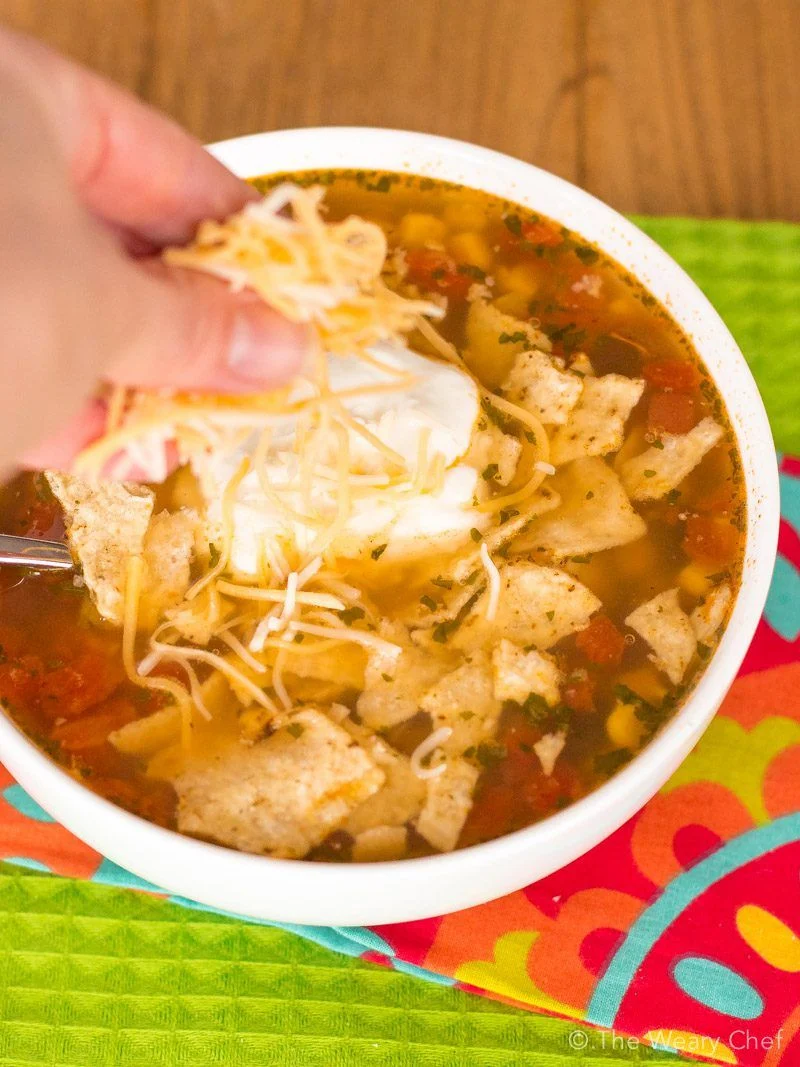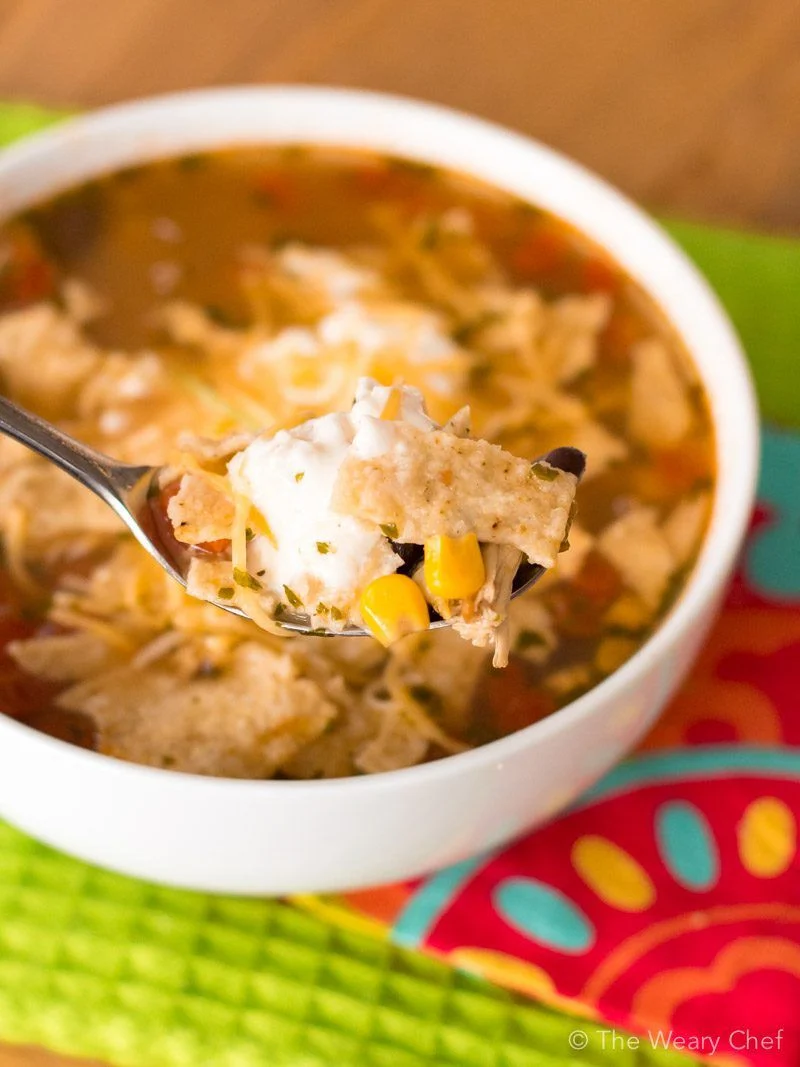 For the final fail of the day, I saw a gluten-free chocolate cake mix at the grocery store that day and got a hankering for chocolate cake. I grabbed the mix and a container of chocolate frosting. I figured I could make a quick cake with store-bought ingredients and satisfy my cake craving without too much work. I'm talking about a cake mix here, and I messed it up!
I have only made single-layer gluten-free cakes, but this time I decided to get fancy and make a two-layer cake. That's not hard, right? As it turns out, it actually is hard when wheat isn't involved. Those cakes completely crumbled apart when trying to maneuver them. The top layer broke into three big pieces and a bunch of crumbs.
I figured I'd just glue it together with frosting, so I kept on frosting that sucker until it looked somewhat like a cake. Then we decided to add some sprinkles to distract from the falling off parts. My oldest claimed that he was a sprinkles expert, so I stepped aside while he poured a huge mound of blue sugar on top of the cake. I told him that was his piece, and he was downgraded from sprinkles expert to sprinkles apprentice. When it came time to eat that cake, it was so dang sweet from all the frosting and sprinkles that I couldn't even finish my piece.
By the end of that day, I questioned if I should even be a food blogger. How could I mess up such easy things?? I needed to make something delicious and foolproof to boost my confidence. This Mexican Chicken Soup is IT. You can not mess this up. I really can't think of a way. (Don't challenge me on that.)
It is so tasty, easy, quick, and all the other adjectives I love when I'm talking about a dinner recipe. Whether you need to feel like a rock star in the kitchen or just want a no-brainer recipe after a long day, make this soup!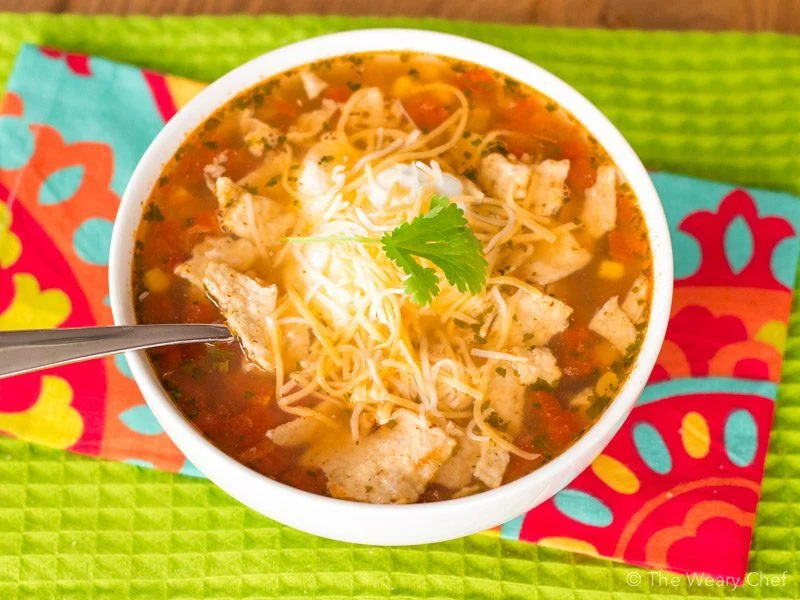 Print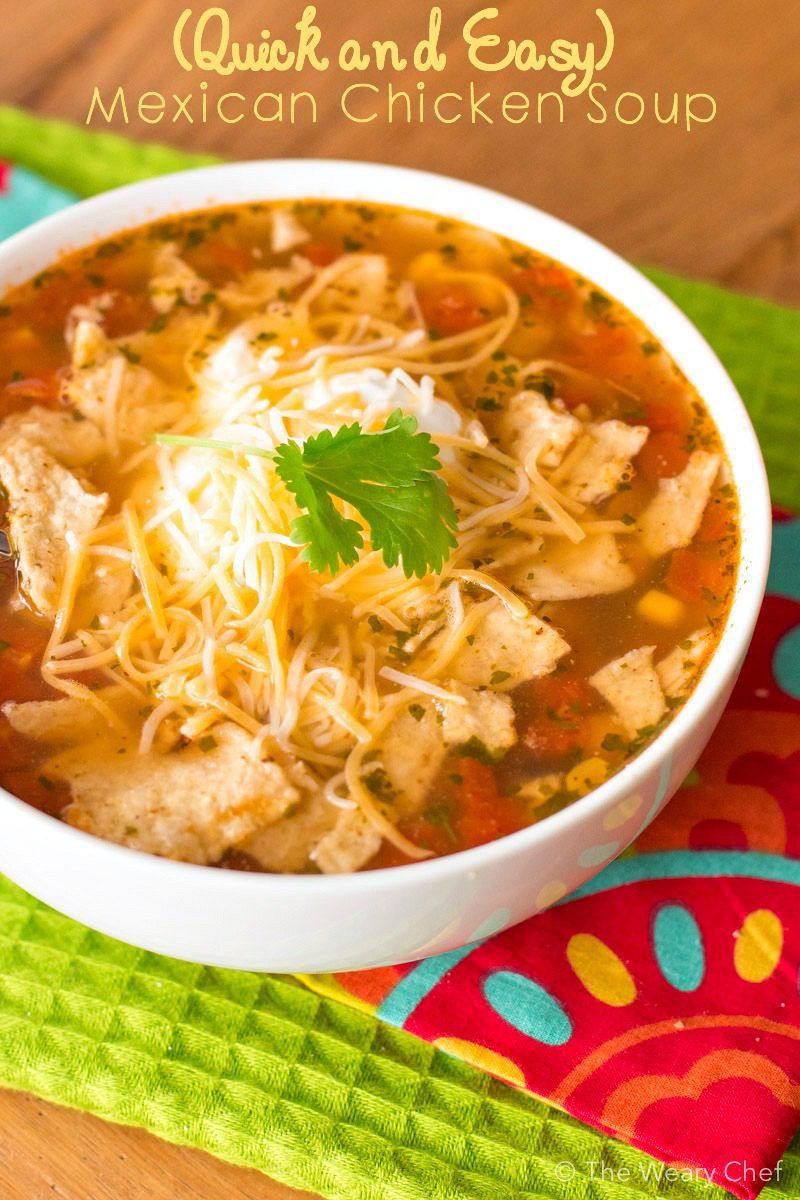 In-a-Hurry Easy Mexican Chicken Soup
This tasty chicken tortilla soup could be made in as little as 10 minutes if you have cooked chicken on hand. Perfect weeknight dinner!
Total Time:

30 minutes

Yield:

3

1

x
Instructions
Pour chicken broth, tomatoes, beans, corn, chili powder, garlic powder, cumin, and cilantro into a stockpot. Bring to boil over medium-high heat. Add chicken breasts to pot, reduce heat to medium, and simmer 20 minutes until chicken is cooked through.

Remove chicken breasts, shred meat with two forks, and return to pot. Ladle soup into bowls, and top with crushed tortilla chips, sour cream, and cheese if desired. Serve with hot sauce to add as needed.
Notes
If you have cooked chicken on hand, stir it into the boiling broth, simmer until heated through, and dinner is done!
Author:

Prep Time:

20

Cook Time:

10

Category:

Main

Cuisine:

Mexican
Want more super easy recipes that will make you feel like a cooking rockstar? Here you go!