Looking for a quick and easy meal? Learn how you can cook amazingly delicious recipes using canned chicken. This pantry enchilada chicken skillet dinner is super easy to make and also budget-friendly. A perfect dish you can serve to your family. Make sure to treat them well with this. This is very easy to make. It is perfect for any occasion. A meal that you will surely love. Thus, make sure to finish reading this article to grasp the entire essence of the dish. Enjoy!
This Chicken Enchilada dish is simple to follow and tasty to the core. It's loaded with cheese, zesty enchilada sauce, and juicy chicken. The practice of rolling or folding food into maize tortillas is thought to have started in Aztec times when historians believe the origins of enchiladas genuinely originated. (The Spanish verb enchilada, which means "to season with chili," is the root of the word "enchilada.")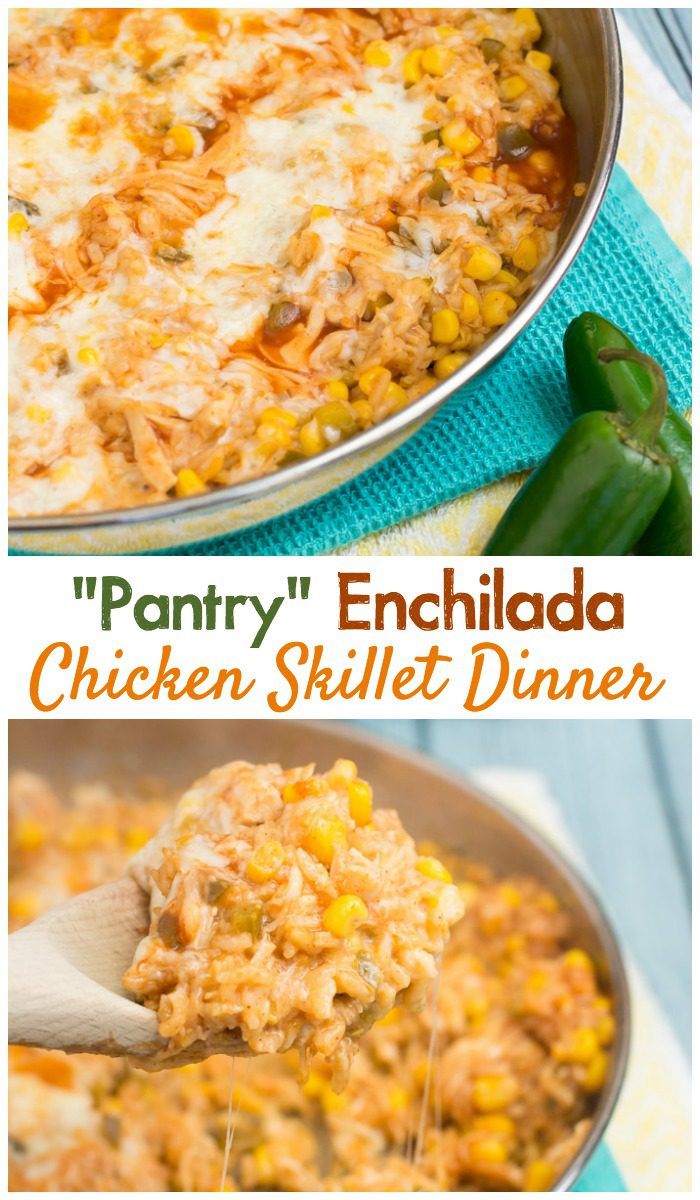 Is Mexican Food Harmful?
Although many people might think Mexican food is harmful, every cuisine has healthy options! You can certainly choose or prepare the heaviest, creamiest meal, but you could also make a few easy substitutions to increase the nutritional value and decrease the calorie count. The best illustration is these chicken enchiladas! Since then, hundreds of distinct variations of enchiladas have established themselves as traditional fare in various parts of Mexico and other Latin American nations (such as Costa Rica, Honduras, Nicaragua, and Guatemala). Naturally, they have also gained enormous popularity in the United States, particularly in New Mexican and Tex-Mex cuisine.
With soft shredded cheese, jalapeño, and a red chili sauce without tomatoes, this particular chicken enchilada dish resembles Tex-Mex and New Mexican enchiladas. But you should take into account this classic recipe if you want to try making chicken enchiladas. These chicken enchiladas are simple to prepare and delicious, and they also freeze well for lunch the following day. Rice and homemade refried beans should be served alongside them.
Easy Dinner with Canned Chicken
Don't you love pantry dinners? You know the ones. Those dinners you can make on the fly when you haven't had a chance to go to the store, and your fridge is bare. My pantry is always packed full of canned goods like chicken broth, diced tomatoes, tuna, a few types of beans, and corn just to name a few. With those "cantry" staples, I can always figure out something to whip up for dinner. It's the same situation when it comes to this delicious, spicy enchilada with the canned chicken recipe!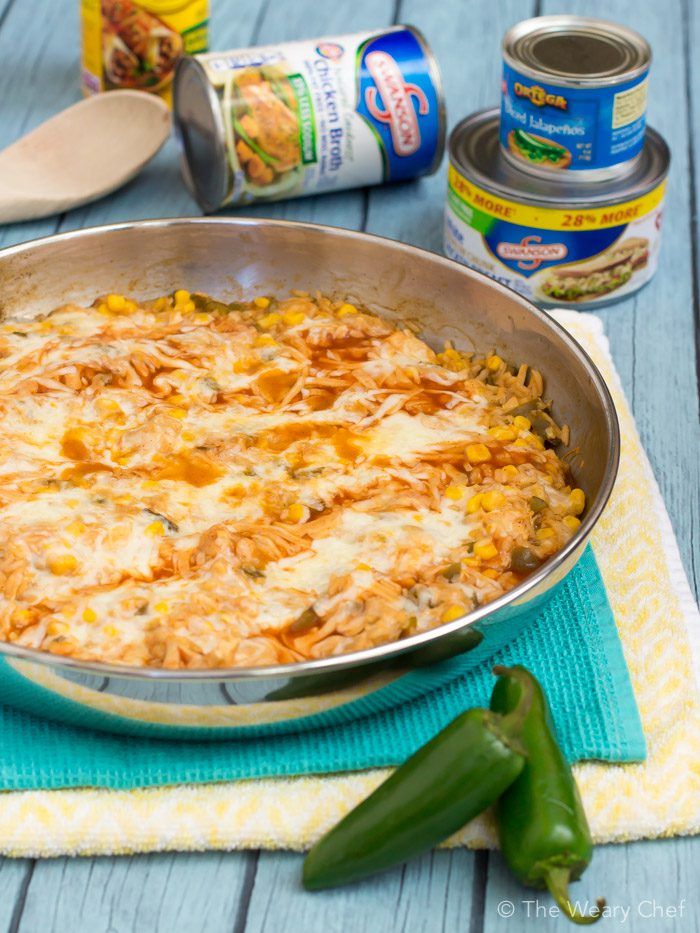 Next time you're at the grocery store, grab a couple of cans of everything you need for this chicken skillet recipe to keep on hand for busy days. (If you're like me, pretty much every day is a busy day!) This chicken enchilada skillet is so good, and no one will guess that you didn't slave away in the kitchen to make it.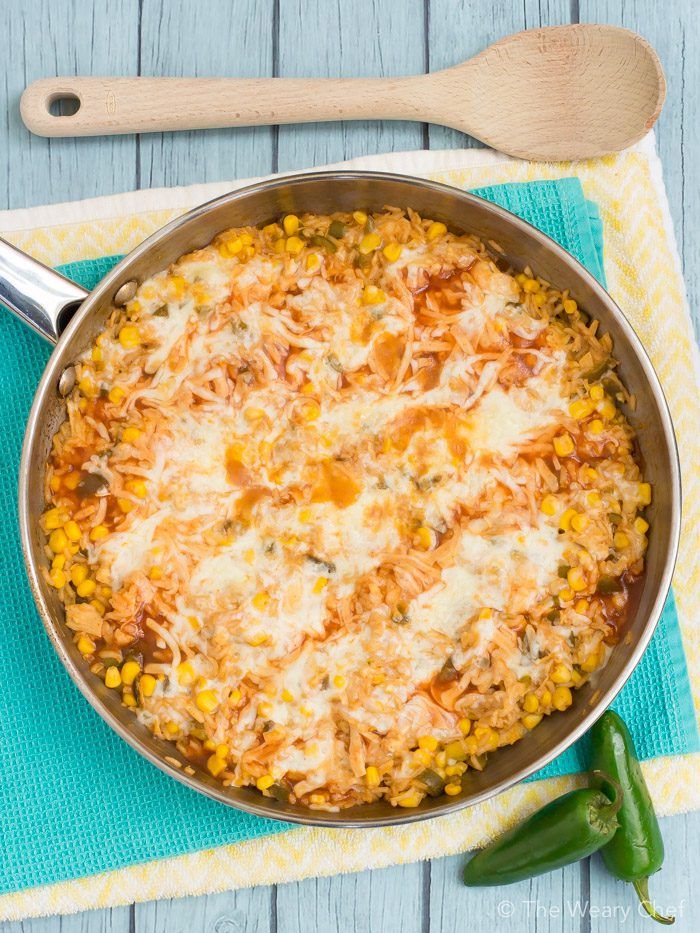 Chicken Enchilada Ingredients
Here are some simple ingredients to make these simple and delicious chicken enchiladas.
Chicken: The use of low sodium broth it's gluten and fat-free which is used for diet purposes. Sauté diced boneless, skinless chicken breasts were used for filling.
Rice: Milled rice that has had the husk, bran, and germ removed is known as white rice. This improves the rice's flavor, texture, and appearance while also extending the shelf life of the grain and enhancing its digestibility.
Cheese: in this recipe used Pepper Jack, or a Mexican blend of shredded cheese this cheese blend is designed to melt on anything hot, and it blends beautifully and quickly. The protein found in cheese particularly strengthens muscles. Magnesium improves your immune system function, maintains muscle & nerve function, and promotes a healthy heart rhythm.
Corn: whole kernel gold & white corn is naturally sweet with no added sugar. Harvested at the peak of freshness and vacuum-packed within hours for unsurpassed taste and crispness.
Jalapeno: It is a very hot green chili pepper, used especially in Mexican-style cooking it enhances the taste and makes it more Spicer and delicious.
Enchilada sauce: Enchilada sauce is a great alternative for people who are dieting. It tastes delicious and can be used in many dishes. The benefits of using Enchilada sauce instead of other sauces are that it has fewer calories, less fat, and more protein.
How To Make Chicken Enchilada in 20 Minutes
Before I get to the recipe, I should warn you that it is very spicy with the jalapeños. That's just right for me but not so much for kids. If you want to make it mild, just use diced green chiles instead of jalapeños, and be sure to use mild enchilada sauce. Now, let's get this Chicken Enchilada started!
Print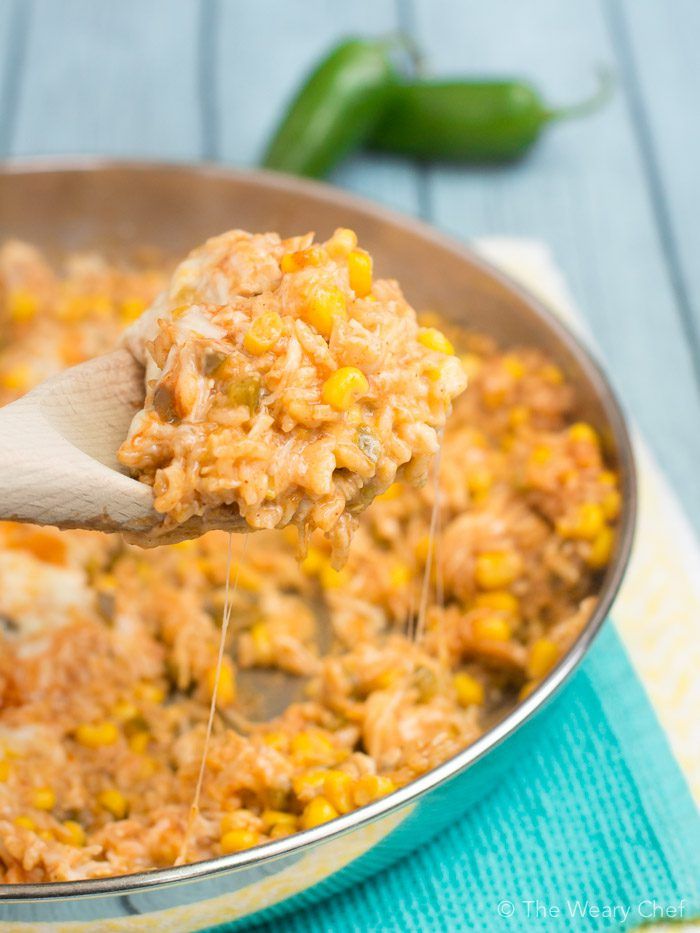 Canned Chicken Enchilada Chicken Skillet
14.5

ounces

reduced-sodium chicken broth

3/4

cup

white rice uncooked

1 teaspoon

chili powder

15

ounces

canned whole kernel corn drained

12.5

ounces

canned chicken breast drained

10

ounces

canned mild enchilada sauce divided

4

ounces

canned diced jalapenos drained
handful monterey jack or Mexican blend cheese shredded
Instructions
Bring chicken broth and chili powder to a simmer in a 12" skillet with a lid over medium heat. Stir in rice, reduce heat to low, and cover.
Cook rice approximately 15 minutes, stirring occasionally, until most of liquid is absorbed. Stir in corn, chicken, jalapenos, and about half the enchilada sauce. Replace lid, return heat to medium, and cook for approximately five minutes longer or until heated through.
Stir mixture well, and sprinkle cheese over the top. Drizzle desired amount of remaining enchilada sauce over the cheese (you don't have to use the whole can), replace lid once more, and heat a few more minutes until cheese is melted.
Notes
For a mild dish, be sure to choose mild enchilada sauce, and substitute diced green chiles for the jalapenos.
You may optionally place cheese-covered skillet under a hot broiler to get the cheese brown and bubbly, but the stovetop works just fine.
Author:

Prep Time:

10

Cook Time:

20

Category:

Dinner, Poultry, Rice Bowls
Nutritional Information of Chicken Enchilada Recipe
Per serving
| | | | |
| --- | --- | --- | --- |
| Calories | 459 kcal | Carbohydrates | 55 g |
| Protein | 32 g | Fat | 12g |
| Saturated Fat | 2 g | Potassium | 1519 mg |
| Iron | 6.1 mg | Sodium | 1101 mg |
| cholesterol | 56.3 mg | Fiber | 5 g |
| Sugar | 16 g | Vitamin A | 1035IU |
| cholesterol | 73 mg | Calcium | 138 mg |
Why Do You Love this Recipe?
This family-friendly dish can be easily scaled up to feed a large group of people and features tender shredded chicken, a savory enchilada sauce, and plenty of cheese.
The entire recipe may be put together in advance and baked when you want to eat something delicious. You'll use some easy tips and make gluten-free corn tortillas.
Benefits of Chicken Enchilada
Actually, enchiladas include a lot of vitamins and minerals.
One of the most nutrient-dense components of enchiladas is their calcium content, which provides 1/5 of your daily requirement. By extending, strengthening, and reducing age-related bone loss, calcium is known for its role in establishing and maintaining healthy bones.
Your body uses calcium to help the muscles contract, particularly the heart muscle. Calcium also helps with blood coagulation and neuron function at smaller levels.
Enchiladas contain a significant quantity of manganese as well. Your body uses this mineral as part of enzymatic processes, bone development, and the production of energy from meals.
Additionally, enchiladas contain a lot of iron. In addition to aiding in the production of hemoglobin, iron is a mineral foundation that is a component of numerous bodily enzymes. Iron promotes connective tissue growth and aids in the production of energy in your body's cells.
Your body uses riboflavin to produce energy and convert amino acids into niacin. Niacin is crucial for reducing the buildup of plaque in the arteries and promoting effective insulin use in your body. This aids in blood sugar regulation.
How to Store?
If you prepare it more than a week in advance, you may freeze it; otherwise, just keep it in the refrigerator in an airtight container until you're ready to use it. The entire dish can be prepared in advance and baked when you're ready.
Make-Ahead: Wrap the enchiladas with plastic wrap gently. Keep chilled for up to 24 hours. Remove the plastic wrap before baking, cover, and bake for 25 to 30 minutes.
To Freeze: Wrap aluminum foil and plastic wrap tightly around the enchiladas. Freezing time 3 months maximum. Remove the plastic wrap before baking, cover, and bake for 30 minutes. Remove the lid and bake for a further 5 to 10 minutes, or until the food is well cooked.
Enjoy Your Mexican Dinner!
Finally, it's your time to share your experience with this recipe and all your thoughts on it. So, tell me everything in the comments section: What do you think about the Chicken Enchilada Skillet? Did you find it hard to find your best market canned chicken? Where did you find it? Did your kids enjoy this dish? Additionally, did you go for the main recipe or did you improvise? If so, what did you add and what was your final result?
Also, please, do not hesitate to ask any further questions on this topic in the comments too. I will make sure to answer you as soon as possible! Last but not least, here are a few other dinners that put canned ingredients to good use!