Grab a fork and dig into this 30-minute Skillet Sausage Lasagna loaded with ground sausage, spinach, tomatoes, and pasta, all blanketed with melted cheese.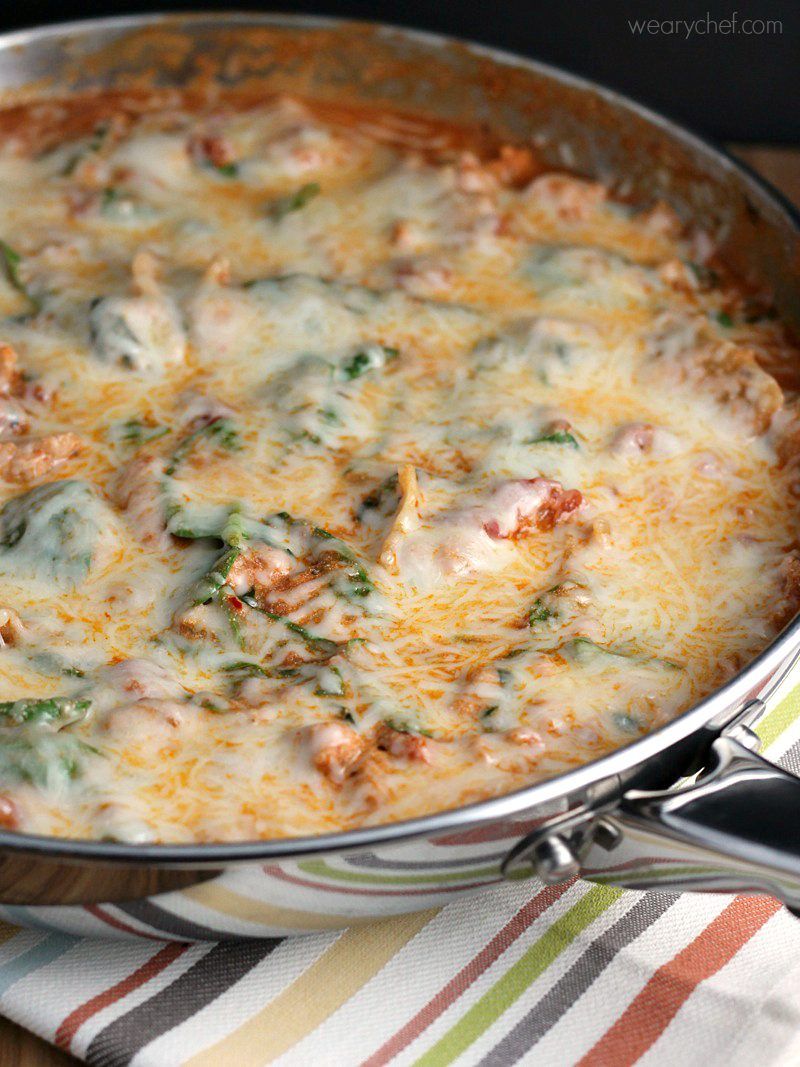 When you make lasagna, do you ever use the full box of noodles? I pretty much never do, but I use more than half, so there aren't enough noodles leftover to make another pan of lasagna. I've been shoving an open box of lasagna noodles around my pantry for a few months, and yesterday I decided to put them to good use. I didn't have the time, energy, or supplies to make real lasagna, so I came up with this skillet lasagna instead. It tastes just like the real thing but is ready in under 30 minutes!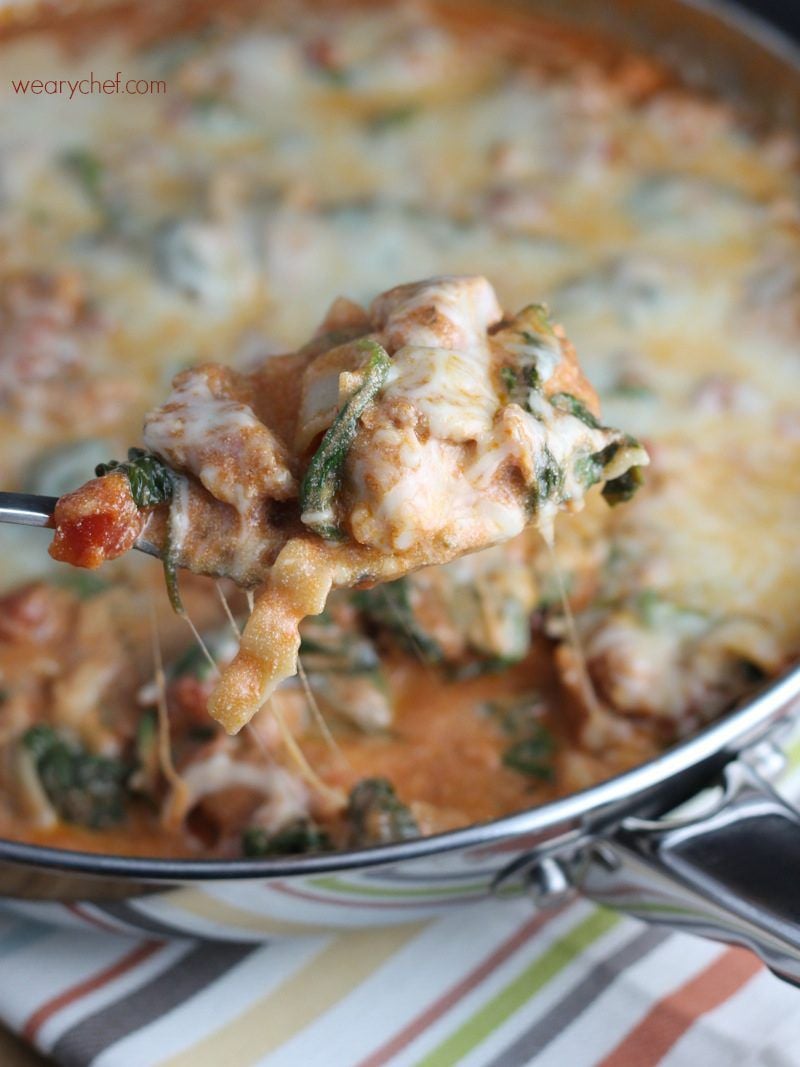 I think one of the appeals of lasagna is all those pretty layers of sauce, noodles, and cheese. Yep, that sure is pretty… While this skillet sausage lasagna tastes like the classic dish, I'll admit that it's a bit lacking in the looks department. That's OK. Maybe it would be good for a candlelit dinner so you can't see your food that well. The taste is what matters, right?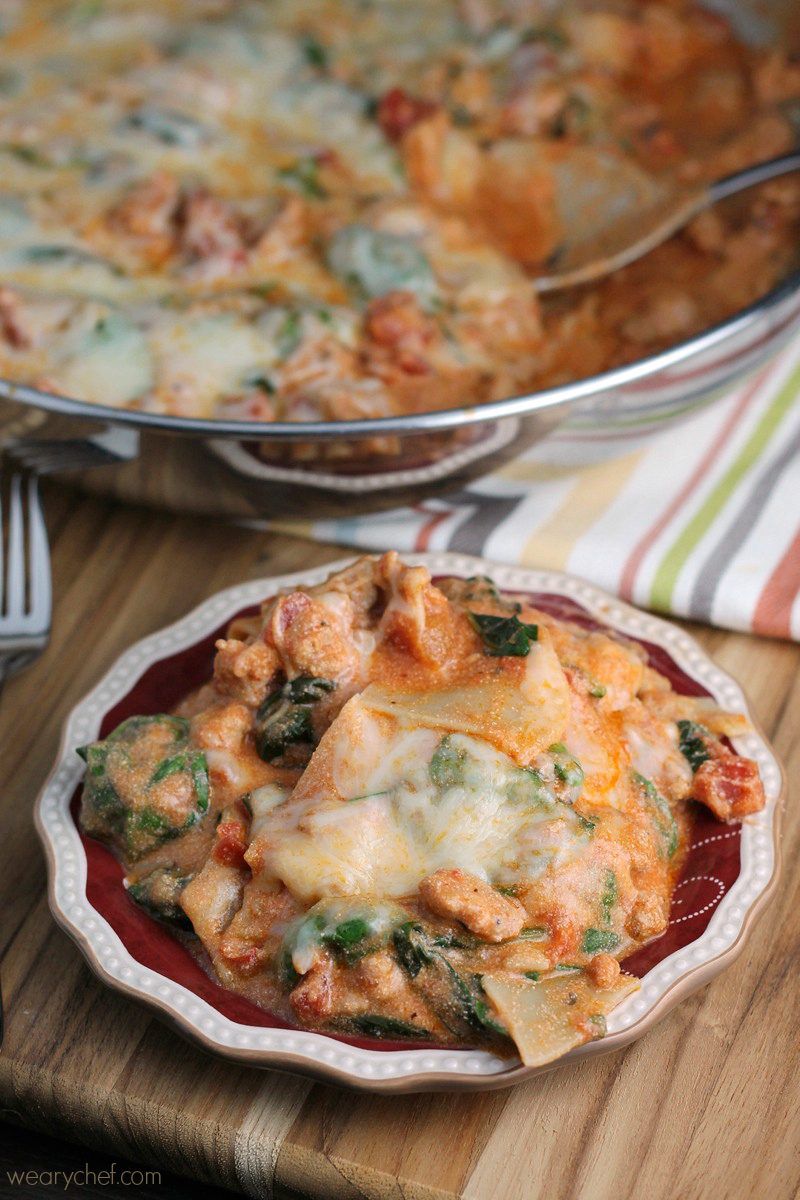 This shortcut sausage lasagna has lots of ricotta cheese mixed in, which is what I think gives it that distinctive lasagna flavor. My aunt is famous among family and friends for her amazing lasagna recipe, but I never wanted to eat it as a kid because I didn't like the ricotta cheese. Because she is so sweet and spoiled me, she always made a small batch for me without ricotta.
I need to go visit her soon and tell her I'm a big girl now and want to eat the real thing! Ricotta cheese has grown on me, which is why it's prominent in this dish. (If you don't like ricotta, you could try cream cheese instead, which would make it more like this Creamy Turkey Spaghetti recipe.) Either way, you'll be very happy with this meal!
| | |
| --- | --- |
| | |
Spray a 12" skillet with cooking spray, and heat over medium-high heat. Add sausage, and sauté and crumble until cooked through.

Pour in tomatoes, marinara sauce, and water. (Watch out for splattering in this step. You can remove the skillet from the heat and let it cool slightly before pouring in the tomatoes to avoid a mess.) Bring to a rapid simmer.

Break lasagna noodles into small pieces and stir into the skillet. There should be just enough liquid to cover the noodles. Add up to 1/2 c. more water if needed. Cook at a low boil for the recommended cooking time on your noodles, approximately 15 minutes.

Reduce heat to medium low. Stir in spinach a couple handfuls at a time until slightly wilted. Stir in ricotta cheese, and return to a simmer. Spread shredded cheese over the top, turn off heat, and cover pan for 5-10 minutes to allow cheese to melt and sauce to thicken.
You can use frozen spinach instead if you prefer. Just thaw it and squeeze it dry before adding it to the lasagna.
 Don't miss these other skillet pasta dinners!