You can get this lazy lasagna in the oven in about 20 minutes! This hearty recipe is perfect for family dinners, potlucks, or a make ahead meal.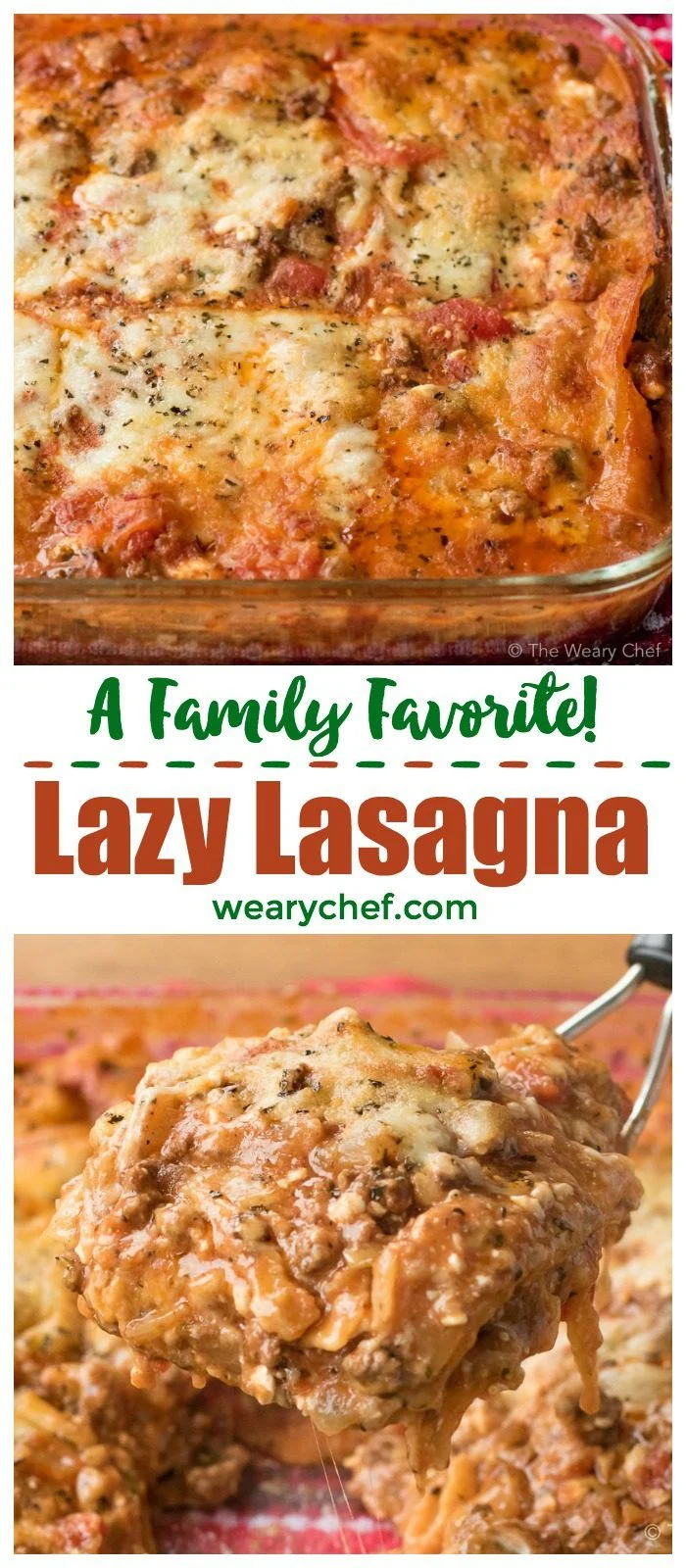 I say my kids are picky eaters, but they really aren't that bad. As they get older, they are each willing to try more new foods. I told you about getting them to eat (and even enjoy) Chicken Tetrazzini recently, which was a major victory. Now we can add lasagna to our list of family favorites.
To be completely honest, my 10-year-old hasn't actually tried this lazy lasagna yet. He is off on a three-night science field trip this week with the rest of fifth grade. I could have chaperoned the trip, but it sounded an awful lot like camping to me. Three minute showers? Sleeping in a cabin full of 10-year-old girls who aren't even mine? No cell phone service? Um, let me think about it for a minute. NO THANKS!
Fortunately, my son was not worried at all about being away from his family for a few days, so we could feel totally fine skipping it. (I say "we" as if there was any possible chance my husband would have gone…) Meanwhile, our 5-year-old is getting a few days of feeling like an only child for the first time ever. I'm sure he misses his brother, but I think he is liking the extra attention.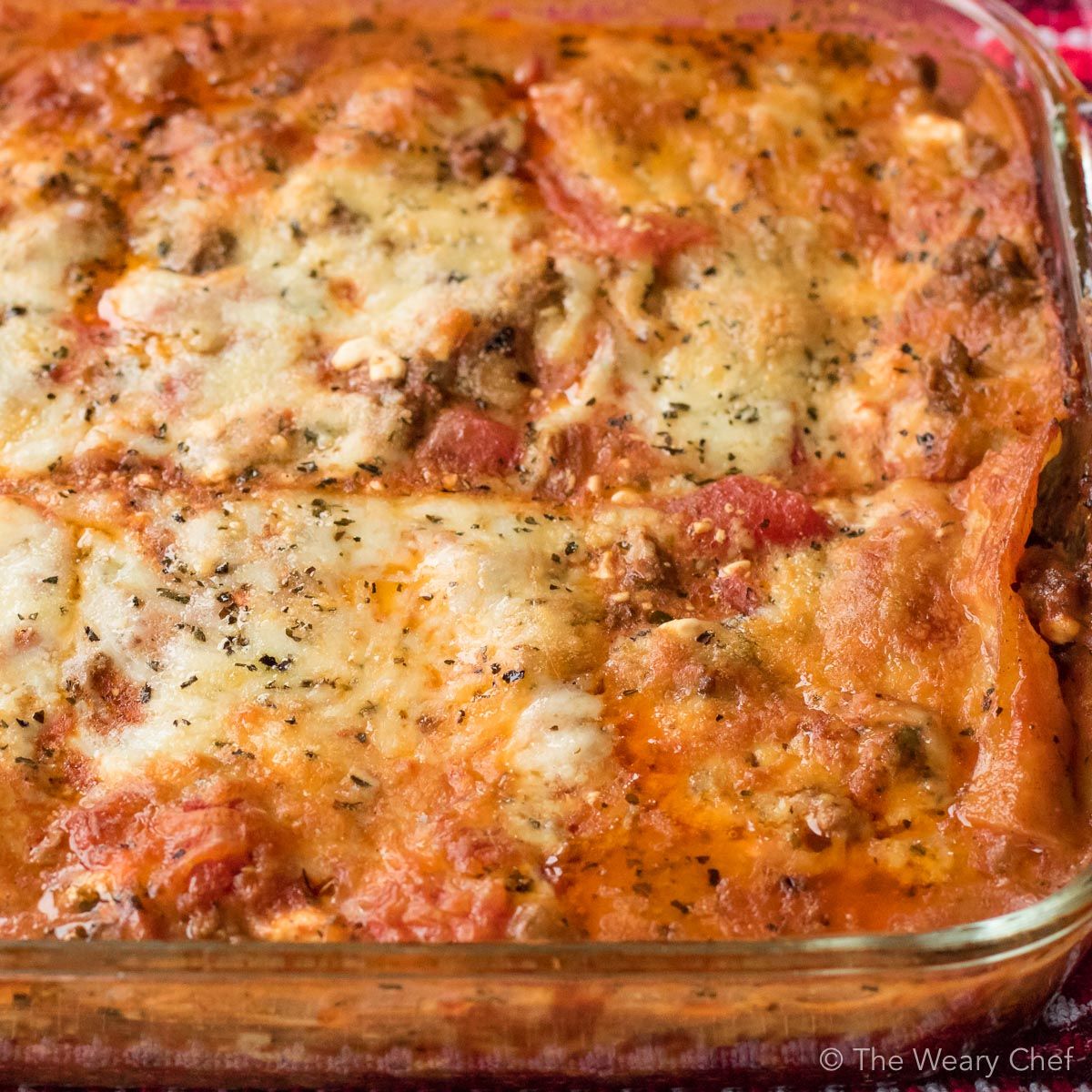 What does camping have to do with lasagna? I was getting to that… My little one, I think maybe by accident, tried lasagna at school lunch one day and said he really liked it. I wanted to capitalize on that experience, so I decided to make him homemade lasagna. I wasn't sure if my older kid would like it, so I decided to make it while he is off camping. I can call this lazy lasagna a family favorite since all the family members present enjoyed it :)
What makes this recipe lazy? I was getting to that too! I think a lot of the work of lasagna is the assembly. Layers of noodles, meat, seasoned cheese, another kind of cheese, and whatever else you want to put in there really takes a while. In the spirit of "it's all going to the same place," I thought it would be easier if we consolidated some of those ingredients. In this lazy version, there are only three very quick and simple layers, so it comes together in no time!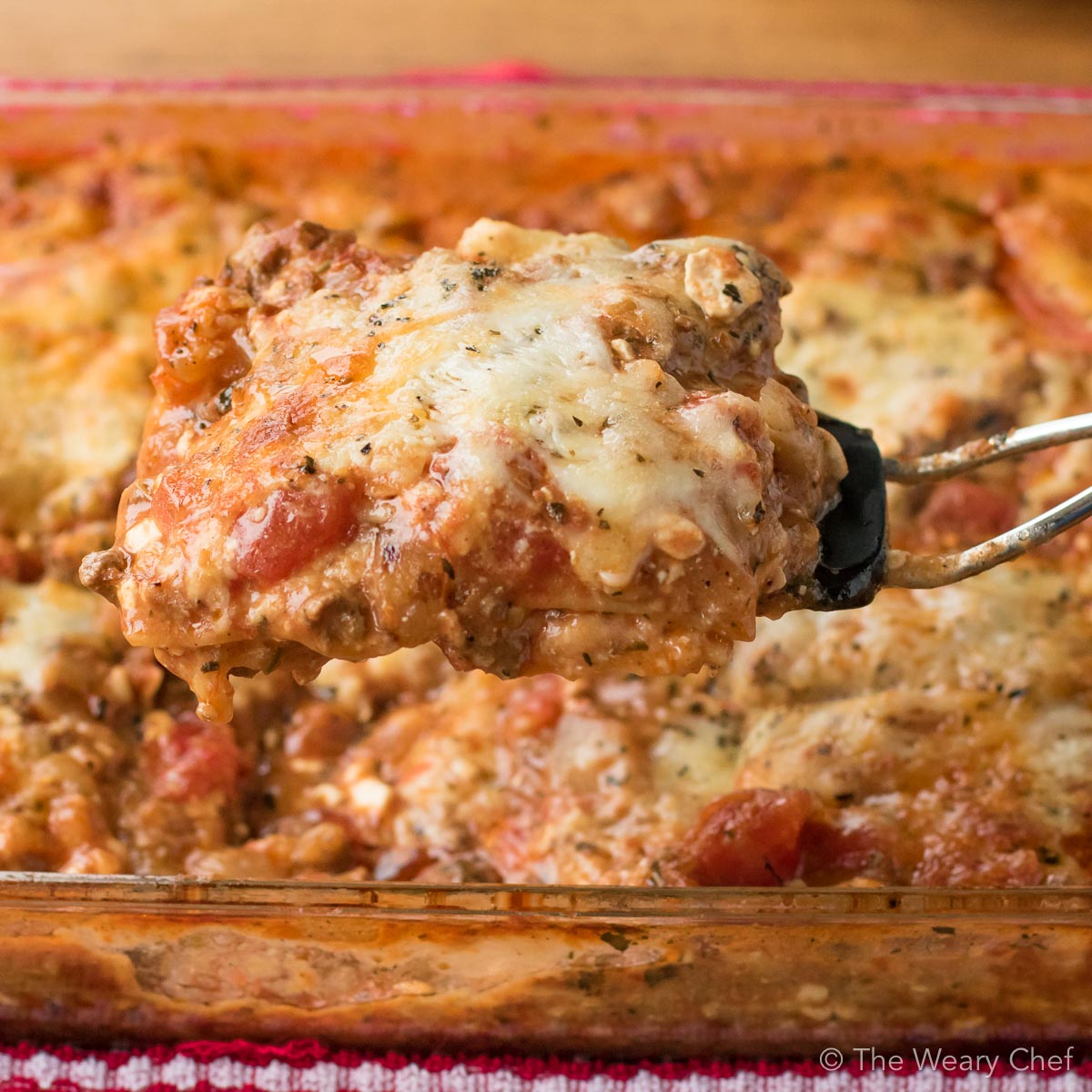 I also must insist that you try no-boil lasagna noodles if you haven't already. Who the heck wants to boil, drain, and arrange (without tearing) noodles when you can just use dry lasagna right out of the box?? Not this weary chef, that's for sure. I LOVE no-boil lasagna, and Target has a gluten-free version!
With the shortcut noodles and limited layers, this lazy lasagna can be in the oven in about 20 minutes. That might sound like a while, but half of the time is spent cooking the onions and meat. If you'd like to add mushrooms or spinach to this recipe, I highly recommend it. I kept the recipe simple this time and served it with a vegetable on the side, but it would be delicious with extra veggies baked right in. (If you're looking for a vegetarian recipe, you should check out my Spinach Artichoke Lasagna!)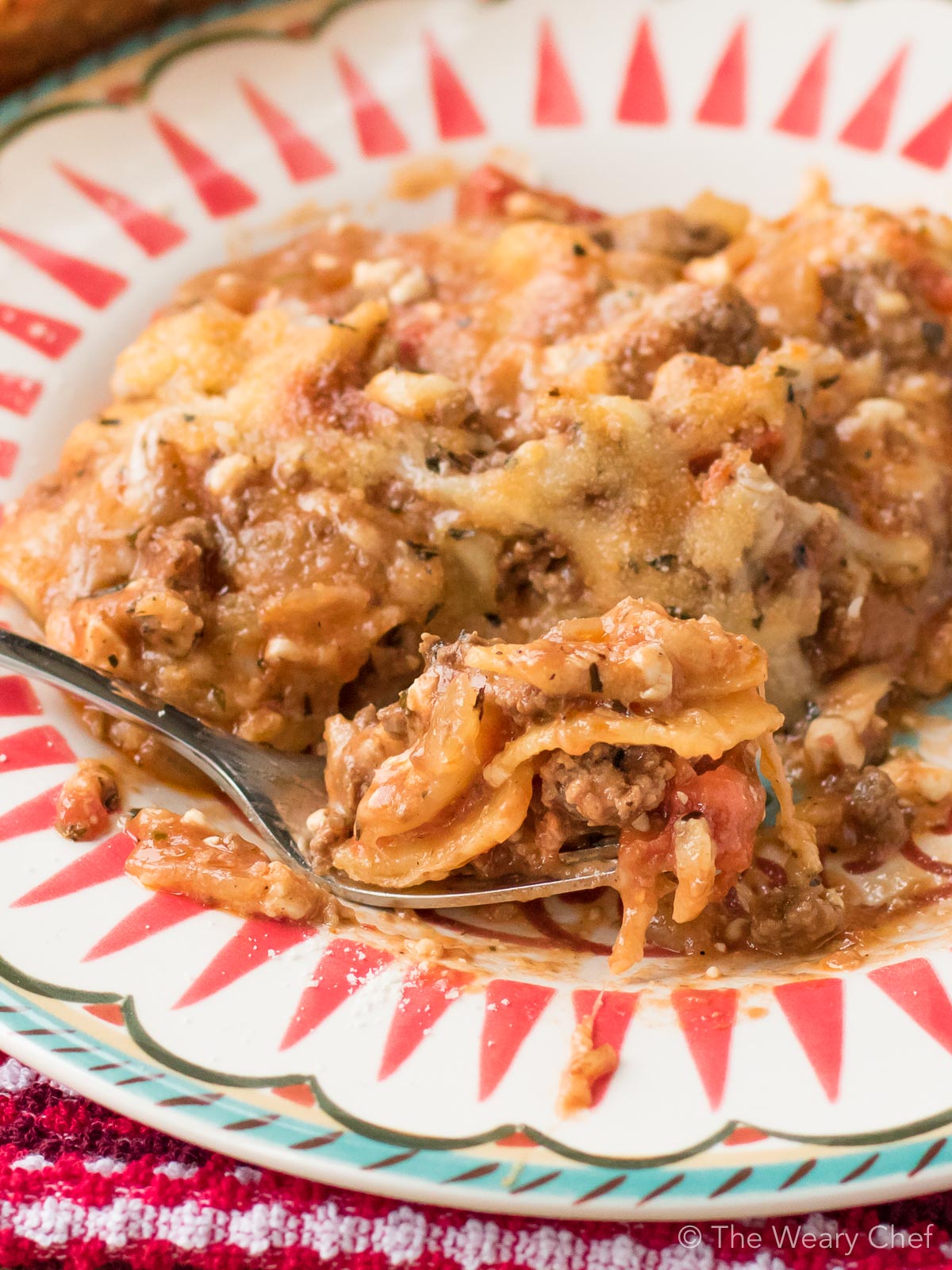 My son told me that my version was even better than the school cafeteria lasagna. Yesssss! Now, if only I could get them to like my mac and cheese as much as the boxed stuff…
Print
Lazy Lasagna Recipe
This lasagna uses fewer layers and no-boil noodles to make recipe prep and assembly a snap. Allow over an hour for bake time, but it only takes about 20 minutes to prep and assemble this easy lasagna recipe!
Total Time:

1 hour 35 minutes

Yield:

8

1

x
Instructions
Preheat oven to 375 degrees F. Spray a 9 x 13″ baking dish with cooking spray, and set aside.

Melt butter in a large, deep skillet over medium-high heat. Add onion, and saute for 3 minutes or until tender and translucent.
Stir in garlic, and saute 1 minute longer.
Add ground beef, Italian seasoning, salt, and pepper. Crumble meat and saute with the onions until meat is cooked through. Drain meat if desired, but it probably isn't necessary with lean beef.
Stir in pasta sauce and cottage cheese until well combined.
Spread about 1/3 of the meat mixture into the bottom of the prepared pan. Arrange uncooked lasagna noodles over the meat, and spread about a cup of cheese over the noodle.
Repeat the previous step (1/3 meat, noodles, and cheese) once more.
Spread remaining meat over the top. Cover pan with foil, and bake for 45 minutes.
Carefully remove foil, and sprinkle remaining mozzarella and parmesan cheese over the top of the lasagna. Sprinkle basil over the cheese if desired. Bake an additional 15 minutes, or until cheese on top is melted and slightly brown.
Allow lasagna to cool for about 15 minutes before cutting and serving. Enjoy!
Author:

Prep Time:

20

Cook Time:

60

Category:

Dinner, Pasta and Noodles, Red Meat

Cuisine:

Italian
Want an even lazier lasagna recipe? Try this 30-minute Skillet Lasagna!