Forget takeout when you can have this quick and easy Chinese shrimp and broccoli stir fry on the table with ease! Hi! I'm Sheila from Life, Love, and Good Food, and I'm excited to bring you this delicious stir-fry recipe today!
The green vegetable broccoli is branching and has either purple or, more usually, green flower buds. It can be eaten raw or cooked and is a member of the brassica family, along with kale, cauliflower, and cabbage. Due to its anti-inflammatory and anti-aging qualities, shrimp can help lower the chance of developing a number of diseases. Both age-related macular degeneration and eye tiredness may be treated with it. Additionally, it might ease period pain. Shrimp can be a delightful and high-benefit strategy to improve your general health.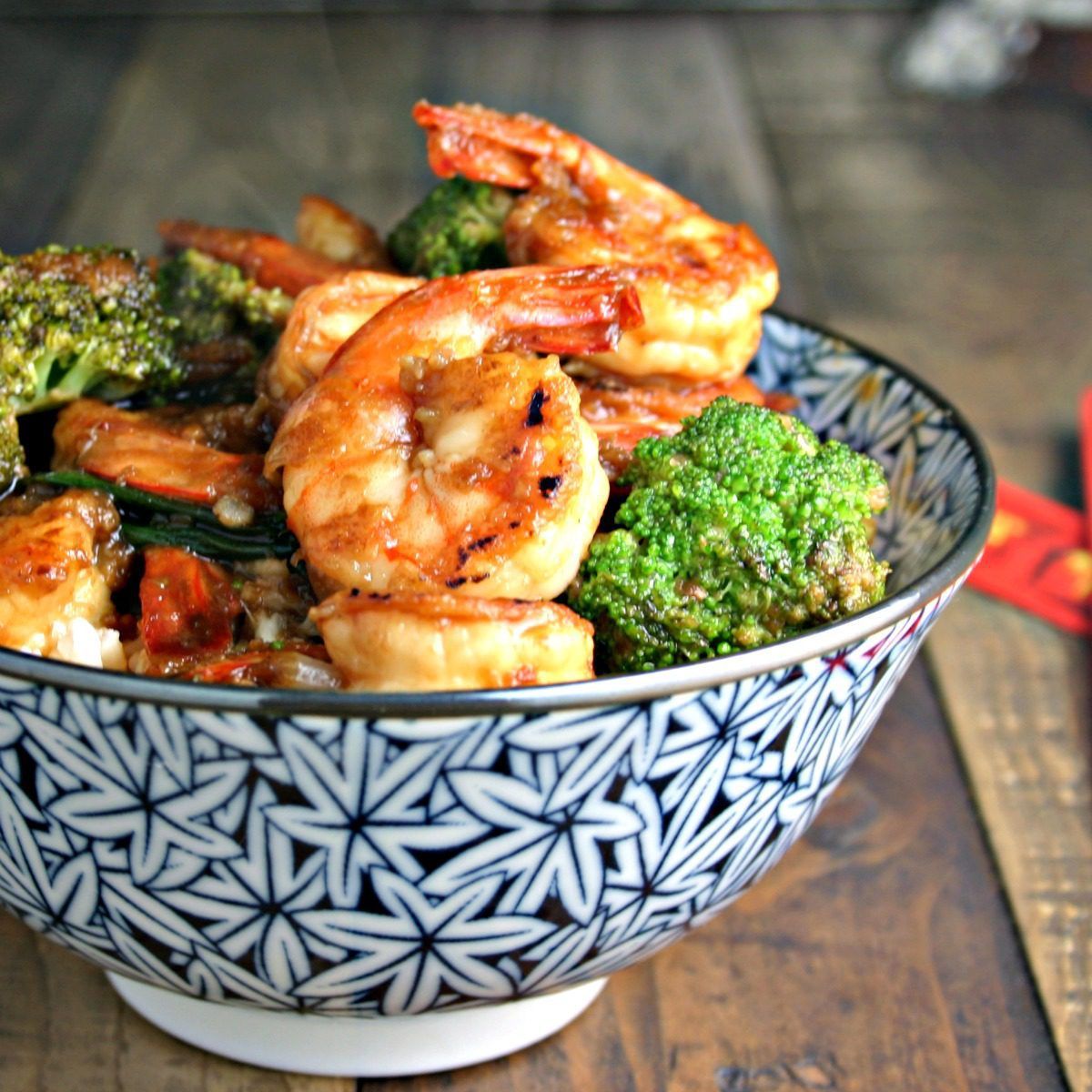 This shrimp and broccoli stir fry is an excellent choice if you need a nice supper on the table quickly. It's simple to prepare, cooks fast, and is ideal for a nutritious and well-balanced family supper. Over rice or noodles, cooked in a delicious soy sauce mixture. Served with plain white rice, shrimp and broccoli are deliciously covered in a sauce that is delicious, sweet, salty, and garlicky. This is a simple dish that can be made in one skillet with ingredients that are commonly found in the cupboard. One of the best Chinese stir-fry combinations is shrimp and broccoli since it contains all the nutritional benefits in a single meal and is simple to make.
More About Chinese Shrimp and Broccoli
In about 10 minutes, the shrimp, broccoli, and savory sauce will be ready to serve. It tastes better than the one from your neighborhood restaurant and is nutritious. One of the most popular Chinese takeaway dishes is stir-fried shrimp with broccoli. With steamed rice or noodles, these mouthwateringly delicious shrimp and broccoli are coated in a crispy batter. Try this simple homemade stir-fry recipe for a satisfying, quick meal that everyone will like. It is zingy with spicy sauce and somewhat sweet from ginger and honey.
Shrimp chunks are quickly cooked to provide the ideal texture and enhance the flavor of the sauce. This dish is a delight! This nutritious recipe is ideal whenever you want a low-carb dinner because it's a fantastic way to get both your protein and vegetables in a single recipe. Enjoy this recipe with different types of proteins.
Chinese Takeout vs. Chinese at Home
Forget Chinese takeout! Shrimp Broccoli Stir-Fry is so much more delicious and only takes 30 minutes or less to prepare! I know that planning and cooking dinner after a long day in the office can sometimes seem like a real chore for working moms and dads. Also, believe it or not, it is hard to even for a full-time career woman and part-time blogger like me! It's on those days that picking up something quick on the way home is so very tempting.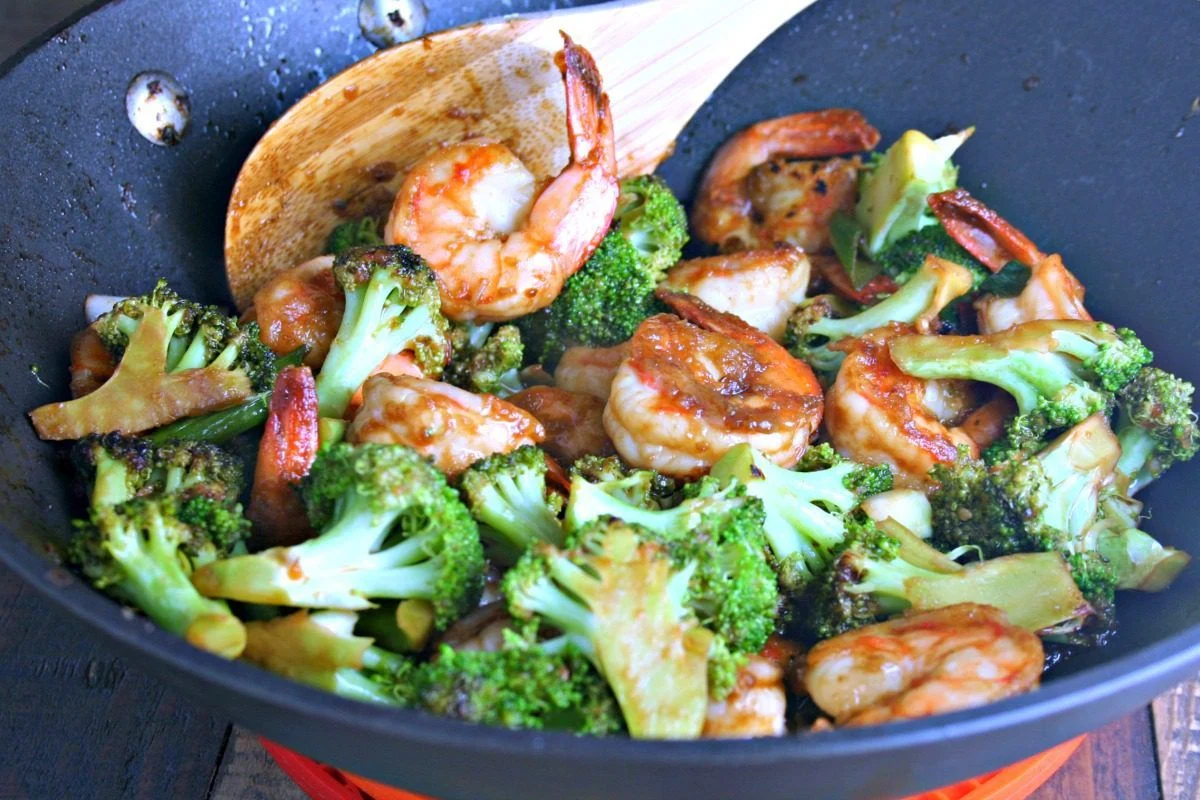 Tips About the Chinese Shrimp and Broccoli Recipe
Even when I feel exhausted from a long day, getting in the kitchen and doing a little cooking can actually be a little bit therapeutic, especially if it's as quick and easy as a stir-fry dinner. Unlike a lot of other stir-fry recipes, Shrimp Broccoli Stir-Fry actually requires very few basic ingredients – shrimp (feel free to use fresh or frozen), broccoli florets, green onions, garlic, and fresh ginger (or substitute ground ginger if you prefer).
The sauce is simply a mixture of soy sauce, rice vinegar, honey, and a few red pepper flakes, and at least at my house, all these ingredients are always readily available in my pantry.
We like our stir-fry served over brown rice for a healthier option (as opposed to white rice). I don't own a rice cooker, so I normally purchase the "quick" rice that cooks in just 5 minutes — again, quick and easy for weeknights!
Here are a few shortcuts for making this meal particularly easy and quick:
Buy shrimp that are already peeled and deveined (cut out that prep work!).
Use a bag of pre-cut broccoli florets.
Boil water for the rice first, and allow it to steam while you prepare the stir-fry.
Stage all the ingredients before you start to stir-fry so that once you get started you can quickly add the next ingredients.
Chinese Shrimp and Broccoli Stir Fry Recipe
Well, the time to start preparing your Chinese Shrimp and Broccoli Stir Fry finally came! So, good luck and keep in mind to closely follow the steps and indications!
Also, if you are feeling inspired, you can adapt this recipe to your seafood passion, by using octopus, salmon, tuna, oysters, and even lobsters. However, different kind of seafood means a different way of cooking it. So don't improvise if you don't know how to prepare another kind of seafood.
Print
Chinese Shrimp and Broccoli Stir Fry Recipe
This Chinese Shrimp and Brocooli Stir Fry recipe is a 20-minute meal you'll love!
Total Time:

20 minutes

Yield:

4

1

x
1

pound

medium shrimp peeled and deveined

1 tablespoon

cornstarch

2 1/2 tablespoons

canola oil divided

1/4

cup

diagonally cut green onions

2 teaspoons

minced peeled fresh ginger

3

garlic cloves thinly sliced

2

cups

broccoli florets

1/4

cup

reduced-sodium soy sauce

2 tablespoons

rice vinegar

1 teaspoon

honey

1/8 teaspoon

crushed red pepper
Instructions
Blot shrimp with a paper towel to dry and place in a medium bowl with cornstarch. Toss to coat.
Heat a large wok or skillet over high heat. Add 1 tablespoon oil and shrimp to pan; stir-fry about 4 minutes, or until golden brown. Do not over cook.
Remove shrimp from pan. Add 1 1/2 teaspoons oil and stir-fry green onions, ginger, and garlic for 45 seconds. Remove from pan and add to the shrimp.
Add the remaining 1 tablespoon oil to pan and stir-fry broccoli for 1 1/2 minutes. Stir in shrimp and onion mixture to pan. Pour in soy sauce, rice vinegar, honey, and red pepper flakes and bring to a boil. Cook just 1 minute or until broccoli is crisp-tender.
Serve immediately over rice.
Notes
Adapted from Cooking Light
Author:

Prep Time:

10

Cook Time:

10

Category:

Dinner, Rice Bowls, Seafood

Cuisine:

Chinese
Nutrition Information
Per serving
| | | | |
| --- | --- | --- | --- |
| Calories | 115 kcal | Carbohydrates | 19 g |
| Protein | 7 g | Fat | 2 g |
| Saturated Fat | 1 g | Potassium | 564 mg |
| Iron | 1 mg | Sodium | 921 mg |
| Vitamin A | 850IU | Fiber | 4 g |
| Sugar | 6 g | Vitamin C | 126 mg |
| Cholesterol | 1mg | Calcium | 77 mg |
Why Does This Chinese Shrimp and Broccoli Recipe Work?
This dish is simple and quick, and only a few common items are needed. This dinner recipe is ideal for hectic weeknights.
You make this recipe at home in very less time and the taste or quality is better than in the restaurant
This recipe is less expensive to cook at home and the overall cost of this dish is a fraction of the price in restaurants. It is a fantastic dish for big gatherings and events. a good reason to enjoy Shrimp.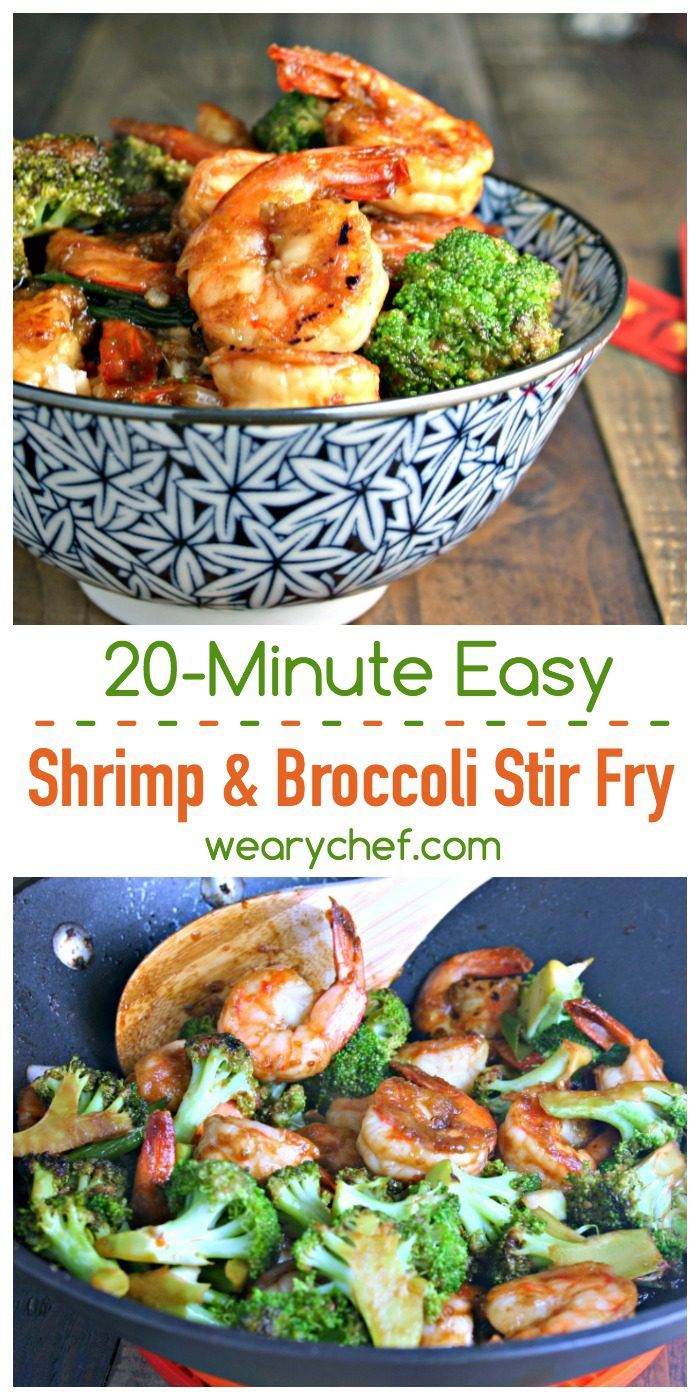 Why Make This Chinese Shrimp and Broccoli?
Fast: When you need something ready quickly during those hectic nights, this dish is ideal! Broccoli and shrimp are ready in a flash.
Filled with Flavor: Everyone will enjoy this recipe since it combines the robust flavors of rice vinegar, onion, and garlic. The best flavor combinations are made when broccoli and shrimp are combined with soy sauce.
Easy: This one-pan dish comes up quickly on the stovetop and is extremely simple and stress-free. everyone must try this dish.
Healthy: This high-fiber, nutrient-rich, and protein-rich low-carb dinner is made with shrimp and broccoli. This dish is for you whenever you want something without gluten or refined sugar
How to Store?
The leftovers can be stored in the refrigerator. You may reheat them in the microwave or in a skillet on the stove. When you reheat the stir-fry, be careful not to overcook it since the shrimp will become tough and the broccoli won't be as crisp.
Cover the broccoli bunch with a plastic bag in a flexible way to facilitate air circulation, which will keep the raw broccoli fresh. To keep the bag fresh, poke holes in it or leave it open. So, broccoli can be stored in the crisper drawer for 3-5 days.
Final Thoughts
A recipe for a lovely meal is a lovely dish. With this recipe, you will have a lovely time with your friends and family. A healthy dish that you will surely adore. Make sure to have this placed on your tables for a better experience. It will be worth cooking!
All in all, that is the recipe and all you need to know about the Chinese Shrimp and Broccoli recipe. So, now, it's your turn to share your taught and advice on this in the comment section below.
Tell us everything: How was the final result of this Chinese recipe? Did your family enjoy it? (Also, keep in mind that I appreciate the negative feedback too). Did you need to improvise when it came to the ingredients list? If so, what did you replace and with what? In addition, please, don't hesitate to ask any further questions in the comment section too. I am here for you!
Last but not least, you'll enjoy these quick and easy dinner ideas too! So, give them all a try and let me know what you think!