You are going to love this colorful chicken taco salad! It is loaded with shredded chicken, corn, fresh tomatoes, guacamole, and more. It is a fresh, crisp dinner salad that you'll want to make again and again!

Hello! It's Crystal from Cooking with Crystal, and today I am sharing a delicious, quick, salad recipe! This Chicken Taco Salad has all the things that scream summertime: Guacamole, fresh tomatoes, corn, crisp lettuce, and tortilla chips. I made it with rotisserie chicken, so it didn't take any cooking at all! That's especially good in the summer when it's too hot to turn on the stove. This would also be perfect with chicken off the grill.
What I love SO much about this salad may be obvious: It is so pretty! I love seeing the variety of colors. It makes it look so lovely that I ALMOST don't want to eat it… almost! It tastes even better than it looks.
What makes it such a fantastic recipe too is that it is so versatile. You can switch out the chicken for another type of meat. You can even make it a vegetarian option and use chickpeas or vegetarian taco "meat." There is a great amount of protein in this recipe along with healthy fats from the avocado. It is an all around fantastic salad that is sure to please all who taste it.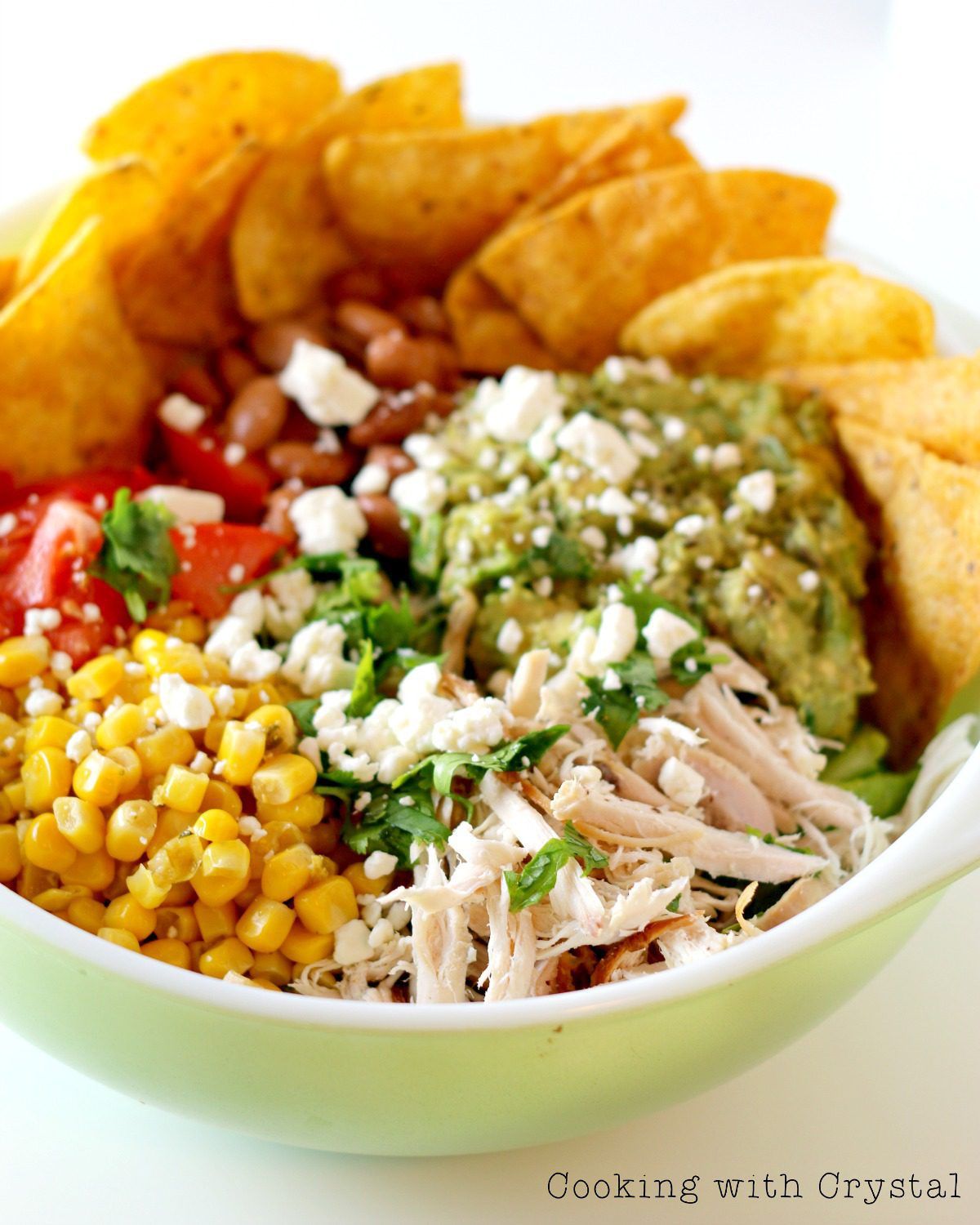 I used premade chipotle ranch dressing on this salad, but you can choose your favorite. Or, if you add salsa and sour cream, you might not need dressing at all! With changing up the protein and salad dressing flavor, the possibilities are really endless with this taco salad recipe. Be sure to leave me a comment to let me know how you make yours, and don't forget to visit my blog to check out more tasty salad recipes!
Print
15

ounces

canned pinto beans drained

15

ounces

canned fire-roasted corn

1 teaspoon

chopped cilantro plus more for garnish (optional)

1

tablespeoon minced garlic

1

avocado

2 teaspoons

lemon juice plus more for chicken
salt and pepper

1/4

rotisserie chicken shredded

1

large tomato chopped and divided
tortilla chips

1/4

cup

cojita cheese

1

bunch romaine chopped
your choice of salad dressing preferably chipotle ranch
Instructions
Begin by shredding the rotisserie chicken and reserving 1/4 of the meat. I like to add a little lemon juice and let it all sit in a bag in the fridge until ready to use.
Chop up the romaine lettuce and tomato. Set aside.
Now, make the guacamole. Cut the avocado in half, remove the pit, then scoop out all the avocado and mash up with the minced garlic, cilantro, and lemon juice. Stir in 1/2 the tomato.
Drain and rinse the corn and pinto beans, and set aside.
Lastly, begin assembling the salad. Start with the romaine on the bottom. Then add the guacamole on one side. Next to that, place the beans, followed by tomatoes, chicken and then the corn. Sprinkle with cojita cheese all over the top, and finish by adding tortilla chips along the side. Add a little cilantro on top if desired.
You'll also enjoy…