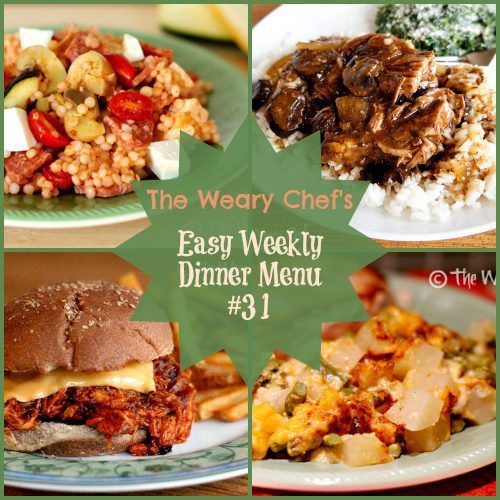 Hello, Fellow Chefs! I'm back with a new easy weekly dinner menu! I guess I didn't actually go anywhere, but I've been barely keeping my blogging head above water for the past couple weeks while summer break winded down. Now school has started, birds are singing, rainbows are everywhere… Really, school just started and I imagined those last two.
DON'T GET ME WRONG. My children are the lights of my life and all that, but they are not kids who will go off and entertain themselves (without help from electronics). They seek constant attention (from me), and the words "go play" sound a lot like punishment to their ears. Now that I have reclaimed a little time to myself, It's nice to be able to write, go to doctor's appointments, catch up on a mountain of PTA business, return phone calls from two months ago, etc. etc. Fellow Parents, how do you feel when school starts after summer break?
Enough about that; let's talk about food. I have been slowly writing up the recipes I'm about to share for the past three weeks, and I'm really excited to feature them all here in a brand new easy weekly dinner menu! Check out these tasty morsels and let me know what you think!
There you have it, friends. Seven new easy dinner recipes just for you! Which one do you want to try first? Let me know if you have any suggestions or request for future menus, and I'd be happy to try to incorporate them!
Don't miss out on any recipes, photos, or funny tidbits!
Follow me on:
Twitter, Facebook, Pinterest, Google+ or Bloglovin!
You can subscribe to posts by email too!

I'm looking forward to keeping in touch with you!