Even girls and wimps and sweet little old ladies can enjoy bourbon when it is whipped up into a sweet (or savory!) cocktail that goes down easy. Check out these 5 Bourbon Cocktails that you don't have to be a sailor or cowboy to enjoy!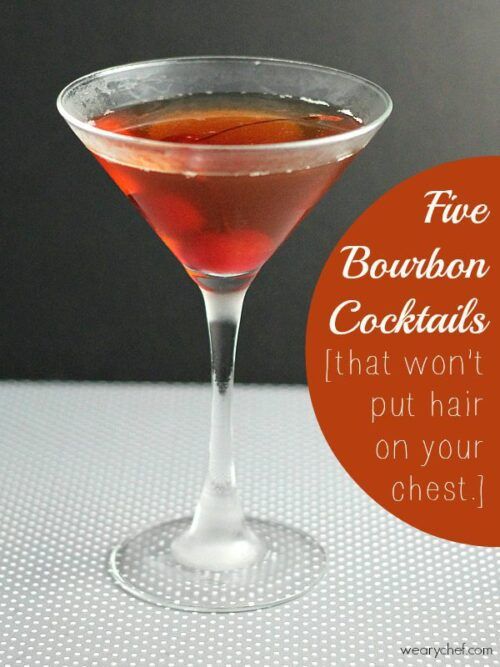 This week's happy hour post was not supposed to be about bourbon cocktails. It was supposed to be a pomegranate cocktail recipe. You see, I happened upon white pomegranate vodka earlier in the week and decided that it would be perfect for a new drink. I remembered seeing pomegranate seeds in that same store at the beginning of my shopping trip, so I went back to grab them. When I saw that they cost around $5, I decided to just buy a pomegranate. I mean, how hard can it be to get the seeds out myself, right?
Being the procrastinator that I am, Thursday night rolled around, and I figured I'd better come up with a cocktail for the next day. First, my husband made some unfavorable comments about the vodka, wondering why I would buy such a thing. I was sure he would like it if he tried it, so then I looked up how to cut a pomegranate. By step 3, my eyes were glazing over. I realized that impenetrable fruit would be headed for the compost bin, and I started to think about Plan B.
The Cherry Lover's Manhattan was only my second cocktail ever to share at The Weary Chef. It is GOOD y'all, but the original picture? Not so much. I have been looking for an opportunity to make and photograph it again, and this was it. I figured just bringing you new photos and an old recipe wasn't good enough, so I also bring you four other tasty-looking bourbon cocktails. Cheers, my friends!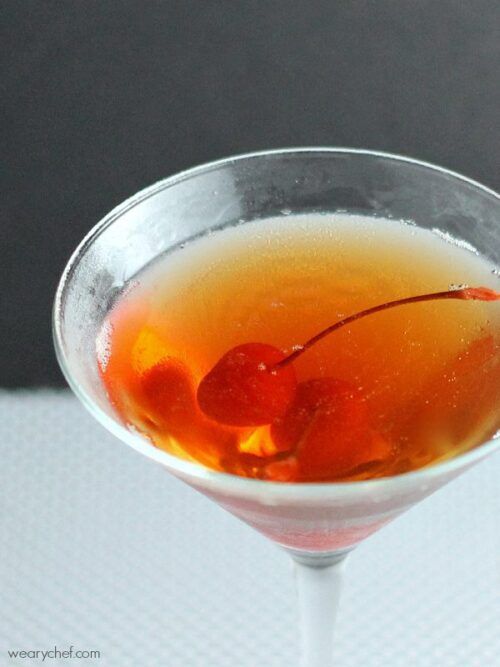 Candied Bacon Bourbon Bloody Mary | The Girl in the Little Red Kitchen