I don't usually get so uppity and call my recipes "the best," but I honestly think this Chicken and Sausage Gumbo is up there. It's at least the best my family has tried!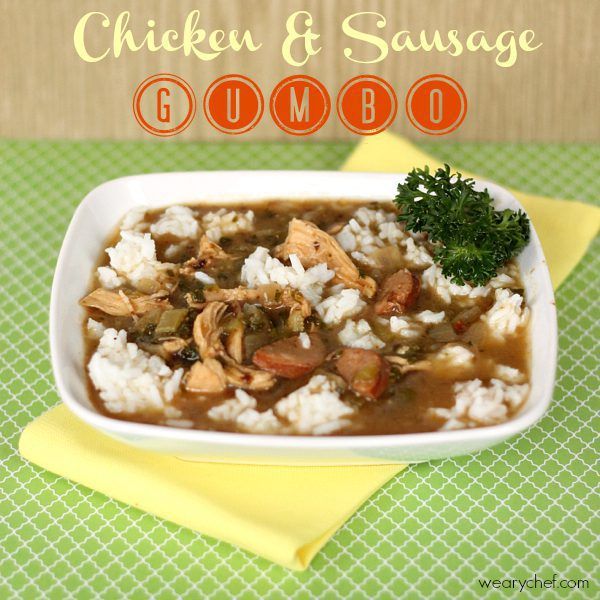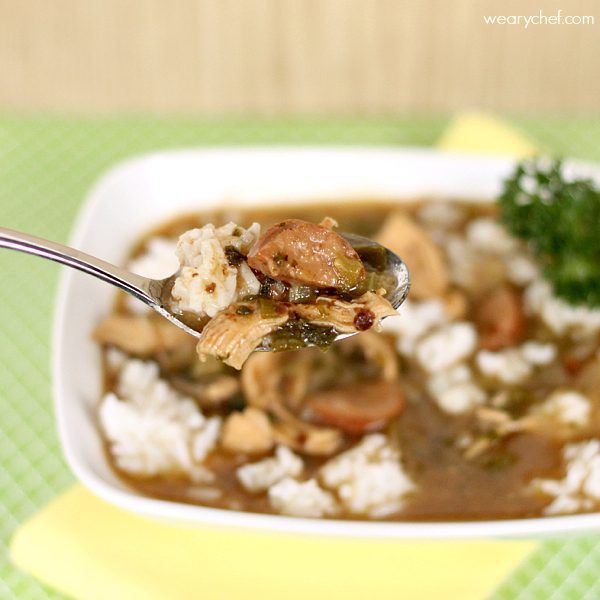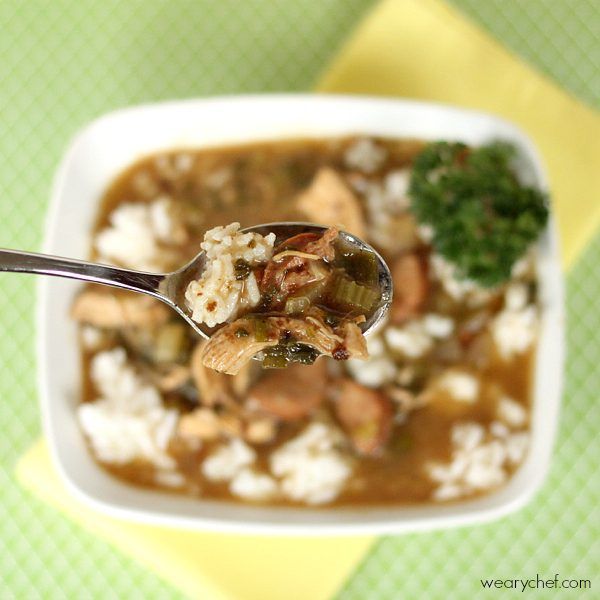 I am so excited to bring you this recipe! I have been saving it up for nearly a year since I started The Weary Chef. What took so long, you ask? Well, it's not exactly quick and easy. It's not difficult, but there is a good bit of chopping and lots of steps involved. It is so worth it though! I made a big batch of this gumbo to freeze before both kids were born. Instead of getting by with just sandwiches and pizza delivery during the bleary newborn weeks, we were able to enjoy this savory, spicy, wonderful gumbo for dinner a few times. It freezes beautifully and seems to taste even better leftover. There's a secret about this gumbo: It's pretty low in fat! Yes, really. The original recipe called for a whopping 2/3 cup of oil, and I couldn't bring myself to pour that much into the pot. Over the years I reduced the oil to 1/2 cup, then 1/3 cup. It still tasted just as amazing, but even with 1/3 cup there was oil floating to the top of the finished dish that I had to carefully ladle off. Since there still seemed to be more than I needed, this time I tried reducing the oil to only 1/4 cup. That's only FOUR TABLESPOONS in an entire pot of gumbo! Folks, it turned out perfectly. You can enjoy a big, steaming bowl of gumbo without the side of guilt! Read through the recipe before you get started because I wrote in opportunities to chop your vegetables and do other prep while you are waiting for other steps. This helps the recipe come together more quickly instead of doing all your chopping first.
This recipe is adapted from a worn, stained, photocopied page that my mother-in-law gave me years ago.
Print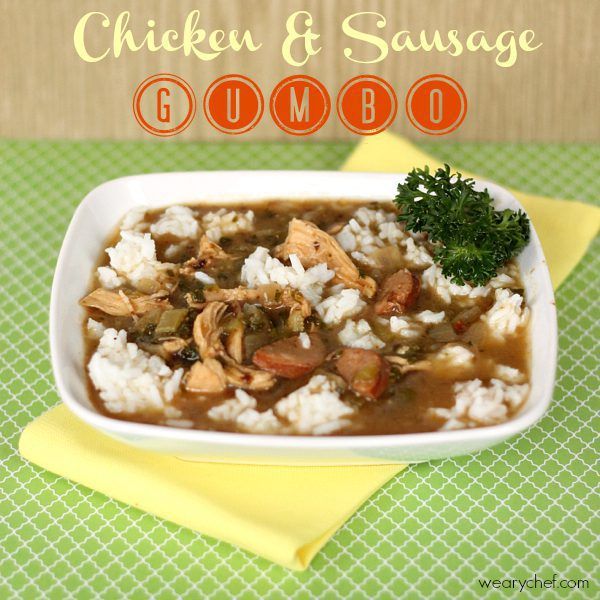 Best Ever Chicken and Sausage Gumbo
This delicious gumbo is rich in flavor but lower in fat than most classic recipes.
Total Time:

50 minutes

Yield:

6

1

x
1

lb

. boneless, skinless chicken breasts

12

oz

. fully-cooked chicken andouille sausage cut lengthwise and sliced into 1/4″ half circles

1/2 tsp

. Cajun seasoning approximate measurement

1

green bell pepper diced

4

ribs celery diced

1

yellow onion diced

6

–

8

green onions sliced thin

1/4

c

. chopped parsley

4

cloves garlic minced or crushed

1/4

c

. olive oil

1/3

c

. all purpose flour

4

c

. chicken broth

2

c

. hot water

1 tsp

. kosher salt

1/4 tsp

. cayenne pepper or to taste
gumbo filé powder optional

4

c

. cooked white rice
Instructions
Spray a large dutch oven with cooking spray, and heat over medium-high heat.
Sprinkle both sides of chicken breasts with Cajun seasoning, and arrange on one side of the pan. Place the sliced sausage on the other side. (If all your meat can't fit in your pan at once, you can do the sausage first, then chicken.) While your meat is cooking, dice your vegetables. Cook chicken for about 5 minutes per side, and stir sausage occasionally for even browning. Transfer cooked meat to a bowl and set aside. (It's OK if the chicken isn't completely cooked through at this point.)
Your pan will likely be left with lots of brown bits from the meat, and that is OK. Turn the heat down to medium, and add flour and oil. Stir together until smooth, and keep stirring constantly as this roux cooks. Cook until it smells a bit like popcorn and is the color of peanut butter or a tad darker, 5-7 minutes.
Stir in diced onion, bell pepper, and celery until coated with roux. Cover and cook, stirring often, until vegetables are tender, 10-12 minutes. Stir in green onions, parsley, and garlic, and cook 3 minutes longer. (Some flour will stick to the pan and look a bit burned during this step. Do not even worry. That will be incorporated into the gumbo and add wonderful flavor.) While your vegetables are cooking, shred your chicken. Now is also a good time to start the rice cooking.
Add chicken broth, about 1/2 c. at a time, stirring until the mixture is smooth before adding more. Scrape the bottom of the pan as you stir to loosen the browned bits from earlier steps. Add water, salt, cayenne, sausage, and shredded chicken. Increase heat to medium high, and bring to a boil. Cook at a low boil for for at least 10 minutes before serving.
To serve, place about 1/2 c. rice in each bowl, and ladle gumbo over the rice. Sprinkle about 1/4 tsp. of gumbo filé powder over each serving, to be stirred in before eating.
Notes
Gumbo filé powder is ground sassafras leaves. It is traditionally added to gumbo to add flavor and thicken the soup. If you can not find it in your area, you will still love this recipe without it!
Author:

Prep Time:

5

Cook Time:

45

Category:

Main Dish

Cuisine:

Cajun