Slow Cooker Chicken Adobo might not be the prettiest dish you'll ever make, but I bet everyone will be asking for seconds once they taste this sweet, spicy chicken dish!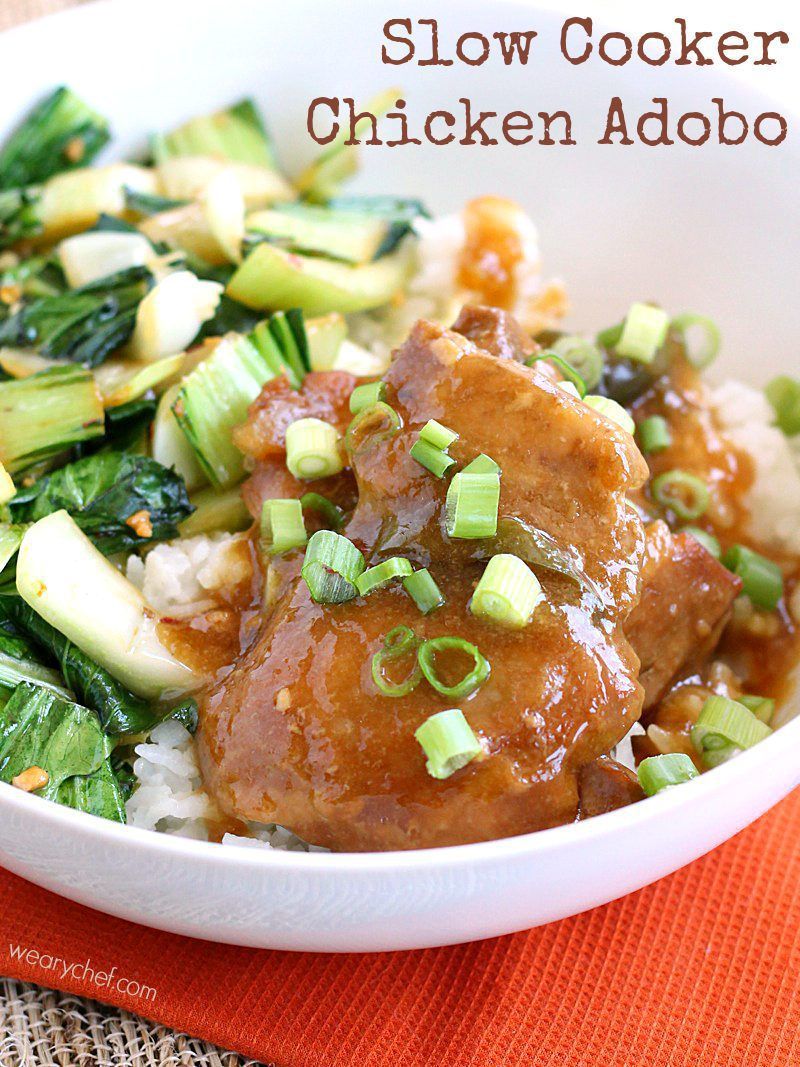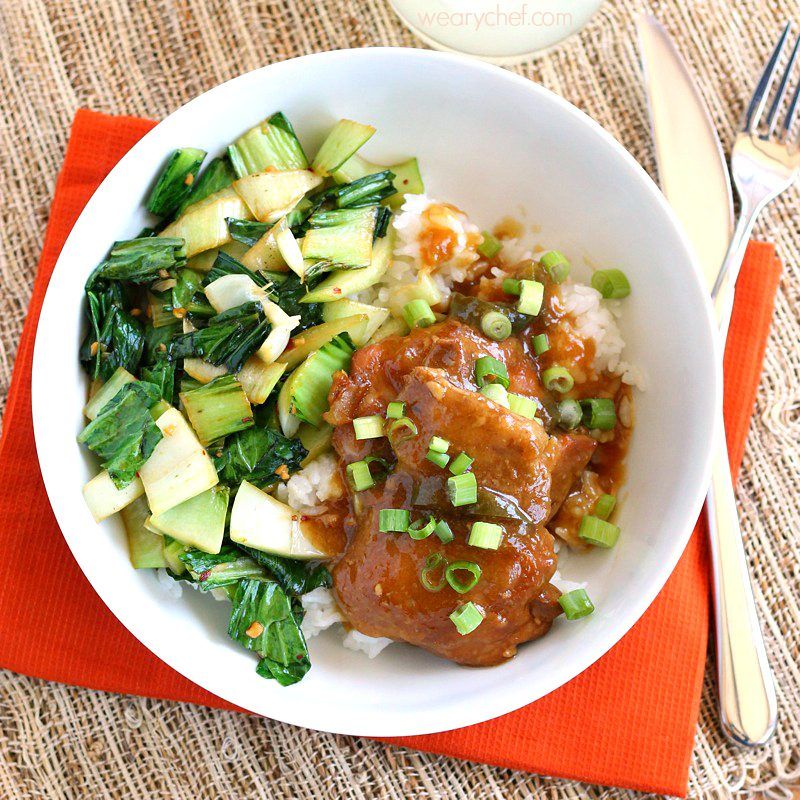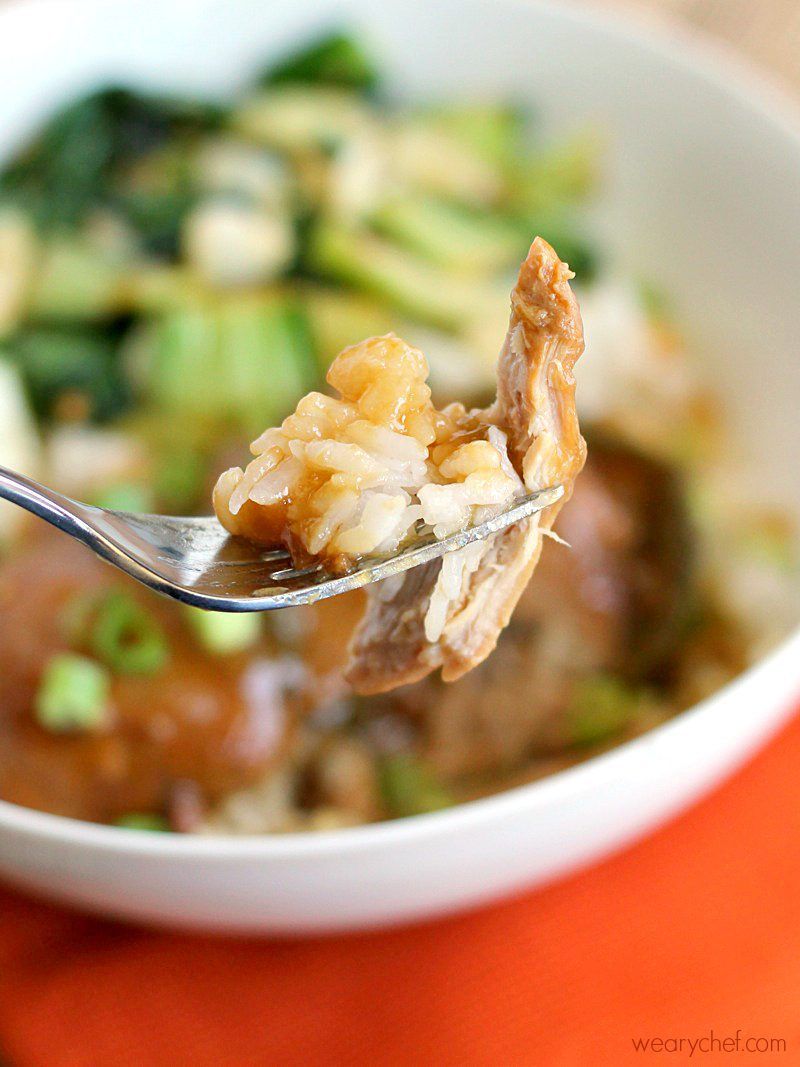 OK, so listen. Some foods are really colorful and photogenic like Mexican pizza or Asian noodle soup. Others are kind of brownish and, well, fairly ugly. Take this slow cooker chicken adobo for example. It tastes GOOD y'all. Fork tender chicken thighs are smothered in an irresistibly spicy, sweet sauce making for a dinner you'll look forward to. I wish I could convey all that deliciousness in the photos, but you'll just have to trust me on this. I haven't had the pleasure of trying many Filipino dishes, but I would like to try more. I do love Hawaiian BBQ, and this recipe shares some of the same flavors but with more sticky, delicious sauce. I served it over medium grain rice with sauteed bok choy. I'll write up my version before long, but I found an authentic garlic baby bok choy recipe at The Woks of Life that I would recommend! This does not need to be an all-day recipe. I personally think that chicken can get dried out if it cooks too long in the crockpot, but dark meat is definitely more forgiving than white. I don't think you'll be sorry if you cook this one for eight hours for more, but a half day is all you need for perfect results. I hope this recipe makes it to your dinner table very soon!
Adapted from The Gourmet Slow Cooker: Volume II, Regional Comfort-Food Classics
Print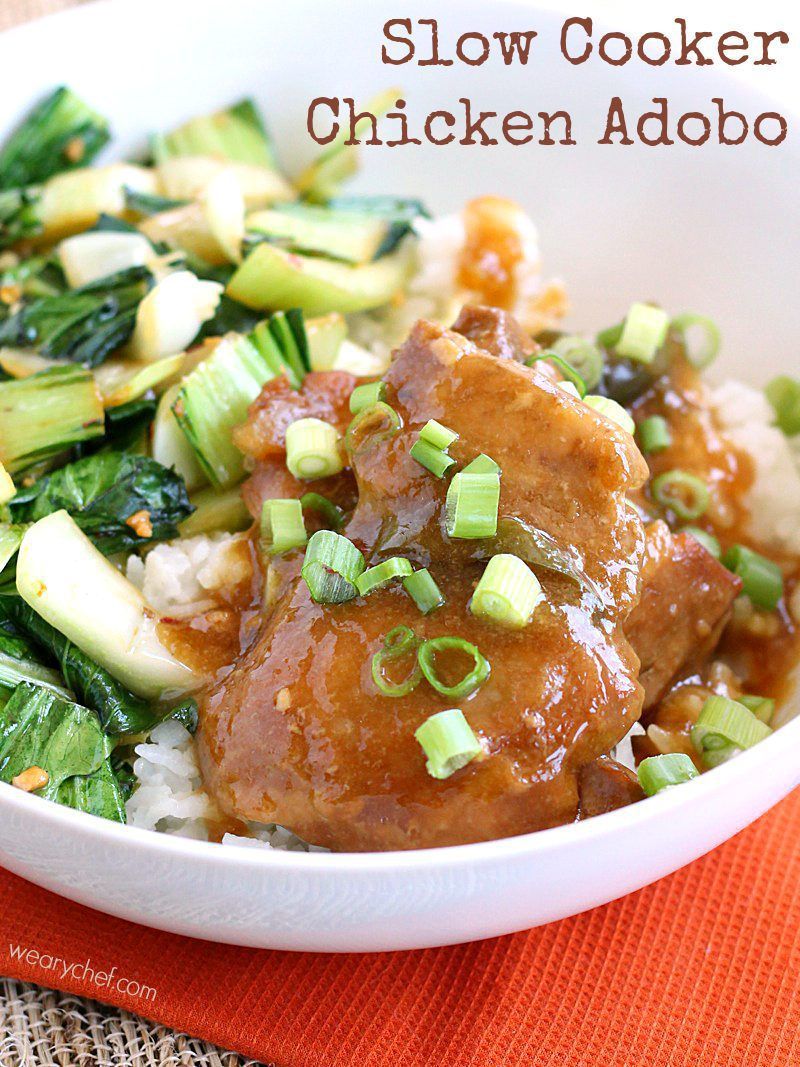 Slow Cooker Chicken Adobo
You will love this fork-tender chicken covered in a sweet, spicy sauce!
Total Time:

4 hours 5 minutes

Yield:

4

1

x
Instructions
In your slow cooker, whisk together soy sauce, vinegar, garlic, ginger, and brown sugar. Add jalapeño and chicken, and spoon sauce over chicken to cover. Place lid on slow cooker, and cook on low for 4-5 hours, or until chicken is tender.

About a half hour before serving (I do this when I start the rice), stir cornstarch into cold water with a fork until dissolved, and pour into slow cooker. Gently stir, and continue cooking.

Serve chicken and sauce over rice, and garnish with green onions if desired.
Author:

Prep Time:

5

Cook Time:

240

Category:

Main

Cuisine:

Slow Cooker