This simple sausage stir fry is a perfect quick dinner, and you can change it up with different types of sausage and veggies. This is my go-to version.
I should really make a list of my go-to dinners, the ones I make over and over and don't even need to look at a recipe. This is definitely one of our favorites. You can't beat sausage for easy recipes since it already has the seasoning built right in!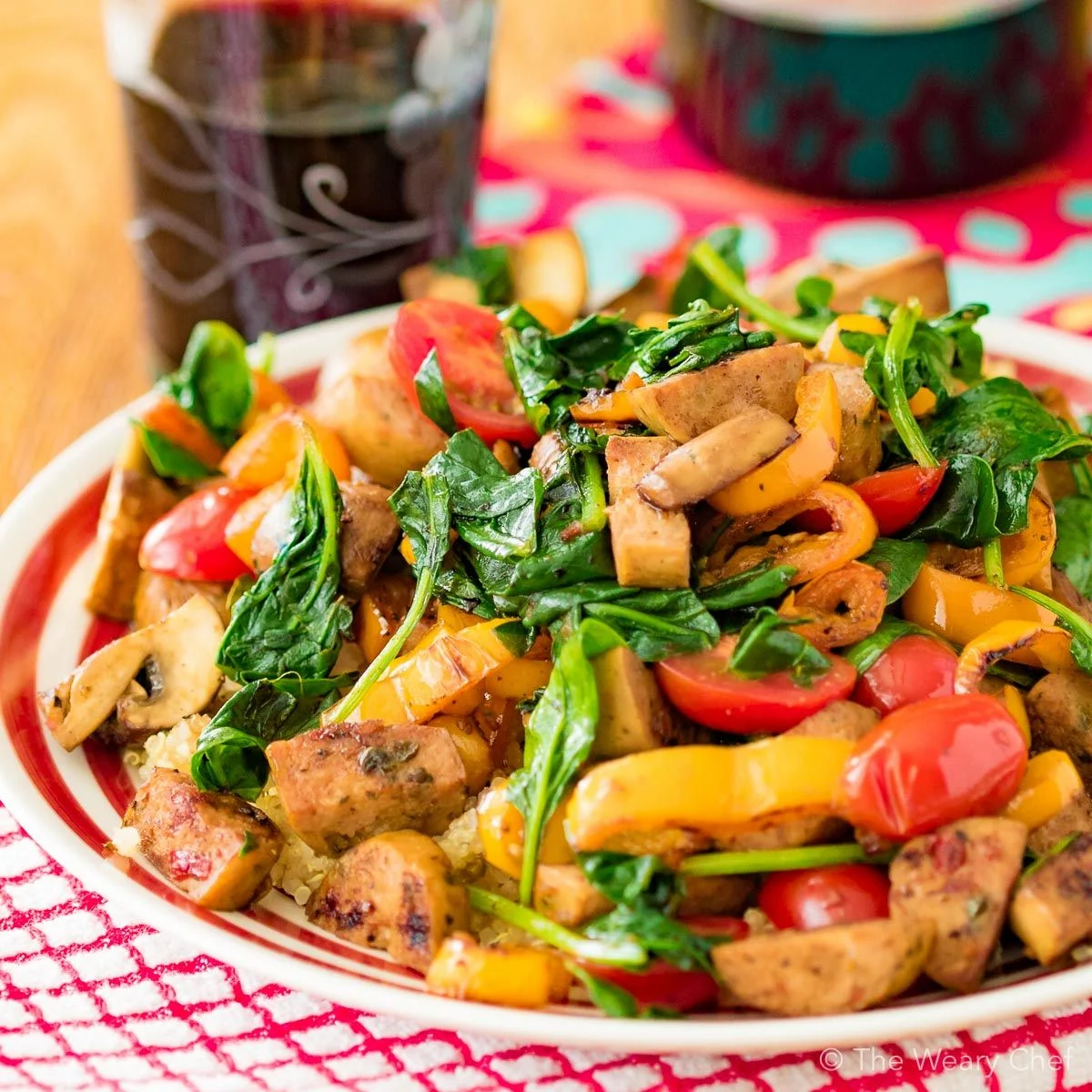 Sausage Stir Fry with Rice: Tips and Tricks
This sausage stir fry is really just a starting point because you can do so many things with it. Add in peppers, broccoli, asparagus, or whatever other veggies you like. Change the flavor of the sausage for a different taste entirely. Another good thing about sausage is that it keeps in the refrigerator for a while and freezes and thaws really well too. I always have a couple of flavors of fully-cooked chicken sausage links on hand at any time so I can add them to a variety of recipes.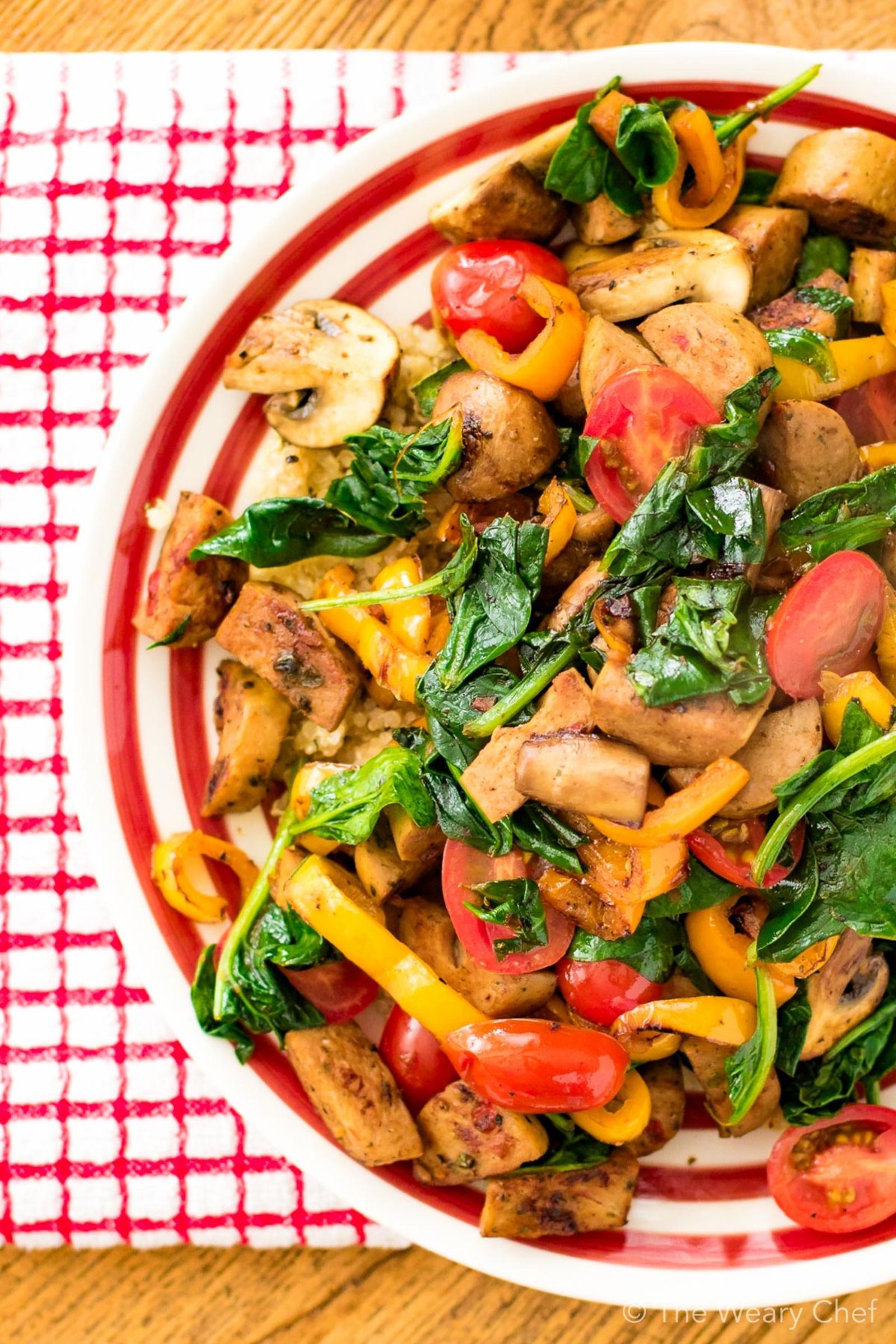 I typically like medium-grain white rice with stir-fries even though I know it's not the healthiest choice. You can definitely serve this up with brown rice or even quinoa if you prefer. If you are low carb, you don't need any rice at all and can eat it on its own, maybe with a salad on the side.
What are some of your favorite sausage flavors? I almost always stick to chicken sausage, and my favorites are any kinds that have cheese inside. My boys love chicken apple sausage, so I usually keep some of those on hand for dinners for them. Hotlinks on buns are always a favorite with the grownups, and andouille sausage is perfect for Cajun recipes like gumbo or jambalaya. Whatever your favorite, I'm sure it will work perfectly in this easy sausage stir fry recipe!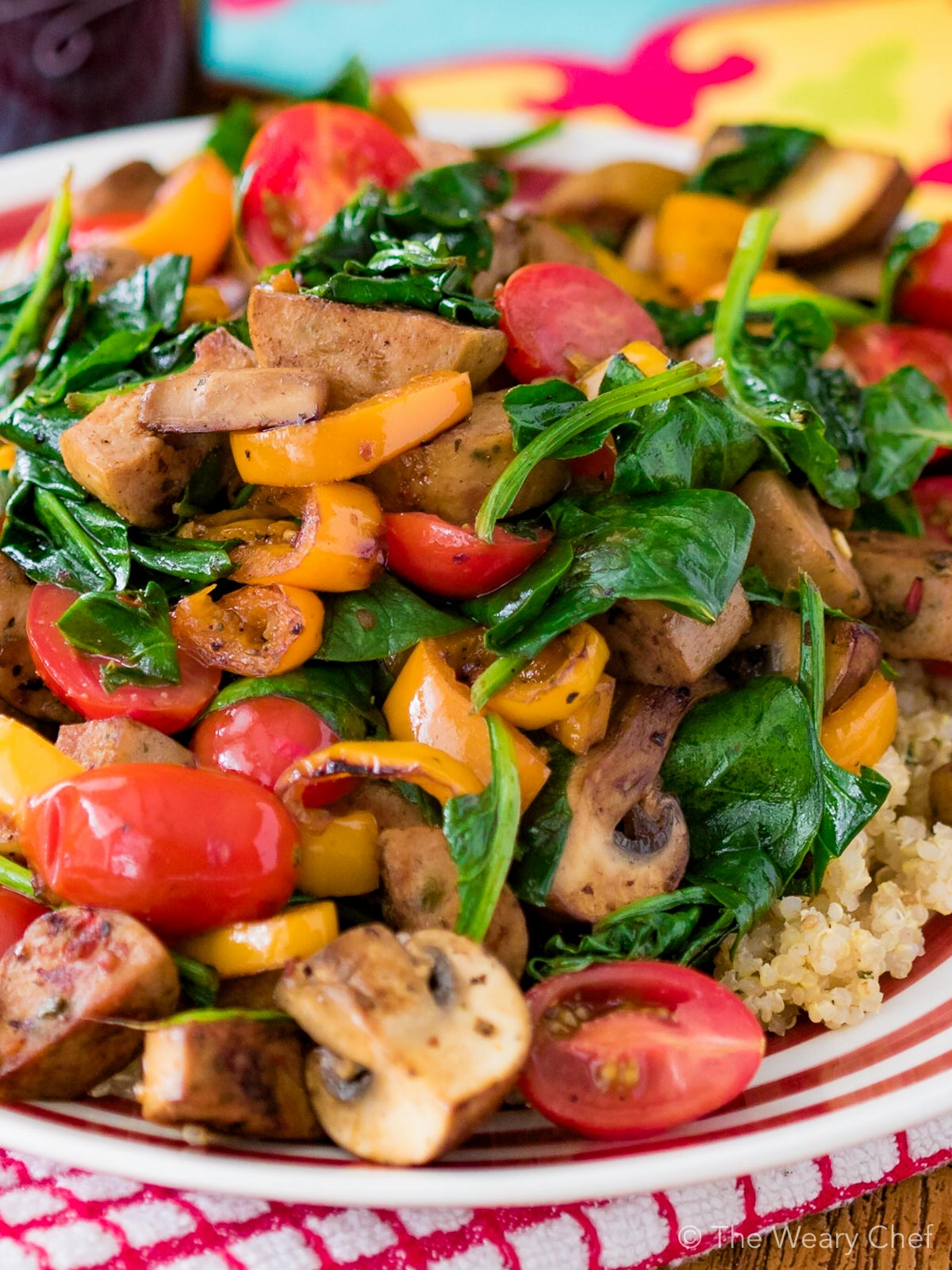 How to Make Sausage Stir Fry
| | |
| --- | --- |
| | |
Cook rice according to package directions on stovetop or in rice cooker. (Don't forget to salt the water!)

Meanwhile, heat olive oil in a large skillet over medium-high heat. Saute sausage until starting brown, about 5 minutes.

Add bell peppers, mushrooms, and seasoned salt to the skillet, and stir fry until vegetables are tender, 5-7 minutes.

Just before serving, turn off heat and gently stir halved tomatoes and baby spinach into the stir fry so that they just wilt but don't overcook. Serve over rice.
Originally published 02/2013. Revised with new photos and text 06/2016.
Happy Cooking!
Finally, make sure to leave a comment letting me know how you like the sausage stir fry and rice recipe and how did you adjust it to your own taste. You can also share a picture on Instagram and tag me with @wearychef. I love to see what you're cooking and all your inspiring ideas!
Last but not least, if you would like more quick sausage recipes, these two are my favorites: