This simple sausage stir fry is a perfect quick dinner, and you can change it up with different types of sausage and veggies. This is my go-to version.
I should make a list of my go-to dinners, the ones I make over and over and don't even need to look at a recipe. This is one of our favorites. You can't beat sausage for easy recipes since it already has the seasoning built right in!
Sausage Stir Fry with Rice
One kind of processed food is sausage. They are made by mixing ground beef with spices, preservatives, and other ingredients, like flour or breadcrumbs, and then filling the mixture into wrappers. They are among the world's earliest varieties of meat preservation. Around the world, various sausage varieties are made using various techniques. Sausage is thought to have been formed when a man found salt's ability to preserve food. Your need for energy to start the day is its primary goal. Breakfast sausage, often produced from pork, is a word used commonly in America to describe sausage consumed during breakfast. This sausage is made specifically for the morning.
Easy Fried Rice and Fiery Andouille Sausage
Easy fried rice and fiery Andouille sausage bits combine to make the ideal flavors for a simple and quick supper. You may easily find your preferred brands of sausage or junk in your kitchen, and this dish is quite flexible. Moreover, ground meat is tasty. The ideal rice to use while creating fried rice is medium- to long-grain rice. This results in fluffy, robust rice that holds together after being fried and doesn't crumble. Use medium or long grain rice if you want your fried rice to taste like restaurant food. Everything tastes better with smoked sausage, especially fried rice. This family-friendly dish may be prepared in just one skillet.
It's impossible to stop tasting the smoky flavor of the savory pork plus sticky rice and the smoothness of the chopped vegetables and eggs. Cajun seasonings can be sprinkled on the andouille sausage for additional flavor. On Big Tuesday, you want a big lunch like this. Everyone finishes their plate of smoked sausage fried rice because it is so delicious. One of the best uses for leftover vegetables and grains. Good for lunch boxes and dinner preparation. You may easily prepare a great meal with just a few kitchen cupboard products.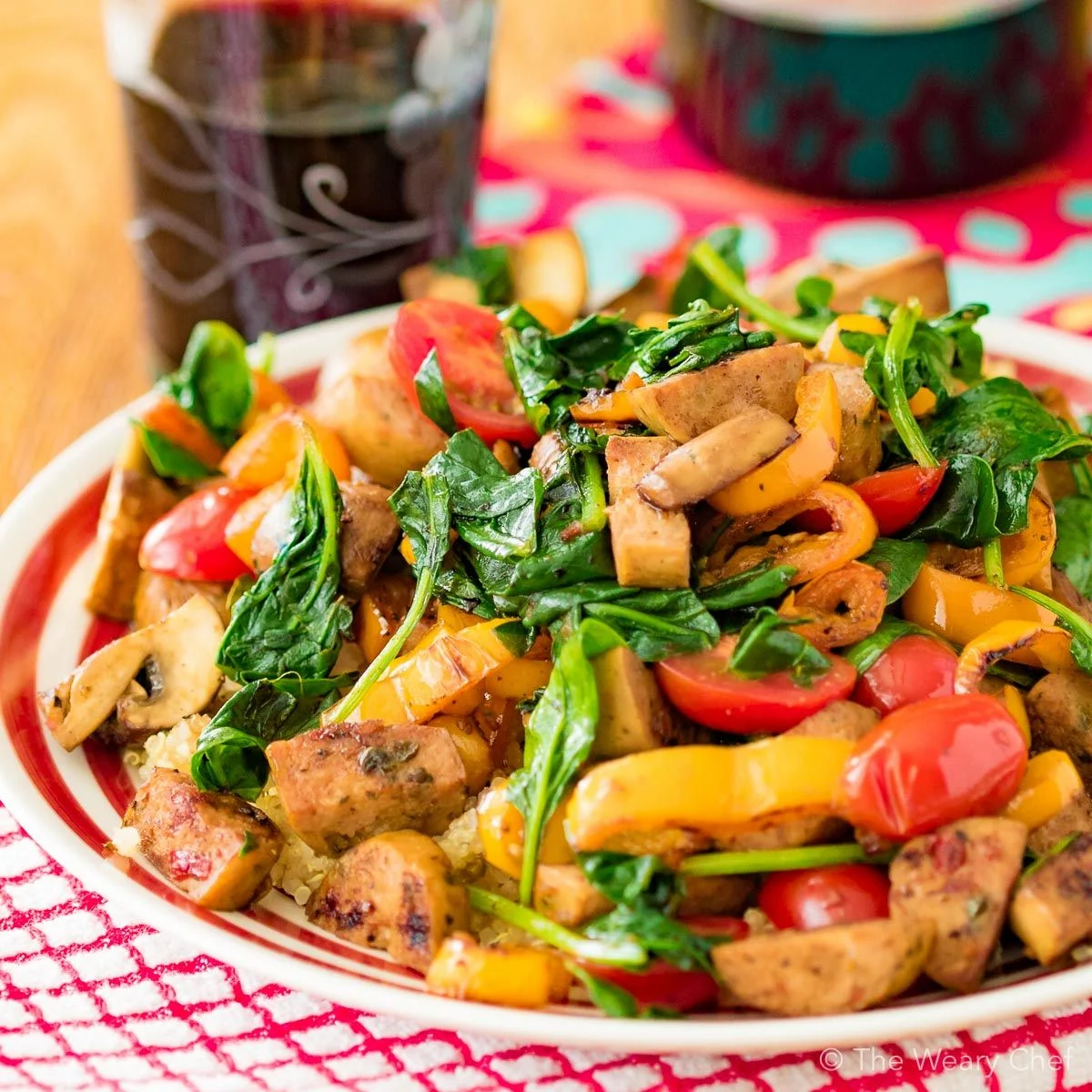 Sausage Stir Fry with Rice Tips and Tricks
This sausage stir fry is just a starting point because you can do so many things with it. Add in peppers, broccoli, asparagus, or whatever other veggies you like. Change the flavor of the sausage for a different taste entirely. Another good thing about sausage is that it keeps in the refrigerator for a while and freezes and thaws well too. I always have a couple of flavors of fully-cooked chicken sausage links on hand at any time so I can add them to a variety of recipes.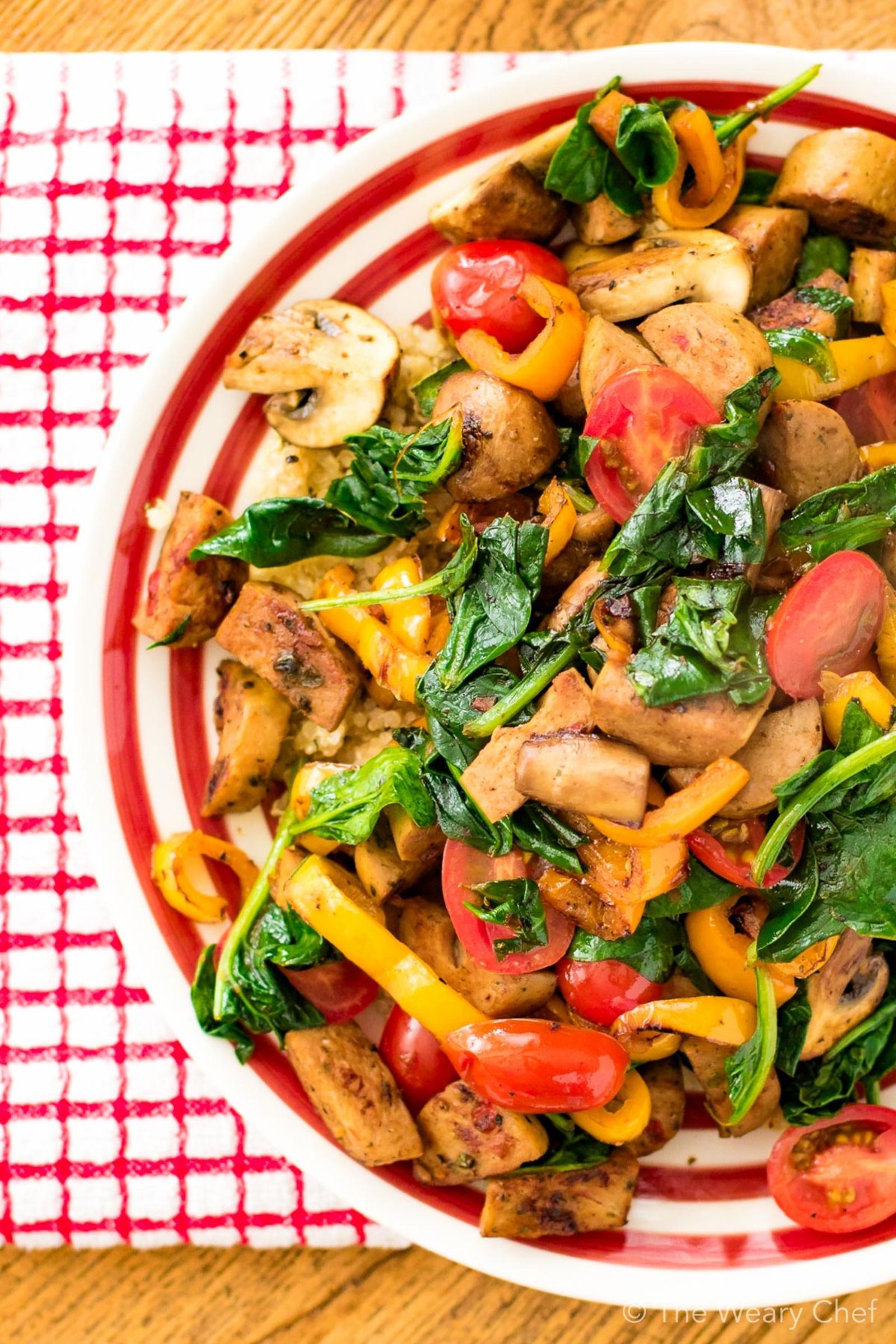 I typically like medium-grain white rice with stir-fries even though I know it's not the healthiest choice. You can serve this up with brown rice or even quinoa if you prefer. If you are low carb, you don't need any rice at all and can eat it on its own, maybe with a salad on the side.
What are some of your favorite sausage flavors? I almost always stick to chicken sausage, and my favorites are any kinds that have cheese inside. My boys love chicken apple sausage, so I usually keep some of those on hand for dinners for them. Hotlinks on buns are always a favorite with the grownups, and andouille sausage is perfect for Cajun recipes like gumbo or jambalaya. Whatever your favorite, I'm sure it will work perfectly in this easy sausage stir fry recipe!
How to Make Sausage Stir Fry?
Print
Sausage Stir Fry over Rice
This easy stir fry is a go-to weeknight dinner, and you can mix it up with different vegetables.
Total Time:

30 minutes

Yield:

3

1

x
Instructions
Cook rice according to package directions on stovetop or in rice cooker. (Don't forget to salt the water!)

Meanwhile, heat olive oil in a large skillet over medium-high heat. Saute sausage until starting brown, about 5 minutes.

Add bell peppers, mushrooms, and seasoned salt to the skillet, and stir fry until vegetables are tender, 5-7 minutes.

Just before serving, turn off heat and gently stir halved tomatoes and baby spinach into the stir fry so that they just wilt but don't overcook. Serve over rice.
Notes
Originally published 02/2013. Revised with new photos and text 06/2016.
Author:

Prep Time:

10

Cook Time:

20

Category:

Dinner, Rice Bowls

Cuisine:

American
Keywords: Sausage Stir Fry over Rice
Nutrition Information
Per serving:
| | | | |
| --- | --- | --- | --- |
| Calories | 786 kcal | Carbohydrates | 103 g |
| Protein | 22 g | Fat | 30 g |
| Saturated Fat | 14 g | Potassium | 397 mg |
| Iron | 3 mg | Sodium | 1225 mg |
| Vitamin A | 1310IU | Fiber | 3 g |
| Sugar | 1 g | Vitamin C | 12 mg |
| Cholesterol | 135 mg | Calcium | 62 mg |
Why Make this Recipe?
Making this stir-fry with sausage only takes 20 minutes.
Fresh vegetables and hearty sausage are used to make this delicious food.
This stir fry is perfect for meal preparation because it reheats well.
Use any vegetables you happen to have on hand.
It is fully customizable.
This dish is sugar-free, gluten-free, dairy-free, and nut-free.
Storage Tips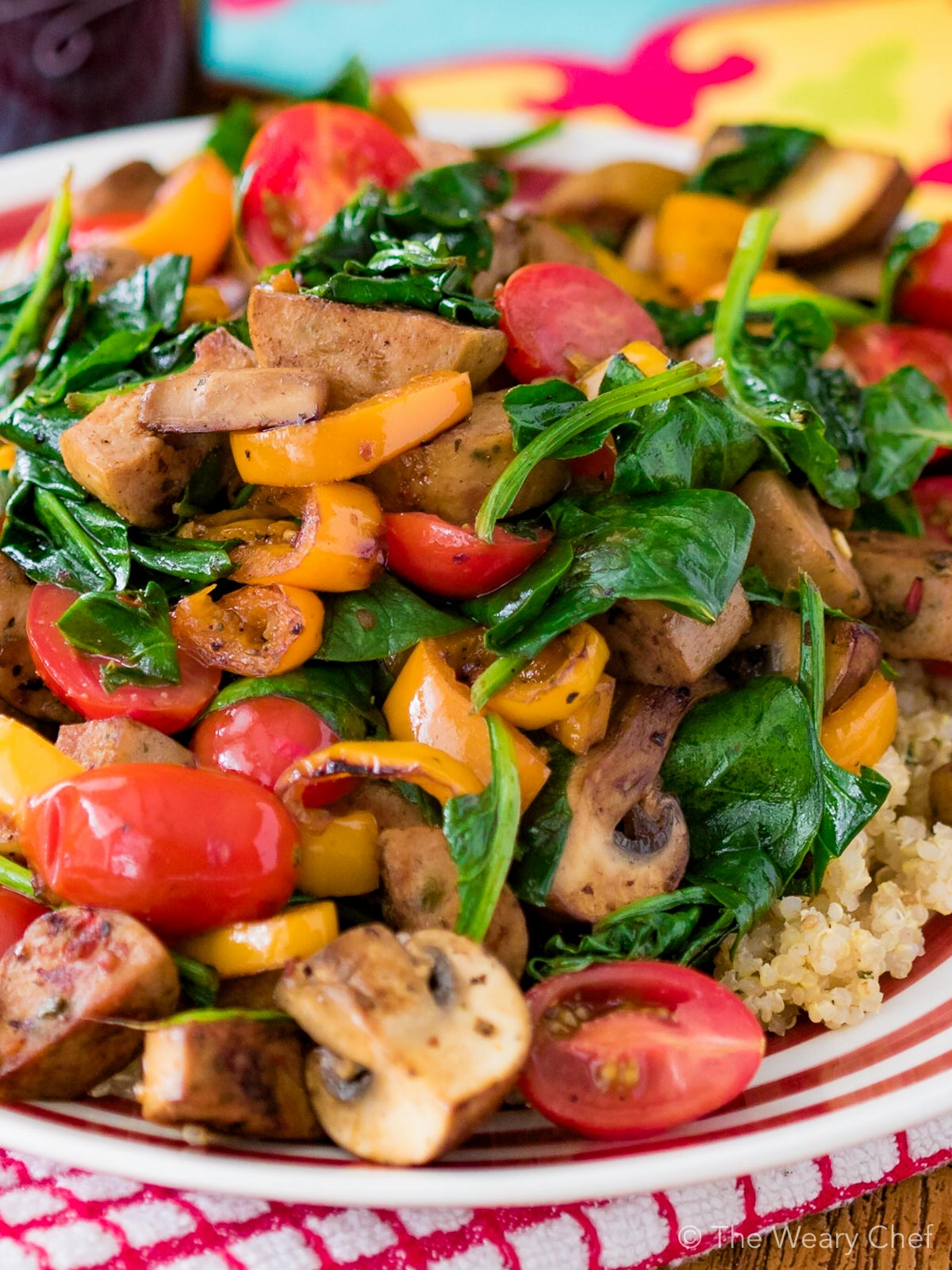 Serve:
Serve cauliflower rice along with the sausage stir fry. It is better to serve this hot.
Store:
For up to 3 days, keep leftovers in the refrigerator.
Freeze:
Sausage can be frozen for a maximum of three months. Both cooked & uncooked sausages can be frozen. Even sausage meat can be frozen and used later to make sausage buns.
Happy Cooking!
Finally, make sure to leave a comment letting me know how you like the sausage stir fry and rice recipe and how did you adjust it to your taste. You can also share a picture on Instagram and tag me with @wearychef. I love to see what you're cooking and all your inspiring ideas!
Last but not least, if you would like more quick sausage recipes, these two are my favorites: