Enjoy this delicious homemade manicotti right at your own dinner table. It's a perfect recipe for a potluck or family gathering.


Hello! It's Cyndi from My Kitchen Craze bringing you a new dinner recipe today! When I first started cooking, I never knew you could make manicotti for dinner. I always thought manicotti was one of those recipes you could only have at some fancy restaurant. Then I started cooking and found out that I could actually make it myself and it tastes darn good.
The first time I made this Homemade Manicotti we were packing up our house because we just bought a home. I remember the house was in complete chaos and Sean was walking in circles because he couldn't believe I'd be making dinner on a crazy night like this. I still remember him telling me, "Cyndi these are the days we are SUPPOSED to eat out and here you are making a recipe you've never made before."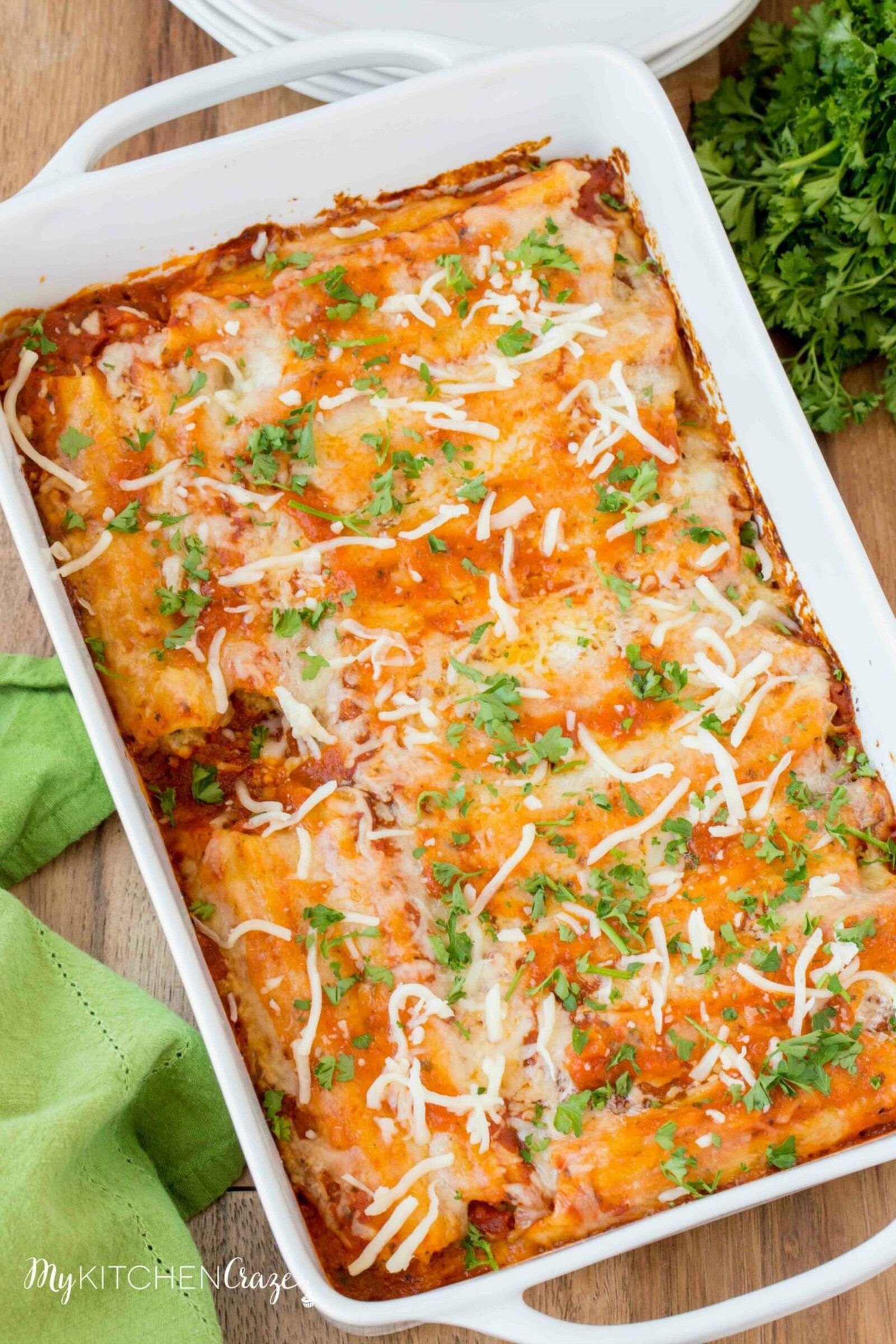 Yes, I'm totally nuts like that. But he loves me and wouldn't have me any other way. And guess what? He totally loved the manicotti and now never complains when I want to make something new. He just goes with the flow. I think after 16 years he's finally realized to let me do what I want in the kitchen, hehe.
I've altered this recipe numerous times to make it to our liking. I mastered it a while ago, so it was time to share it. Please don't get discouraged by glancing at the directions list. It looks like a lot, but once you get going, it goes pretty quickly.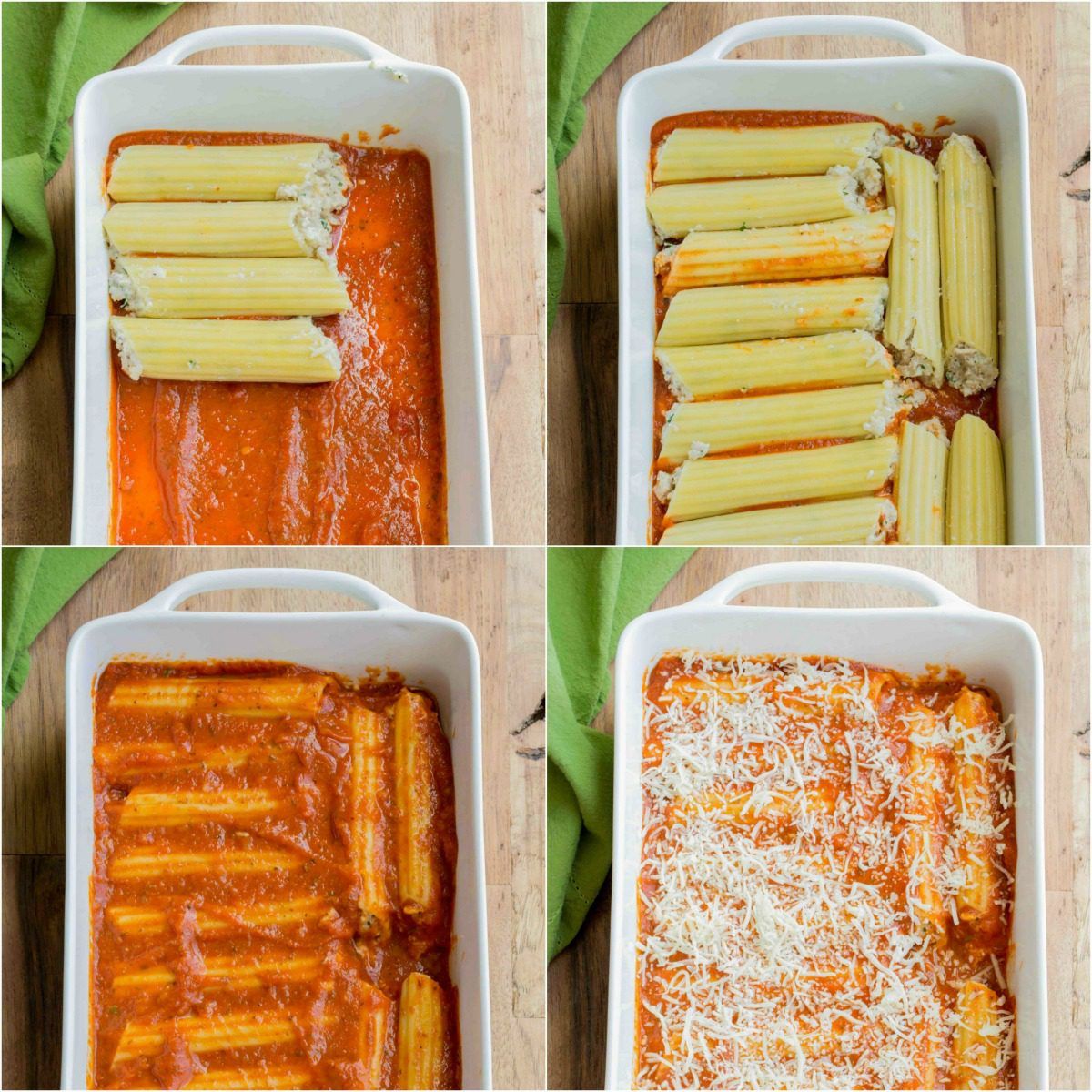 I've made this recipe with ground turkey or ground beef and both have come out fantastic. It's up to you and what meat you want to use. Sean and I don't eat pork, but I bet it would taste good with a mixture of beef and pork. Either way you can totally make this delicious Homemade Manicotti at home all by yourself! Enjoy!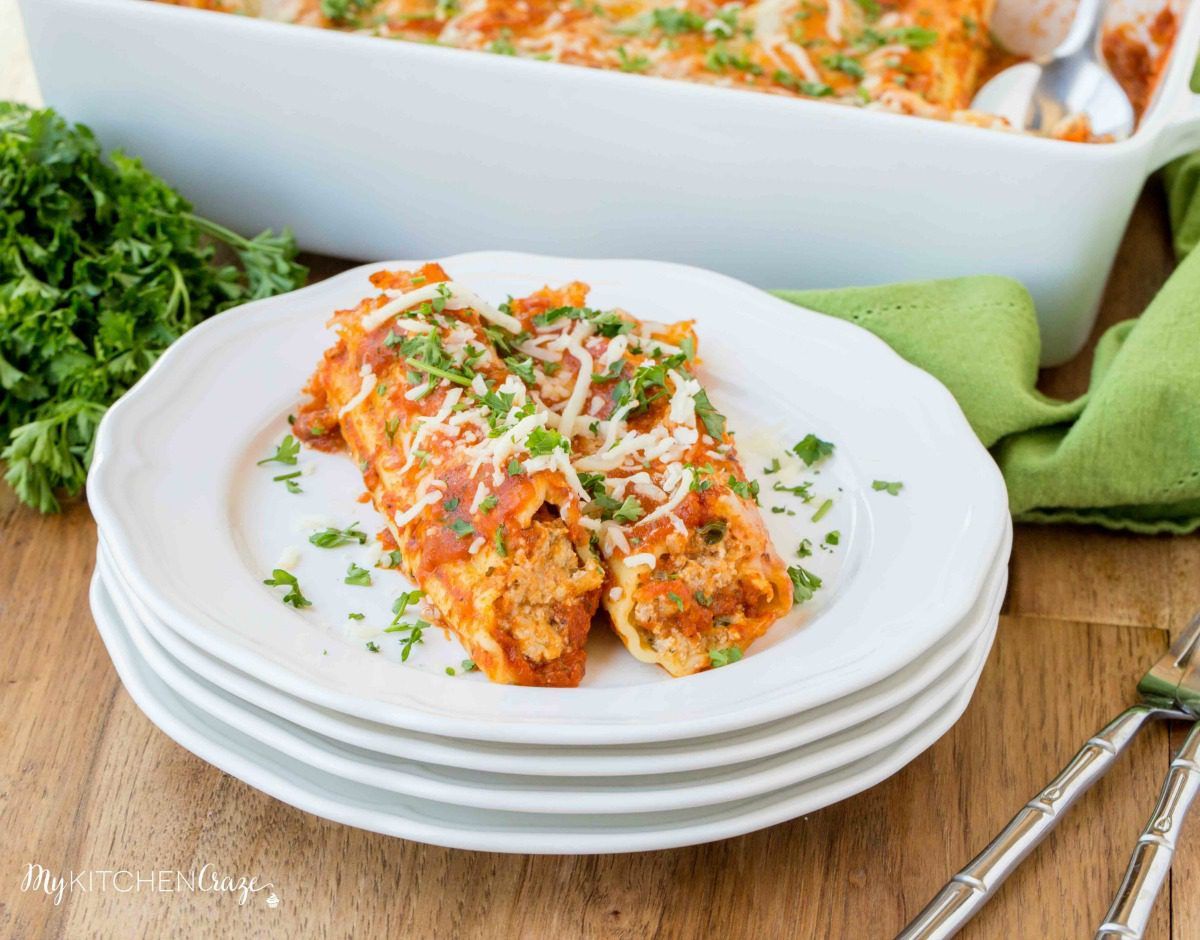 Print
Instructions
In a medium skillet, heat olive oil over medium-high heat. Once the oil is hot, add onion, ground turkey and Italian seasoning. Cook meat, breaking up into small pieces until no longer pink, about 5-7 minutes. Remove from heat, drain and let cool.

Cook manicotti noodles according to package instructions, making sure to cook them al dente. Once they're done, drain water and add back to the pot. Drizzle olive oil over cooked noodles (this will prevent them from sticking together); set aside.

Preheat oven to 350 degrees F and spray a 9×13 baking dish with non-stick cooking spray; set aside.

While the noodles are cooking, add the ricotta, 1 1/2 cups mozzarella cheese, 1/2 cup Parmesan cheese, and parsley to a large bowl, mix well. Add garlic, salt, pepper and cooled meat into the cheese mixture and mix well.

Spoon 1 cup of the marinara sauce over the bottom of the prepared baking dish. Fill manicotti noodles with the cheese-meat mixture, being very careful because they can slice and break easily. Arrange the stuffed manicotti in a single layer in baking dish.

Spoon 1 cup of marinara sauce over manicotti (you can use the leftover marinara sauce as extra). Sprinkle the remaining 1 1/2 cups of mozzarella cheese and 1/2 cup of Parmesan cheese over manicotti.

Bake 30 -35 minutes, or until heated through and cheese is melted. Let sit for 5 minutes, serve and enjoy!
You might also enjoy these recipes…