This slow cooker red beans and rice recipe brings you creamy, New Orleans-style beans the easy way!
Red Beans and Rice with sausages is definitely a favorite meal among my family. They love it for its marvelous taste and I love it for its simplicity. It's so comforting and delicious. Not to mention that the ingredients for this satisfying meal are inexpensive, readily available in every store, and usually found in most stocked pantries.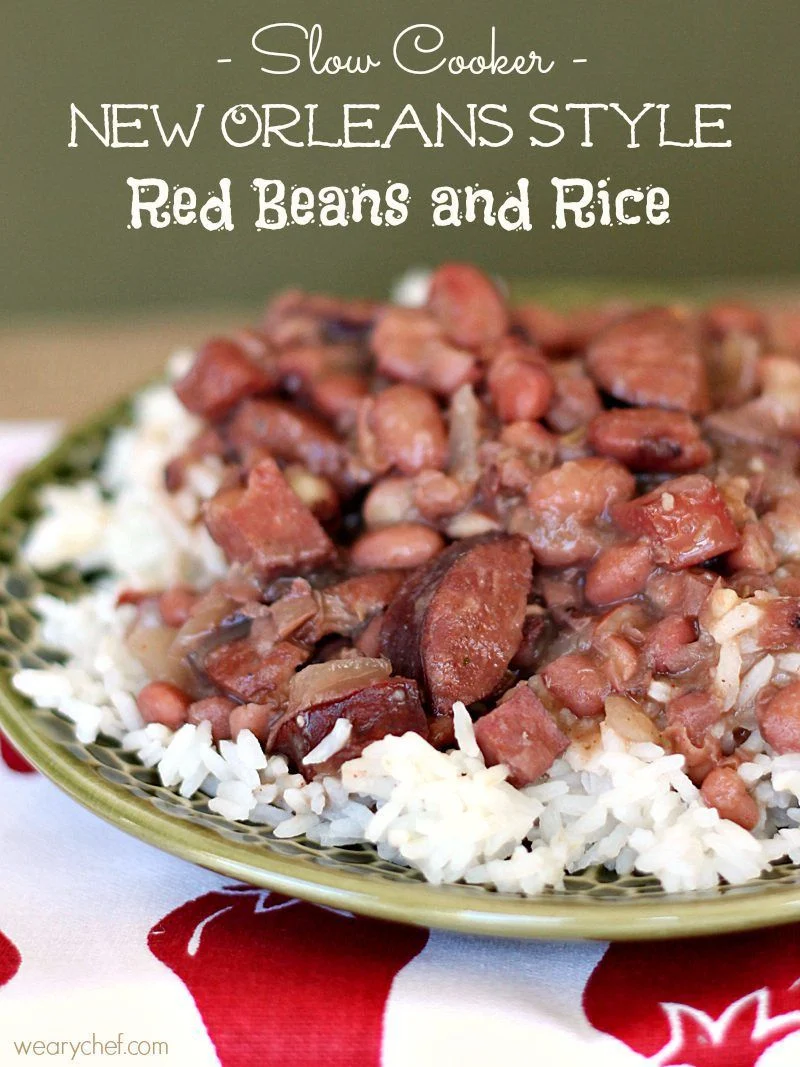 My Experience With the Red Beans and Rice Recipe
I grew up eating two different kinds of red beans and rice. My mom made her own slow cooker version with canned large red kidney beans and tomatoes, which had whole beans and a thin broth. At Southern restaurants and the good ol' Mississippi State cafeteria (loved that place), I had the thick, creamy version with mostly mashed beans.
Both versions were delicious, but I only knew how to make my mom's kind until I tried Emeril's recipe for New Orleans Red Beans and Rice. That recipe is spot on for the cafeteria-style dish I remember, but I wondered if I could make creamy red beans in the slow cooker.
How to Safely Prepare Dry Red Kidney Beans
Originally, I wrote this as a no-soak recipe meaning I rinsed and sorted the dry beans and put them right into the slow cooker without soaking or pre-cooking them at all. However, a reader pointed out to me that uncooked red beans contain a toxin called phytohaemagglutinin (also called PHA, or kidney bean lectin). Therefore, it can cause severe GI upset. It turns out that undercooked red beans are somehow even higher in this toxin than dried beans. Yikes!
Truth be told, I've made this recipe a bunch of times without soaking the beans, and as far as I know, no one has ever gotten sick from it. The problem is, if those beans don't get cooked for at least 10 minutes at 212 degrees F or hotter, there can be enough of the toxin left to cause illness.
However, only for being safe: the FDA recommends these steps for preparing dry red kidney beans:
Soak the beans for at least five hours in water. It's not a bad idea to change the water periodically, but it's not necessary for safety.
Drain the beans from the final soaking water.
Boil the beans in a pot of fresh water for at least 30 minutes. Note: Research indicates that the toxin is destroyed when boiled at 212 degrees F for 10 minutes, but scientists recommend 30 minutes to be certain the beans reach the proper temperature for the amount of time necessary. Don't use a slow cooker: It likely won't get hot enough.
Slow Cooker Red Beans and Rice Recipe: Soaking and Cooking the Beans
I for sure don't want any of you (or me!) to get sick from my recipe, so here's what we're going to do:
Soak the dried beans overnight. The next morning, put them in a pot on the stove, and cover them with a couple of inches of water. Bring the pot to a boil, and boil them for 10-30 minutes. Carefully drain them, and then put them in the slow cooker. You could do the boiling while you dice up your other ingredients, so it hardly adds much work or time.
OR, You can use drained, canned red beans. I'd say about 6 cans. You can put those right in the slow cooker and make the recipe as written. You'll only need to cook it for 6-8 hours, and you'll want to cut back on the added salt since the beans might be salty on their own. Just salt to taste at the end.
OR, You can follow this recipe except cook it on the stove. I've done it that way before, but it takes a few hours and more monitoring since you can't really leave a pot on the stove unattended all day. I vote for one of the previous two options.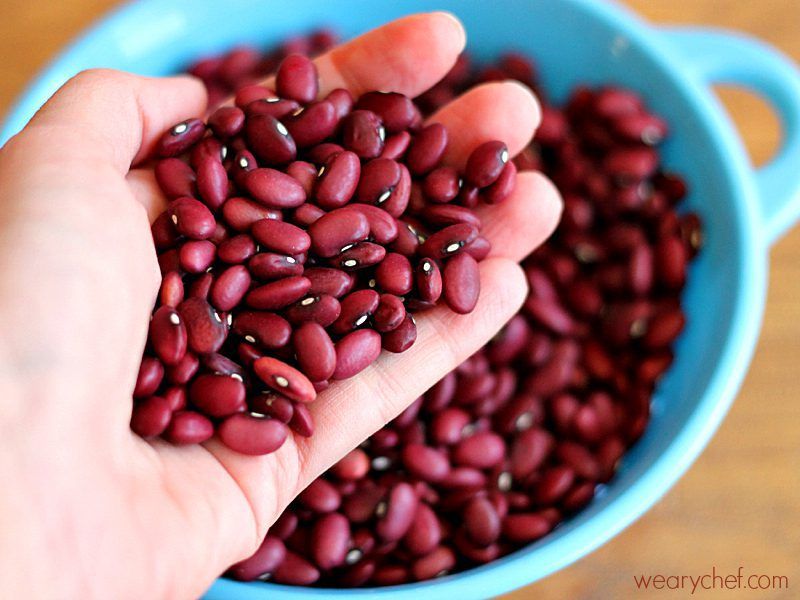 TIPS & TRICKS WHEN PREPARING RED BEANS
The good news about soaking and pre-boiling the beans is that the recipe can be ready faster. With the no-soak method (besides the potential poisoning), sometimes it would take 10-12 hours for the beans to be completely tender.
Soaking them ahead of time or using canned beans will definitely speed up the process. You really want soft, mashable beans for this version of crockpot red beans and rice so you can get that wonderfully creamy texture.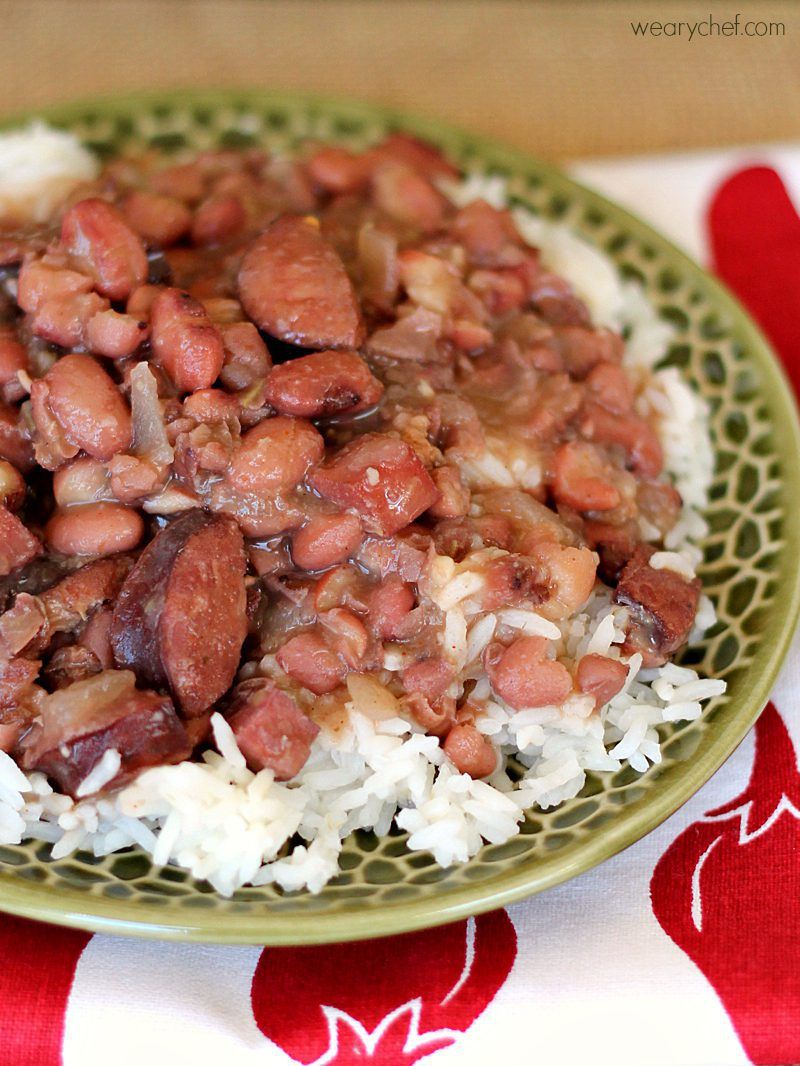 Once the beans are soft, you can get busy with your potato masher, mashing about half or more. Yes, you will mash some of the sausages while you're at it, but that's OK.
After that, let it cook another hour or two, and you will have creamy, wonderful red beans to ladle over your rice!
How to Make New Orleans Style Red Beans and Rice with Sausages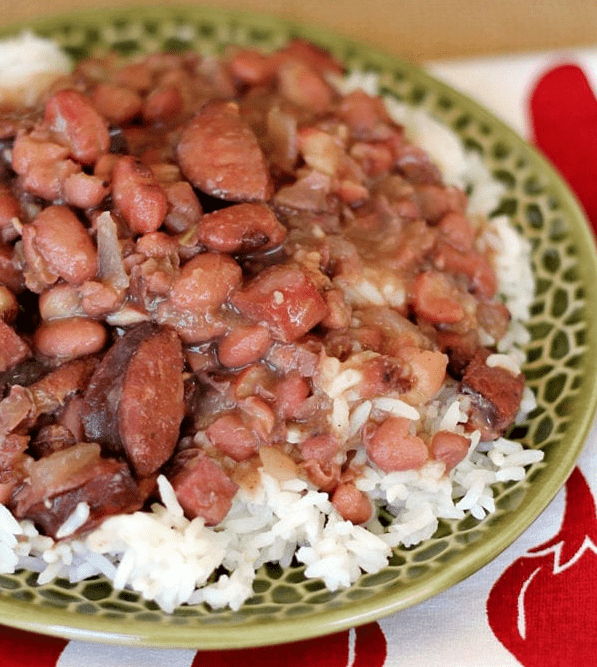 | | |
| --- | --- |
| | |
Rinse and sort beans. Soak in water overnight. (Place beans in a large pot, and cover with at least two inches of water.)

The next morning, drain the soaked beans. Rinse the beans, and rinse the pot they were soaked in. Now, put the rinsed beans back in that same pot, and cover with 1-2 inches of water.

Bring pot of beans to a full boil. Continue boiling for at least 10 or up to 30 minutes. (Meanwhile, chop the rest of the ingredients.)

After boiling, drain beans one last time.
Place pre-boiled beans and all other ingredients except cooked rice in the slow cooker.

Add about 7 cups of water, enough to cover contents with about an inch of water. Stir, cover, and cook on high 6 hours or low 8 hours.

About an hour before serving, use a potato masher to mash at least half of the beans, stir, and cook on high an hour longer. (This step is what gives the creamy texture.)

Before serving, taste beans and add additional salt and cayenne to taste. Remove bay leaves, and ladle beans into bowls over cooked rice.
Adapted from Emeril's New Orleans Red Beans and Rice.
Note: This recipe used to call for unsoaked beans. I have since learned that it is important to soak and pre-cook the beans, so please follow these instructions as written. If you don't have time to soak the beans, you may substitute drained canned beans.
I hope your whole family enjoys this slow cooker red beans and rice recipe as much as mine does!
Enjoy Your New Orleans Style Red Beans and Rice!
However, a lost thought: for this recipe and for many more, a slow cooker is necessary. If you have one of these, your work will be reduced more than you can imagine. They are super easy-to-use, powerful, and of course time-saving. This is the slow cooker I use for all my recipes:
Finally, please share with us your slow cooker red beans and rice results. Also, feel free to improvise as much as you like. After all, this recipe should be fun to make and satisfy your tastes. So, go wild and tell us all about it in the comments section below!
Last but not least, If you'd like more of my easiest-to-make recipes, here are three of my favorite: