Baked potatoes are mashed with sour cream, smothered in hearty chili, and topped with a little melted cheddar. These Vegetable Beef Chili Potatoes are comfort food at its healthiest!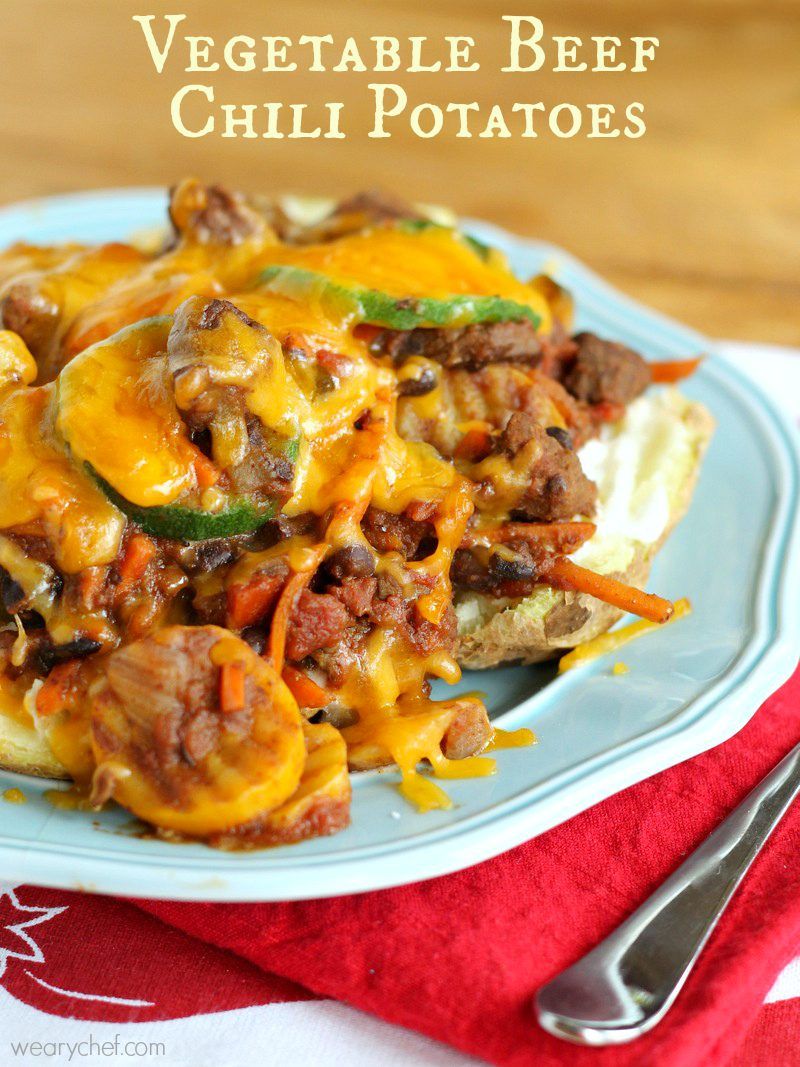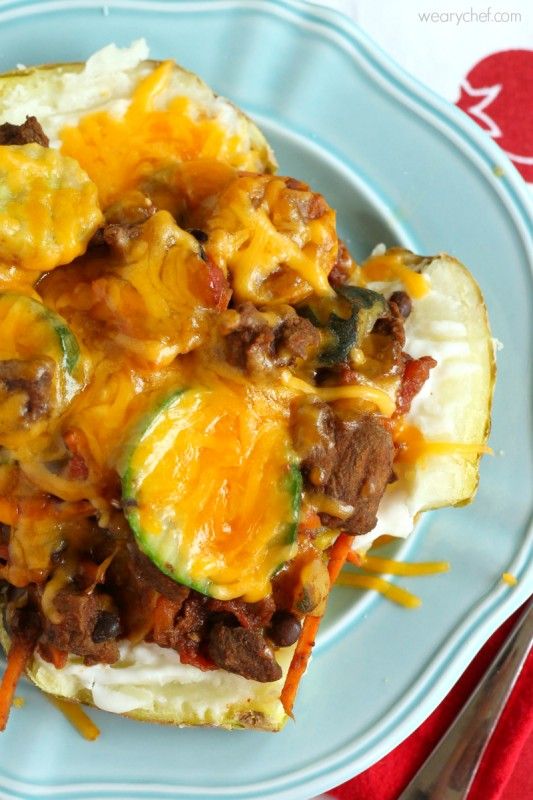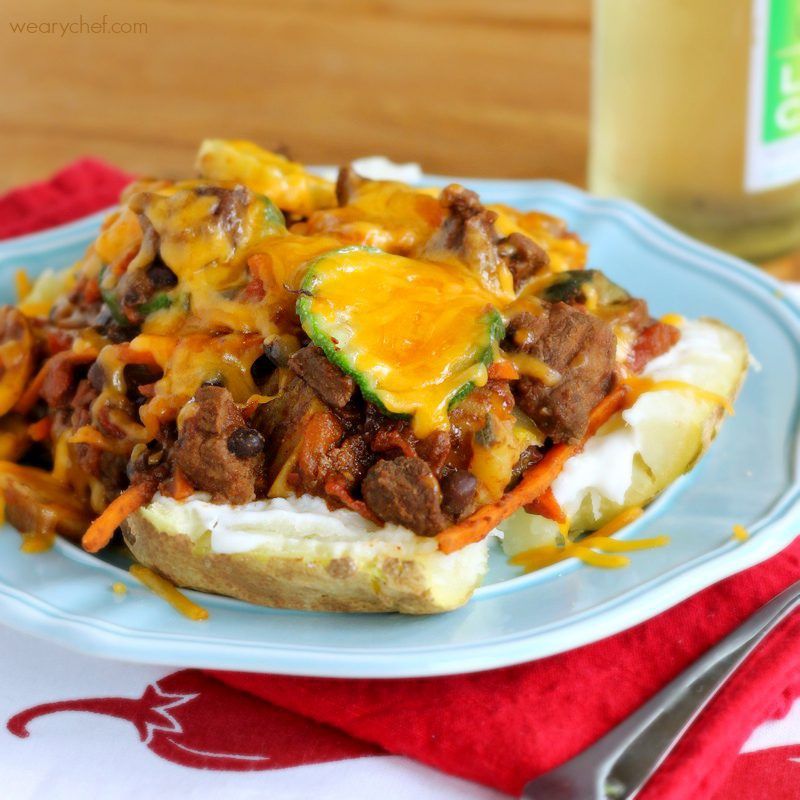 This healthy dinner is disguised as a guilty pleasure with a little cheese on top. It looks like a big ol' plate of man food, which is my favorite kind of food despite my gender, but it's actually pretty good for you. Speaking of men, my husband, who is not picky at all when it comes to food, is only known for disliking a few things: Broccoli, chili, and baked potatoes. There's no convincing him on the broccoli thing. He wrinkles his nose up like a little kid if he even smells it, and he picks it out if it ever appears in his stir fry or other dish. His dislike for chili and baked potatoes is more about burn out than actually hating how they taste. I guess he ate so much chili when he was growing up and then we were newlyweds that he feels like he never needs to eat another bowl. Same goes for baked potatoes. They were served on the side of meat so many times in his young life that he is permanently bored with them. It's not clear why I made these chili potatoes since the recipe combines two items from his short list of least favorite foods. I thought if I made the chili more interesting than just ground beef, beans, and tomatoes, then it would be more appealing. Since the baked potato would be under a blanket of this excitingly different chili, he could hardly think it was boring, right? Right! This dinner was a hit! I hope your family loves this filling dinner too.
Print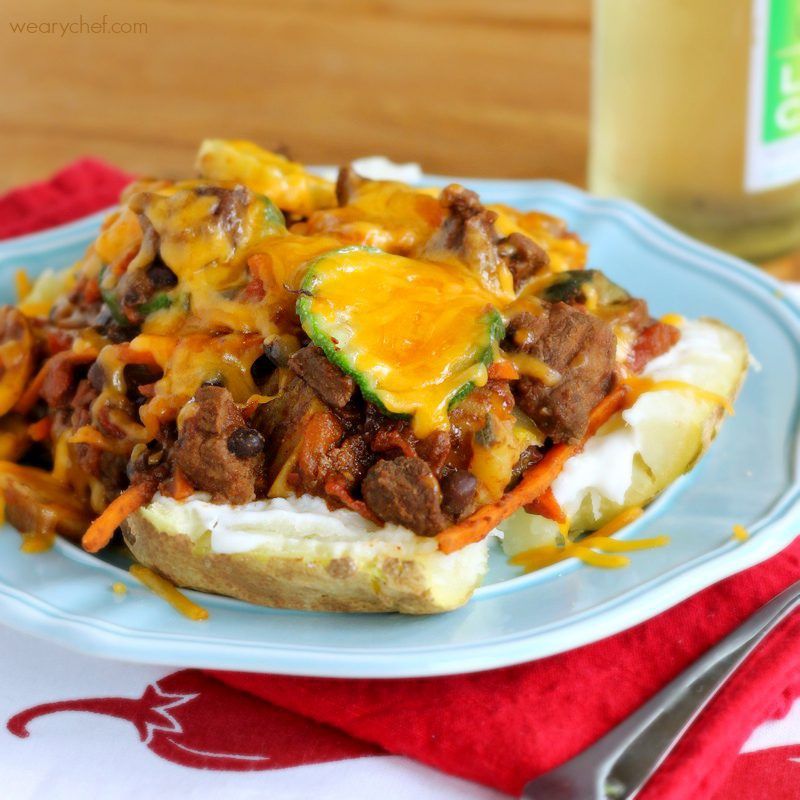 Vegetable Beef Chili Potatoes
This hearty, healthy dinner tastes like comfort food but is good for you!
Total Time:

2 hours 5 minutes

Yield:

4

-5

1

x
Instructions
In a large skillet or dutch oven, heat olive oil over medium-high heat. Add beef, onion, garlic, chili powder, cumin, and salt. Saute until onions are tender, stirring frequently.

Stir in carrots, beans, and both cans of drained tomatoes. Bring to a simmer, reduce heat to medium-low, and cover. Cook, stirring occasionally for 1 1/2-2 hours, until beef is fork tender.

Stir in squash, and continue cooking uncovered for about 15 minutes longer, until squash is cooked to desired tenderness. Add salt and pepper to taste.

Meanwhile, cut a deep "X" into the top of each potato. Use a fork to mash 2 tbsp. sour cream and salt to taste into the potato flesh. Scoop a generous portion of the beef chili over the potato, and top with a handful of cheese. Dig in!
Notes
1. This chili should freeze well.
2. I think this chili recipe would turn out great in the slow cooker too, 4-6 hours on high or 8-10 hours on low. Add the zucchini towards the end of cooking in the crockpot if you don't want it to get too mushy.
Author:

Prep Time:

5

Cook Time:

120

Category:

Main
You will also like these healthy, cheesy dinners: