This Southwest Salad is loaded with pork, corn, black beans, tomatoes, avocado, and tossed with a tangy lime dressing. It's a perfect summer meal!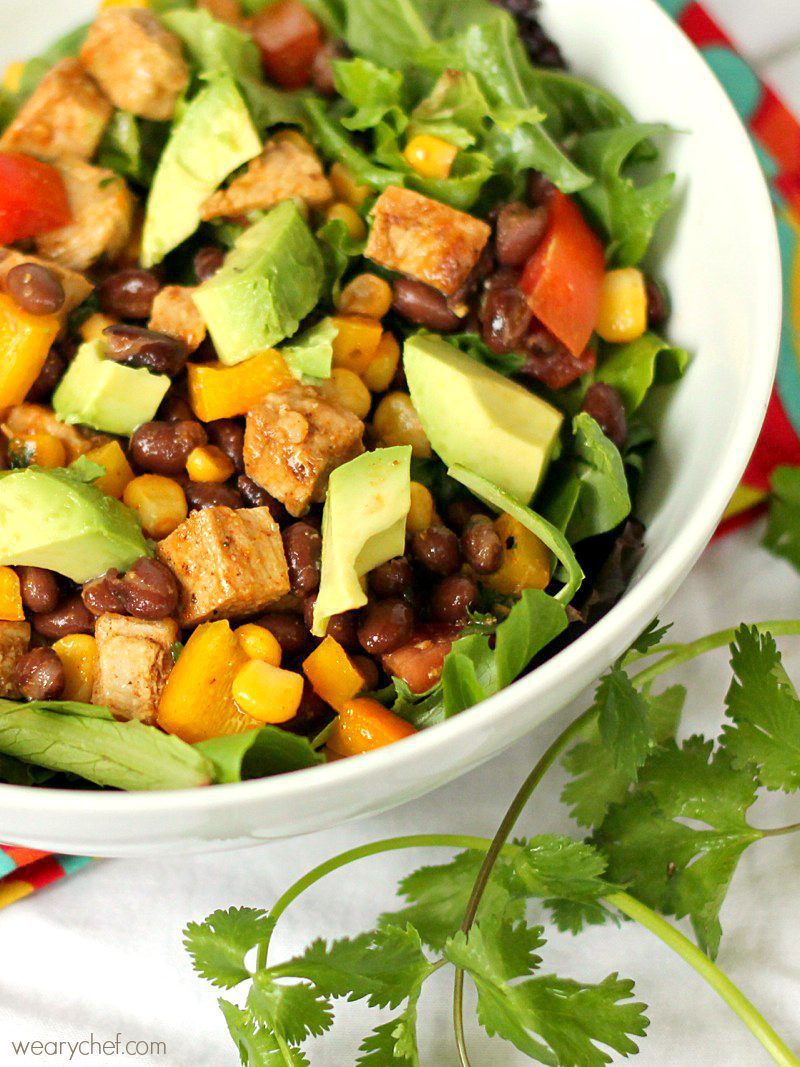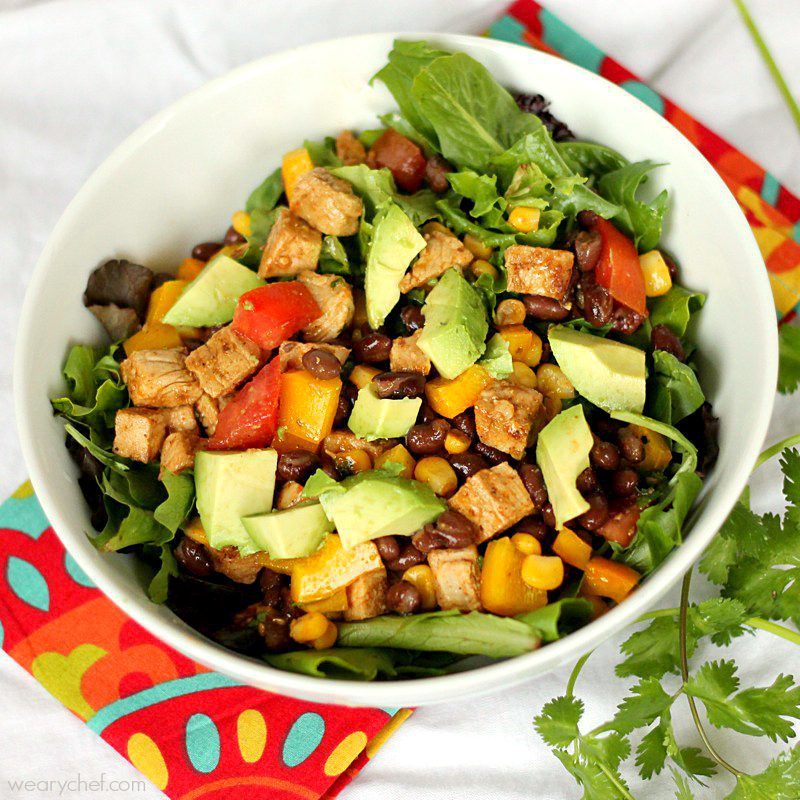 I have something to tell you, and I hope you will understand and be supportive: I am trying a gluten-free diet. Please don't click the back button on your browser! It's still me, and I'll still bring you down-to-earth recipes you'll love! I'm not turning this into a gluten-free blog, but the fact is, I've been having some stomach problems for about nine months now and want to start feeling better! If eliminating gluten from my diet is the way to get there, I'm going to do it! It has taken me at least a month to work myself up to trying this. I finally realized that I can still eat rice, corn, potatoes, and lots of other starchy goodness even if I'm avoiding gluten. I mainly just can't eat wheat, and I think I can handle that. There are loads of gluten-free foods in the grocery store now, and it's not too hard to make regular recipes gluten free with a few changes. I'll still write regular recipes here for all of you, but I might start including gluten-free modifications for anyone else who is interested in that sort of thing. All of this is assuming this gluten-free diet even does anything for me. The only way to really find out is to try it, but if I feel the same in a few weeks, I'll make up for lost time with lots of sourdough bread and donuts. My fingers are crossed that it does make me feel better, which would make the sacrifices and substitutions well worth it! This Southwest salad is a great example of a recipe that is gluten free without even trying! I originally wrote this for TodaysMama last year, and I'm excited to share it with you here now. It is packed with nutrients and flavor and a fun new twist on typical taco salad. I hope you enjoy it for dinner soon!
Print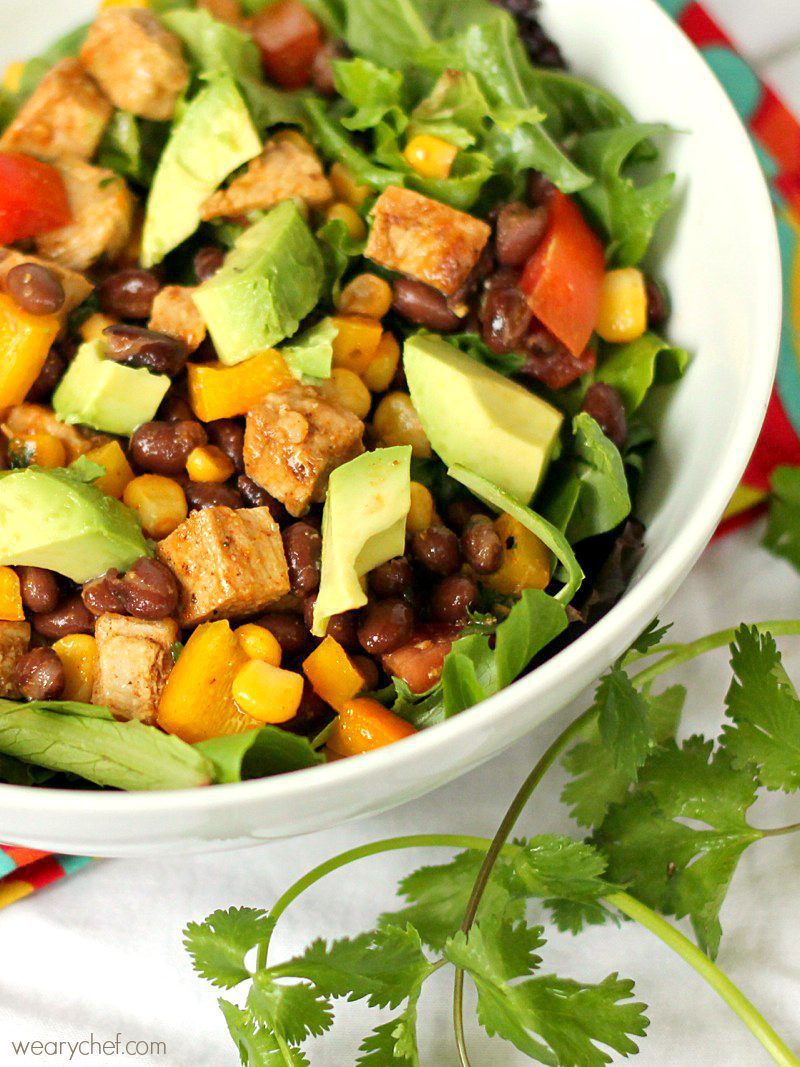 Southwest Salad with Pork
This hearty dinner salad is loaded with protein, fiber, and vegetables!
Total Time:

20 minutes

Yield:

4

1

x
Instructions
In a large bowl, stir together olive oil, chili powder, chili sauce, oregano, cumin, and salt. Add pork chops, and toss to coat. (This won't look like much marinade, but it will be enough to coat the meat.) Allow meat to marinate for at least 15 minutes.

Meanwhile, add all dressing ingredients to a small container with a tight fitting lid. Cover and shake well to combine. Set aside.

Spray a skillet with cooking spray and heat over medium-high heat. Add pork chops to hot skillet, and cook on both sides until cooked through. (Thin cuts will only need to cook a few minutes per side.) Remove meat to a cutting board, and dice into bite-sized pieces. Allow meat to cool slightly before adding to salad.

In a large salad bowl, stir together black beans, corn, cilantro, tomatoes, bell pepper (if desired), pork, and salad dressing. Gently mix in salad greens and avocado. Serve and enjoy! (If you make this ahead of time, leave out the salad greens and avocado until ready to serve.)