What do you mix with Drambuie? OR What is the best way to drink Drambuie? Well, your favorite cocktail for this week's happy hour is the sweet and smooth Drambuie and Soda! Not to mention how easy it is to prepare – 2 minutes and you are ready to party! No more worries in thinking about what to give to your pals at a party. You can make this easy treat and surely enjoy the rest of the night. Make sure to invite more friends. A glass of this will make your day.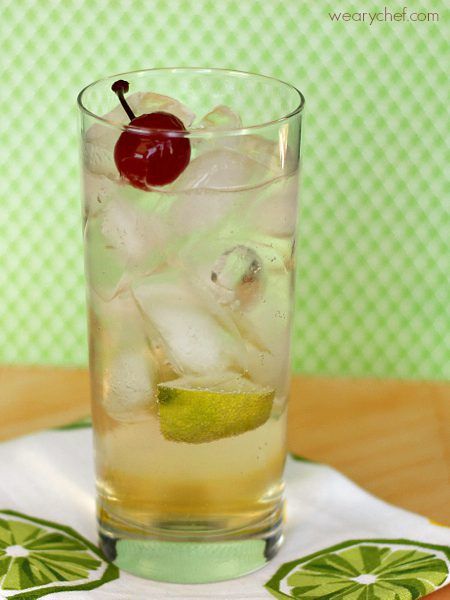 Scotch Whiskey Liqueur Drambuie Cocktail
Scotch whiskey liqueur Drambuie has been produced since 1745. It was initially developed as Lord Drambuie's elixir for medical use to treat stomach problems. These days, it's a popular scotch whiskey both domestically and abroad. This is a mouthwatering beverage and everyone loves it.
Scotch whiskey, wildflower honey, herbs, and spices are used to make Drambuie, a liqueur with a 40% alcohol by volume (ABV) and gold color. The MacKinnon family controlled the company for 100 years before William Grant & Sons acquired it in 2014. Drambuie, a Scottish herbal honey-and-whisky liqueur, serves as the drink's base, but before you discard it as too sweet, consider the citrus and soda, which will cut the sweetness by a few levels. A slider of rum is also included to assist balance the flavors and adding the proper amount of punch.
There are a few other origin stories for the moniker, but the most well-known is that the drink was first stirred with a rusty nail. Others claim the name was inspired by the rusty nails that held the Drambuie cases together, or it might have been the golden hues of the completed beverage. Lemon and cherry provide brightness to the sweet, golden Drambuie, creating a pleasant cocktail.
The MacKinnon is a good choice to get you there when you need something unexpected and somewhat delicious but it won't be a drink you have every day. The perfect scotch cocktail is the rusty nail. Scotch and Drambuie are combined quite simply and served on the rocks. It's a sophisticated beverage that is best enjoyed slowly, and it goes well with meals. Feel free to switch from blended to single malts and investigate other brands, selecting a selection that is as top-shelf as you desire.
Learn How to Make Drambuie Cocktail
Do you remember a few months back when I picked up a bottle of Drambuie to make the Rusty Nail for Girls? (Boy, do I love that drink!) Well, this week when I was looking for inspiration for a new cocktail, I saw that charming little brown bottle and wondered what else I could do with it. I found out that Drambuie and Cola are a thing, but I wanted to change it up a bit. Subbing lemon-lime soda for the cola did the trick! This cocktail is akin to the Gray and Foggy, especially since dark rum and Drambuie are both spiced spirits. I think the spices are more subtle in this scotch-based liqueur, but it is definitely sweet, smooth, and perfect for mixing. It is a great treat like the famous mojito recipe.
What Does This Cocktail Taste Like?
The flavor of Drambuie is a subtle fusion of honey, spices, and fruit. Although it is not too sweet, a background sweetness tempts you to take another sip. There are also traces of cinnamon and citrus flavors with a silky finish.
In addition to being a drinkable liquor, Drambuie makes a great addition to cocktails. The liqueur can be used to make both sweet and savory beverages and has a 40% alcohol concentration by volume. But contrary to popular belief, Drambuie also works well in more inventive drinks like a Laphroaig Fizz or a whiskey sour.
Why Love this Cocktail Recipe?
It is very easy and delicious.
Cherry enhances the flavor of the cocktail.
Lime juice is best for digestion.
Delicious and revitalizing weight loss alternative
helps with weight control
and increases the defenses of your body against diseases and infections
Prevents Diabetes from Developing or Progressing
Print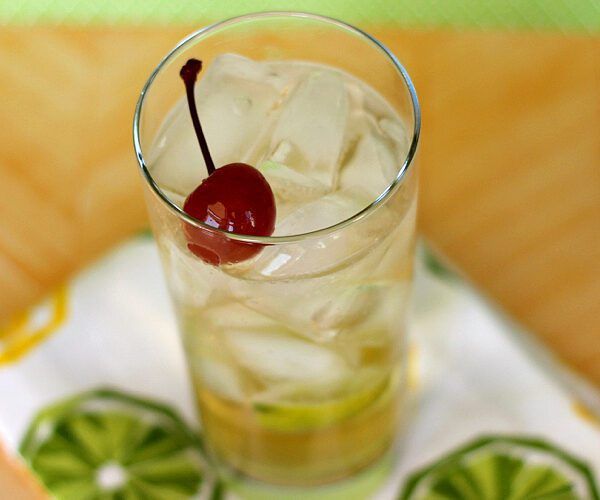 2-Minute Drambuie Cocktail Recipe with Soda
This simple cocktail with Drambuie and soda is sweet and very sippable!
Total Time:

2 minutes

Yield:

1

1

x
1/4

lime

1 1/2

oz.

Drambuie

6

–

8

oz.

lemon-lime soda

get a brand with natural sugar if possible

1

maraschino cherry

plus a little cherry juice from the jar
Instructions
Squeeze lime into a 12-oz glass, and toss in the squeezed lime wedge.

Pour in Drambuie, and fill glass almost to the top with ice.

Fill glass 3/4 full with soda, and gently stir with a long-handled spoon. Drop cherry with about 1/2 tsp. cherry juice into the top of your cocktail, and serve.
Author:

Prep Time:

2

Category:

Cocktail
Nutrition Information
Per serving:
| | | | |
| --- | --- | --- | --- |
| Calories | 69.6 kcal | Carbohydrates | 5 g |
| Carbs | 8.8 g | Fiber | 0 g |
| Sugar | 8.8 g | Sodium | 1.2 mg |
| Vitamin A | 0 mcg | Selenium | 0.1 mcg |
| Fat | 0.1 g | Phosphorus | 0.6 mg |
| Choline | 0.1 mg | Potassium | 3 mg |
Health Benefits
Some have compared it to cough syrup due to the syrupy texture and sweet and harsh bitter flavor. If you don't like honey, you won't like this drink because the wildflower honey almost completely dominates it. If you want a lighter and smoother drink, avoid Drambuie because it is 40 percent stronger than other spirits. For those who prefer the flavor of scotch, enjoy sweet liqueurs, and are not put off by a range of herbal flavors, Drambuie is a good beverage.
It has many health advantages and is high in antioxidants. So, Whiskey is a diluted alcoholic drink created from a particular kind of grain mash.
Constipation and indigestion-related issues can be treated with lemon juice. Also, digestion is aided by adding a few drops of lemon to your drumbui cocktail.
Fresh lemon soda, also known as fresh lime soda in some regions, is an excellent beverage to have after lunch or dinner since it cleanses and purifies the blood.
The antioxidants that give fresh cherry its deep red color also work to prevent cell deterioration.
They have 69 calories per cup, no added sugar, and are a good source of fiber, vitamin C, iron, potassium, and vitamin A.
Storage Tips
This liquor must be kept in the fridge as soon as the bottle is opened. However, if you want to retain its freshness and flavor for more than a half year, keeping it in the fridge might be your best bet.
These products should typically be thrown away 18 months after exposure to air.
While keeping whiskey in the fridge won't hurt it, the flavor will (temporarily) change. Keeping whiskey in a climate-controlled home in a dark, cool (but not chilly) location, such as a cabinet.
Check out more variety of cocktails that you can make in your home.