Have you ever wanted to try ordering a pre-made holiday dinner instead of cooking your own? I partnered with Raley's to experience one of their holiday meals, and I'm excited to tell you 10 reasons why I think you should try one too!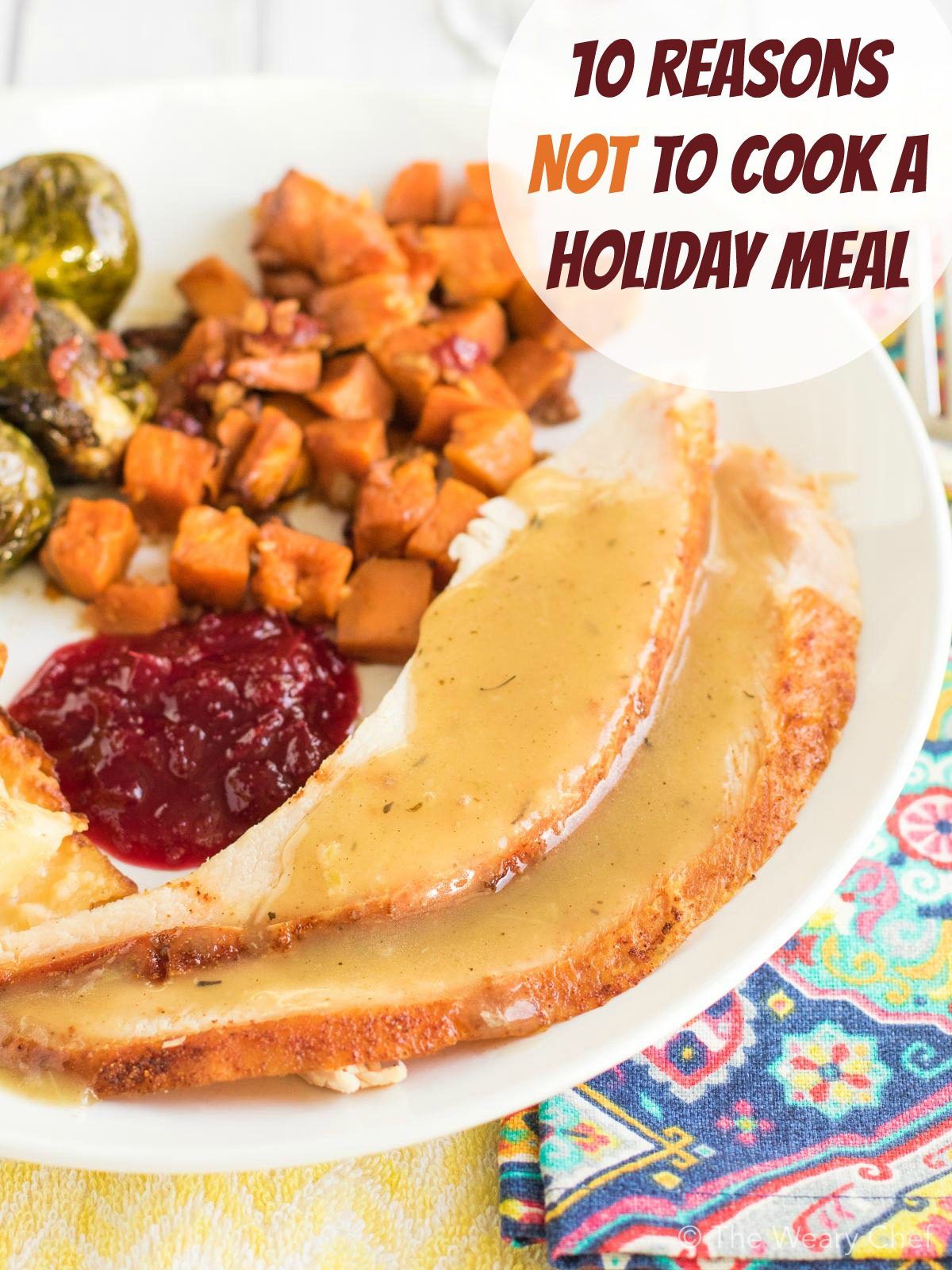 Did you have a nice Thanksgiving? Ours was good because we got to visit family this year, but it was also pretty hectic because we had a lot of flying and driving to do. We actually flew back home on Thanksgiving Day, so our turkey day didn't have any turkey at all. Luckily, we knew we had an amazing meal coming our way the day after the holiday.
Before our trip, I pre-ordered a holiday meal from Raley's, a local grocery store chain here in Northern California, and it was SO nice to enjoy an amazing turkey dinner with my family with so little effort on my part! I was way too weary after traveling to cook a big meal from scratch, but we still enjoyed the experience of a home-cooked turkey dinner with all the trimmings.
Have you tried a pre-made holiday dinner yet? If not, I hope you will take the opportunity to order one for your upcoming holiday festivities. Let me tell you 10 reasons why it's a good idea!
Raley's holiday meals taste incredible! This could really be the end of the list because the quality of the turkey dinner we enjoyed was amazing! We chose a Diestel all-natural turkey, Scalloped Potatoes with Swiss and Parmesan (OMG), Balsamic Glazed Brussels Sprouts with Bacon, and Roasted Sweet Potatoes with Cranberries and Pecans. Each dish was absolutely scrumptious!
Buying a pre-made meal is more affordable than making everything from scratch. You see that list of side dishes above? It would have taken a lot of ingredients (not to mention time) to prepare all three of those dishes, and that can add up fast to a big grocery bill! I would expect a 12-pound organic turkey to cost $50-60 alone, so $99 for the entire meal including the turkey, sides, gravy, and fresh cranberry sauce was a serious bargain. There are options for every budget from a Bourbon Pineapple Ham Dinner with sides for only $69.99, or you can order just the main course or individual sides to create your perfect menu.
You can spend more time with your family and friends and less time in the kitchen. How many holidays have you spent slaving away in the kitchen while everyone else is laughing, drinking, and catching up in another room? You should put down your apron and join the party, which you can do when you let Raley's do most of the cooking for you!
There are enough choices to please everyone at the table. I told you my selections for our holiday dinner, but you could also choose ham or a less expensive turkey. Side dish options also included mashed potatoes, green beans almondine, classic stuffing, and more. There really is something for everyone! If you can't decide on just three side dishes or have a big crowd to feed, you can add extra sides a la carte for only $9.99 each.
You can serve a gourmet meal even if you aren't an experienced cook. If the thought of hosting a holiday meal keeps you up at night, don't even sweat it! You really only need to know how to turn on your oven to prepare this beautiful meal. The instructions are very clearly printed on the packages for the meat and sides, so you just need to plan your cooking times to be sure everything is finished around the same time. Just be careful because when you serve up this meal, people might beg you to host every year!
No one needs to know you had a little help from Raley's if you want to keep it a secret. You can very easily transfer the side dishes to your own dishes if you want, and no one would have any idea that you didn't make them yourself!
Everything is heated in your own kitchen so it's fresh and tastes like homemade. The turkey and sides were all refrigerated and ready to heat, so the turkey and side dishes baked up hot in my own kitchen. It was just like I made them myself except with zero prep!
Ordering online is easy at raleys.com! I wrote recently about how much I hate talking on the phone. I was so happy to see that I could order my holiday dinner online from the Raley's website! I did have a little trouble seeing how to checkout once I added my meal to my cart, so I'm showing you here so you don't run into the same confusion.
Raley's is a beautiful place to shop for any extras you need like wines, fresh baked desserts, delicious cheeses, and more. If you live in Northern California and haven't visited a Raley's, Bel Air Market, or Nob Hill Foods store lately, you need to get yourself in there ASAP! (Find a store near you.) The stores are beautifully laid out, and they have an amazing assortment of store brand, name brand, and organic products. Their goal is to make healthy food affordable, so expect to see great prices on all the essentials, plus they have a wine selection, bakery, and deli that are all swoon worthy! When you pick up your pre-ordered holiday meal, you can also browse their wide selection of drinks, desserts, and much more for any occasion.
YOU deserve a break and should treat yourself to a perfect holiday meal with a fraction of the work! I hope I have demonstrated how much we enjoyed our Raley's turkey dinner. I would love for you to give yourself a break this holiday season and order a delicious, pre-made meal that everyone will rave about!
Ready to check out all the holiday meal options? Click here to see the order form!
Thank you again to Raley's, my generous sponsor.