Dinner parties are fun, but if you have regular get-togethers, then mixing things up with a theme every once in a while keeps the party fresh and friends coming back for more. A fun theme that is often overlooked is fondue! A buffet-style set up can seem rather elaborate, but fondue is actually quite an easy theme to throw together, as long as you're using the right fondue set. Before you go out and make the purchase, check out this list of the coolest fondue pots on the market today. Get ready to get your melt on!
Product FAQ
1. What Is Fondue?
Fondue comes from the Swiss tradition. First, a pot of sauce, usually cheese or chocolate, is warmed to its melting point. Second, bread, meat, or fruit is dipped into the sauce. Third, everyone who tastes it says, "Wow!" And lastly, you are voted host or hostess with the mostest.
2. What Equipment Do I Need?
A complete set will include a pot that is either electric or heated via candle or small open flame burner and a set of long-stemmed fondue forks. It really is that simple. How you choose to present these items are up to you as are the sauces you serve and what foods to dip.
For those of you who do not have fondue forks just lying around the house, do not worry. Most sets come with a few, but if needed, regular dinner forks work just fine. We also recommend mixing it up with the food options, so several plates for cooked and uncooked foods may be in order. Spice things up with the layout. It's easy to make this type of party feel fresh and new with something as simple as serving your pieces of bread, fruit or meats on different shaped plates or cutting boards.
3. How Many People Should I Invite?
Fondue sets come in a variety of sizes perfect for any occasion. Larger, 3- and 4-quart sets, usually electric, are great for large gatherings of hungry people. 1- to 2-quart sets serves a moderate number of folks. Intimate settings will be served with 4- to 6-cup pots perfect for table centerpieces. The smallest sets are heated by candlelight and add a touch of ambiance to the affair that can be downright romantic.
4. Cheese or Chocolate?
The type of sauce you choose to make is totally up to you? Melted cheeses go great with bread and meats. Dip fruit into chocolate for a light and sweet dessert. Try mixing it up with chocolate covered meats and cheese covered fruits! There is a wide, wide world out there full of flavor combinations to explore! Some people enjoy warming oils and broths for cooking main course meats instead of the thicker sauces for dipping pre-cooked foods. This can really take an already great meal to a whole new level.
5. Where Do I Find Recipes?
There are recipes all over. Pots usually come with a recipe booklet inside, but any of your favorite recipe sites will have fondue recipes floating around as well. Don't be afraid to experiment! If you think you have a great recipe idea, go ahead and try it out. The pots are usually easy to disassemble for cleaning, and who knows? Maybe you'll discover the next great flavor combo to set the culinary world on fire! This is supposed to be fun, so have at it!
You will also notice that this isn't just for pre-cooked meats. Letting meat cook in the pot is a fun way of making life easier on the chef, but you want to keep an eye on your guests. Make sure they are cooking their meats for the minimum recommended times. We'd even recommend having a designated dipper for those occasions when the wine is flowing and people get a little forgetful.
Read on to see the 5 fondue pots we found to make your next party a hit!
COMPARISON TABLE
| PRODUCT | IMAGE | RATING | WHERE TO BUY |
| --- | --- | --- | --- |
| | | | |
| | | | |
| | | | |
| | | | |
| | | | |
How we reviewed ?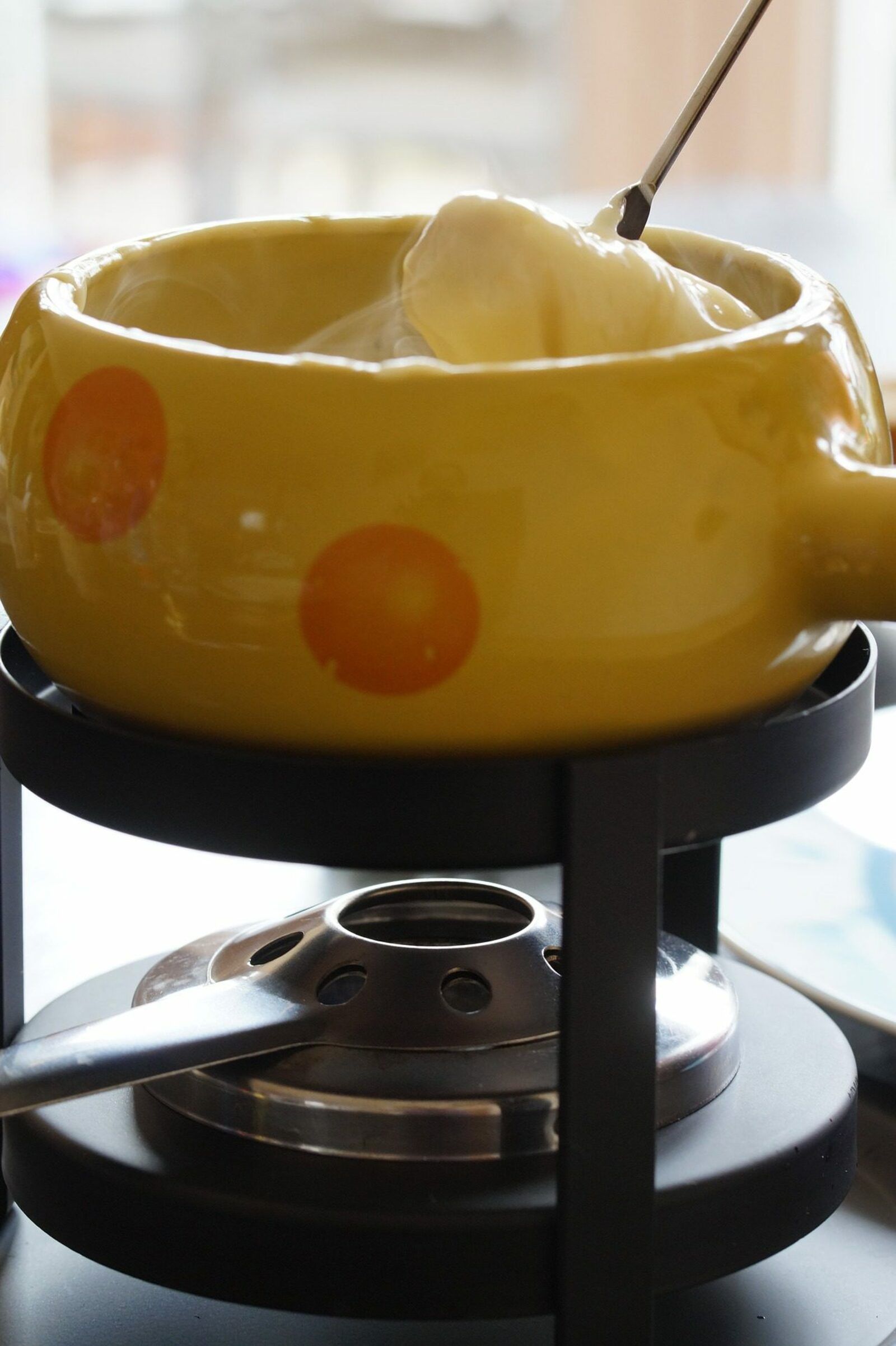 We like to make sure that we are showing you the best there is on the market for these reviews, so we do the research for you. When possible, we use the items ourselves and give you our first-hand opinions. When we can't, we scour the web for all the latest information, including the complete set of specs and features for the items as well as looking at pros and cons from real, verified customers. We compare prices from around the web and choose items with the best warranties available to make sure that you get the best product for your money.
Overall Price Range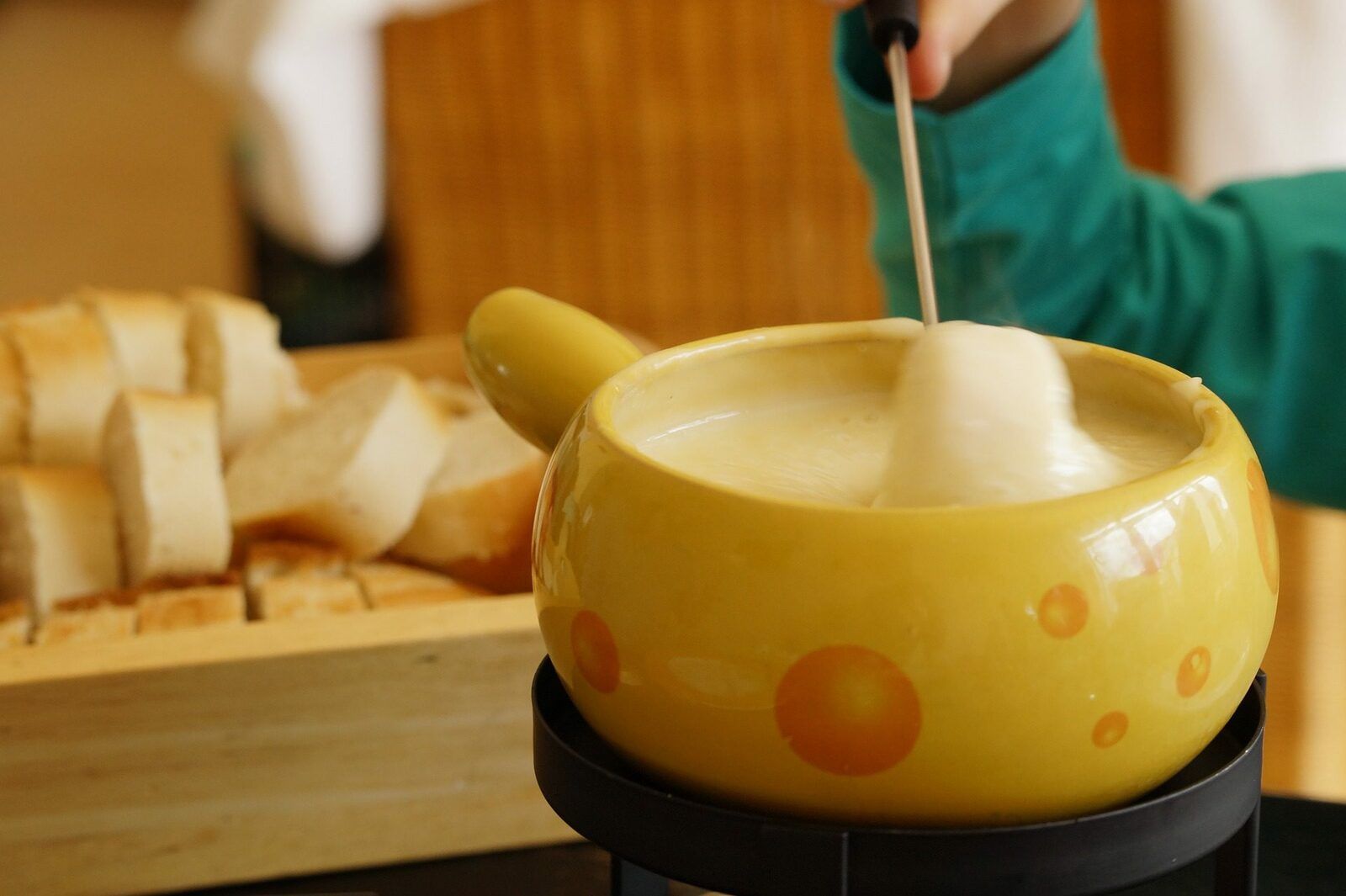 Fondue sets can be purchased for as little as $15 or for as much as $70, depending on the brand and style. Be sure to have your party size in mind when making your decision. Having to refill and remelt your delicious sauces in the middle of the party can be a hassle and a big disappointment!
What We Reviewed
Cuisinart FP-115WS
Hamilton Beach Party Food Warmer
Nostalgia
Trudeau Alto 3-in-1
Boska Holland Tapas Cheese Fondue Set
Features
This 3 quart Cuisinart set is perfect for oil, broth, chocolate, or cheese. It has a sleek, brushed stainless-steel design with a nonstick interior, making it a breeze to clean. The temperature control is removable, and the whole set disassembles easily for cleaning and storage. It comes with 8 fondue forks and a fork rack, making this the perfect set for large gatherings. This Cuisinart CFO-3ss is easily our top pick.
Warranty
This Cuisinart model comes with a 3-year limited warranty.
PROS
Heats quickly

Enamel finish

Easy disassembly

3-quarts are perfect for large gatherings

Magnetically attached power chord keeps accidental tipping from occurring
CONS
Power cord is a little too short

Fork rack is a metal ring can come loose
Features
The Hamilton Beach model is smaller at 16 ounces, or less than two quarts. The pot is ceramic and both the lid and the pot are dishwasher safe, which is a plus. This model is designed more for small gatherings enjoying melted cheeses and chocolate dips. This set does not come with forks or rack, but at this price, we still feel that it is an excellent deal.
Warranty
This Hamilton Beach model comes with a 1-year limited warranty.
PROS
16 ounces

Dishwasher safe
CONS
Lid heats up quickly. Keep a towel handy

No on/off switch

Short power chord
VonShef Fondue Set with 6 Forks Stylish Cast Iron Porcelain Enamel Pot Makes All Styles of Fondue Such as Cheese and Chocolate 63 fl oz Capacity 12pc Set Red
PERFECT FOR ENTERTAINING – The perfect centerpiece for dinner parties
INC 6 COLOR CODED LONG STEMMED FORKS – For dipping and cooking, making it easy to use and know which is yours
RETAINS HEAT – Made from heat resistant Porcelain Enamel Cast Iron
ADJUSTABLE FLAME BURNER – The set also includes an adjustable flame burner with snuffer. Please note that fuel should be purchased separately
EASY STORAGE – Pieces all store away easily and set is made portable due to its perfect size – 63 fl oz Capacity
Features
This VonShef Fondue Set is perfect for oil, broth, chocolate, or cheese. It has a sleek, brushed stainless-steel design with a nonstick interior, making it a breeze to clean. The temperature control is removable, and the whole set disassembles easily for cleaning and storage. It comes with 8 fondue forks and a fork rack, making this the perfect set for large gatherings. ​This VonShef Fondue Set is easily our top pick.
Warranty
All VonShef products come with a limited 1-year warranty. Extended warranties are offered for free with registration of their products.
PROS
Fun design

Color-coded forks

No electricity needed.

Magnetically attached power chord keeps accidental tipping from occurring
CONS
Open flame may be a safety issue for some

Porcelain is not nonstick

Not dishwasher safe
Features
This Trudeau pot is something special. It comes with a reversible silicone double boiler insert with two separate capacities for chocolate and cheese. It is a flame burner set made of stainless steel, pot, and rack, and comes with six color-coded steel forks perfect for meat fondue and six plastic forks for use in cheese and chocolate.
Warranty
This Trudeau unit comes with a 1-year limited warranty.
PROS
Reversible insert makes warming the right amount easy

Silicone insert is easy to clean

You gotta love those color-coded forks
CONS
Smaller than we'd like for larger get-togethers

Open flame may be a safety issue for some
Features
The wonderful thing about this Boska fondue set is the fact that it is microwaveable. It is an elegantly simple design requiring no electricity or lighter fluid. It's heated by a candle! The pot is ceramic and sits on a wooden base. The set comes with two fondue forks and a tea light. This is another small unit but feels just right for intimate occasions.
Warranty
This unit has been discontinued, so warranty will be set by the seller. Ask about terms when you purchase.
PROS
Small, yet elegant

Perfect for intimate settings

Candlelit (Did we mention intimate settings?)

Microwaveable
CONS
Small – may need a bigger unit for larger gatherings

Higher price point for this stylishly simple design
The Verdict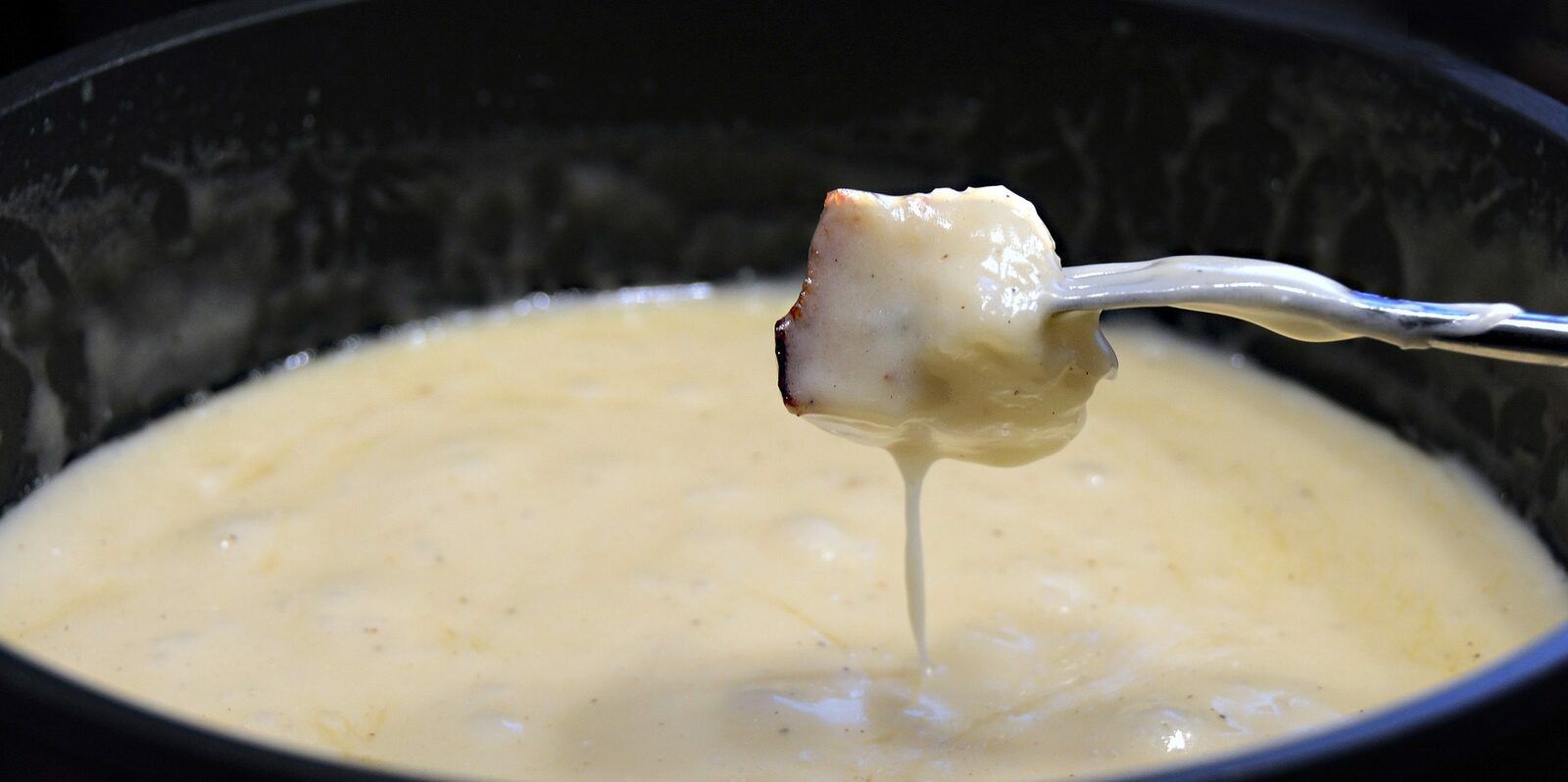 As you can see, there are plenty of options when it comes to choosing the perfect fondue set for your situation. The larger Cuisinart CFO-3SS was our favorite due not only its size but its versatility. No one says you must fill the pot to the brim when serving your guests, and if you have the room on the table, this can be used for more intimate gatherings or far large shindigs with many people participating.
For the smaller pots, we adore Boska Holland set. It's elegantly understated, and perfect for serving two people. The other pots can fit as a centerpiece as well, but the Boska just has the intimate feel that can not be beaten. The only reason that we put it as last on the list is that this model has been discontinued. A new version will be available soon, though, so keep an eye out for our review of that model when it comes available.
Now for heating options. As you can see, these pots can be heated electrically, making these sets essentially slow cookers. The advantage here, of course, is there is less of a fire hazard, especially where children are involved. With the open flame burners, an eye must be kept on the flame and anything around the pot to make sure that no accidents happen. We recommend designating someone to be on fire watch just in case. That being said, the design of the VonShef is hard to beat if you're going for a retro style. Just make sure you don't forget to buy the fuel before the party starts!
Whichever pot you choose to make that next party feel fresh and new, you cannot go wrong with these five options. Sure, we liked the size and features of the Cuisinart the best, but your needs (and your budget) may call for something simpler like the Hamilton Beach model. The fun part of these less expensive models is that they're often the dishwasher safe versions, while the more expensive sets will require more attention to clean. That's why we put it on the list. It is a great little fondue set for under $, so you can add the fun and excitement (yes, excitement!) of fondue to your party without breaking the bank.
Just remember, you can not spell fondue without f, u, or n. No matter how you go about setting up your spread, keep in mind all those happy faces you will see gathered around your buffet table. Keep in mind the light in that special someone's eye for those more intimate settings. Last, but certainly not least, remember to take pictures during your next party to make all those people who weren't able to make it jealous!
Featured Image by marcelkessler from Pixabay
Last update on 2023-03-24 at 04:10 / Affiliate links / Images from Amazon Product Advertising API