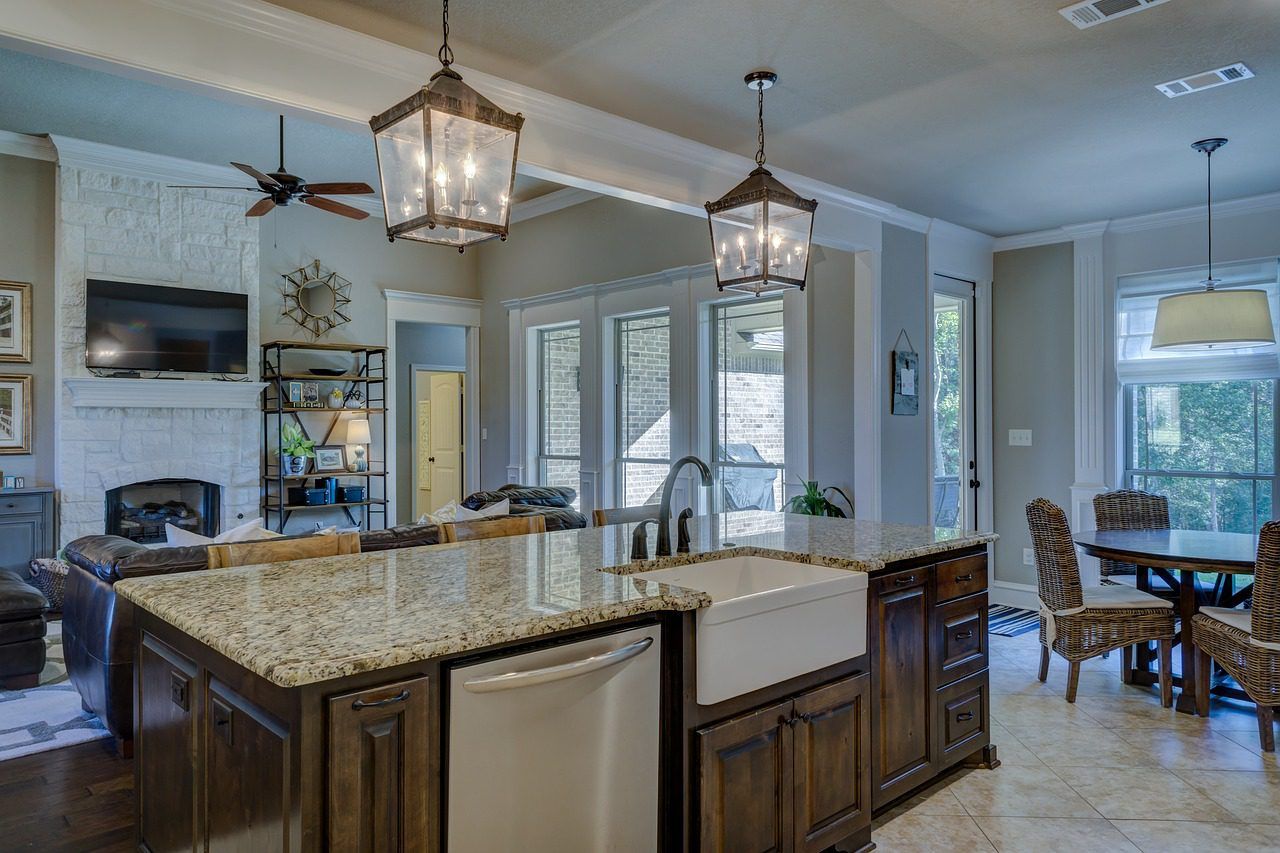 Image by Solomon Rodgers from Pixabay
If you find yourself in the market for a new dishwasher, or are considering looking for one soon, it may surprise you to find the number of features and options available on modern models. Gone are the days of your parents or grandparents' noisy white box with two settings: wash and dry.
Today's units are as unique and diverse as the people who will buy them. With custom features that range from adjustable racks to self-ordering detergent, you may quickly find yourself overwhelmed with choices if you have not taken the time to decide which options are best for you and your family.
Here, we hope to provide you with the information necessary to narrow down your search and find the best dishwasher for your household.
Read: Never Wash Dishes By Hand
What You Should Consider When Choosing a Dishwasher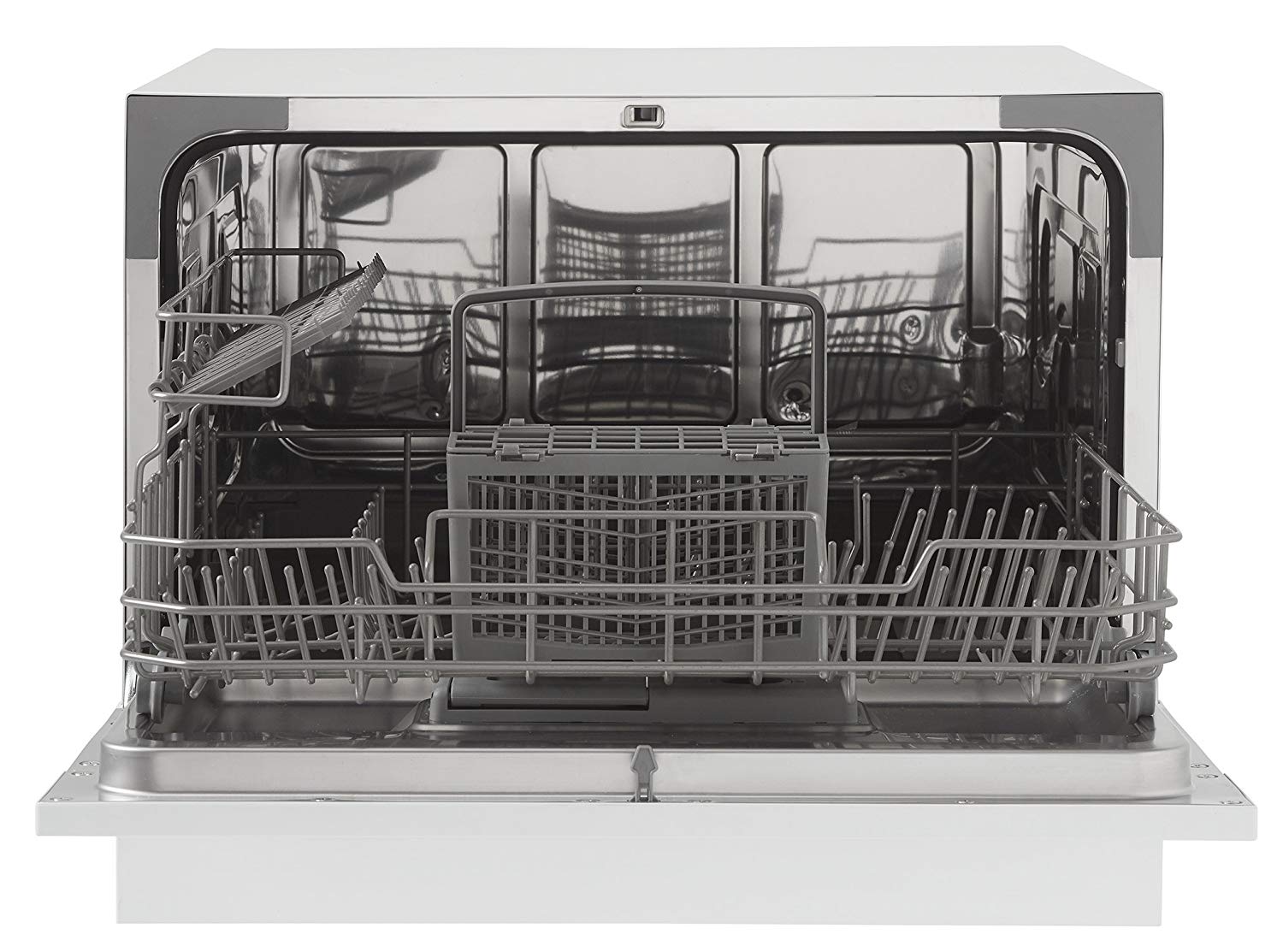 Many times, when people are first beginning their search for a new appliance, they do so without a clear direction as to exactly what they want or need in the way of features. They may start browsing online or dropping into stores "just to see what's out there".
While there is nothing wrong with this in itself, it may not actually save any time when getting ready to make a purchase, and may even serve to confuse or overwhelm a prospective buyer who wasn't prepared for the vast options available today. In this section, we will look at a few things to keep in mind when trying to decide what the best dishwasher is for you.
This may seem like an obvious consideration, but the fact is many people don't realize that the higher or lower cost of a dishwasher doesn't necessarily translate into a better or poorer performance. With the many features available on today's models, many times you can find a dishwasher that better suites your personal usage for less money than an expensive unit with a lot of options that you don't need or won't use.
In addition, the price of dishwashers is often negotiable, just as when purchasing a car or truck.
Also like automobiles, there are better times to buy your new dishwasher than others. Such times are September and October, when manufacturers are releasing their new models, January, when the previous years' models that weren't sold during the holidays are discounted even further, and at the end of the month, when the sales departments are racing to meet quotas.
If you have not been in the market for a new dishwasher for a long time, or if this is the first time you are going to be purchasing one, it may take you back just how many different features you can actually get with them. You could find yourself stuck with a machine that has multiple features you never use, while missing several features you need.
Considering the fact that most dishwashers last nine to 12 years, that is a long time to regret not taking a few minutes to think about what you need and don't need. We will cover many of today's model's specific features and options in the next section.
Space and Long-Term Needs
Another factor in choosing what the best dishwasher for you is, is determining how much room you have available for such an appliance, and whether that will change in the future. Standard models are 24″ in width, while compact 18″ units are also available.
There are even portable dishwashers with wheels, and countertop models​ that hook up to the sink. Your living situation can have a major impact on which choice is right for you. If you are single, or maybe have a partner or one roommate, you may not be using it daily, or for large loads.
If you live in an apartment or a starter home and plan on moving in the next year or two, taking it with you when you move or leaving it there is another thing to consider.
Why Choosing the Right Dishwasher Features Is Important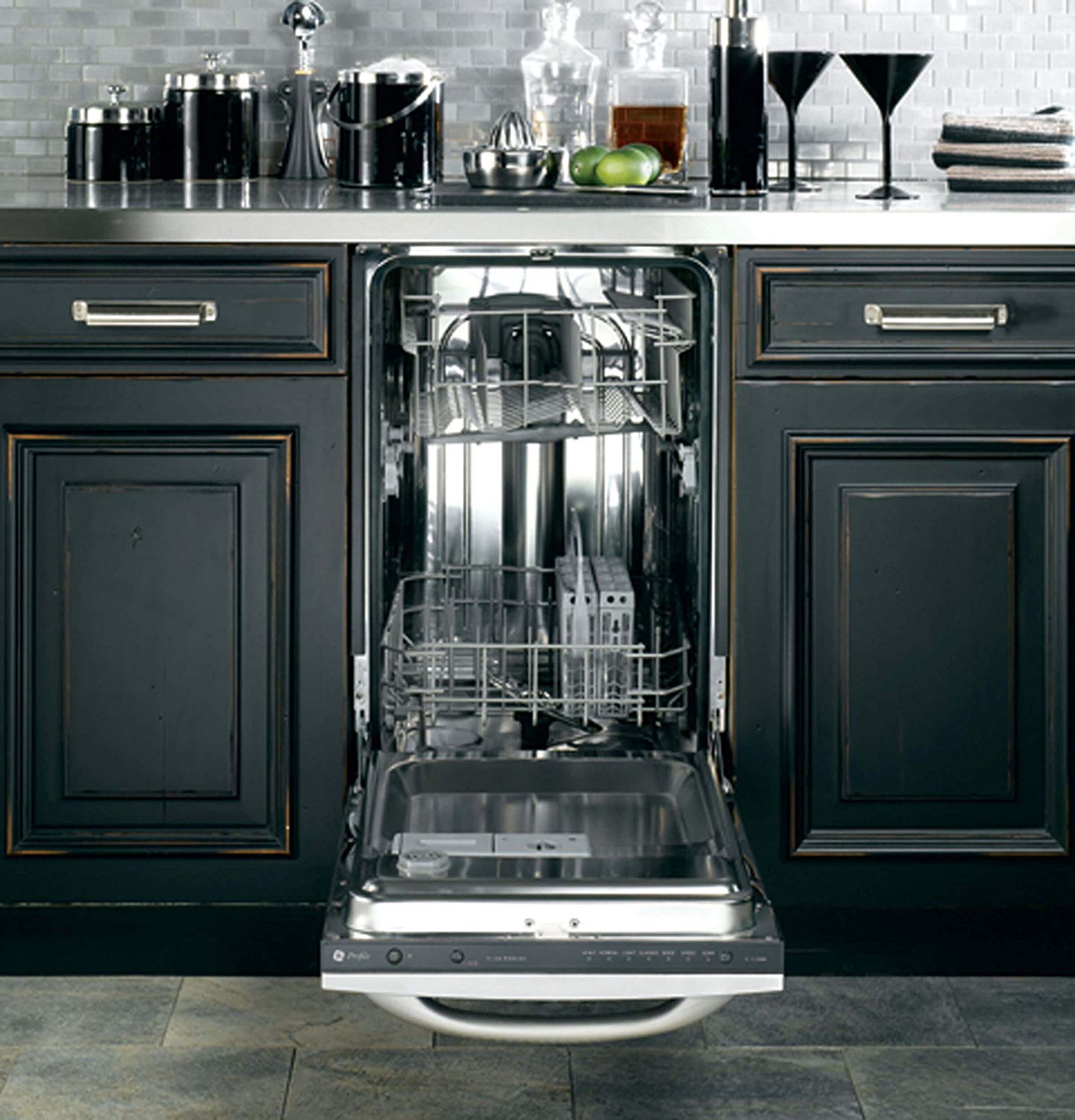 The reason that getting the options and features that would best suit you and your family's needs is so important, is because of the longevity and ownership time of dishwashers today. We keep dishwashers longer than vehicles. computers, phones, and even most furniture.
So if we are going to make that kind of time commitment to this appliance, we better make sure we are getting the best dishwasher we can. In this section we will go over a few of the many options available on today's various brands and models of dishwashers. Here are some of the particular features we would like to look at further:
Cycle Settings
Automatic Sensors
Tub Size/Adjustable Racks
Exterior Design
Safety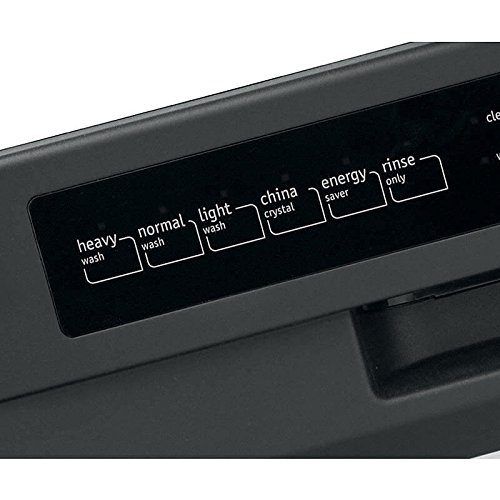 This is probably the most commonly overlooked factor in determining whether or not you are purchasing the best dishwasher for your household. What used to be a simple hot/wash and cold/wash appliance has now evolved into a multi-option cleaner.
Some models offer a "handwash" or fine china mode where delicate dinnerware, crystal, and wine glasses can be washed safely by reducing the water pressure. If you are someone who entertains often, throws dinner parties regularly, or simply seems to always end up hosting family and friends around the holidays, this feature may be essential for you.
Other models even offer a dual setting where delicate dishes can be washed at the same time as sturdier cookware such as pots and pans and both still come out in pristine condition. Other settings you may want to consider are an express mode where you can wash a smaller, lightly soiled load quickly and heavy-duty for large cookware and dried, caked-on soil.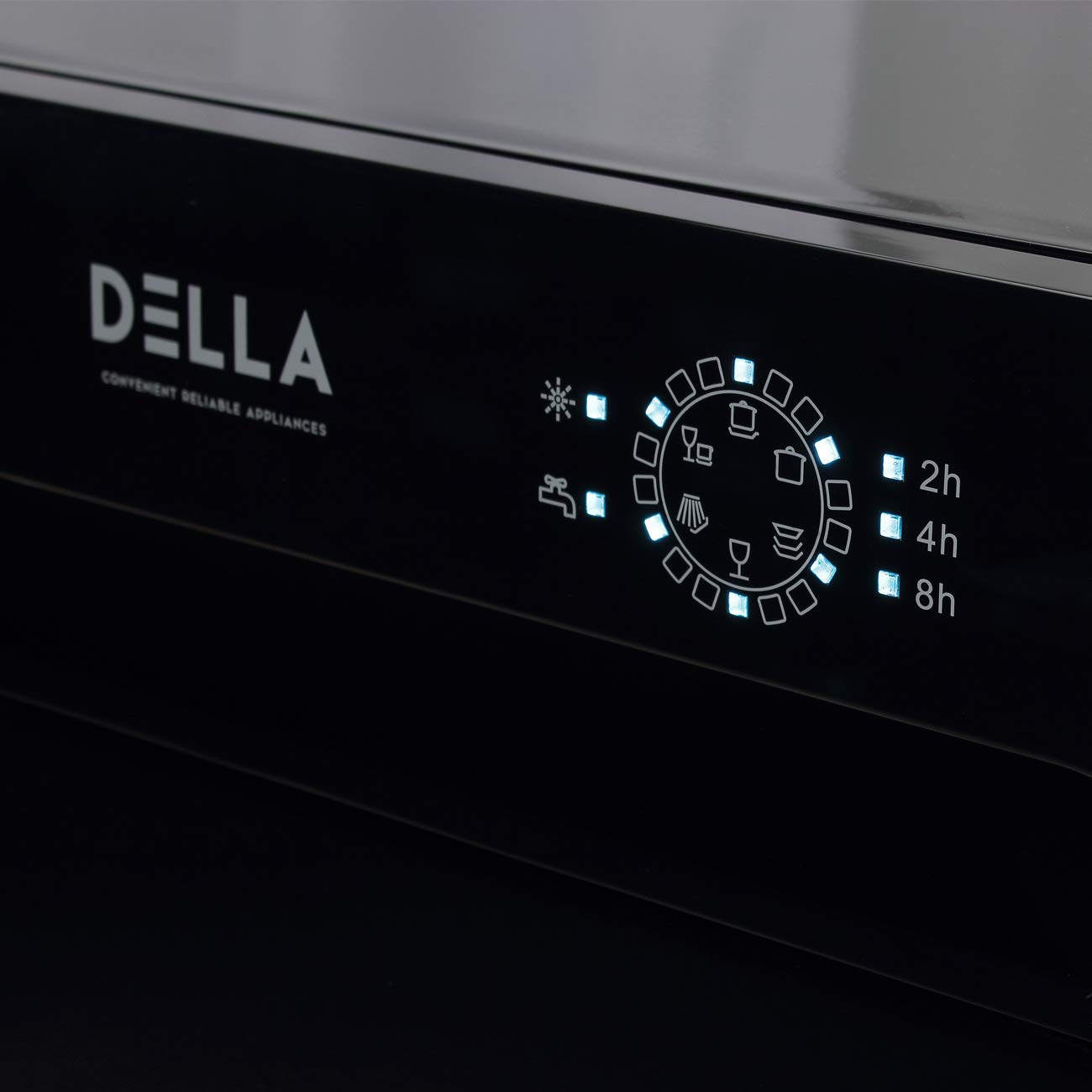 In addition to multiple settings available on various models these days, there are also multiple automatic settings where the dishwasher itself can adjust things like water pressure, temperature, and cycle time to increase efficiency and performance.
For example, certain models have a soil sensor which tests how dirty the water is after each cycle, so if you set the dishwasher for six cycles but the sensor determines the water is clean after the third rinse, it will skip ahead to the drying cycle rather than waste the water and electricity for three more cycles.
Tub Size/Adjustable Racks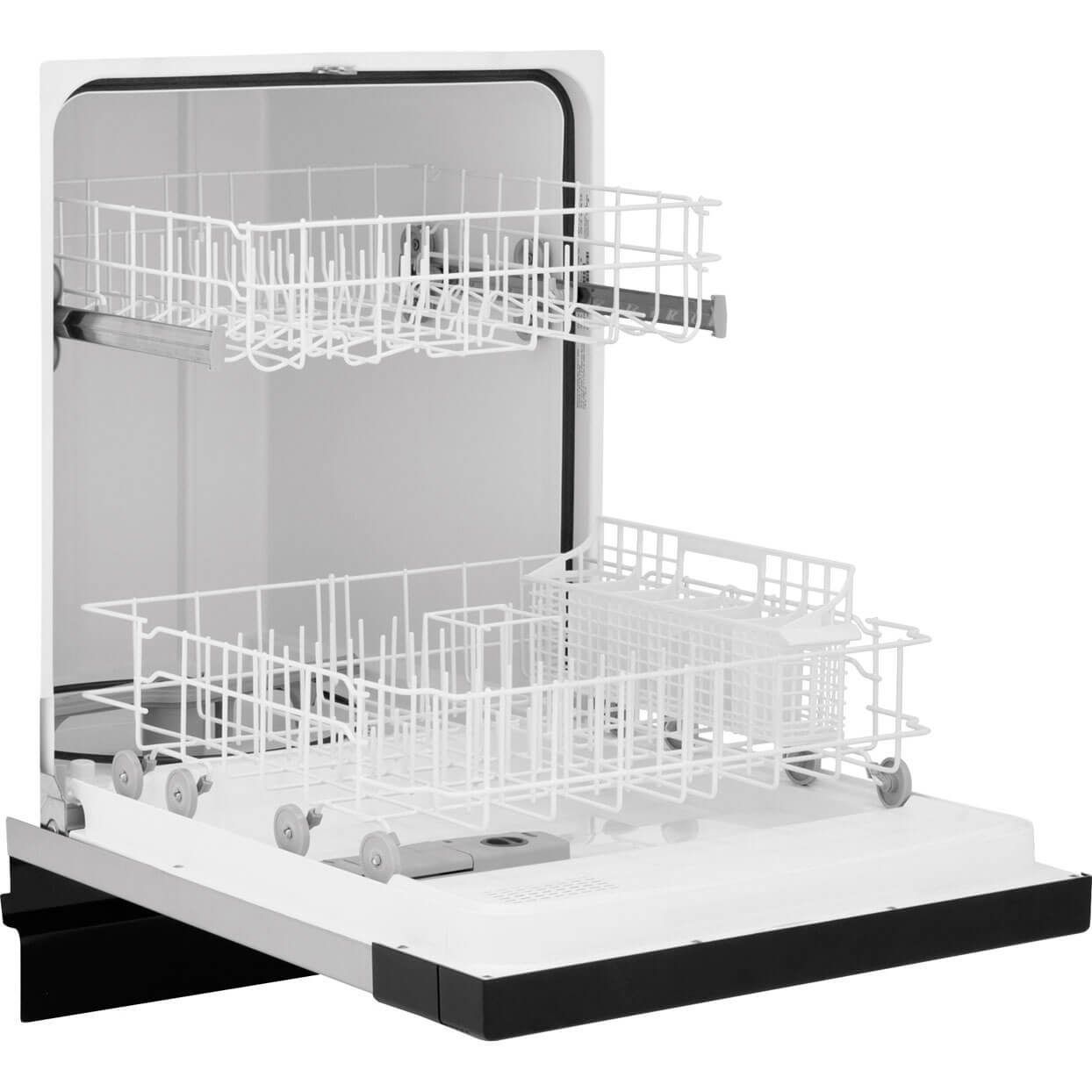 Loading capacity is another huge issue for large families or people who cook often or make extravagant meals. Tall tub models are becoming much more common these days, offering much larger loading space for bigger pots and pans, pitchers, and serving dishes. Others offer a small third rack on top for silverware and cutlery, making it easier to load and unload.
Some models offer adjustable racks which are extremely convenient in the sense that you don't have to continually bend over and stand back up to load and unload.
Load capacity is usually determined by how many place settings it can hold. A place setting is considered one large dinner plate, a small snack plate, a drinking glass, a bowl, a saucer, a coffee cup, two teaspoons, a dinner fork, a small salad fork, and one knife.
You can see how many place settings a dishwasher holds by visiting the manufacturer's website or looking in the owner's manual.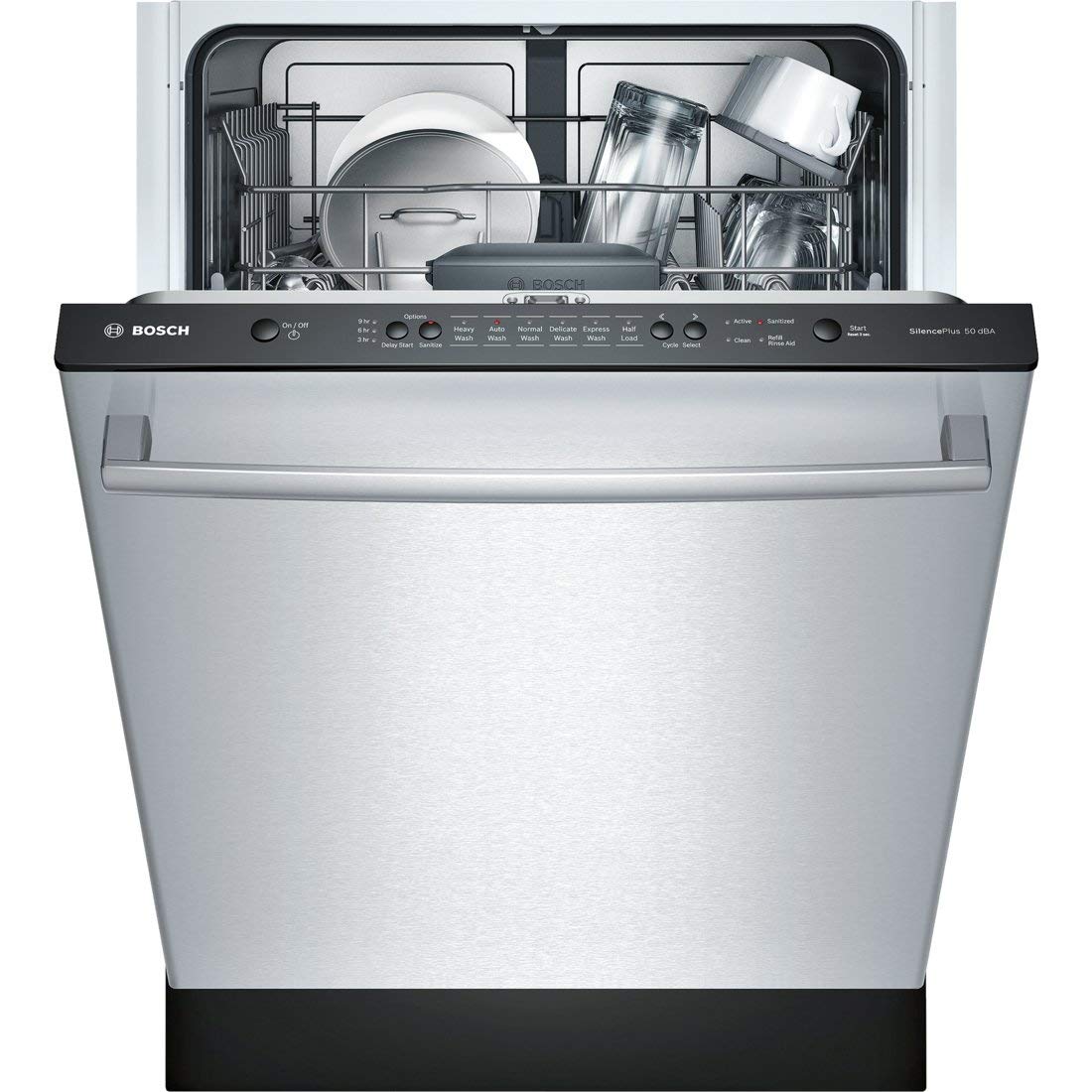 Without a doubt, style and appearance is also something that many people are concerned with when it comes to purchasing something that will be in their home for the next decade or more.
Like most other features on modern dishwashers, the designs available are increasing as well. While most models come in white, black, and stainless steel, there are still some unique variations and options available for those looking for something a little different. GE has a model that offers a slate finish while other manufacturers offer a black stainless and smudge-free stainless options.
In Europe, colored units that match the decor and color schemes of the kitchen are becoming very popular. Another thing to look at concerning the exterior is whether you would like digital setting controls or dials and buttons. Sometimes the littlest decisions can make the biggest differences.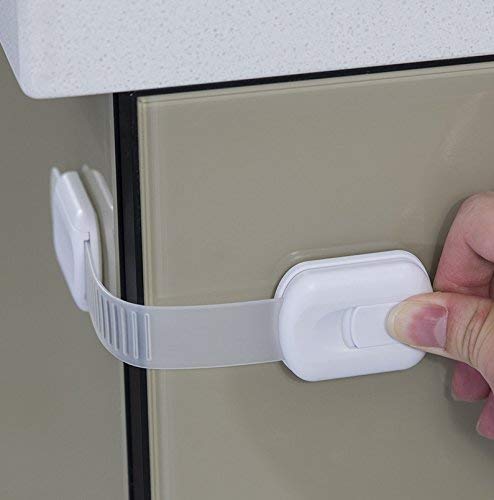 The last specific features we will look at are probably the most important as it pertains to the health and well-being of those in your family. Any machine can be dangerous if it isn't used properly and with all safety warnings followed at all times.
For those with small children, child safety locks are a key feature. Not only can opening a running washing machine cause a big mess, the steam and hot water being forcefully sprayed inside could severely burn a child should they open it mid-cycle.
Anti-flood detection is another safety option to consider. It usually has two features, a float switch that detects water in filling in the bottom of the machine that stops it from filling further, and an aqua-stop which prevents flooding if a hose leaks or spills.
Other Notable Features and Options
It would be nearly impossible to take a detailed look at all the unique and different extras available on current models, but we would be remiss if we didn't at least mention a few other things that could help you find the best dishwasher for your home.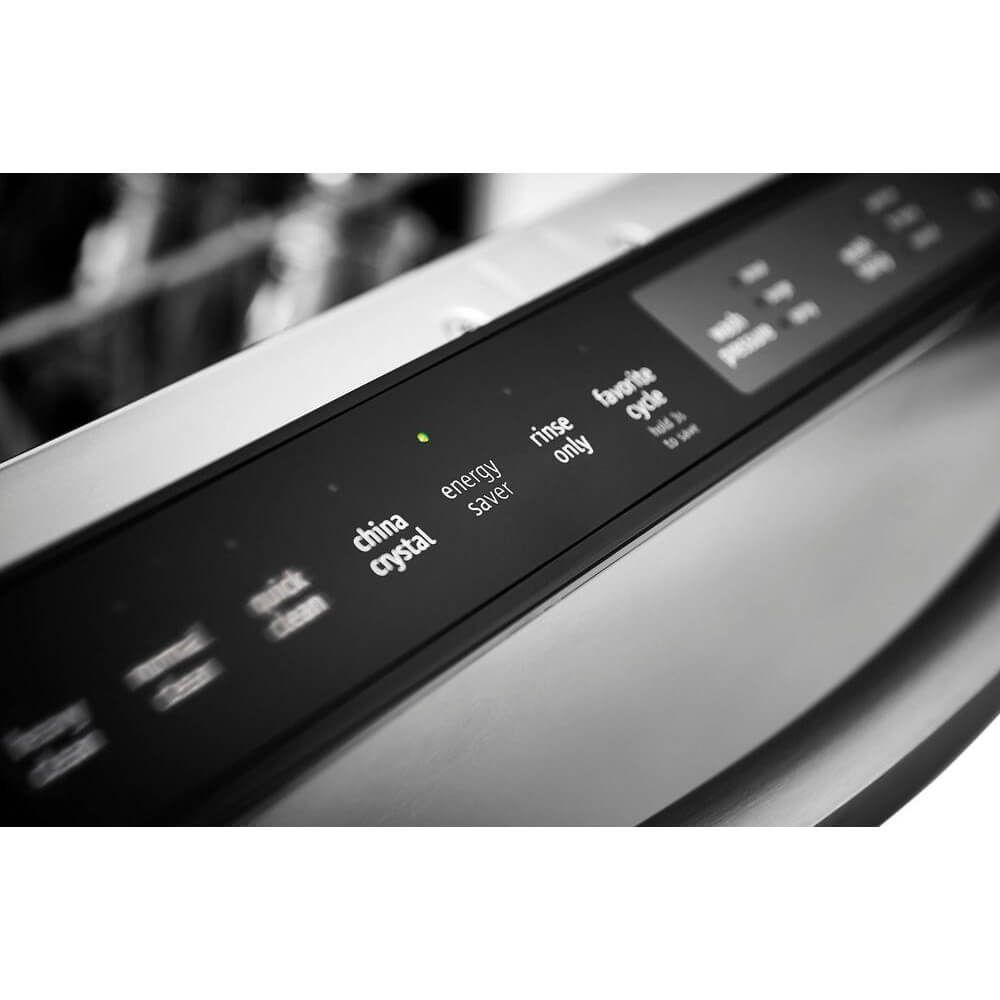 Today's units are significantly quieter than the machines of yesteryear. The old-time machines ran at about 80 decibels, roughly as loud as a garbage disposal. Even the most inexpensive models today run in the mid-50 decibels.
A normal conversation is about 50 decibels, so if the kitchen is a social area for your home, looking for a quieter unit would probably be something to think about. There are some that run as low as the mid-30s.
There has also been an increase in smart features, dishwashers that can connect to an app and send updates to your device regarding the cycle progress, the need for a filter change, or even order detergent when running low. Regardless of what you are looking for, chances are that somewhere there is a model that has it.
How to Choose the Best Dishwasher for Your Home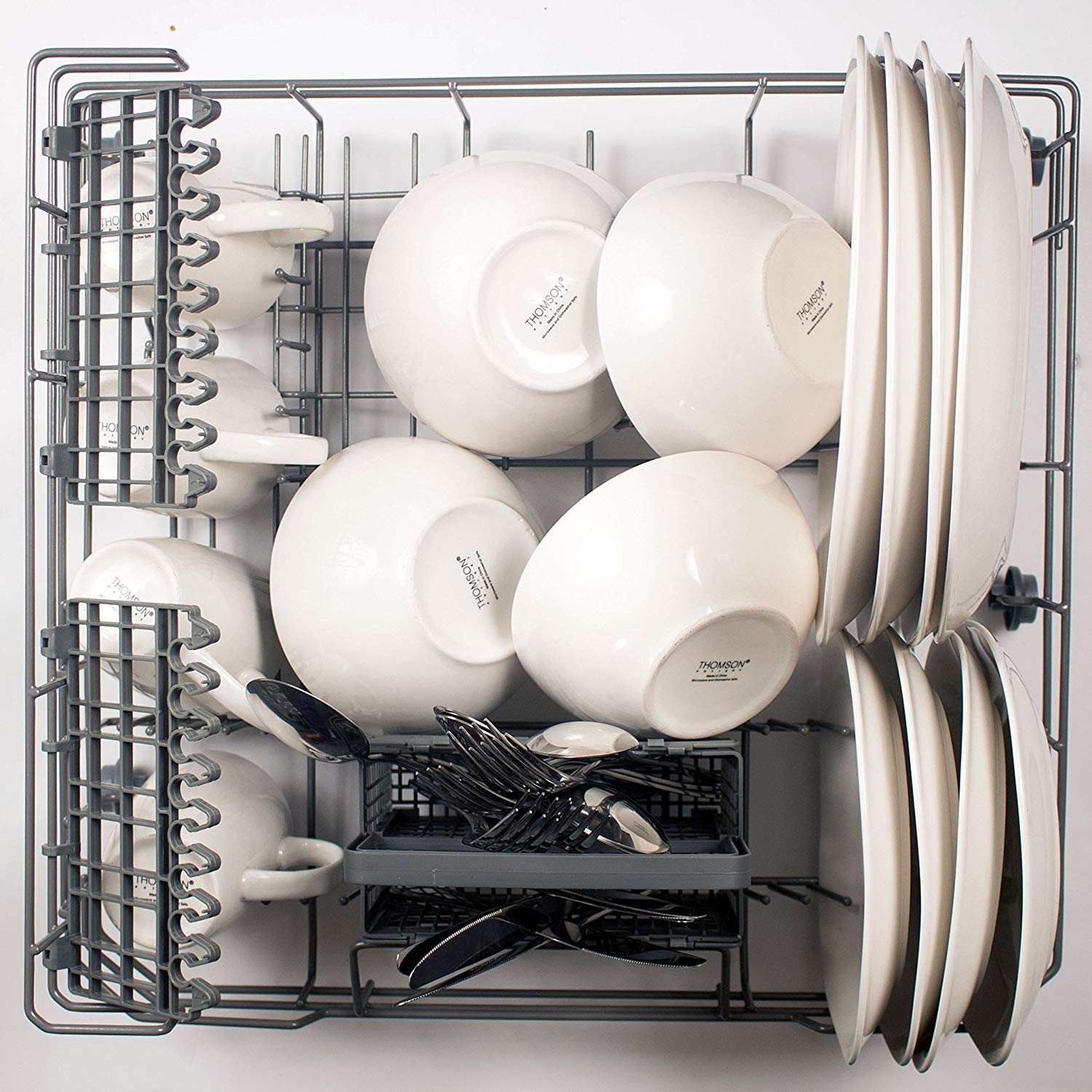 Once you have made the decision that it is time to finally get that new dishwasher you have been thinking about, and you have weighed which features are the most beneficial for you and your family, you may think the only thing left to do is just to purchase it and have it installed.
But there are still a few more things that need to be considered, some of which could greatly affect your final buying decision. If you don't take the time to go over these additional details, you may realize very soon that you didn't get the best dishwasher after all.
If your new dishwasher is going to be the first upgrade in a kitchen full of new appliances, then a major factor in choosing the exterior design would be what you plan on doing with the other purchases you are going to be making in the future.
It wouldn't make much sense to get a white or black model if you plan on the refrigerator, stove, and oven all being stainless steel. Just as out of place would be a white model in an all-black appliance kitchen, or a black model contrasting traditional white appliances.
Thinking ahead can help avoid the frustration that comes with realizing what you thought was the perfect dishwasher, actually doesn't fit in at all with what you are trying to do later.
Proper Hookup and Installation Requirements
If you don't already have a dishwasher installed in your home, the first thing you want to do is make sure you are equipped properly for one. Most homes already are, but if you live in an older home, you may have to do some work to make it dishwasher ready.
If you have issues with water pressure, or your hot water heater struggles to keep up the demand it is already under, these are things that could greatly impact the performance and efficiency of your new dishwasher. Having a qualified professional inspect your home for the necessary requirements could save you a major headache down the road.
Besides making sure you have the proper equipment and set-up for your dishwasher, you also want to make sure they adhere to all the current laws and regulations. If it's been 10 or 15 years since you last purchased a dishwasher, or you are installing one in an older home, there is a good chance some things may have changed.
Dishwashers must be on their own dedicated circuit and also have a GFCI breaker on the circuit breaker panel. This is to protect it from moisture and sparking.
In addition, a manual shut-off needs to be within four feet of the unit for safety purposes. Also, if you live in an area that has severe droughts seasonally that require strict water conservation methods, you will probably want to get a model with a high-efficiency rating and that has options for short cycles so you can stay within your local restrictions on water usage during those times.
Conclusion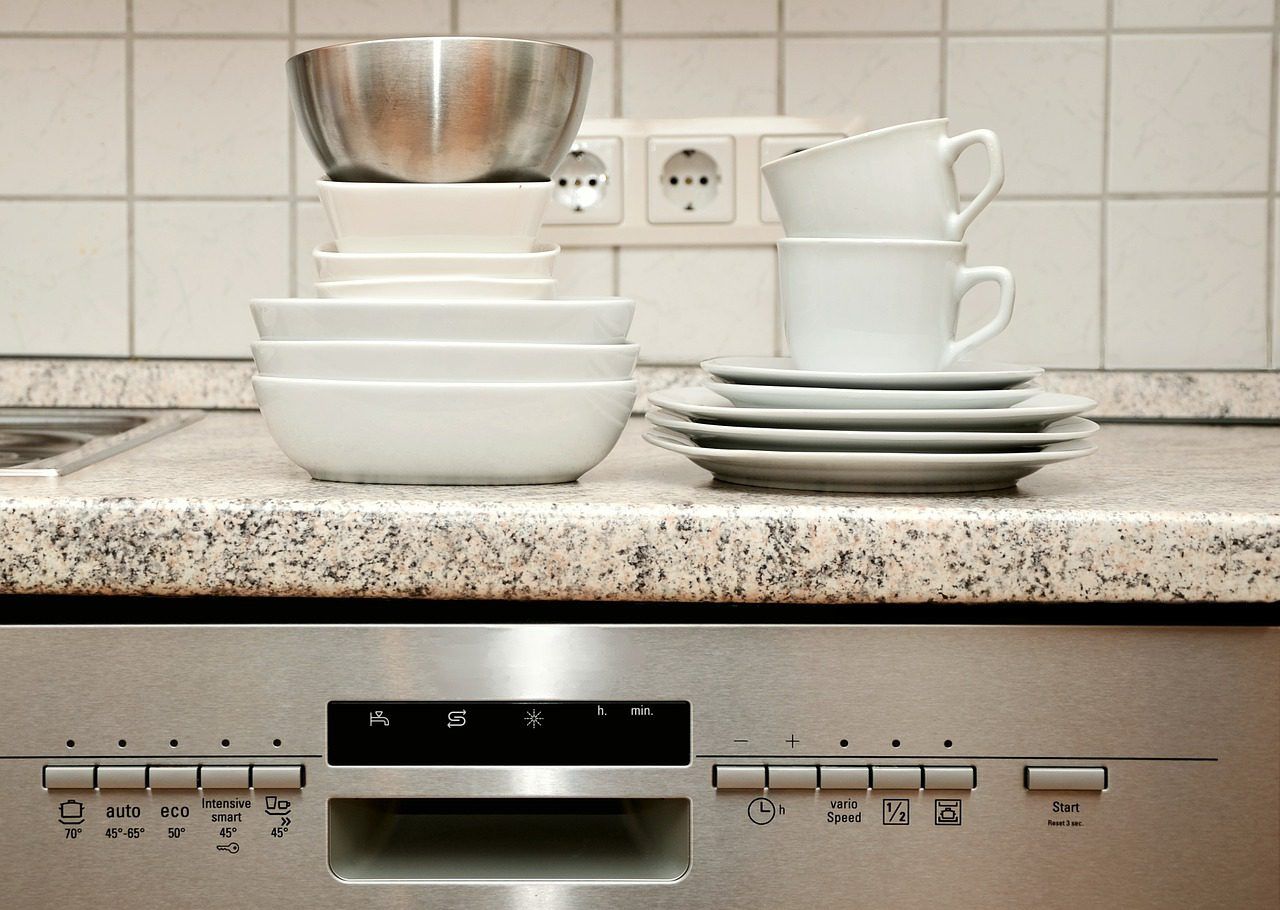 Image by congerdesign from Pixabay
As you have probably come to realize, purchasing the best dishwasher for your home is much more than just figuring out which color would look best in your kitchen, and whether you want to spring for the $500 discount model, or the $1000 high-end unit.
It means deciding on the proper features you would use, and which ones are just bells and whistles you don't need. It is making sure you have the proper hookups in your home, and the electrical requirements to make sure it's safe.
Still, there is absolutely no reason to feel overwhelmed with the process, and no reason that the shopping and buying experience shouldn't be a lot of fun. After all, you're probably only going to do this once every 10 years or so, so you might as well enjoy it. Here are two final suggestions to help you make sure you get the best dishwasher:
Visit Multiple Websites and Stores
Just as when you are getting ready to purchase a vehicle, or a nice piece of jewelry, there is no reason that you should make such a long-term decision at the first place you stop. Check out a few different places. Compare sticker prices, compare sale prices.
See which salespeople call you back a few days later and drop the price. There is no rush; once you have found the make and model you want, there is plenty of time to find the best deal.
Talk to Family and Friends
Ask the opinions of those close to you what they think about their dishwashers. If they are also in the market for a new one, find out which models they are interested in and why. Spend some time reading product and consumer reviews online and see which ones are consistently positive.
Talk to your neighbors about what brand they have in their homes. This can be especially helpful because many times homes in the same neighborhood have similar electrical layouts, water pressure and utility billing, so it can help give you an idea of what you can expect in the way of performance and expense.
Regardless of what you decide in your final purchase, we hope this information will help you find the best dishwasher for your home and family. All that's left now is to go out there and find the best deal. Good luck!