There's not enough time, in your day, to even be too tired to cook. Work, school, kids, homework, or just pets and life in general — we get it. A toaster oven, like an Oster Toaster oven, can help cut your cooking time. That cheery "ding" at the end of a short cooking cycle, produces crispy delicious meals, maybe just what you need in your life.
When you think of an Oster toaster oven, you might think of toast, bagels, or the occasional plate of nachos. We say, think bigger. Most people don't have the luxury of having more than one oven in their kitchen. Imagine if you did, and how much time you could save in your meal prep. With a toaster oven, you can cook your main dish in your traditional oven, with your sides cooking at the same time.
We know you're short on time — who isn't these days? Today's Oster toaster oven comes with features you'd expect on a high-end conventional oven. Many models feature spacious interiors for creating a family meal and roasting meats and baking bread. Others offer pre-programmed settings for set-and-forget cooking without consulting complicated instructions or charts. Now it's just a matter of choosing the perfect one for your kitchen.
Today, we're just talking about the Oster toaster ovens, but we'll be covering other brands, too. Be sure to keep an eye out for more reliable product reviews.
Energy Efficient Oster Toaster Ovens
An Oster toaster oven will heat up much quicker than a conventional oven, mainly because of its smaller size. Heating a smaller volume takes less energy, which reduces your electricity use and saves you money at the same time. Another benefit is that it doesn't add ambient heat to your kitchen.
Toaster ovens use one-third to one-half the energy of a conventional oven when cooking a small meal, according to the ENERGY STAR program.
Convection toaster oven models use even less energy because they cook to doneness even faster. Utilizing an internal fan to distribute hot air cuts down on baking times, as well as provides a more even bake. That can reduce the impact on your wallet as well as on the environment.
Oster Toaster Oven Cooking Quality
Even using specially designed cookware, microwave ovens rarely deliver the quality of crunch many cooks look for when baking. Microwaves have their limitations and delivering a crisp texture, and an appealing caramelized finish seems to be one of them. Bread comes out soggy or chewy, and beef and pork look gray and unappetizing when cooked in a microwave. And that's not even describing the raw, pinkish appearance of microwaved chicken dishes.
Even though microwave ovens deliver up to 80 percent savings on energy use, they fail when it comes to food texture. An Oster toaster oven provides the both of best worlds, combining energy savings and crunchy textures together. Convection toaster oven models turn out perfectly baked bread and roasted meats.
How to Choose an Oster Toaster Oven
Before buying any kitchen appliance, take some time to consider how you'll use it before selecting a model. For the occasional side dish or reheating baked goods, a simple, smaller model should serve your needs. If you're planning to use your Oster toaster oven to replace your conventional oven, you'll need a larger model with more flexibility and more precise cooking control.
6 Best Oster Toaster Oven Models Available in 2023 Reviewed
Now that you've determined how you'll use it, let's take a look at the range of Oster toaster oven models currently available. You'll find their four-slice toaster oven is affordable and offers convenience for snacks and small meals. For large families and larger meals, they provide a number of extra-large countertop models with a host of features.
1. 4-Slice Oster Toaster Oven (TSSTTVVG01)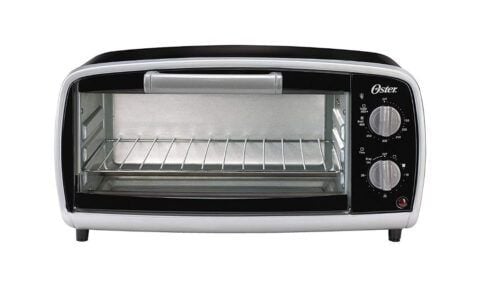 This one is our cover image. Small and mighty, this compact Oster toaster oven has a stylish look in either shiny black or trendy stainless steel. With art deco curves and two control dials, it looks snappy on any counter without taking up much space. Set time up to 30 minutes and temperature up to 450 degrees Fahrenheit. You can also choose to toast or broil. If you need to cook a dish for longer than 30 minutes, you can use the "stay on" function for longer cooking times. With two rack positions, you can broil or bake a wide range of foods to perfect doneness.
With a cute vintage design, this Oster toaster oven features stay-cool handles for safety. The exterior can get hot, and some customers found the dials challenging to turn. However, the great price has turned many cooks into big fans. For your convenience, this model includes a removal crumb tray and a baking pan so you'll be able to use it right away without purchasing additional cookware.
Specifications
Dimensions: 15.74 inches deep by 9.05 inches wide by 7.87 inches high
Weight: 7.93 pounds
Cord length: 26 inches
Watts: 1000W
Exterior light shows when on
Price Range: $27 to $55
2. 6-Slice Oster Countertop Convection Toaster Oven (TSSTTVCGBK)
We loved this one so much, it's our featured image.
This Oster toaster oven offers convection cooking on a budget with a small countertop footprint. Featuring "Turbo Convection Heat Technology," it boasts up to 50 percent less energy use. And this model is large enough for a 12-inch pizza or a roast chicken because of the adjustable racks. With three rotary dials, you can set temperature, time, and function for broil, toast, warm, bake, or turbo-cook.
The clear glass door makes it easy to keep an eye on your meal's progress. This Oster toaster oven also comes with a baking pan, along with a removable crumb tray that makes it easier to clean.
If you've always wanted to give convection cooking a try without investing in a whole new conventional oven, this is the Oster toaster oven for you. While roomier than the four-slice model, it still boasts a small countertop footprint. Note that if you're new to convection cooking, it may take some time to learn how to adjust the timing. The use of a fan to distribute can make convection ovens a little noisy as well.
Specifications
Dimensions: 18.50 inches wide by 15.66 inches deep by 10.62 inches high
Weight: 11.94 pounds
Cord length: 31.49 inches
Watts: 1500W
Price Range: $55 to $80
3. Large Digital Countertop Convection Toaster Oven (TSSTTVMNDG)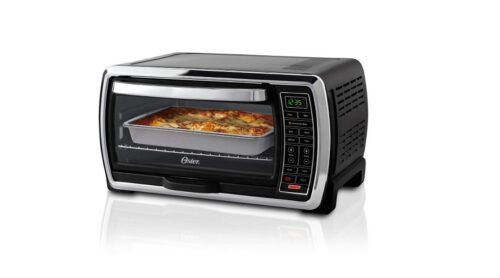 Need a bit more room to turn out convection-cooked perfection? This large digital Oster toaster oven features a digital control panel to deliver precision for your every cooking need, from roasting meats to baking cookies.
Chose one of six pre-programmed cooking cycles at the press of a button on this Oster toaster oven, including baking, broiling, convection cooking, and even defrosting. There's also a pizza setting. With automatic shutoff when your timer runs out, you won't have to worry about burning dinner, either. Other features include an adjustable broil setting flexible enough to grill steaks or melt cheese.
With this kind of flexibility, this Oster toaster oven could replace your conventional model or serve as back-up to cook for large crowds. The can accommodate a 12-inch pizza or a 13 by 9-inch cake or brown pan. It also comes with an enamel baking pan and broiling rack. Note that one downside with this model is that the exterior and handle can get hot, so exercise caution when opening your oven.
You can get this model in two designer finishes, as well. Choose black or black stainless steel for a sleek, chef's kitchen vibe.
Specifications
Dimensions: 19.72 inches wide by 16.29 inches deep by 11.33 inches high
Weight: 15.65 pounds
Cord length: 31.49 inches
Watts: 1300W
Interior light
Price Range: $74 to $90
4. Oster Convection Oven with Dedicated Pizza Drawer (TSSTTVPZDS)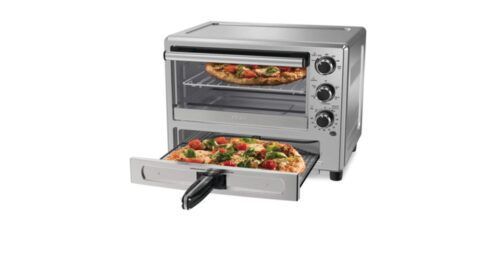 If you and your family love pizza, this is the Oster toaster oven for you. Along with all the other upgraded features offered by Oster, this one adds a pizza drawer for baking your pie to perfection. It's also great for toasting other snacks, like bruschetta, cheese garlic bread, and quesadillas.
While you can't use both the oven and pizza drawer at the same time, the top oven offers convection cooking for evenly baked breads and succulent roasted meats. The adjustable rack provides enough space to bake a full loaf of bread or cook a family-sized chicken. The turbo convection cook cycle delivers superior browning for crusty breads and delicious meats. You can also adjust the broiler for different cooking temperatures.
This Oster toaster oven has a 60-minute timer with automatic shutoff for extra safety. If you love to cook pizza and other crunchy snacks, you'll appreciate this model and its sleek stainless steel exterior. Best of all, you can remove the entire pizza drawer for easy cleaning, and the handle folds out of the way when you're not using the drawer.
Specifications
Dimensions: 12.99 inches deep by 17.51 inches wide by 13.42 inches high
Weight:18.89 pounds
Cord length: 26.7 inches
Watts: 1400W
Pizza oven features cool-touch handles
Price Range: $90 to $110
5. Oster Extra Large Digital Countertop Convection Oven (TSSTTVDGXL-SHP)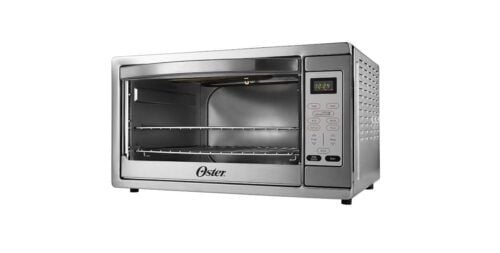 With its stylish brushed stainless, this extra large Oster toaster oven looks great in any kitchen. And with its size and range of upgraded features, it's like having a second oven. Featuring a turbo convection cooking mode, the interior can fit large casseroles, family-sized roasts, or cook two large pizzas at the same time.
The digital controls make setting the temperature and cooking mode a breeze. The presets for turbo convection, baking, broiling, and defrosting mean you won't have to look for the instructions when making your favorite dishes.
The roomy interior holds two adjustable racks so that you can cook an entire meal at once. Also included are a baking pan and broiling tray so you can use your Oster toaster oven right out of the box without worrying about having the right size pan. The 90-minute digital timer features an automatic shutoff for ease of mind, and the clear glass door means you can keep an eye on things without opening the door.
Although it's larger than other models and doesn't feature an internal light, it will accommodate a 13 by 9-inch cake or brownie pan. The interior, stainless steel finish is also a breeze to clean. If you need an additional oven for large meals or extra guests, you can't do better than this versatile Oster toaster oven.
Specifications
Dimensions: 21.65-inches wide by 19.29-inches deep by 12.91-inches high
Weight: 22.48 pounds
Cord length: 31.49 inches
Watts: 1500W
Price Range: $100 to $145
6. Oster Digital French Door Oven (TSSTTVFDDG)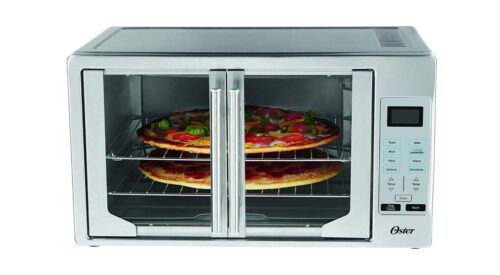 This elegant Oster toast oven looks good in any kitchen and functions beautifully. With French double-doors that open together with one pull of the handle, large baking jobs with multiple pans are a joy. It offers a range of cooking modes, including baking, toasting, broiling, warming, and toasting. It can also dehydrate foods for storage or crunchy snacks. And for over-the-top kitchen design style, you can even get it in retro red.
The digital controls offer precision for perfect results. Presets include a defrost cycle and a pizza setting. The 90-minute digital timer also provides automatic shutoff. The Oster French door toaster oven is roomy enough for two extra-large pizzas. You'll also have plenty of room to cook whole chickens, large casseroles, or bake bread. Unlike other toaster ovens, this Oster model features a pre-heat cycle for perfect baking results.
To use the dehydration cycle, simply set the temperature to 150 degrees Fahrenheit to dry out your ingredients for up to six hours. Store your own garden-grown herbs or make fruit snacks and jerky. With the interior light and large glass doors, you can easily see how your dishes are progressing.
One downside to this model is that the internal light stays on throughout the cooking cycle. It does have a pretty large footprint, but the ultra-sturdy oven racks hold up to 5 pounds for cooking big roasts or larger casseroles.
Specifications
Dimensions: 21.65 inches wide by 19.29 inches deep by 12.91 inches high
Weight: 22.04 pounds
Cord length: 31.49 inches
Watts: 1525 Watts
Price Range: $200 to $275
Buying Your Oster Toaster Oven
Toaster ovens are handy and cost-saving kitchen appliances. Depending on the model you choose, you could put your energy-sucking conventional oven on vacation. For small kitchens, consider the four-slice model that's small enough to stow away. It's a good choice for dorm rooms and recreational vehicles too.
If you cook for a large family or frequently make big holiday meals, you may prefer an extra large unit because it costs less to operate while offering the same benefits of a standard oven. Convection cooking is faster and uses less energy. And most importantly, it won't heat up your kitchen when you're trying to cook up an elaborate feast.
Even for those who only cook the occasional big meal, a medium-sized Oster toaster oven offers more flexibility so you can ensure every dish is piping hot when the dinner bell rings. Affordable and easy to store, they come in handy for baking small meals when heating up your entire oven seems like a bad idea due to electrical costs or ambient temperatures.
You'll find your Oster toaster oven is more versatile than you imagined. They're easy to clean, as well, and you'll also appreciate the one-year warranty Oster offers on all their toaster ovens.
Remember we love to hear from you! Please, let us know if you own an Oster toaster oven, or if there's a brand you'd love to see us review, down in the comments.
Featured image via Amazon.com