In 10-15 minutes, you can have this heavenly Hawaiian French Bread Pizza in the oven. Great dinner for busy weeknights or when you have leftover ham!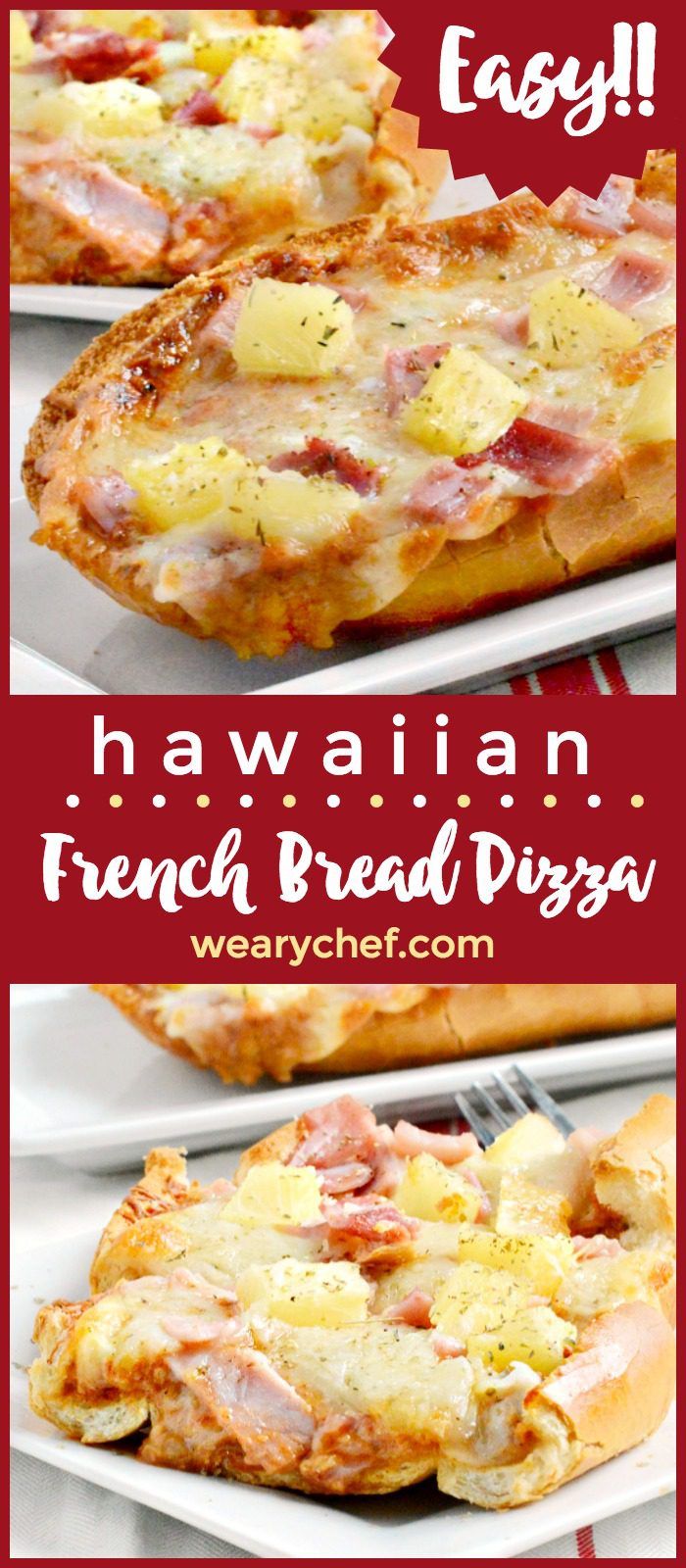 Hey there, Weary Chef readers! It's Dee from Meatloaf and Melodrama, and I'm sharing a delicious and very easy recipe for using up any leftover holiday ham.
History of Pizza
Pizza's history in ancient times, when a number of prehistoric societies created simple flatbreads that included a variety of toppings. The focaccia, also known as panis focacius to the Romans, was likely a forerunner of pizza before toppings were introduced. Similar flatbread delicacies from Naples, Italy, in the late 18th or early 19th century gave rise to modern pizza. In essence, a French bread pizza is a homemade pizza with French bread used for the crust.
According to legend, a New York pizza shop owner named Bob Petrillose came up with the idea for French bread pizza in the 1960s after growing weary of selling slices. PMP, or "Poor Man's Pizza," was the name given to the original French bread pizzas. With the introduction of Stouffer's French Bread Pizza, a freezer aisle staple, this style of pizza soon gained popularity. This pizza is incredibly quick and simple to make, and it has the ideal ratio of sweet, salty, and mildly spicy flavours. Your loved ones will adore it.

Our Family Loves Hawaiin French Bread Pizza
We're big ham lovers here, and we eat a lot of it. My kids love having ham sandwiches for lunch, and we enjoy ham and eggs for breakfast often on the weekends. So when Christmas rolls around, I get excited because I know we'll have plenty of leftover ham. Yep, it doesn't take much to excite me!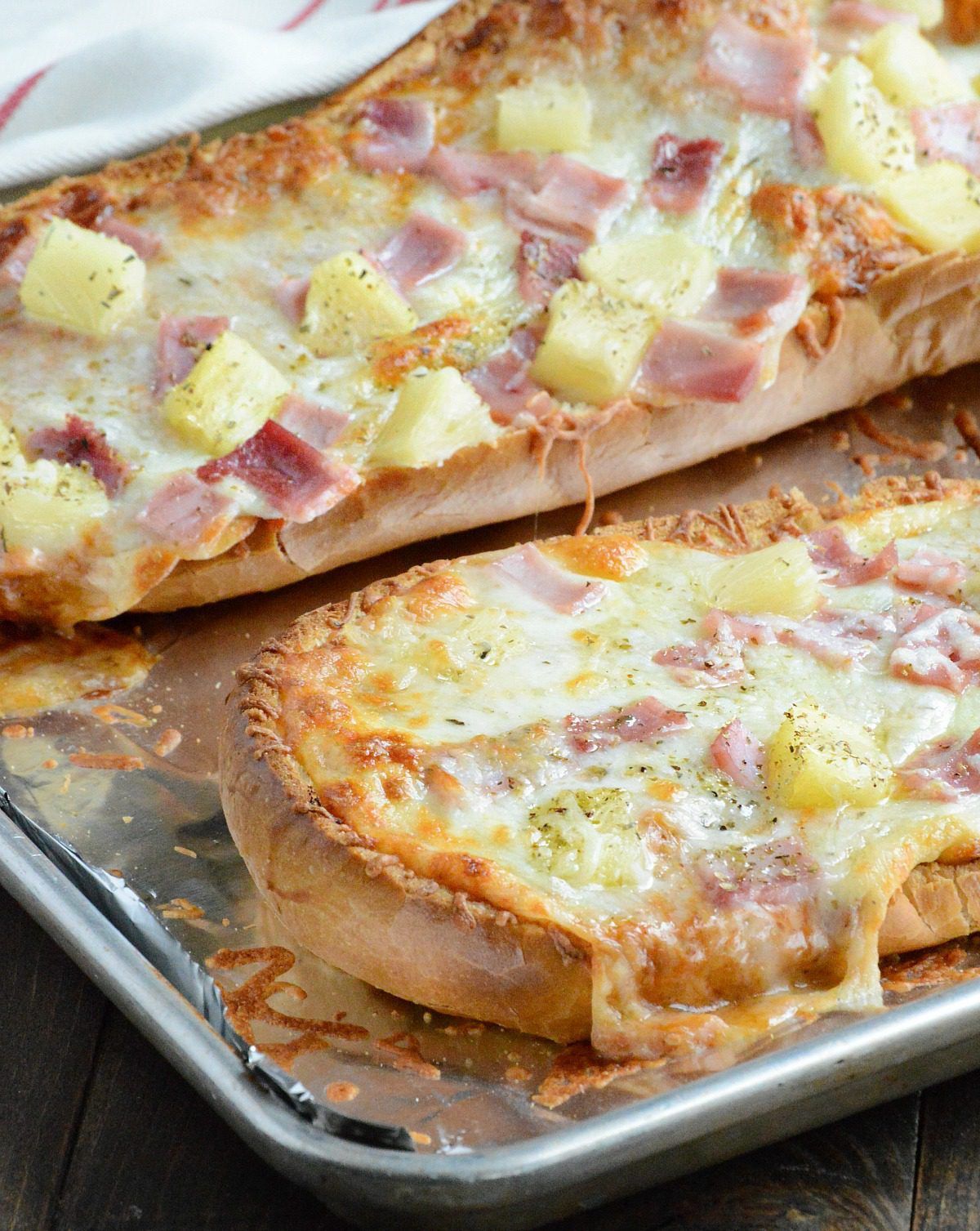 So after Christmas is over, we have cheesy ham casseroles, comforting ham soup, and usually a few hot ham sandwiches. But sometimes, I just want a quick and easy dinner that doesn't involve a lot of prep work, especially after all of the holiday cooking. Mom needs a break now and then, too! And that's where this easy easy Hawaiian Pizza comes in.
I shared an easy recipe for Buffalo Chicken Pizza with you all a couple of months ago, but this French Bread Pizza recipe is even easier. You don't have to pre-cook anything, so you can assemble this pizza in about 10 minutes — 15 tops! Then it takes about 10 minutes to bake, plus a little extra time under the broiler for a crispier crust.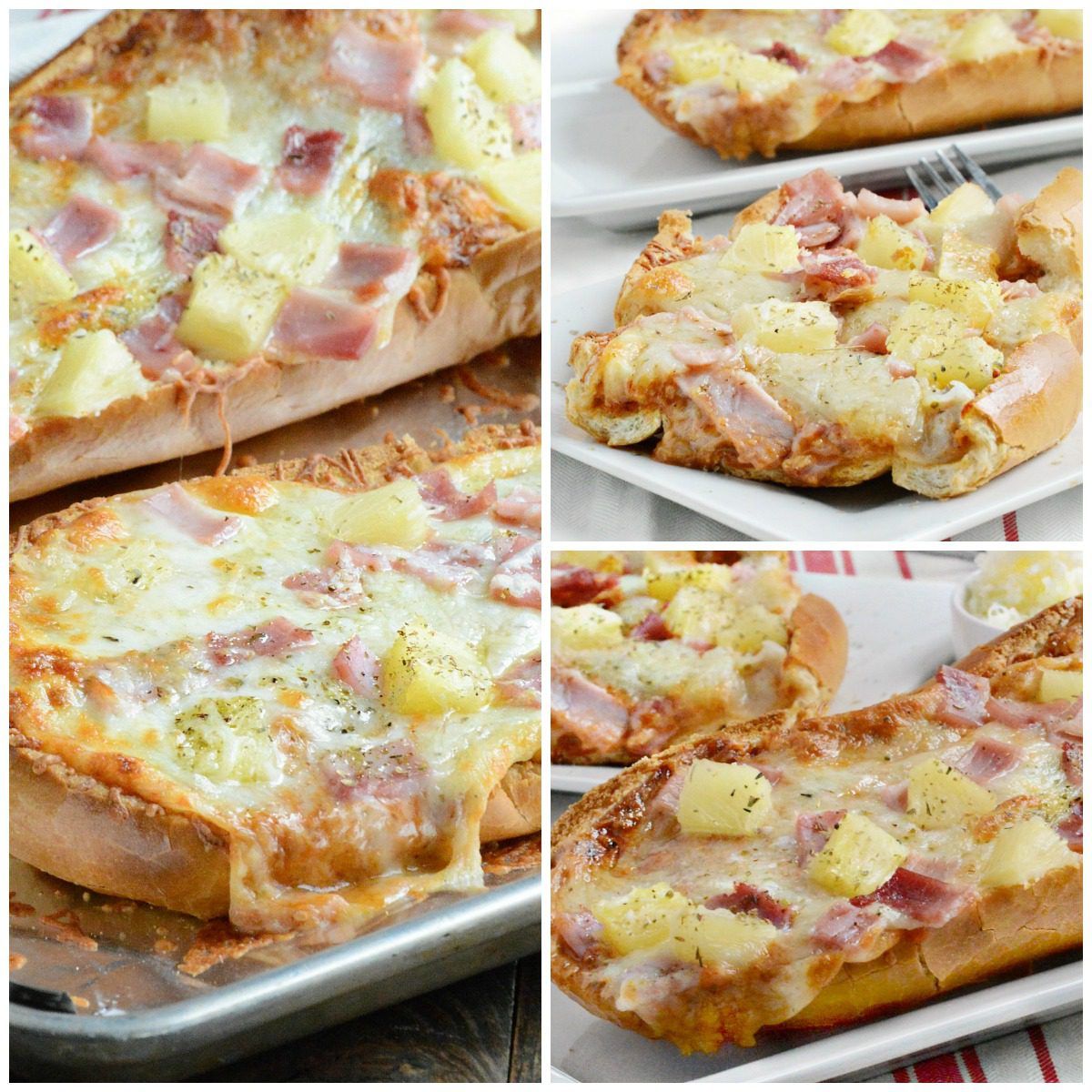 I started by whipping up a creamy barbecue sauce for the base. I just used my favorite BBQ sauce, which is sweet and spicy. Then, I mixed it with some heavy cream. I sprinkled lots of shredded cheese over the sauce and topped the pizza off with sliced ham and chunks of sweet pineapple. So, this pizza is just a little bit sweet, a tiny bit spicy, and salty too. My family loved it, and I hope you will too!
Print
Hawaiian French Bread Pizza
This pizza is super quick and easy, plus the perfect balance of sweet, salty, and a little spicy. Your family will love it!
Total Time:

25 minutes

Yield:

4

1

x
Instructions
Preheat oven to 400 degrees

Slice the loaf of bread in half, lengthwise, and place cut sides up on baking sheet

Mix the barbecue sauce and heavy cream together, and spread evenly over bread. Sprinkle shredded cheese over the sauce.

Top with ham, pineapple and seasoning mix.

Bake for 10 minutes, or until cheese is melted, and broil for about 5 minutes for a crispier crust.(optional)
Author:

Prep Time:

10

Cook Time:

15
Nutrition Information
Per serving:
| | | | |
| --- | --- | --- | --- |
| Calories | 565 kcal | Carbohydrates | 61 g |
| Protein | 15 g | Fat | 30 g |
| Saturated Fat | 17 g | Potassium | 1137mg |
| Iron | 4 mg | Sodium | 1246 mg |
| Vitamin A | 872IU | Fiber | 3 g |
| Sugar | 4 g | Vitamin C | 1 mg |
| Cholesterol | 65 mg | Calcium | 156 mg |
Why do You Love Hawaiian French Bread Pizza?
The dough is suitable for making a classic pizza crust. Roll out your chosen toppings onto the simple french bread pizza dough.

Two crusty loaves of french bread can be made from the dough. Just roll it into a large loaf of french bread and bake. The loaves could alternatively be cut into multiple tiny baguettes by rolling them even thinner.

For hectic nights, the homemade french bread pizza rolls are ideal to prepare in advance.
Individual french bread pizza rolls can be frozen for a quick snack for your kids after school. It makes a delicious and filling after-school snack.
Variation Ideas
We are all aware that there are countless options for topping a pizza. Replace the toppings on these fresh pepperoni pizzas with your preferred alternatives. Here are some ideas to try out:
Different Sauces: Tomato sauce isn't the only option! Replace it with different sauces like ranch, white sauce, BBQ sauce, buffalo sauce, and basil pesto.
Margherita: A drizzle of olive oil, some sea salt, fresh mozzarella, and fresh basil leaves to enhance the flavor of your pizza.
Veggie: Combine and contrast vegetables such as chilies, spinach, kale, sweet potato, mushrooms, artichoke, and onions as toppings.
Greek: Feta cheese, sun-dried tomato, and olive are all Greek.
Hawaiian: Red or yellow bell pepper, smoky ham, and chunks of squeezed pineapple.
Meat Lover's: Bacon, pepperoni, and crumbled sausage or ground beef.
Buffalo Chicken: Chicken cubes, hot sauce, and ranch dressing make up buffalo chicken.
Fig and Goat Cheese: Sliced fresh fig, goat's cheese, and a vinegar drizzling combine to provide a sweet-savory dish.
Health Benefits of Hawaiian French Bread Pizza
French bread differs from a traditional loaf of white bread in shape and texture, being long and narrow with a crisp crust and mushy inside. In its traditional form, French bread is not a whole-grain product, so it only provides a little amount of fiber and its carbohydrates have an impact on your blood sugar. It nevertheless delivers nutritional benefits, such as B vitamins, iron, and zinc.
Essential for Cell Growth
New cells must form normally, including red blood cells. Because it prevents brain and spine birth abnormalities, it is a particularly crucial nutrient for women who may get pregnant. By eliminating the amino acid homocysteine from your blood, which is linked to a higher risk of cardiovascular disease, folate may help maintain heart health. A medium-sized loaf of French bread has 147 mg of folate or 37% of the daily allowance for an adult.
Immunity Booster
Although iron serves other crucial functions, it is most known for being an ingredient in hemoglobin that helps deliver oxygen throughout your body. Your immune system uses iron-dependent enzymes as antioxidants and uses it to make white blood cells. Women should need 18 milligrams of iron per day, while men require 8 milligrams. A medium slice of French bread includes 2 milligrams of iron, which is 13% of a woman's daily requirement and 29% of a man's.
Good source of energy
French bread is a great source of carbs that provide you energy; one medium slice has 36 grams of total carbohydrates or 28% of your daily requirement. These carbs have the drawback of raising blood sugar levels. The glycemic index is a system for ranking foods based on how their carbohydrate content affects blood sugar levels. Food induces a sharp rise in blood sugar when it receives a score of 70 or above.
Storage Tips for Hawaiian French Bread Pizza
Make Ahead: The pizza can be put together in advance and frozen for a later supper.
How to Freeze Hawaiian French Bread Pizza before Baking: Pizza can be prepared ahead of time and frozen by carefully pressing the toppings into the toasted bread and freezing it for approximately an hour on a baking sheet. Pizza can be stored for up to three months before being transferred to big Ziploc freezer bags (or other airtight containers). Bake the frozen pizzas straight from the freezer, but increase the recommended baking time by a few minutes.
Pizza leftovers can be stored in the fridge for 3–4 days.
To Reheat: Place the pizza on a baking sheet and reheat for 10 minutes at 350 degrees Fahrenheit (or in a toaster oven).
You'll also love these recipes!