All these recipes use the same technique for their thickening base, and it's one every cook should know. That's why I'm showing you how to make a cream sauce or gravy with an easy video tutorial today!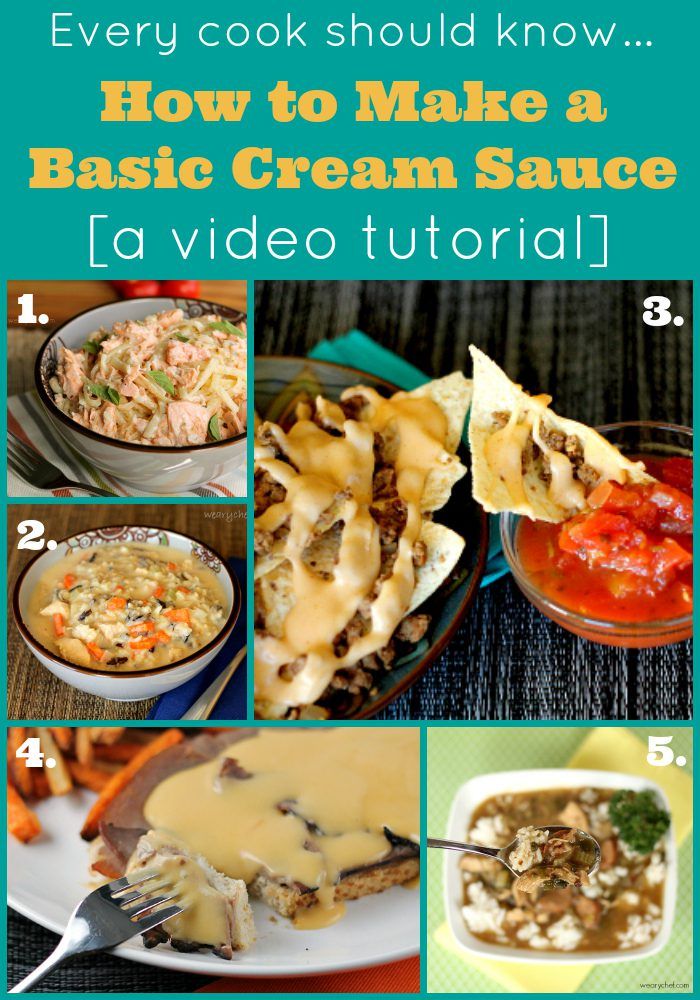 Why We Love Cream Sauce?
What do all these recipes have in common? They all start with a basic roux or cream sauce, which is butter, flour, and a liquid. I have written the instructions of how to do this many times in many recipes, but if you have never done it before, even clear instructions might sound confusing. That's why I'm bringing you this video tutorial on how to make a cream sauce or gravy instead of a new recipe today. I hope it will be helpful!
Cream Sauce Video Recipe
Before I start, let me give a few disclaimers. First of all, the lighting in my kitchen is really terrible. That's why I do so few step-by-step photos or videos. Secondly, I'm sorry this pan is stained! My husband took the kids to the playground, and I suddenly got inspired to make this video. I knew I wouldn't have much time to do it, so I didn't have time to scrub the pan with a Brillo pad (which we don't actually have anyway).
Finally, this sauce looks a little brown because I used spelled flour, which is a lot like using whole wheat flour. If you use regular all-purpose flour, your result will be lighter. If you want to make a brown gravy or dark roux, you should brown the flour and butter to the desired color before adding the broth.
Now, let's get cooking!
How Do You Make Your Cream Sauce?
One last note about using this technique for soup and sauce bases: Sometimes my recipes call for cooking ingredients (like onions or meat) in butter, then stirring in flour, and then stirring the broth into that. That is done in just the same way, except swapping your whisk for a wooden spoon or rubber spatula. You can still stir vigorously as you add liquid to get rid of lumps even though there are other ingredients in the mix.
Last but not least, please let us all know how you prepare your cream sauce at home. Still, have questions about how to make a cream sauce? Let me know in the comments, and I'd be happy to help!