This savory, healthy Chicken and Greens dinner will make your mouth happy!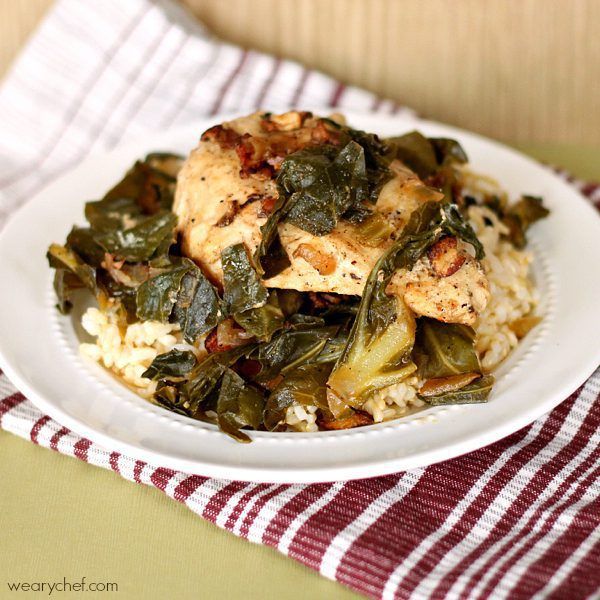 My very lucky husband works in an office where fresh, hot lunch made to order is delivered every day. They order food in the morning through a service called Eat Club, and then the food magically appears at lunchtime. He has had BBQ ribs, bacon-wrapped meatloaf, enchiladas, and just about everything in between, and he usually says everything is just OK.
Things changed last week when a Paleo restaurant showed up on the menu, and it is suddenly everyone's favorite. I have not tried it myself since I spend my lunches taking photos of leftovers or eating frozen burritos, but he now comes home raving most days about whatever kind of stewed meat and vegetables he had for lunch. He and his friends say they aren't interested in the Paleo diet exactly, but the food travels well and just tastes really good.
One of the first dishes he told me about was pork and greens. He is not particularly good at describing foods in detail, so I just used my imagination as to what it was like. When thinking about dinner recipes for this week, I was inspired to try some sort of meat and green something. As much as I love stewed pork, I wasn't looking to cook a roast all day, and I had just thawed some clearance chicken that needed to be used. Thus, chicken and greens was born!
Now, let's just talk about this whole Paleo thing for a moment. Actually, maybe you can do the talking because I know next to nothing about it. I do know that it's about cavemen and that cavemen didn't eat rice or salt or ice cream, which sounds like a pretty bad time if you ask me. I did consider serving this without rice, but my lifetime habit of eating a meat/grain/vegetable combination at dinner just wouldn't let me.
You totally could skip the rice, but as for Paleo, I'm not sure about the wine and bacon. Don't skip those though. THEY ARE TOO GOOD.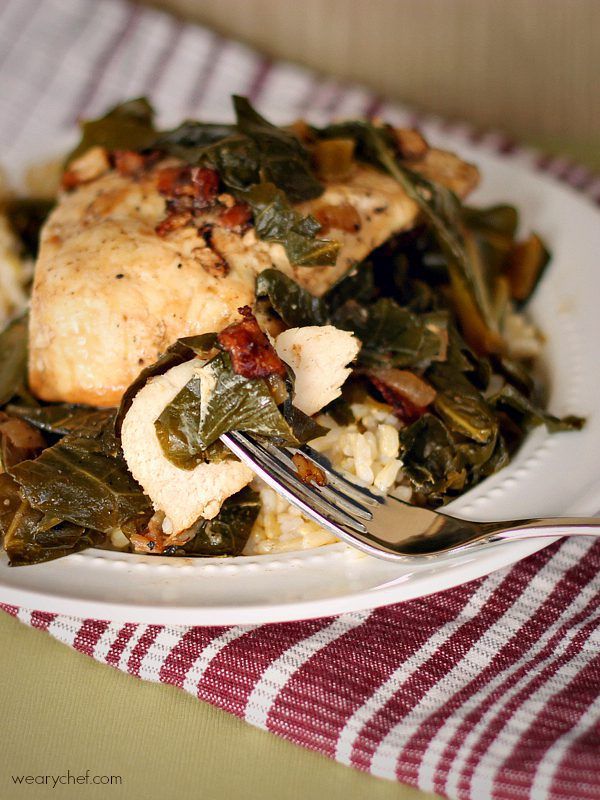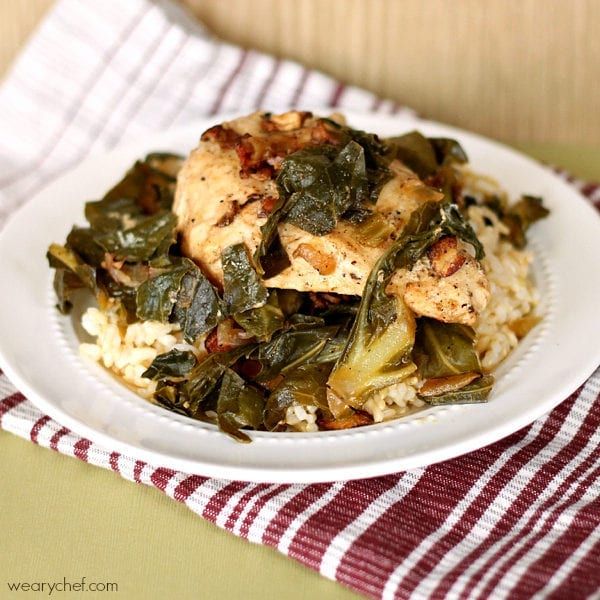 | | |
| --- | --- |
| | |
If you are using brown rice, start it cooking first because it will take longer than the chicken.

Spray a 12" skillet or dutch oven with cooking spray, and heat over medium-high heat. Add onion and bacon, and saute until starting to brown, about 7 minutes. Add garlic, and saute 1-2 minutes longer. (You will have some black bits stuck to the pan at this point, which will add flavor.)

Carefully pour in wine and chicken broth (there will be a lot of steam), and bring to a simmer, scraping the pan as you stir. Stir in greens a couple handfuls at a time, stirring as you go. Sprinkle salt and hot sauce over the greens, and stir to distribute seasonings.

Nestle chicken breasts into greens, and lightly sprinkle chicken with lemon pepper seasoning. Cover pan, and reduce heat to medium. Cook approximately 20 minutes, turning chicken once, or until chicken is cooked through.

Serve chicken and greens over rice if desired.
Out of wine or chicken broth? You can use a full cup of either if you must.