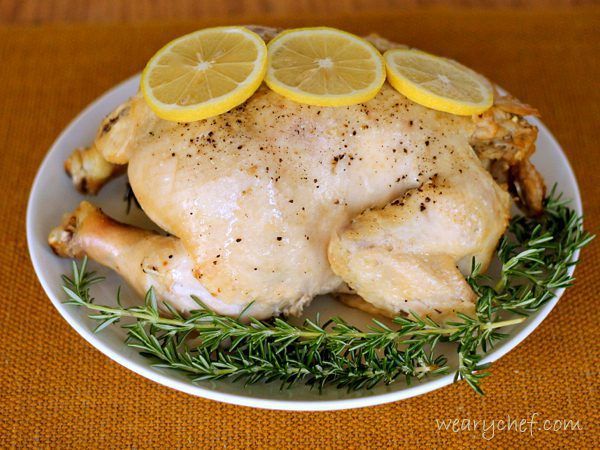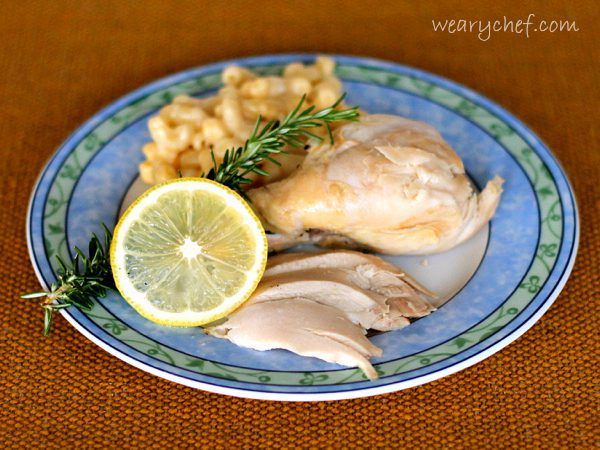 I have been meaning to make a slow cooker roasted chicken for a while, like for years. It's one of those things that I never remember ahead of time when I'm planning dinner or going grocery shopping, so it never gets done. As it turns out, it doesn't take all day to cook, so you can even pick up a whole chicken and a few other ingredients at lunchtime, and your chicken can be on your table for dinner. Do you grow vegetables or herbs in your garden? We have a garden full of pretty, low-maintenance plants, but I haven't had much luck with growing anything edible because I am too busy and forgetful to properly care for the plants. (You know who is amazing at gardening? Pamela at Brooklyn Farm Girl.) When I was shopping for this slow cooker roasted chicken, I almost bought rosemary. Then I remembered, "Hey, wait! I have rosemary growing like CRAZY in my yard!" Since rosemary is a hearty shrub, it is the one edible plant I can actually grow. Maybe I should start putting it in everything… This slow cooker roasted chicken is flavorful and tender, and you won't believe how good your house will smell while it's cooking! I'm sure you could use the carcass to make a great stock. (Nothing sounds more appetizing than the word carcass, am I right?) I didn't because of weariness, but you should go for it and report back about how it turns out!
Print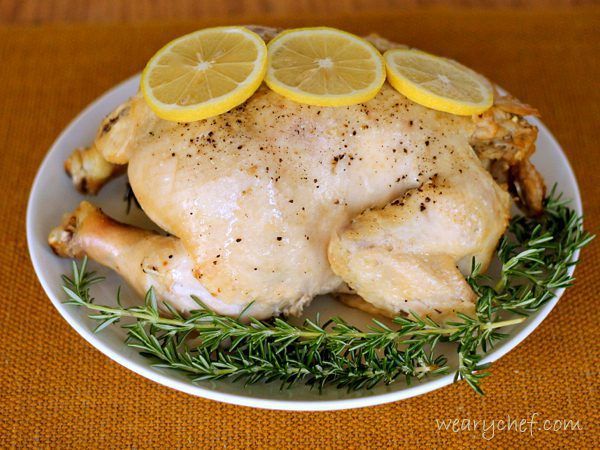 Slow Cooker Roasted Chicken with Lemon and Rosemary
This chicken is simple to make, makes your house smell AMAZING, and will be a crowd pleaser!
Total Time:

5 hours 15 minutes

Yield:

4

1

x
Instructions
Arrange celery stalks, six onion pieces, and two lemon wedges in the bottom of your slow cooker.

Remove any treasures like giblets from your chicken, rinse it, and pat dry with paper towels. Sprinkle a large pinch of salt inside the cavity, then stuff two lemon wedges, two onion pieces, and a few sprigs of rosemary inside. (If your chicken can't hold all that, just fit what you can and throw the rest in the slow cooker.)

Sprinkle the breast side of the chicken with ½ tsp. garlic powder, a couple good pinches of salt, and lemon pepper to taste. Place the bird breast-side down in the slow cooker, and season the other side the same way. Arrange a couple sprigs of rosemary over the top of the chicken, and cover with the lid.

Cook on high for 4-6 hours, until internal temperature has reached 165 degrees F and meat is very tender. Strain some of the cooking liquid into a serving bowl to drizzle on individual servings if desired.
Author:

Prep Time:

15

Cook Time:

300