This easy skillet spaghetti squash marinara with ground sausage, mozzarella, and parmesan cheese is a great low carb dinner recipe!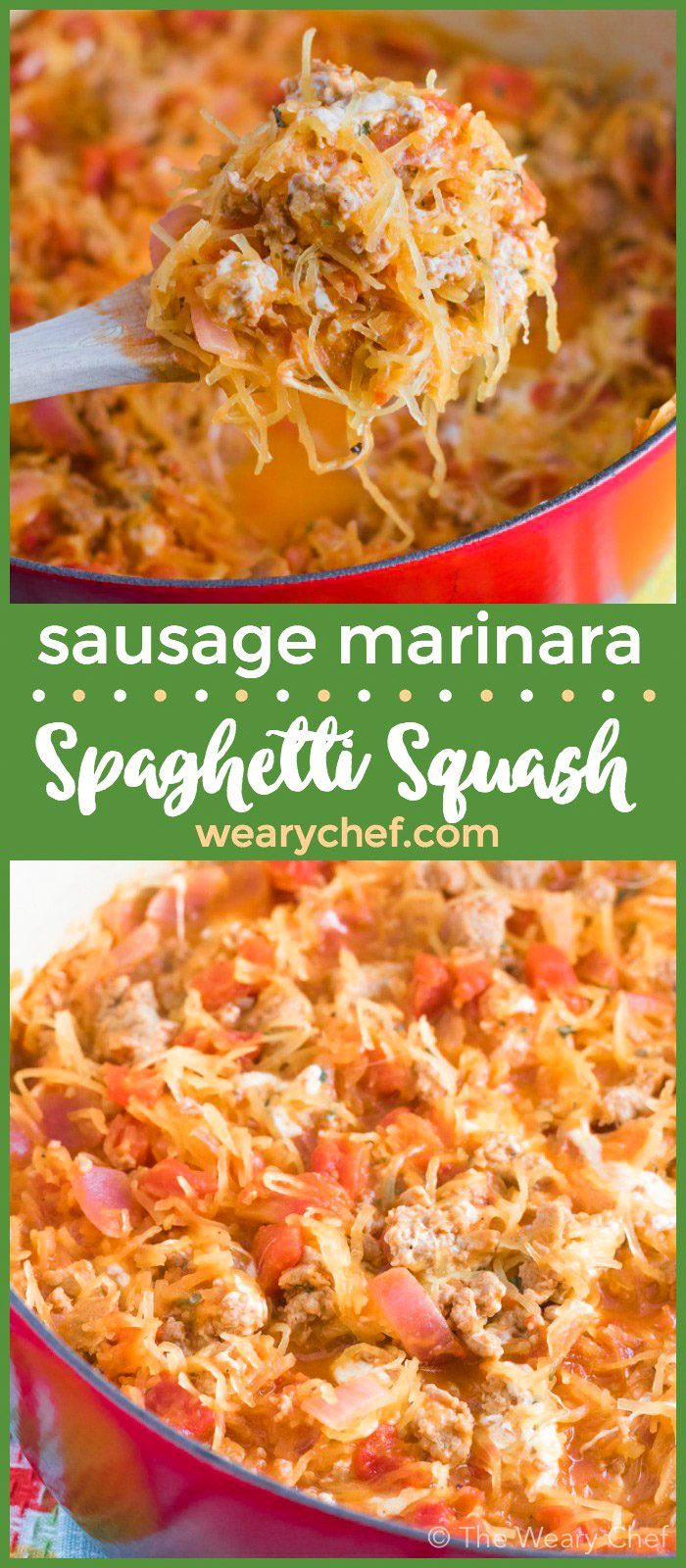 I have mentioned a couple times that I have recently tried a couple diets in an effort to lose some weight. (If you don't want to read about my weight whining, scroll on down to get this spaghetti squash recipe…) To catch you up, a couple years ago, I was diagnosed with general anxiety disorder and was prescribed Lexapro. That medicine helped my mood SO MUCH. Instead of being a grouchy, irritable basketcase, I was happier and more easy going. It was fantastic and life changing the first six months, but then the weight gain started.
As can happen with most SSRI antidepressants, I started packing on a pound or two a week. The more I gained, the worse I felt about myself, and I started to think the medicine wasn't worth it. I slowly weaned off it (with my doctor's help of course), and I figured my weight would magically go back to normal. Well, it's been six months, and it's not happening.
So, now I'm back to being irritable with the bonus of being 15 pounds fatter. ಠ╭╮ಠ I've mentioned here lately that I've tried low carb diets and exercise, thinking that would do the trick, but it seems there is no "trick." I am going to have to just buckle down and eat less. You know, like a DIET. I hate diets. Eating and drinking are my two favorite things!
I got an app called "Lose It!" which is helping me with tracking my food, exercise, and weight. It's a lot like the Weight Watchers app except waaaaaay cheaper. I'm also taking a weight loss supplement and psyllium husk, which seem to help (although it could be my imagination). (Note: Those are affiliate links.)
So far I have lost five pounds. (⌒▽⌒) I need to lose at least five more, but ten would be better. I don't have the willpower to do major dieting, so the weight loss will be slow going I'm sure. I'm supposed to be staying around 1500 calories per day (I thought calories weren't supposed to matter anymore, wth??), but that is hard to do!
Even though I'm counting calories now, low carb/sugar is definitely still on my mind. I keep reading about how bad sugar is for us, and carb calories do add up quickly. That's where this spaghetti squash recipe comes in. I really enjoy the texture and mild flavor of this squash, and it makes a big bowl of "spaghetti" so much healthier! I can high five myself for eating two cups of a vegetable instead of scolding myself for eating two cups of pasta. I love that!!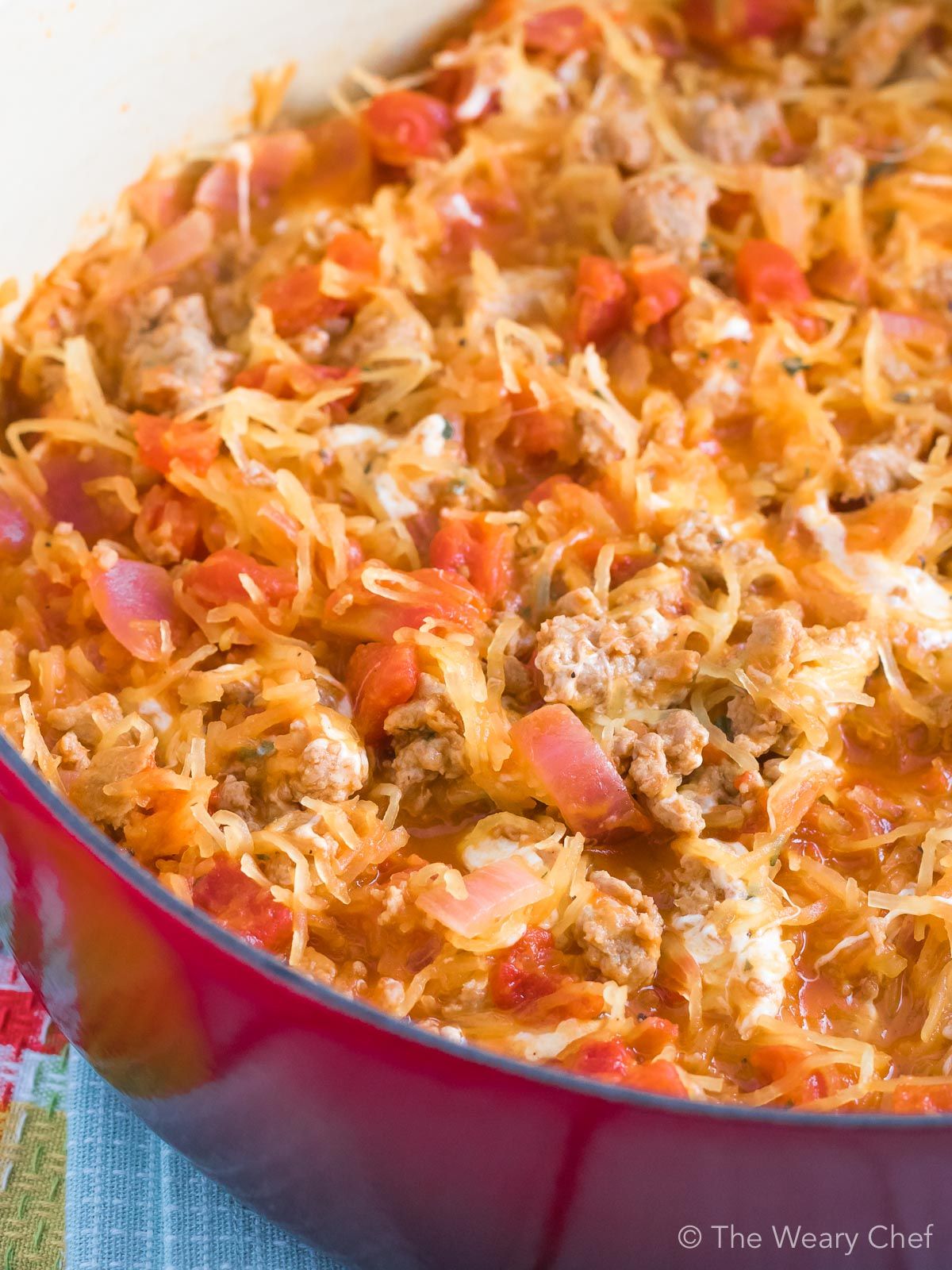 Oh, and as for the irritability, I'm actually on my way right now to an acupuncture appointment. It has been recommended by my doctor and therapist as a treatment for anxiety and mood disorders. I'm extremely skeptical and a little hopeful. I figure it won't hurt to try (well, unless the needles hurt!). If you're interested, I'll keep you posted on how it goes.
Until then, make this spaghetti squash marinara! You'll love it, and if you are working on weight loss too, I think it will be especially good for you. Let me know how you like it! xo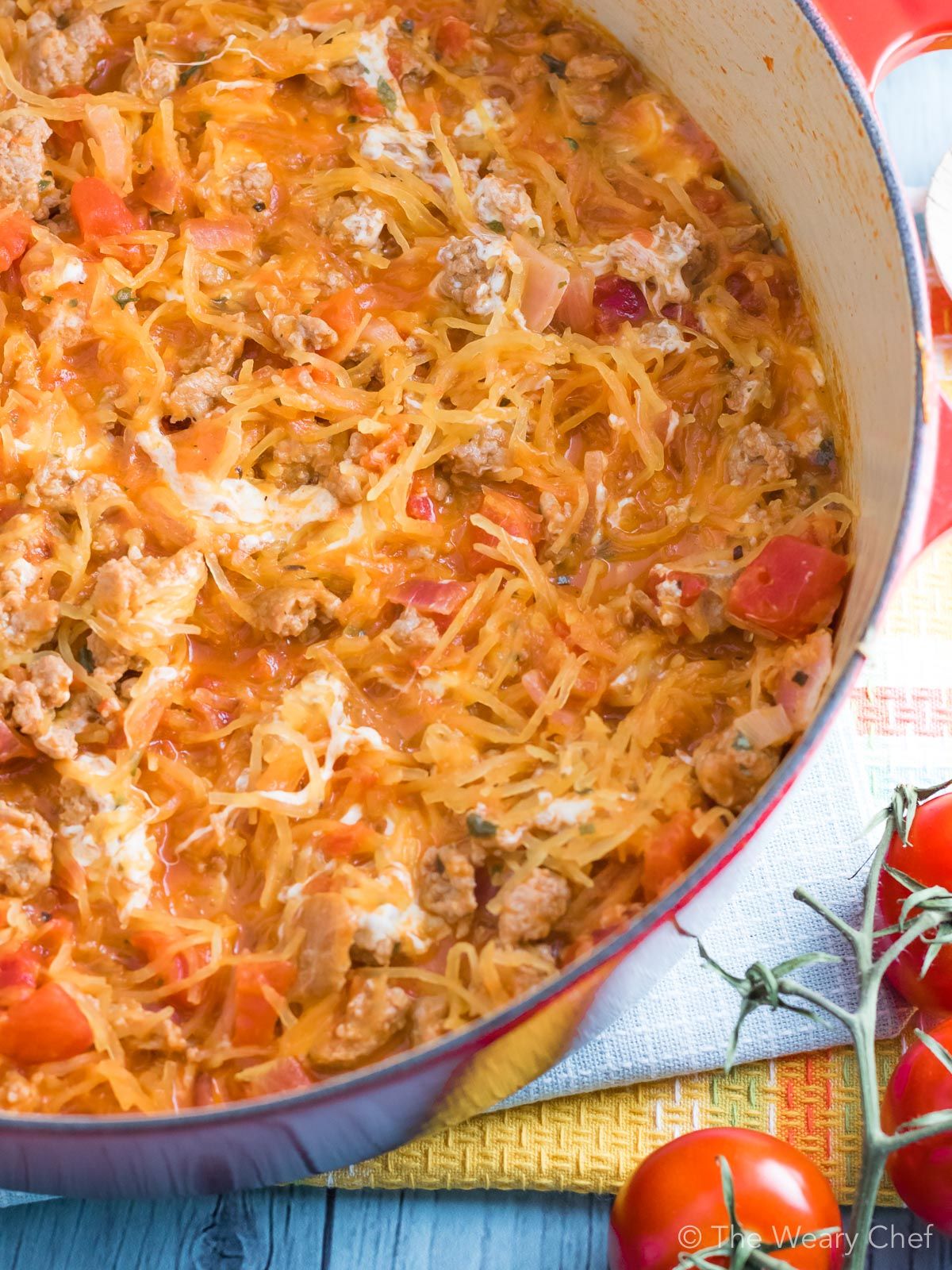 Print
Spaghetti Squash Marinara with Sausage and Mozzarella
This easy skillet spaghetti squash marinara is a great low carb dinner recipe!
Total Time:

30 minutes

Yield:

6

1

x
Instructions
Wash the squash well, then carefully pierce it with a metal skewer all the way to the center several times all around. (This is important so it doesn't explode while cooking!!)

Place the squash on a microwave-safe plate, and microwave on high for 5 minutes. Carefully flip it over, and microwave for 5 minutes longer. (If you are able to do this step a while before you are ready to cook dinner, it will give the squash time to cool off before you have to work with it.)

VERY carefully cut the stem end of your squash off, and then slice the squash in half lengthwise. (It will be very hot and steamy inside, so please be careful!) Use a spoon to scoop and discard the seeds and mushy flesh from the center of the squash. Then, use a fork to rake all the squash out in strands. This part is fun!

Spray a wide dutch oven or deep 12″ skillet with cooking spray, and heat over medium-high heat. Add sausage (without casings!) and onion. Saute and crumble the meat until cooked through.

Stir in garlic and Italian seasoning, and cook 1-2 minutes longer. Stir in spaghetti squash strands, tomatoes, and parmesan cheese. Reduce heat to medium.

Cook squash mixture, stirring occasionally, until heated through. Add salt, pepper, and pepper flakes to taste. Gently stir in cubes of mozzarella to evenly distribute them, but don't stir them to melt completely. Allow to cook, stirring very gently a couple times, until mozzarella is soft and melty. Serve warm.
Author:

Prep Time:

15

Cook Time:

15
Also try spaghetti squash in these recipes: