If you are looking for a hearty vegetarian spaghetti sauce, this is it! Loaded with tofu, mushrooms, and tomatoes, you will never miss the meat.

I have had slow cooker spaghetti sauce in my recipe drafts for months. I thought it would be a good recipe, but I know it has been done before. I wasn't sure what I could do with it that would be new, so the idea just sat there. Since we are trying to cut back a bit on our meat intake, I decided to try my hand at vegetarian spaghetti sauce instead of slow cooker, although you could definitely transfer this sauce to your slow cooker if you wanted to cook it all day. This sauce turned out to be hearty, flavorful, and fresh tasting! The crumbled tofu gave it the texture and protein of meat, and the sliced mushrooms added great texture too.
The key to getting a rich flavor in this vegetarian spaghetti sauce is letting it cook as long as you can. The longer it cooks, the more the flavors can develop and permeate the tofu and mushrooms. When I've tried making spaghetti sauce in the past, it always tasted like canned tomatoes because I didn't cook it long enough. I let this one simmer for over two hours, and it was so much better!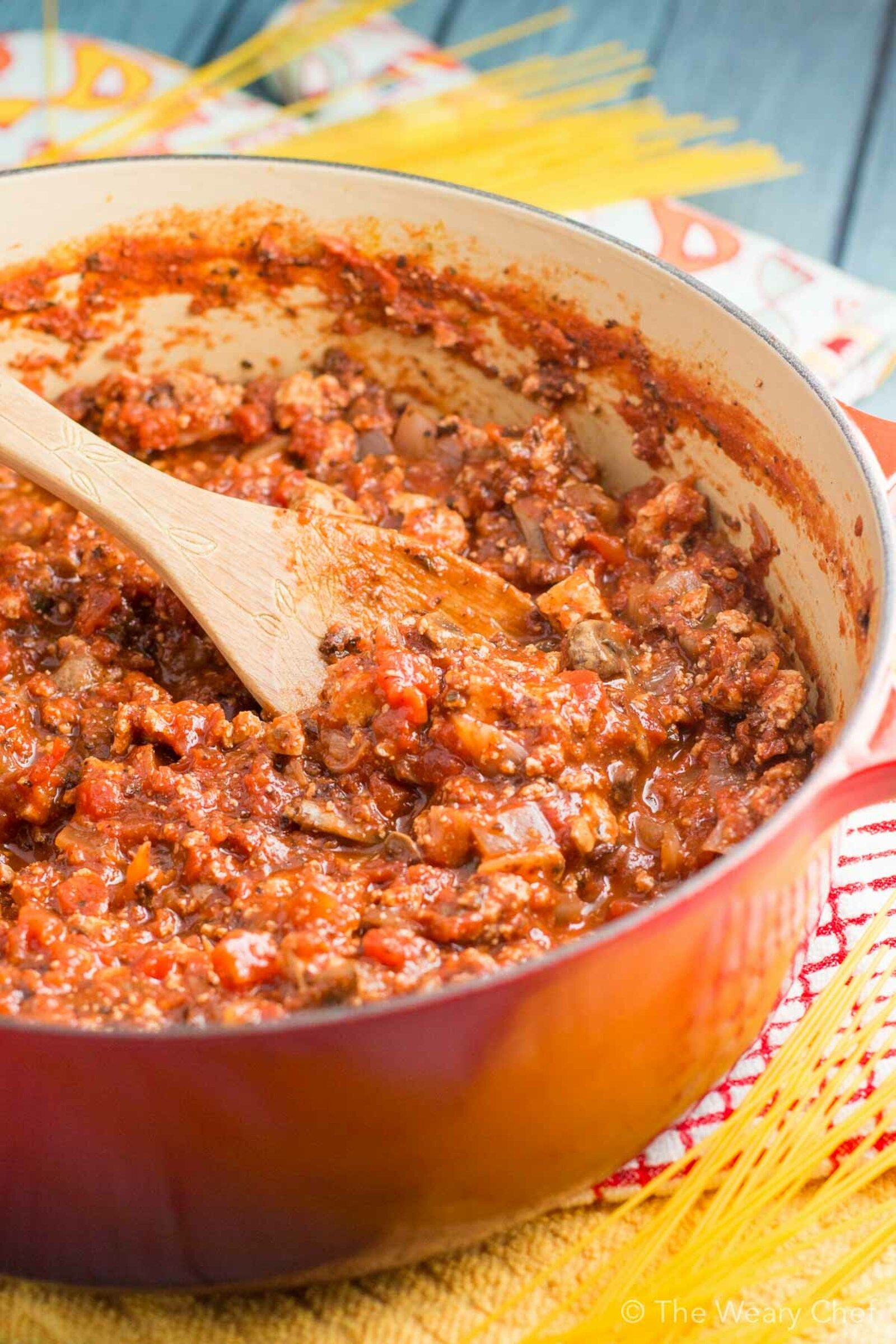 I used super firm sprouted tofu instead of regular tofu, but either one will work. Just make sure you get the firmest tofu you can find to make sure it holds up to all that cooking. If you don't want tofu at all, you could make this recipe exactly with ground beef or turkey instead, but of course then it won't be vegetarian anymore!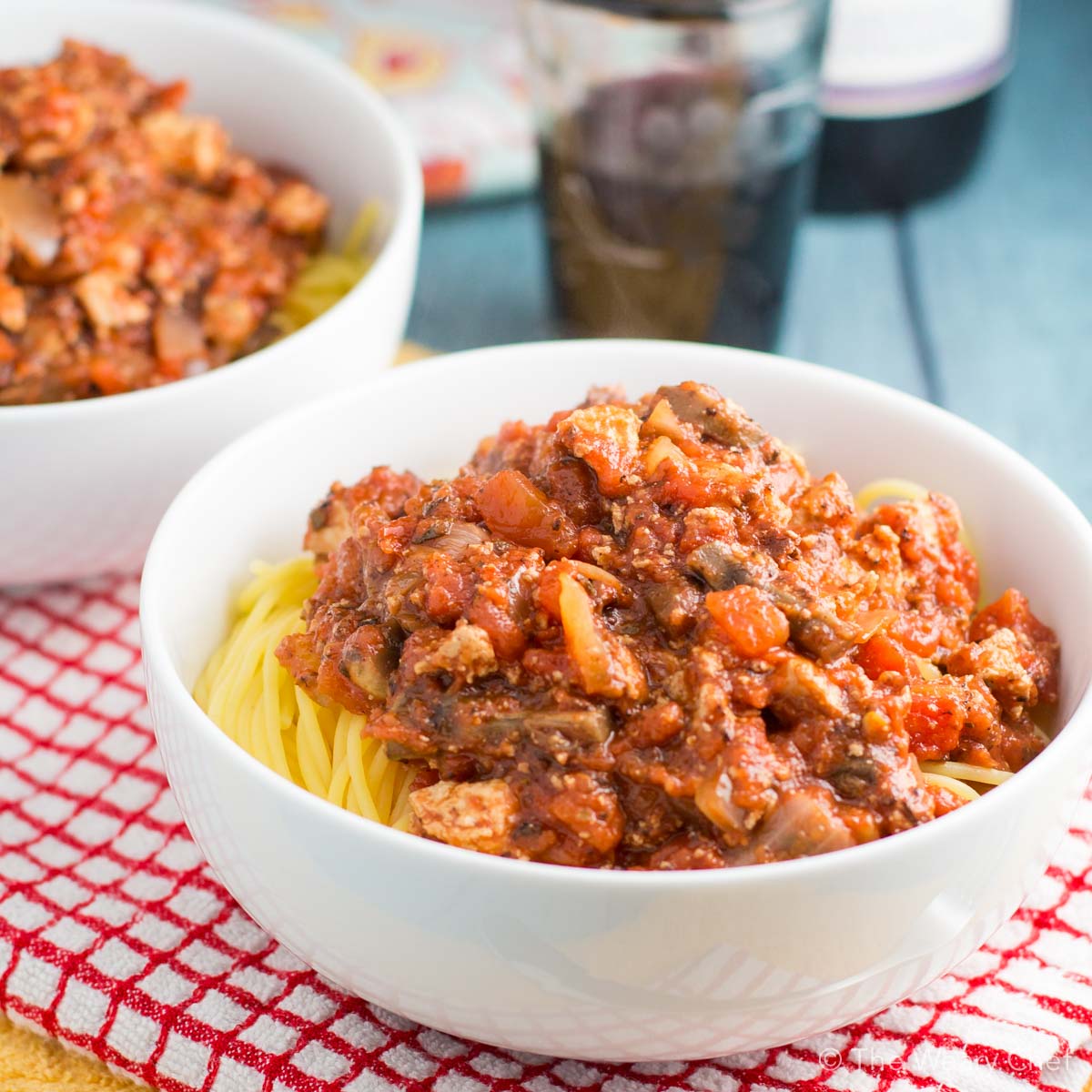 Not only is this vegetarian spaghetti sauce good for your body and tastebuds, it's good for your wallet too! Lean meats are pretty expensive, but tofu is under $5 per package. Buy loose mushrooms and store-brand tomatoes and pasta, and you've got a wholesome, tasty dinner to feed a big family for well under $20!
Print
Vegetarian Spaghetti Sauce Recipe
Total Time:

2 hours 5 minutes

Yield:

6

1

x
Instructions
Heat olive oil dutch oven over medium-high heat. Add onion, and stir to coat with oil. Crumble tofu into very small pieces over the onion. Stir and cook 10-15 minutes until the onion is very tender. A black crust will form on the bottom of the pan as the tofu cooks. This is a good thing! It will add flavor to the finished sauce.

Stir in mushrooms, garlic, salt, Italian herbs, and red pepper flakes. Cook another 1-2 minutes.
Reduce heat to medium. stir in diced and crushed tomatoes. Bring to a low boil, stirring often. Cover pot not quite tightly to allow some steam to escape. (You want the liquid to burn off a bit to thicken up the sauce.) Reduce heat to low, and simmer for at least two hours, stirring occasionally. Adjust salt to taste, and serve over your favorite pasta.
Author:

Prep Time:

5

Cook Time:

120

Category:

Dinner, Pasta and Noodles

Cuisine:

Italian
You might also like these other vegetarian recipes!