Today I'm bringing you a super healthy sausage alfredo recipe that includes kale and spaghetti squash. It's a guilt-free as comfort food gets!
Hi! I'm glad you are here because I want to show you the healthiest ever sausage alfredo recipe! It might be a little bold to call it the healthiest ever since I don't know all the versions created before this one, so let's just say it's the healthiest I've ever made.
The lightened up alfredo sauce is nothing new because I've used a variation of it in salmon alfredo, bacon gouda alfredo, and other recipes. The big difference in this recipe is that uses spaghetti squash instead of actual pasta, but I promise it still tastes good! I would say it might even make it easier since you don't have to boil a pot of water and drain pasta.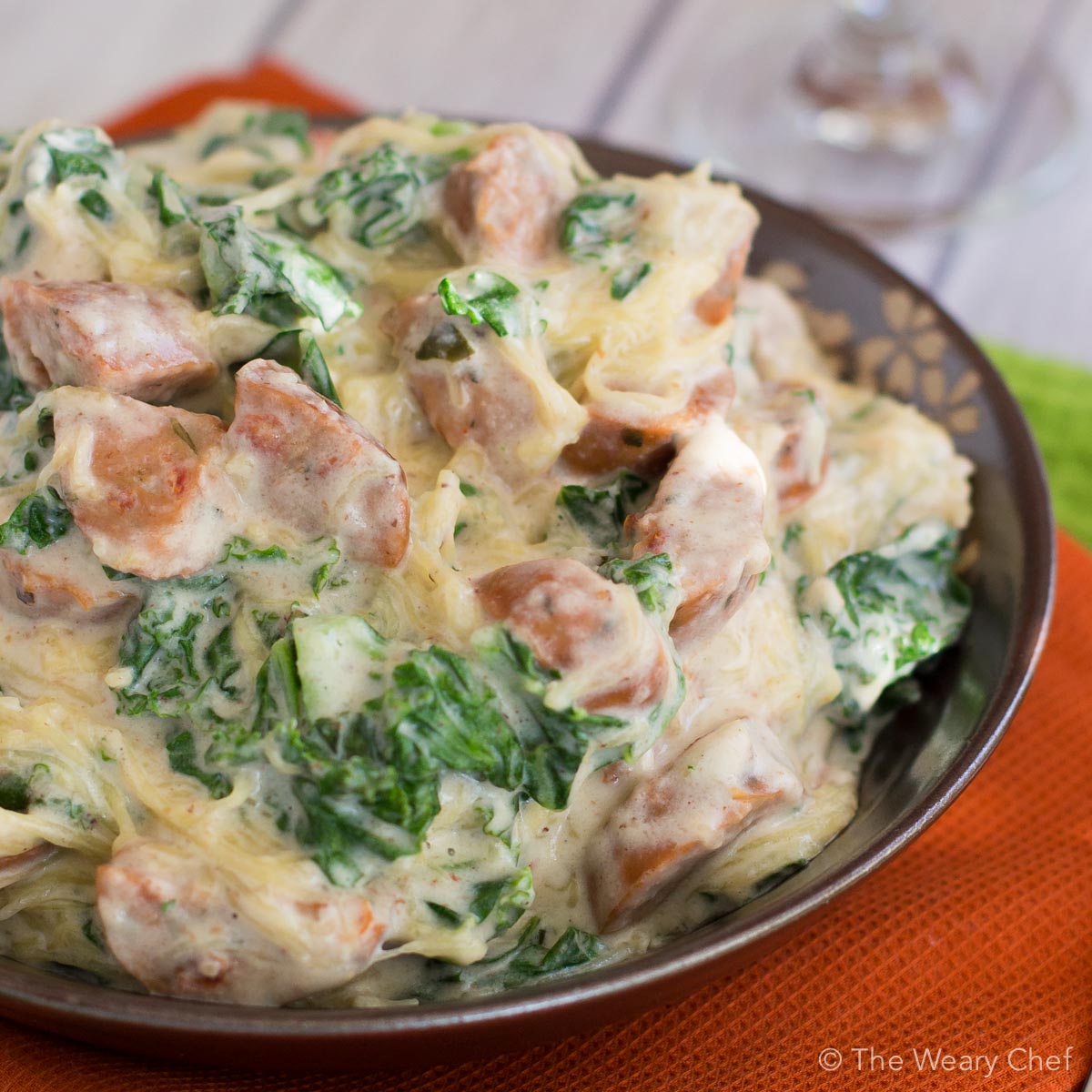 Spaghetti squash is one of those foods I keep thinking I should try but don't every get around to actually buying. Now that I get seasonal produce delivered to me, I ended up with some surprise squash that I needed to use. I wasn't sure how to cook it, but The Kitchn has detailed instructions on how to cook it in the microwave or oven. I chose the microwave option because it was faster, and it was really simple. I'll just send you over there to learn about it instead of trying to summarize, but don't forget to come back :)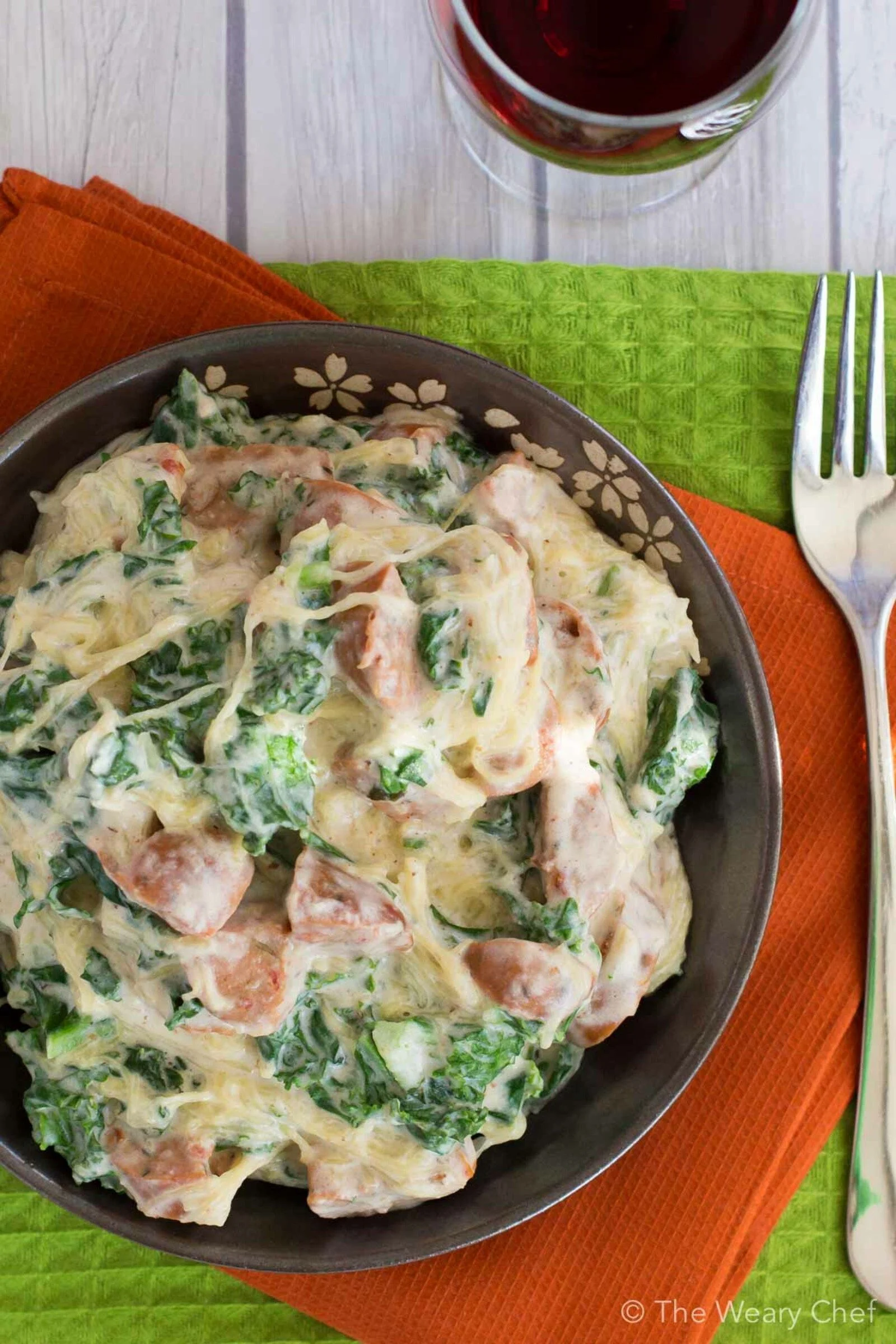 If you are saying, "Spaghetti squash? Really, Andi? What are you, some kind of hippie?" I would ask that you please not talk to me in that tone. We're all friends here. If you don't want to eat squash, by all means make this recipe exactly the same way except add cooked pasta instead of squash.
You are also more than welcome to substitute spinach or broccoli for the kale, whatever floats your boat! I made mine this way because I thought it would taste good and because I happened to have all these ingredients in my kitchen already.
If you have questions about making the cream sauce, might I refer you over to this video I made showing exactly how to do it. The production value is a little… lacking, but I think the instructions are clear. If you are a beginner at this kind of recipe, I think it will be helpful for you. Now grab your whisk, and let's get to the recipe!
Print
Spaghetti Squash Alfredo with Sausage and Kale
This low-carb alfredo recipe is a satisfying and delicious dinner!
Total Time:

35 minutes

Yield:

4

1

x
Instructions
Spray a large skillet with cooking spray and heat over medium-high heat. Add sausage, and cook, stirring often, until brown. Put sausage asides with squash.

In same skillet over medium heat, melt butter and whisk in flour. Add milk about 1/4 cup at a time, whisking constantly until smooth before adding more. When the milk base is mostly liquidy and smooth, you can pour in the rest of the milk all at once. Continue whisking until sauce comes to a simmer and starts to thicken.

Whisk in cream cheese until melted and smooth. Whisk in parmesan until melted.

Now trade your whisk for a spoon, and stir chopped kale into the alfredo sauce. Cook until leaves are wilted, 3-5 minutes. Then, stir in squash and sausage until coated with sauce and heated through. Serve while hot.
Notes
See the post text above for more information about how to cook the squash and tips for making the sauce.
Author:

Prep Time:

20

Cook Time:

15
Here are some other healthy dinners I think you'll really enjoy: