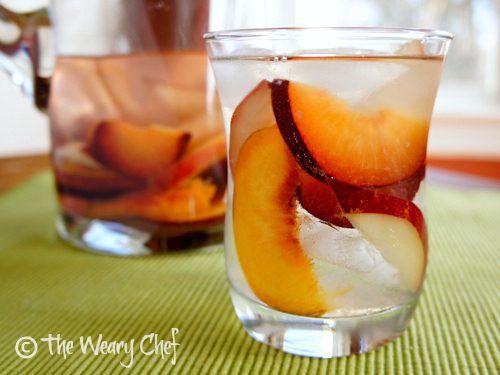 Hello, friends. I'm here to help you ring in the weekend with this easy, light sake sangria. I am actually enjoying a glass while writing this. To be clear, it's Thursday night, not Friday morning. I'm not so much of a lush that I drink in the morning, even on Fridays (unless someone hands me a glass of champagne and calls it brunch). I am tired, yo. I love my blog and am very proud of how things are going around here, but today I made three recipes and photographed four (one was leftover from last night). I can't arrange one more piece of parsley or slice of plum for at least 12 hours. Who knew that cooking, taking and editing photos, writing, and constantly marketing your recipes could be so much work? Well, actually that kind of does sound like a lot of work, but it's so fun and rewarding that it's worth all the hours spent. I get so excited every time I have a new dish to share with you! Enough about me, let's talk about wine, sake to be exact. You need to like sake to like this recipe. If you don't, perhaps you'd like to browse my other cocktails and choose something else for your happy hour drink this week. I did not add much to this sake sangria, so it tastes very light, like slightly fruitier-than-normal sake. It would be great to serve with sushi or other Japanese fare. As a plain old wine lover, this sake sangria couldn't take the place of traditional sangria, but I would definitely make it again if I was in the mood for a sake cocktail.
Print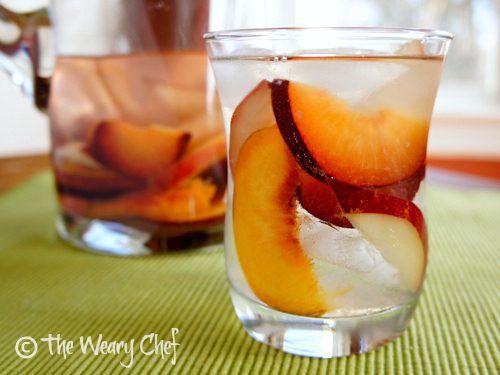 | | |
| --- | --- |
| | |
Place fruit, sake, and vodka in a clear pitcher. Gently stir together.

Allow sake and fruit to soak for 8 hours or longer before serving over ice. Cheers!
I didn't try this myself, but I think this would be great topped with a couple ounces of ginger ale. Let me know if you try that!