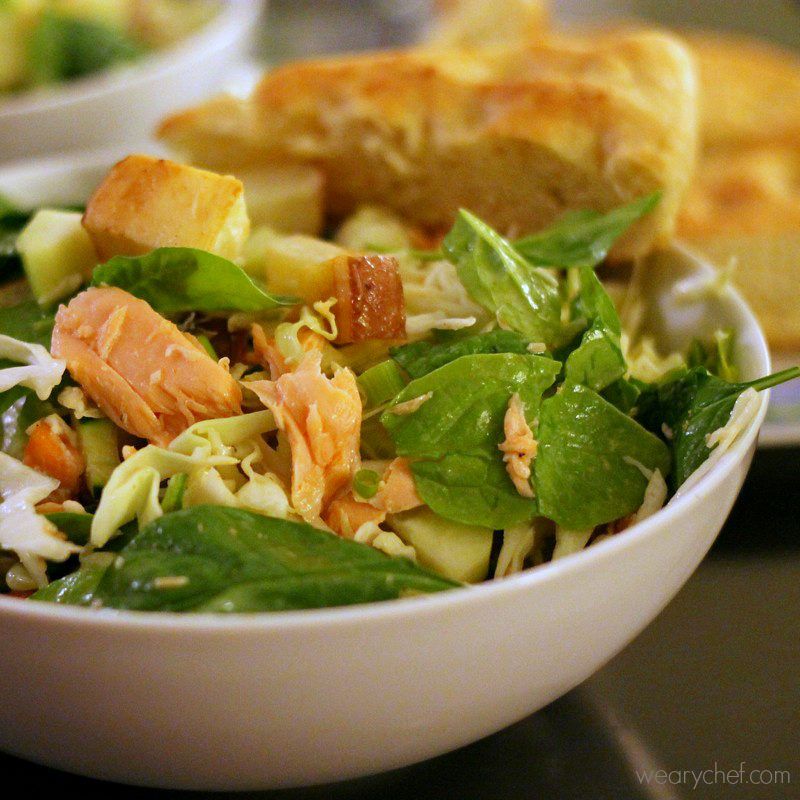 Hello, Fellow Chefs! Today I'm sharing this Spicy Salmon Salad with Roasted Potatoes recipe, but first let me ask you something (I swear this will be relevant to this salad if you hang in there): What kinds of things make you feel guilty? That is a hard question for me to answer because the list is so long, but let me give a few examples of things that cause me guilt:
Not playing with my kids enough – I'm pretty good at parenting jobs like feeding, clothing, and cleaning the boys; getting them everywhere they need to be on time (or close to it); volunteering extensively in all their activities; and helping them succeed and feel loved. I'm NOT very good at playing. I have no imagination for Legos, Candy Land makes me want to die of boredom, and who has time to play kickball in the hallway when the kitchen is such a mess? I do spend a TON of time with my boys, but at the end of the day I always think I should have come up with more fun activities.
Zip-top plastic bags – I try really hard to use them sparingly, and I feel sad every time I pull one out knowing it will be headed to a landfill. This also goes for paper towels, but at least those are compostable.
Giving my kids too much attention – I am fully aware that this is completely contrary to #1, so clearly I'm going to feel bad no matter what. Not only do I worry that I don't do enough, I also worry that I do too much because my boys always look to me to entertain them. I am afraid that I'm not helping them develop their creativity and independence.
Diapers – I've had both my boys in cloth diapers from the start. Recently, because of preschool and some severe rash problems, we've had to look into disposable diaper options for The Short One. I am using compostable, biodegradable, we-swear-these-are-good-for-the-environment alternatives, but throwing a diaper into the trashcan makes me feel terrible. Potty training is the obvious solution to this problem, and hopefully it is right around the corner!
Not keeping in touch with distant friends and family – There is no excuse here. I'm terrible at this and deserve to feel guilty.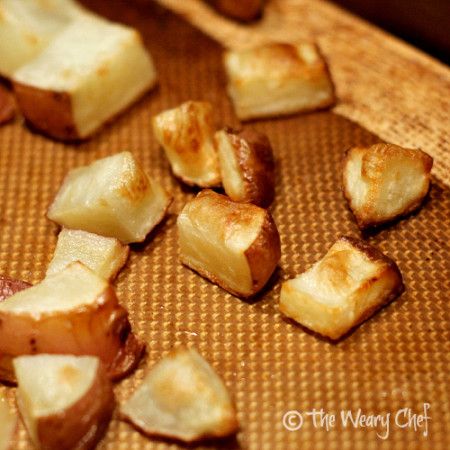 You know what else makes me feel guilty? Throwing away perfectly good food. There are so many people hungry in this world and even right here in my community. You probably won't be surprised to hear that I feel guilty about having so much when others have so little, but wasting food that others would be grateful to have feels so wrong. I've been trying harder lately to look at what I have in my refrigerator and find ways to use it. For example, the boys recently claimed they wanted hot dogs on buns, but then they remembered that they actually just like plain hot dogs. Instead of eventually throwing away the rejected buns, I used them to make cheese toast, which my kids gladly ate. I'm also trying to go through the fridge when I'm meal planning to see what I already have and build recipes around that. Not only is this relieving my guilt about being wasteful, it's also helping us save money! You may be asking yourself what the heck this has to do with Spicy Salmon Salad with Roasted Potatoes. Well, I'll tell you! This salad was born out of rummaging through the fridge and finding half-empty containers of random ingredients. I bought the salmon, potato, and cucumber, but everything else was already on hand. I hope you will use this salad recipe as an inspiration and throw in what YOU have in your kitchen to make a delicious, healthy, guilt-free dinner!
Print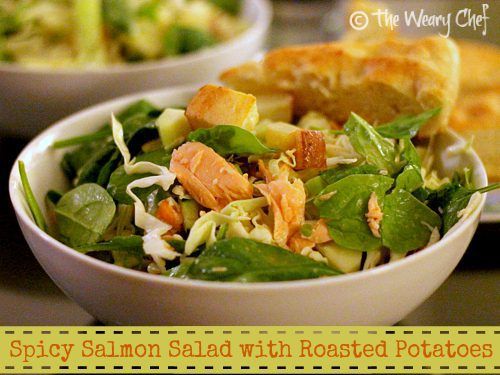 Spicy Salmon Salad with Roasted Potatoes
You could call this a kitchen sink recipe because it would be good with pretty much any fresh vegetables thrown in! It takes a little while to cook the potatoes and salmon, but hands-on cooking only takes about 10 minutes!
Total Time:

1 hour

Yield:

3

-4

1

x
Instructions
Preheat oven to 400 degrees F.

Place diced potatoes into a small bowl and cover with cold water. Allow to soak for at least 5 minutes.

Combine all dressing ingredients in a small container with a tight-fitting lid. Close lid, and shake very well until combined. Store in refrigerator until ready to serve.

Drain potatoes, and dry well with a kitchen towel. Place on one side of a baking sheet (preferably lined with a silicone mat or sprayed liberally with cooking spray), and drizzle with 1 tbsp. olive oil, a couple pinches of kosher salt, and a little lemon pepper. Bake in preheated oven for 20 minutes.

Remove baking sheet from the oven, and place salmon fillet skin-side down next to the potatoes. Sprinkle salmon with a pinch of kosher salt and lemon pepper, and return pan to the oven for an additional 20 minutes.

Meanwhile, mix spinach, cabbage, cucumber, and any other fresh vegetables you would like to add to a large salad bowl.

When potatoes and salmon are done, remove from oven and allow to cool for about 10 minutes. Then, shred salmon with a fork, and add fish and potatoes to the mixed salad.

Pour dressing over the salad, and gently toss to coat. Enjoy your healthy dinner!
Author:

Prep Time:

10

Cook Time:

50

Category:

Main

Cuisine:

Salad