You are going to LOVE this quick and easy recipe! Tortillas are stuffed with beans and rice, crispy fish sticks, and all your favorite toppings. It's a family favorite recipe! Not to mention the Mexican flavor of these fish burritos! A great treat you can give to your family as well. It's very convenient to make. A simple dish with an outstanding flavor.
Flour Tortilla and Mexican Fish Tacos
A flour tortilla is wrapped around a variety of ingredients to produce a burrito, a meal popular in Mexican and Tex-Mex cuisine that originated in California. Sometimes the tortilla is briefly toasted or heated to soften, stretch, and help it stick to itself. The ideal weeknight meal is burrito bowls with grilled fish tacos. They offer a fun alternative to Taco Tuesday. This summer, you must cook these burrito bowls with grilled fish tacos. One benefit of food is that you can eat it indoors or outside. The flavor that a charcoal barbecue imparts to your meal is unique and highly addictive.
This recipe for Mexican fish tacos is all about the vibrant colors, vibrant flavors, and contrasting textures that define real Mexican cuisine. Fish tacos consist of crispy, seasoned fish, crunchy red cabbage, tangy pico de gallo, and a creamy sauce concoction with a squeeze of lemon, all encased in a deliciously soft blue corn tortilla. It makes for a really cute tiny fistful of street food from Mexico. Have a look at these recipes so that you will know what I am talking about. Do it yourself and experience it!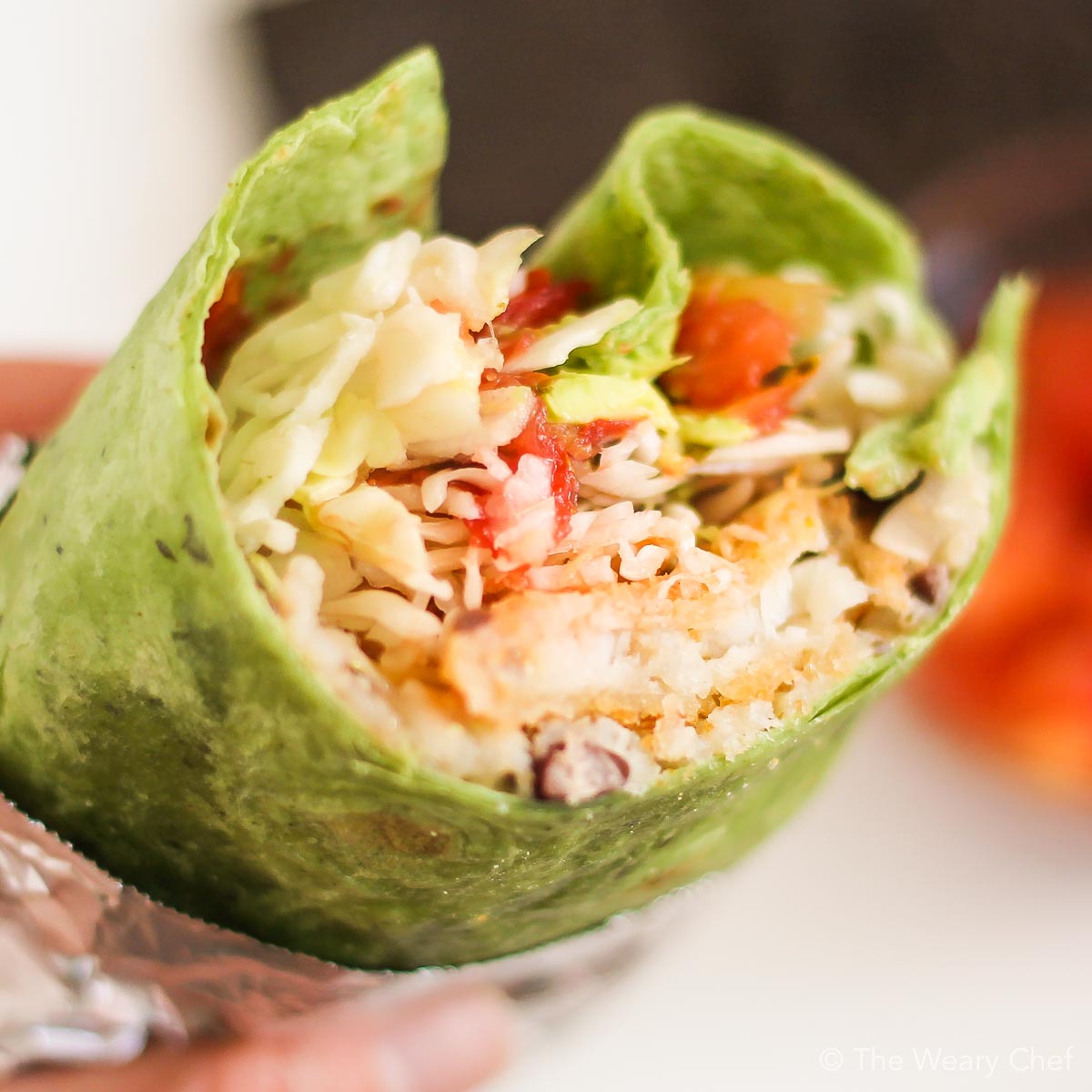 My First Experience with Fish Wraps
These fish wraps remind me how many foods were new to me when I moved from Mississippi to San Francisco 17 years ago. (Yikes, I'm getting old!) I hardly knew what an avocado or mango was; I had never had the nerve to try sushi, and my Mexican food had been limited to ground beef burritos and cheese enchiladas.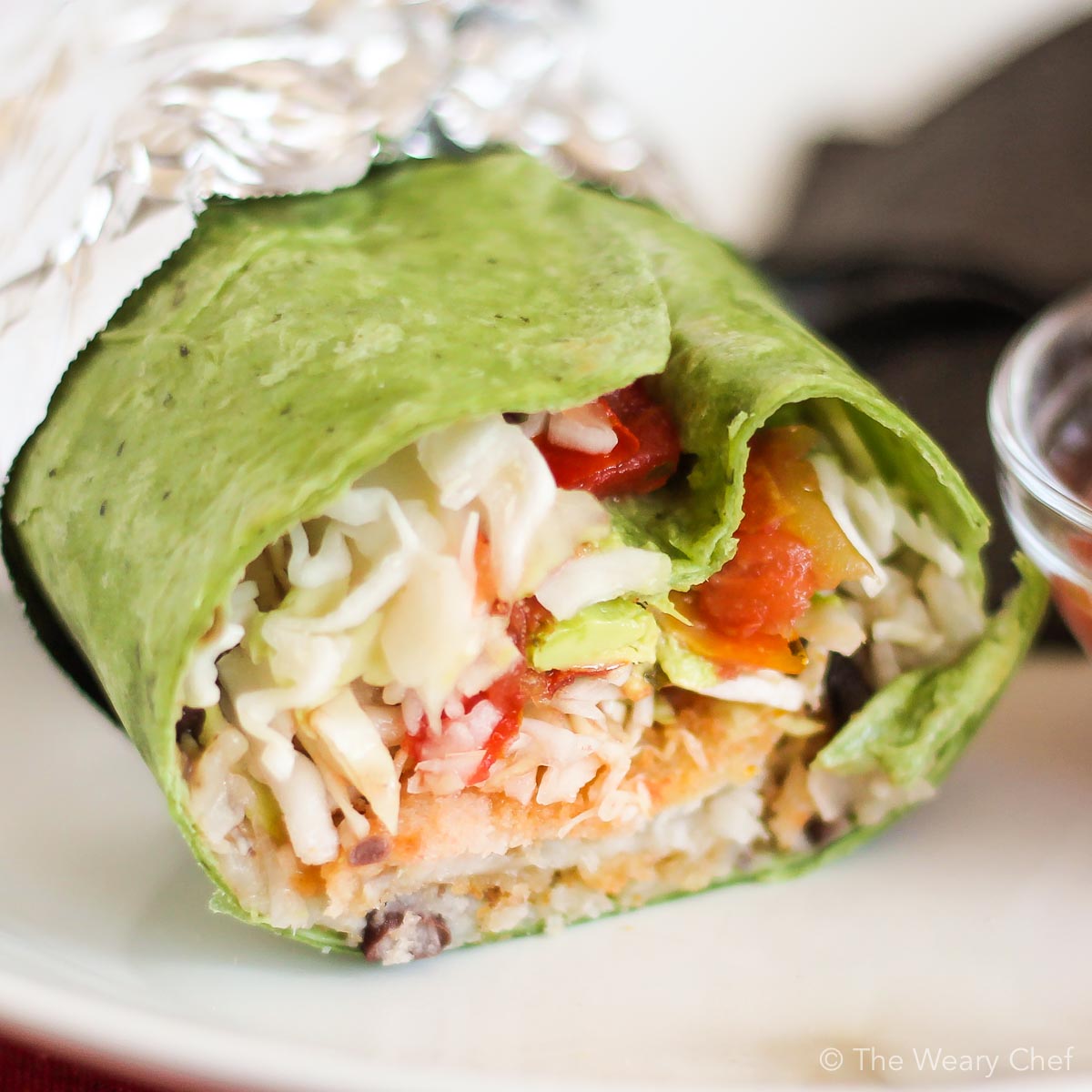 Our first apartment was within walking distance of an awesome, authentic taqueria. It was my first experience ordering a custom burrito made in front of me (this was before Chipotle was everywhere), and I had to watch my fellow diners learn how to tackle that gigantic, foil-wrapped beauty. At first, I shied away from guacamole (what was wrong with me!?), and the fish and shrimp burrito options sounded downright strange.
How I Like My Fish Burritos
Thank goodness I got over that because fish was born to be in a burrito! Now I always seek out seafood in my Mexican food. Often restaurant fish tacos and burritos have crispy, fried fish inside. I'm not one to fry foods at home, but I realized that I had fish sticks in my freezer that could fit the bill. These filling, healthy fish stick burritos are so easy to make and rival some taquerias I've tried.
I used my black beans and rice recipe to fill these burritos. Man, I love that recipe, and I know you will too! It's super versatile, so you could make a double batch to get two dinners out of it. The beans and rice take about a half-hour to make, which is enough time to bake your fish sticks. Then watch how easy it is to put it all together!
How to Make Mexican Fish Burritos at Home?
Here is an easy way to learn how to make Mexican Fish Burritos by watching my video tutorial on YouTube.
Print
Super Easy Fish Burritos
You are going to LOVE these quick and easy fish wraps! Tortillas are stuffed with beans and rice, crispy fish sticks, and all your favorite toppings. It's a family favorite recipe!
Total Time:

30 minutes

Yield:

4

1

x
4

burrito-sized tortillas

16

–

20

frozen fish sticks

1

batch of black beans and rice (recipe below) (see note for recipe)

1

lime quartered

2

cups

finely shredded cabbage

1

cup

fresh salsa

1

avocado sliced
Instructions
Prepare black beans and rice (recipe link below).
Meanwhile, bake fish sticks according to package directions until crispy.
Spread about 1/2 cup of beans and rice in the center of each tortilla. Arrange 4-5 fish sticks over the rice, and squeeze juice of 1/4 lime over the fish.
Spread 1/2 cup cabbage, 1/4 cup salsa, and a few slices of avocado over the fish. (These amounts should be adjusted to taste of course!)
Do your best to fold and roll the tortilla into a burrito. You can wrap the end with foil to hold it together and make it easier to eat. Enjoy!
Notes
You can use either of these beans and rice recipes:
Author:

Prep Time:

30

Category:

Main

Cuisine:

Mexican
Nutrition Information of Mexican Fish Burritos
Per serving:
| | | | |
| --- | --- | --- | --- |
| Calories | 882 kcal | Carbohydrates | 43 g |
| Protein | 48 g | Fat | 56 g |
| Saturated Fat | 15 g | Potassium | 1137mg |
| Iron | 3.8 mg | Sodium | 5414 mg |
| Vitamin A | 800IU | Fiber | 3 g |
| Sugar | 11 g | Vitamin C | 11.5 mg |
| Cholestrol | 151 mg | Calcium | 392 mg |
Serving: 1Burrito | Calories: 707kcal | Carbohydrates: 39g | Protein: 31g | Fat: 49g | Saturated Fat: 15g | Cholesterol: 78mg | Sodium: 768mg | Fiber: 7g | Sugar: 5g
What's The Best Fish for a Burrito?
In general, white fish is used in most fish burritos. This can be mahi-mahi, snapper, cod, or tilapia. Buy a light, flaky fish that is reasonably priced if you want to make it at home.
It really isn't necessary to use an expensive fish because the flavor will be slightly covered by the veggies, salsa, avocado, and other fillings since the tortilla has so many other flavors.
Fish can be used either fresh or frozen. Thaw frozen fish before cooking it to ensure consistent cooking and prevent rubbery skin.
Feel free to substitute frozen fish fillets, fish sticks, or this homemade Baked Crispy Fish in place of the fried fish if you prefer it.
What Are The Best Fillings for a Fish Burrito?
Pick toppings and salsas that won't dominate the delicate meal while making fish burritos so you can still taste the fish. Here are a few popular fillings:
Black beans: Mild black beans make the ideal side dish for fish. You may easily produce your own black beans at home or drain some canned beans.
Greens or slaw: Don't forget to include some greens or slaw for crunch and freshness. The best options are coleslaw mix, shredded cabbage, and romaine lettuce. It's also nice to add a fast slaw like this Creamy Mexican Slaw.
Avocado: Adding avocado is fantastic for healthy fats and to offset the intensity of the fish spice. You may achieve this by using either fresh avocado slices or creamy guacamole.
Salsa: Mild salsas work well with fish burritos since they don't mask the flavor of the fish's freshness. Think about incorporating some green salsa, corn salsa, or pico de gallo.
Herbs: Cilantro and lime juice are essential ingredients for any delectable fish tortilla. Sour cream, cooked rice, tomatoes, red onion, fajita vegetables, or cheese are other options.
Why Make This Recipe?
Something new for Mexican night – These tortillas are a delicious way to eat salmon if you want to include more fish in your diet.
Easy to adapt – fantastic flavor taste and texture explosion. Easily accessible for lunch, with tasty snacks
Light and fresh – The ideal dish for salmon.
A great way to eat salmon – people who do not like the taste of fish add some sauce and veggies and enhance the flavor for getting protein which is beneficial for health. These burritos are a simple way to include more fish in your diet if you want to do so with a delicious taste.
Great flavor: An explosion of flavor and texture. If you want to eat your lunch then packed well with foil and enjoy this delicious meal.
High-protein: Fish is a rich source of protein. Eating recommended quantity is necessary for good health.
Easy-to-make: you just prepare this fantastic recipe in just 30 minutes prep all necessary ingredients for this wrap and then assemble it.
Work/school-friendly: This recipe is kid-friendly pack your kids' lunch and they surely love this mouthwatering recipe.
Health Benefits
Fish tacos improve your sleep and wake-up times. It enhances and resets your body's sleep patterns.
The micronutrient in the sauces that are poured and sprinkled inside the tortilla help develop & nourish your body. Your muscles, blood, bones, cartilage, and skin all receive nourishment and replacement.
Your body receives the precise quantity of phosphate and calcium it needs from fish tacos to avoid developing osteomalacia, a condition that weakens and softens the bones, either as an adult or as a youngster.
They guard against infections entering your body.
They support efforts to combat depression and cognitive impairment. They improve your mood and your eyesight.
Consuming fish tacos lowers your risk of developing heart and blood problems as well as asthma.
Storage Tips
Fish should be washed in cold water and dried with paper towels or a clean cloth before being placed in the refrigerator. The clean fish should then be wrapped in waxed paper, plastic wrap, or aluminum foil and kept in the refrigerator or on ice.
The typical shelf life of a fish is up to two days in the refrigerator. Roll the burritos tightly, being sure to tuck in the sides first to keep the contents in. The burritos can be kept in the freezer for up to 3 months or kept in the refrigerator for 4-5 days by separately wrapping each burrito in parchment paper or plastic wrap.
Have fun with this easy Mexican dinner recipe, and let me know in the comments how you like it :)
Why not pair your fish burritos with a fresh margarita?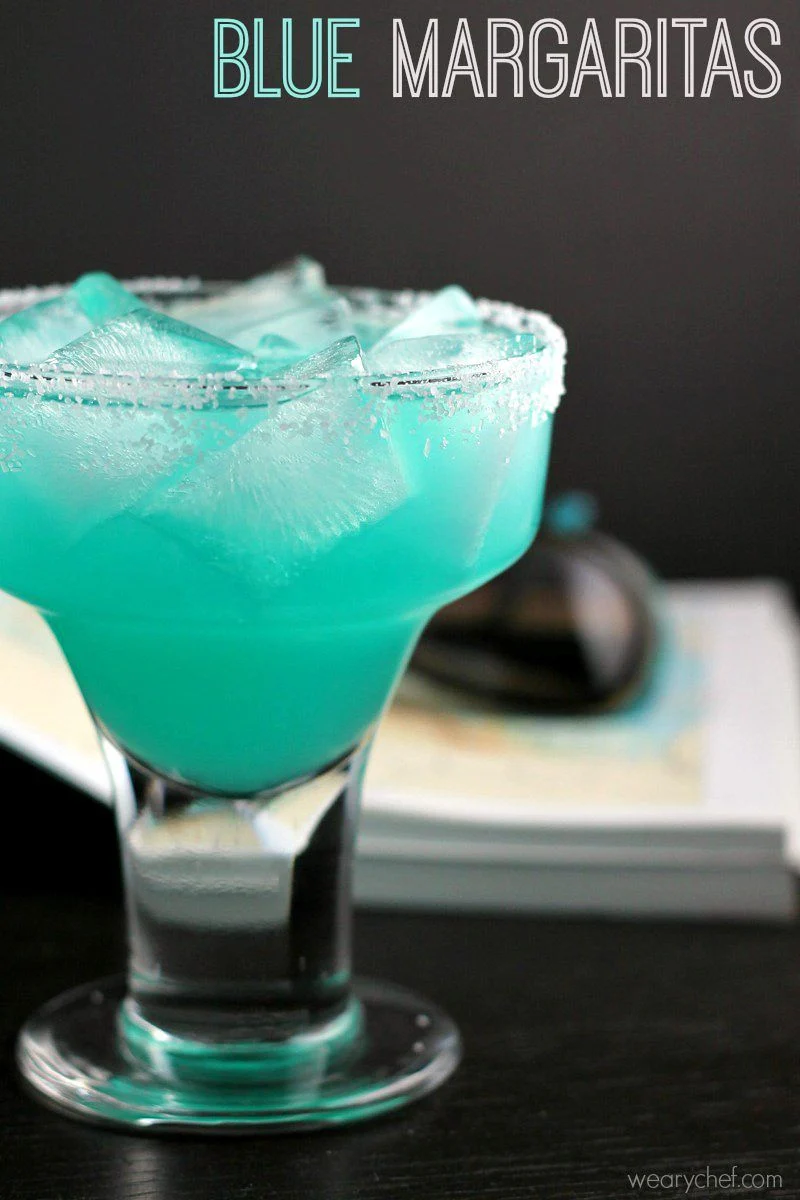 [wpurp-searchable-recipe]Super Easy Fish Burritos – You are going to LOVE these quick and easy fish wraps! Tortillas are stuffed with beans and rice, crispy fish sticks, and all your favorite toppings. It's a family favorite recipe! – burrito-sized tortillas, frozen fish sticks, batch of black beans and rice (recipe below) ((see note for recipe)), lime (quartered), finely shredded cabbage, fresh salsa, avocado (sliced), , Prepare black beans and rice (recipe link below).; Meanwhile, bake fish sticks according to package directions until crispy.; Spread about 1/2 cup of beans and rice in the center of each tortilla. Arrange 4-5 fish sticks over the rice, and squeeze juice of 1/4 lime over the fish.; Spread 1/2 cup cabbage, 1/4 cup salsa, and a few slices of avocado over the fish. (These amounts should be adjusted to taste of course!); Do your best to fold and roll the tortilla into a burrito. You can wrap the end with foil to hold it together and make it easier to eat. Enjoy!; ; – <p>You can use either of these beans and rice recipes:</p>
<ul>
<li><a href="https://wearychef.com/recipe/black-beans-and-rice/">Black Beans and Rice</a></li>
<li><a href="https://wearychef.com/recipe/mexican-pinto-beans-rice-carnitas/">Pinto Beans and Rice</a></li>
</ul> – Main – Mexican – Dinner – Mexican Food – Seafood – fish – mexican – Andi Gleeson – [/wpurp-searchable-recipe]