Hi! I've been in the country for a couple days with the kids while my husband is hard at work in San Francisco. If you are new to the story, we bought a house waaaay out in the sticks to give me a break from city life sometimes. I don't really like being away from Matt, but with the kids out of school, I want to take advantage of our getaway in the mountains as much as I can. I really, truly love it out here.
The funny thing is that my dinner habits are so weird when I'm out here without him. Usually, our dinners together are the highlight of our days, and I look forward to our quiet evenings together. When I'm alone in the evenings, I don't really know what to do. If I don't eat with the kids, I end up eating the most ridiculous things instead of making proper dinners. One night I made tuna salad with Italian salad dressing and sour cream because that's what I could scrounge up. Tonight I ate a burger I grilled earlier on corn tortillas for a bun. No fries. No salad. Just a sad, flat burger (that tasted really good). Thank goodness I'm not single or I would eat dumb stuff like this all the time!
Now I'm drinking red wine and eating microwave popcorn while I write this for you. (I'm not proud of it.) For those of you reading this who are single, I want to hear how you eat! Do you make my recipes for dinner? Do you eat sandwiches five nights a week? What do you do?? Matt and I moved in together when I was 19 and married just after my 20th birthday. I seriously do not know what living alone as an adult is like except these rare nights I find myself alone in the country. It's so foreign to me that I don't even know what to do with myself.
Fortunately, I will be reunited with my honey tomorrow and will make a nice dinner for the two of us. Maybe it will be one of these easy dinner recipes that I've put together for you for the coming week! I hope you enjoy this week's menu and find lots of easy meals you want to try. Let's get to the recipes!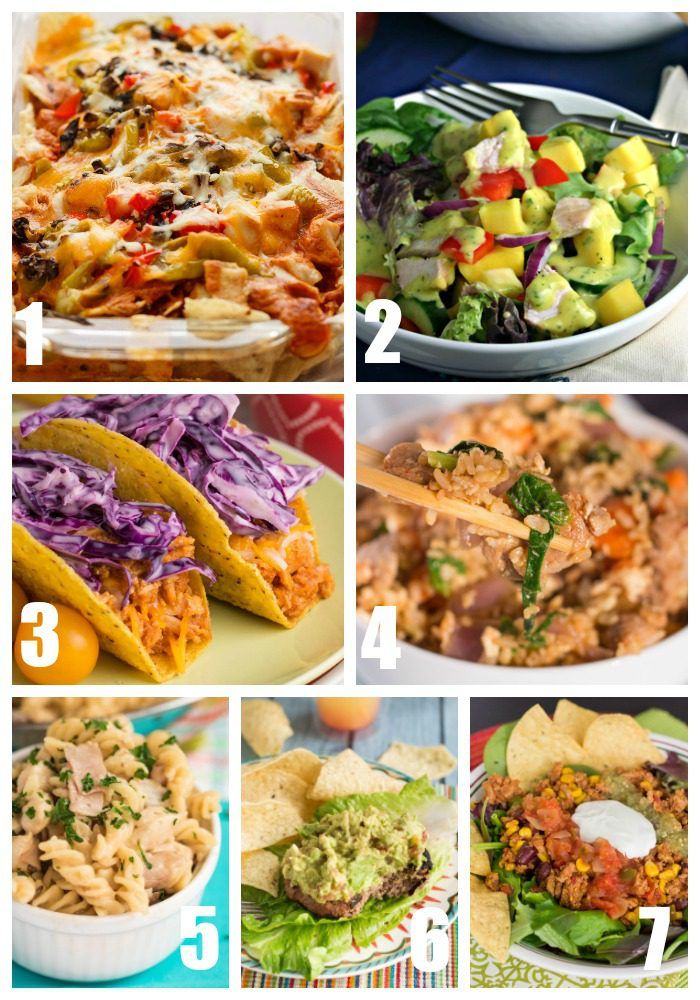 Want to add these recipes to your meal plan and create a grocery list? Here you go!
January 1

Saturday

Day 1

January 2

Sunday

Day 2

January 3

Monday

Day 3

January 4

Tuesday

Day 4

January 5

Wednesday

Day 5

Breakfast

Sour Cream Strawberry Muffins

(12)

Dinner

BBQ Chicken Tacos with Easy Purple Slaw

(8)

Mexican Chicken Casserole with Tortilla Chips

(4)

Chopped Chicken Salad with Mango Vinaigrette

(2)

Beef and Black Bean Burgers

(6)

Chicken Cordon Bleu Pasta

(4)

Dessert

Chocolate Peanut Butter Rice Krispie Treats

(18)

Banana Spice Cake Mix Cookies with Cinnamon Glaze

(18)

Click on a recipe for more details

Selected Recipe:

Selected Recipes:
Click here to customize your meal plan and create your grocery list!