These simple, savory, and healthy garlic green beans will make your family love eating their vegetables!
How do you get around town? Do you drive or take public transportation? Even though I live in a city with a pretty good transit system, I generally drive everywhere. Besides the fact that I like to go where I want when I want and don't want to wait for a bus, I also travel with two little kids who have a lot of stuff and aren't the most patient individuals.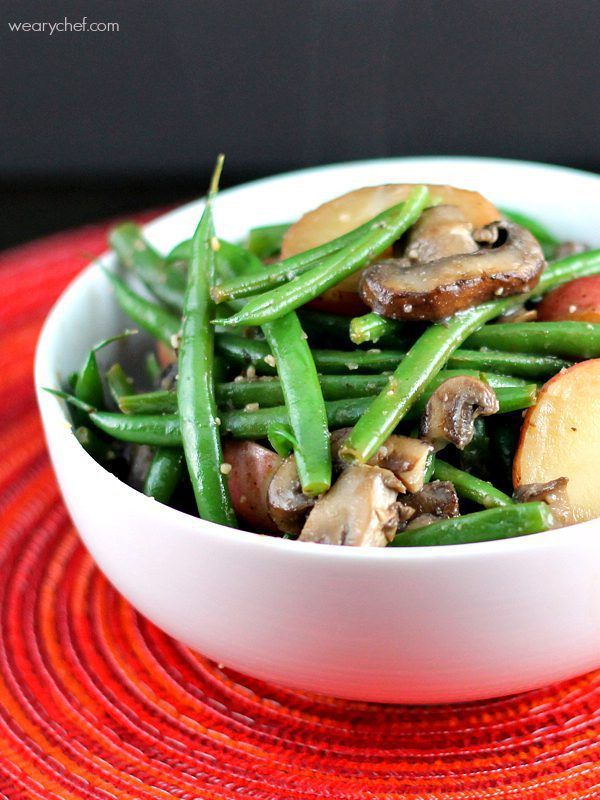 Well, my oldest had a doctor's appointment yesterday, and there happens to be a bus that goes directly from our front door to the clinic's front door. The kids have been asking to take the bus for novelty's sake, so we decided to bus it to the doctor instead of drive this time.
Getting there wasn't too bad, but the bus smelled a little less than fresh, and The Tall One asked a few times why it smelled so bad and how much longer it would take. By the time the first ride was over, he was pretty much unenamoured with the bus. We still had to make it home.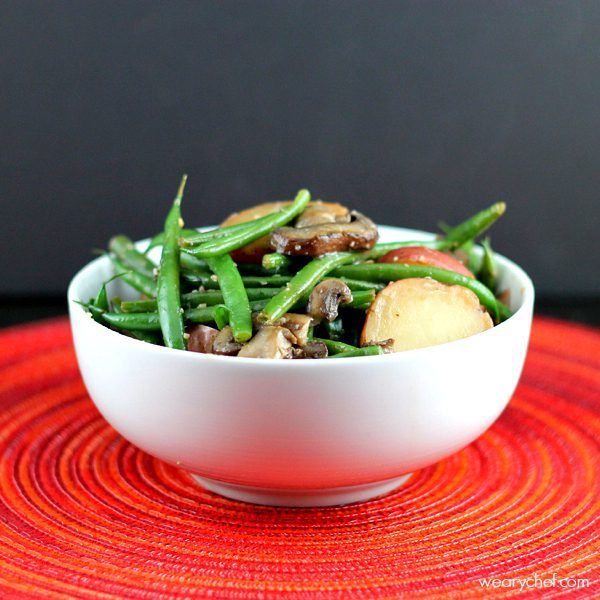 On the way home, it was about 4:30pm, time for people to be heading home. A lot of people. That bus was ridiculously packed. I was lucky to find a seat in the front where I could hold The Short One in my lap (plus my enormous purse full of snacks, diapers, and all the other aforementioned junk).
The Tall One had to hang on for dear life to a pole while being shoved on top of The Short One by the crowd around him. We were thrilled to claw our way out of that bus at home. Needless to say, we won't be riding the bus next time. After that urban adventure, it was time to come home and make dinner.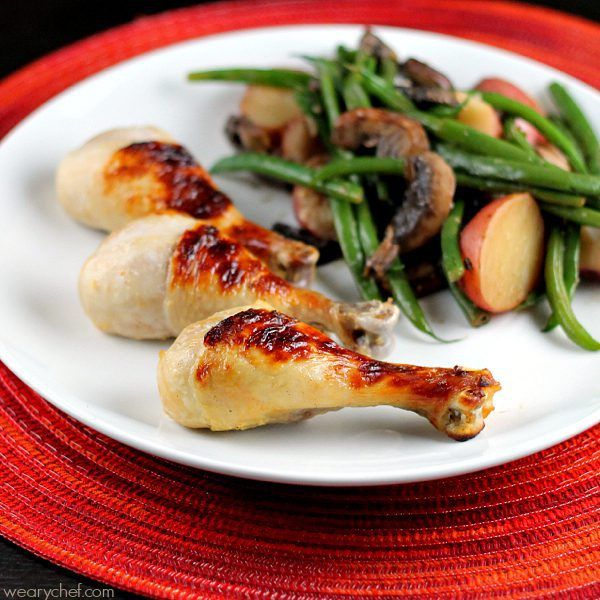 I was extra low on energy, so I sure was happy to know all I had to do was throw some buttermilk chicken drumsticks in the oven and cook up these easy green beans to go with them. I happened to have some boiled potatoes leftover from our shrimp boil the day before, so I incorporated them into the dish. If you don't have cooked potatoes lying around, you could cook them in the microwave or leave them out for a low-carb side dish. As long as you have green beans, mushrooms, and garlic, you'll be happy.
Print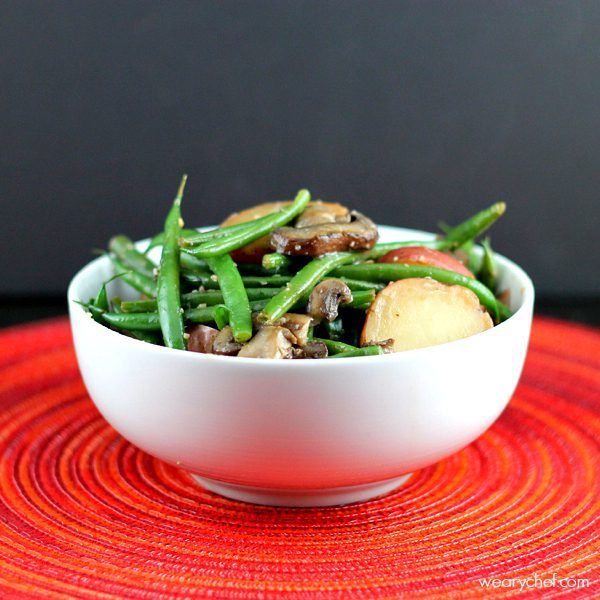 Garlic Green Beans with Mushrooms and Potatoes
This savory side dish is quick, easy, and healthy!
Total Time:

23 minutes

Yield:

3

-4

1

x
2 tsp

. olive oil

3

cloves garlic minced or crushed

1/4

c

. chicken broth or white wine

12

oz

. fresh green beans

8

oz

. sliced mushrooms

8

oz

. small new potatoes optional

1/4 tsp

. kosher salt
freshly ground black pepper
juice of

1/2

lemon
Instructions
Prick each potato a few times with a fork, place on a microwave-safe plate, and cover with a damp paper towel. Microwave on high until fork tender, 5-8 minutes. Carefully cut potatoes in half (or quarters if your potatoes are on the large side).
Heat olive oil in a large skillet over medium-high heat. Add garlic, and saute for 1-2 minutes, just until fragrant. Add broth or wine.
Add green beans, mushrooms, and potatoes. Sprinkle with salt and pepper, and stir to combine. Cover, and reduce heat to medium. Cook until green beans are tender but not too soft, 5-8 minutes.
Turn off heat, squeeze lemon juice over vegetables, and stir once more before serving.
Author:

Prep Time:

5

Cook Time:

18

Category:

Side Dish
You will also love these easy side dishes: