This caprese grilled cheese sandwich is loaded with melted mozzarella, chicken, and marina sauce. It's an easy comfort food dinner recipe!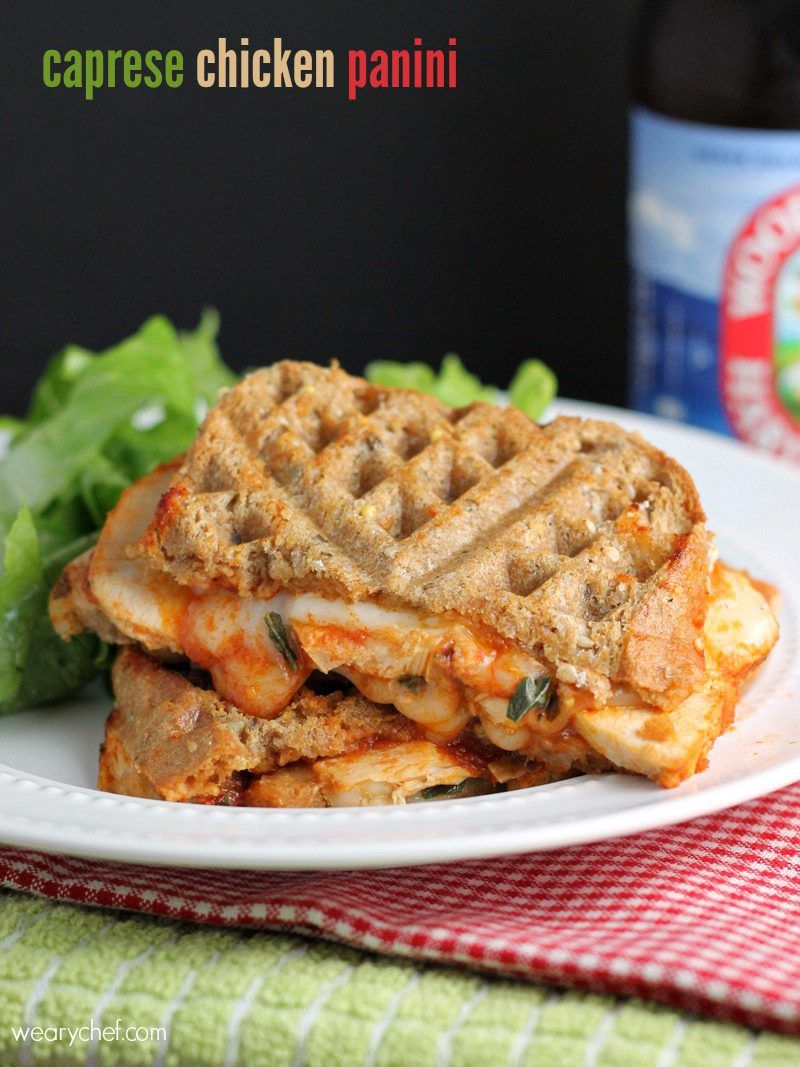 Hello! Is it seriously Tuesday? I am so behind! I went to my first food blogger conference this weekend in Portland. It was my first trip away from my kids, and I think it was good for all of us. The guys got a couple days of man time, and I got to make some connections and learn a thing or two. It was nice to not hear "Mommy" 2,351 times per day while I was gone, and I finally got to meet my dear friend Jen from Yummy Healthy Easy.
Anyway, Sunday I was right back to reality, the reality that summer is here. My oldest is out of school, and my youngest started a fever Sunday night, so he couldn't go to school either. As it turns out, my productivity decreases 100% with both kids home. I wanted to share a dessert recipe yesterday, but I just couldn't make it happen. We'll have to skip right to these grilled cheese sandwiches instead.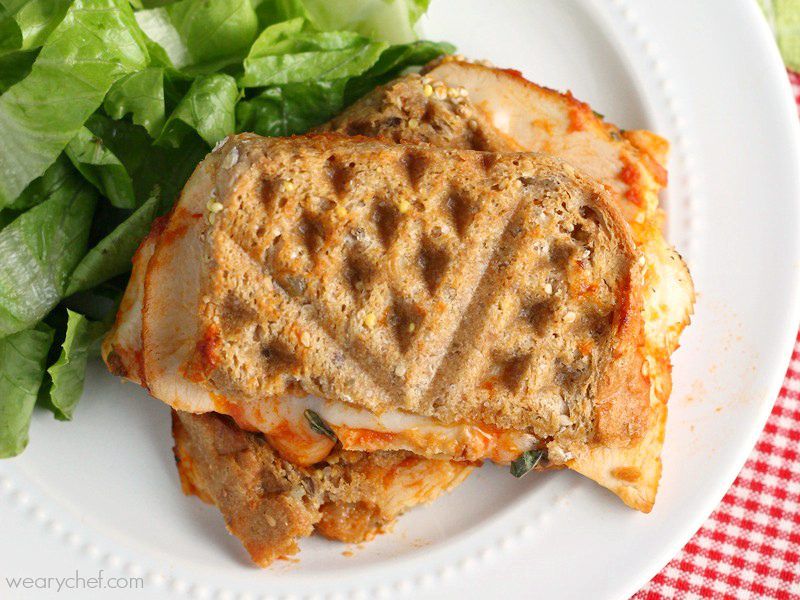 Aren't dinners like these great for when you are busy and worn out (AKA weary)? You can whip these up for the family in no time. I happen to have a waffle iron, so I like to grill my sandwiches in there. If you don't have one, you can either toast these open faced in a 375 degree oven (like this) or grill them in a pan, whichever you prefer. I actually don't love making grilled cheese sandwiches the traditional way in a hot skillet because the bread cooks faster than the filling melts, so I end up with burned bread or cold cheese in the middle. If you are more of a skillet sandwich master, then go for it!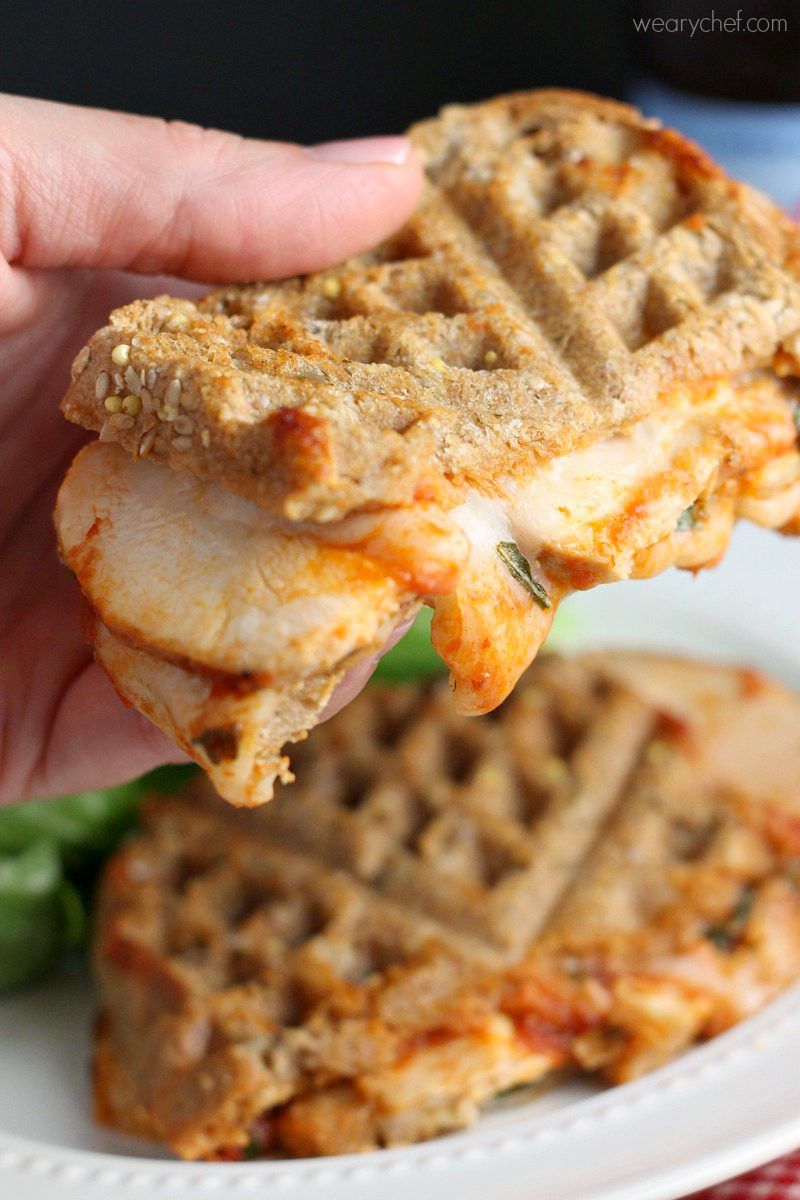 Enjoy your sandwiches and your week. I'll bring you a roundup tomorrow and easy dinner recipe on Thursday, so check back then!
Print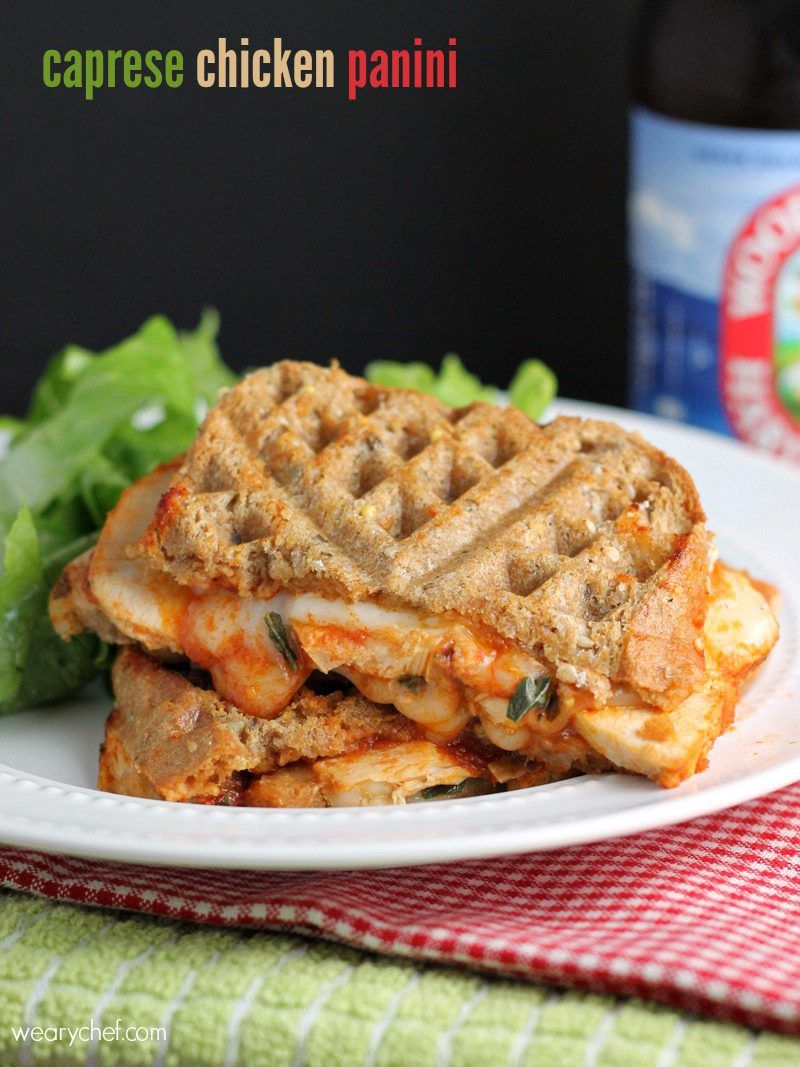 Caprese Grilled Cheese Sandwich with Chicken
8

slices sandwich bread
olive oil
garlic salt (optional)

2

boneless, skinless chicken breasts cooked and sliced into

1/2

" thick pieces

1/2

cup

marinara sauce

8

ounces

fresh mozzarella sliced
handful fresh basil minced
Instructions
Preheat panini press, waffle iron, or oven to 375 degrees F.
Lightly rub one side of each slice of bread with olive oil, and sprinkle garlic salt over the oil if desired. Flip bread over. Arrange mozzarella slices on both sides of bread for each sandwich. Evenly arrange a layer of chicken over the cheese on one slice, and spoon a couple tablespoons of sauce over the chicken. Leave about 1/2″ of chicken around the edges uncovered because the sauce will squish out a bit when the sandwich is pressed together. Sprinkle basil over the sauce.
If preparing in a panini press or waffle iron, put the sides of each sandwich together. Spray the iron lightly with cooking spray (if recommended for your appliance), place a sandwich inside, and press closed. Cooking time will depend on your appliance, but with my waffle iron I cooked it through two waffle cycles. Cut sandwiches in half if desired and serve.
If preparing in an oven, place the unassembled sides of the sandwiches on a baking sheet(s), and bake for 7-10 minutes, until cheese is completely melted. Put sides of sandwiches together, cut if desired, and serve.
Notes
This recipe is great with leftover chicken. If you are cooking the chicken just for these sandwiches, season it lightly with seasoned salt, and bake, saute, or grill until cooked through before slicing.
I originally shared this recipe at Julie's Eats and Treats.
You might want these tools for this recipe (affiliate links):
You'll also love these recipes with caprese flavors: