This hearty potluck casserole is loaded with seasoned ground turkey, butternut squash, spinach, and hash brown potatoes. It all comes together with a creamy parmesan sauce. Sure to be a crowd favorite!
I'm super excited to share this ground turkey casserole recipe with you today because it's really good. I'm talking stand in the kitchen eating out of the pan good. I made this dish in the afternoon for photos and could hardly keep my fork out of it until it was dinner time. I can't wait for you to try it!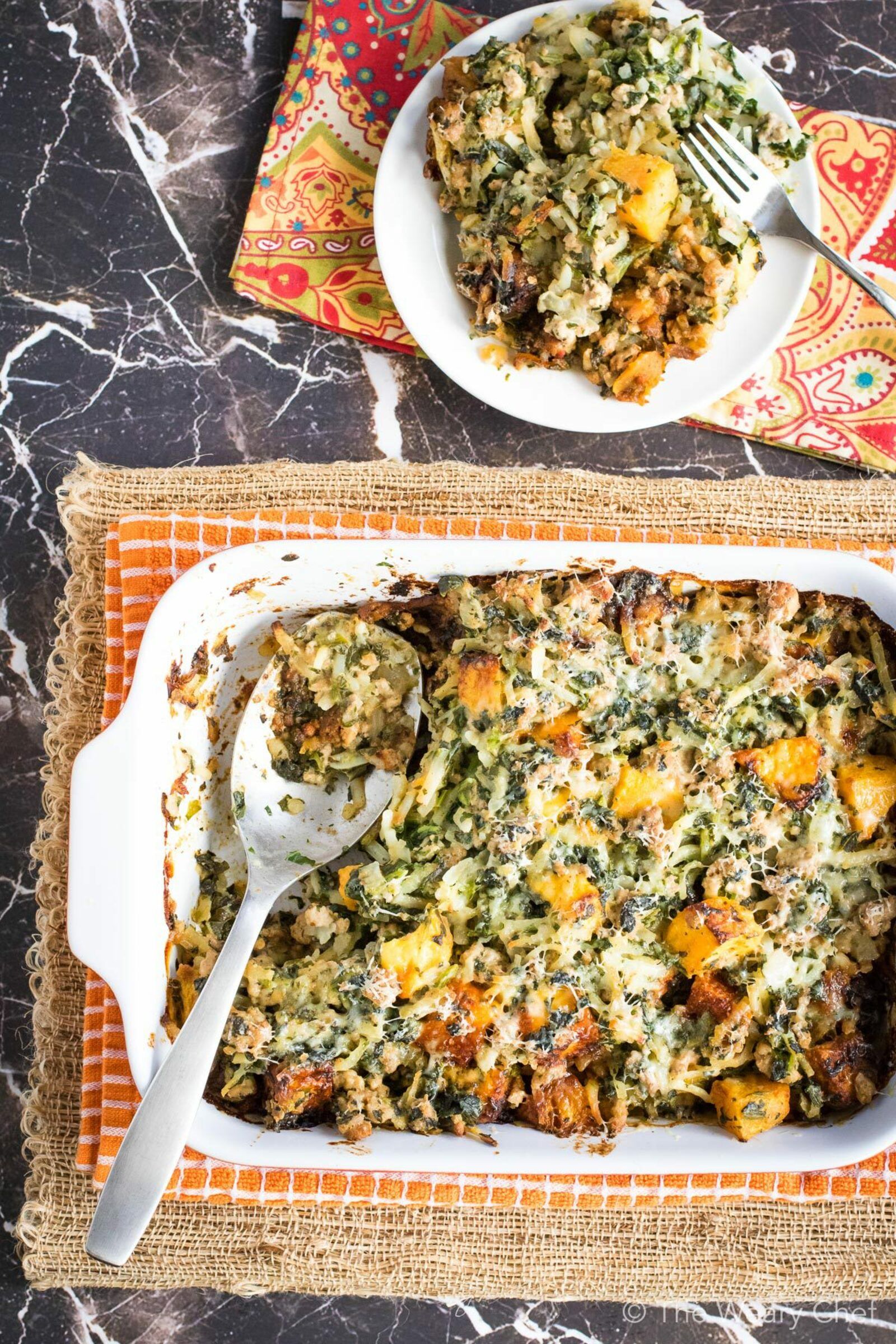 I was at first going to make this as more of a layered dish, with meat and vegetables topped with hash brown potatoes, all smothered in a creamy sauce. Then I realized that was awfully similar to my Meat and Potatoes Casserole (which you should try if you haven't yet), so I figured I should change it up a bit. I also worried that you wouldn't want to brown the meat, then make a cream sauce, then bake the casserole for an hour. That's when I had a breakthrough!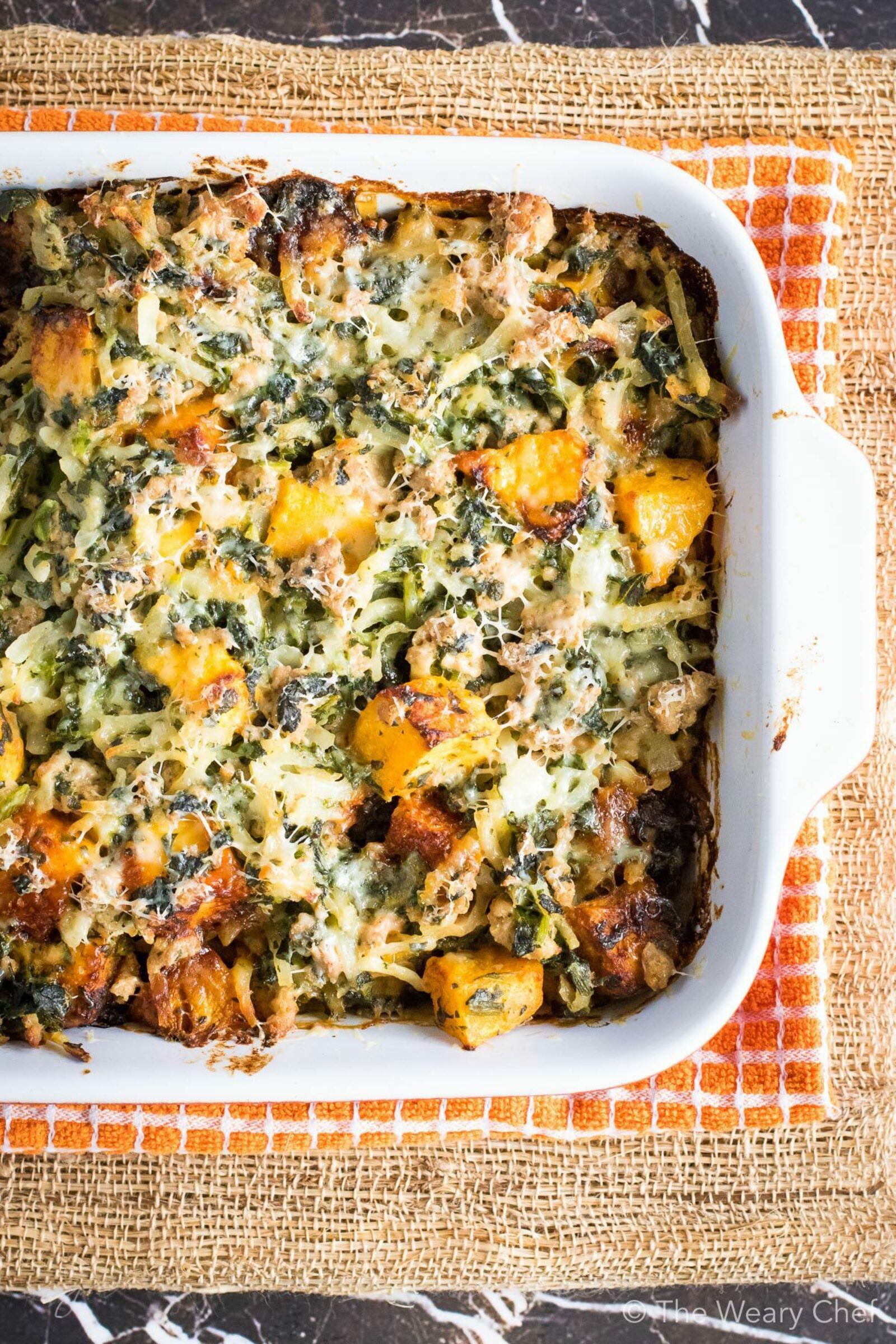 Fall Potluck Casserole Recipe
I decided not only to mix everything together instead of doing layers, I also made the cream sauce with the browned meat. That means no extra steps or extra pans! I think you'll love this shortcut. Also, mixing everything together makes for a better tasting dish if you ask me. I like to get a little taste of everything in each bite.
Now that I mention wanting everything in one bite, I realize how much I have changed how since I was a kid. Back then, I didn't like my food to touch on the plate, and I ate one thing at a time. I would eat all my peas, then all my potatoes, then all my meat (for example). I didn't like mixing up flavors, and now look at me! I sure hope my kids start to branch out more with their eating when they grow up too.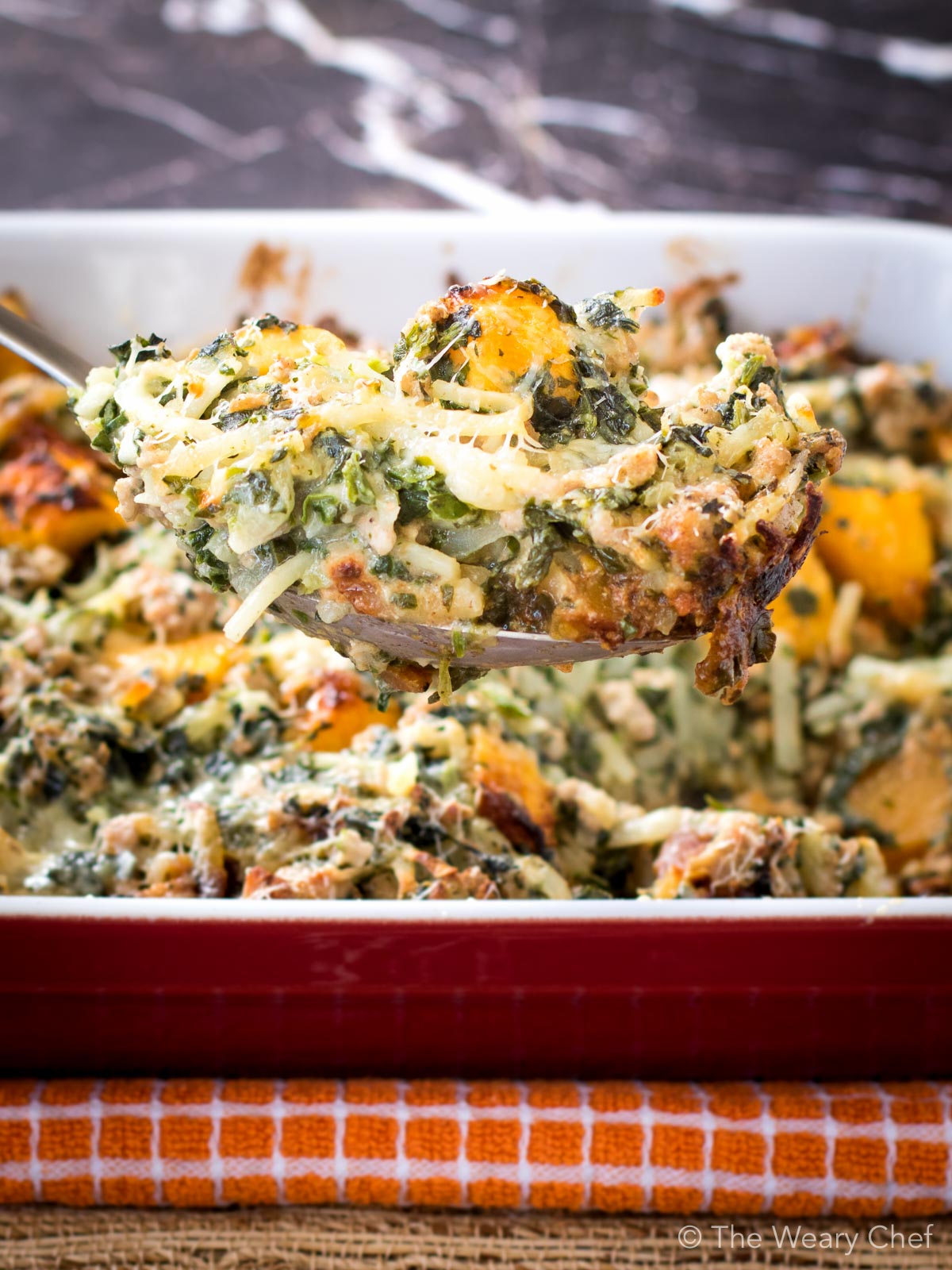 I called this a potluck casserole because, honestly, I didn't know what to call it. It's technically a hash brown casserole but not the typical kind. Turkey squash spinach hash brown casserole doesn't really roll off the tongue even though it describes this dish pretty well.
Since I do think this recipe is perfect for a Fall potluck, the name seemed fitting. However, don't wait for a party to make it! It's definitely good for a family dinner any old day. The baking time is long, but the prep is done in about 20 minutes, which still qualifies as a good weeknight dinner in my book. Don't forget to leave me a comment below to let me know how it turns out at your house :)

Print
Fall Potluck Casserole with Turkey and Squash
This hearty potluck casserole is loaded with seasoned ground turkey, butternut squash, spinach, and hash brown potatoes. It all comes together with a creamy parmesan sauce. Sure to be a crowd favorite!
Total Time:

1 hour 10 minutes

Yield:

4

1

x
1 tablespoon

butter

1/2

large sweet onion diced

2 teaspoons

crushed or minced garlic

1

pound

ground turkey

1 teaspoon

kosher salt

3/4 teaspoon

poultry seasoning
freshly ground black pepper to taste

1

pound

butternut squash diced (I usually buy it pre-cut.)

8

ounces

frozen chopped spinach thawed and squeezed dry

8

ounces

frozen hash brown potatoes

2 tablespoons

all purpose flour (spelt or gluten-free flour are OK)

1 1/2

cups

milk

1/2

cup

shredded parmesan cheese divided
Instructions
Preheat oven to 400 degrees F. Spray 8 x 11″ or 9 x 13″ pan with cooking spray, and set aside.
Meanwhile, in a large mixing bowl, add squash, spinach, and potatoes.
Melt butter in a skillet over medium-high heat. Add onion, and stir fry 3-5 minutes until translucent. Stir in garlic, then add turkey, salt, poultry seasoning, and pepper. Stir and cook, breaking up the meat into small pieces as it browns.
Sprinkle flour over the meat, and stir to coat. Stir in milk, and bring mixture to a simmer, stirring often. Sauce will thicken after a couple minutes of simmering.
Turn off heat, and stir in 1/4 cup parmesan cheese. Pour meat mixture into bowl with squash and potatoes. Stir well to combine.
Spread mixture into prepared baking dish. Cover with foil, and bake for 30 minutes. Remove foil, and bake 20 minutes longer, or until a knife can be easily inserted into squash pieces.
Sprinkle remaining 1/4 cup parmesan cheese over the casserole, and bake for 3-5 minutes longer. Serve warm.
Author:

Prep Time:

20

Cook Time:

50

Category:

Casseroles, Dinner, Poultry

Cuisine:

American