You know you can't resist these fun, tasty, tacky recipes made with Cool Whip, Jell-O, instant pudding, and more!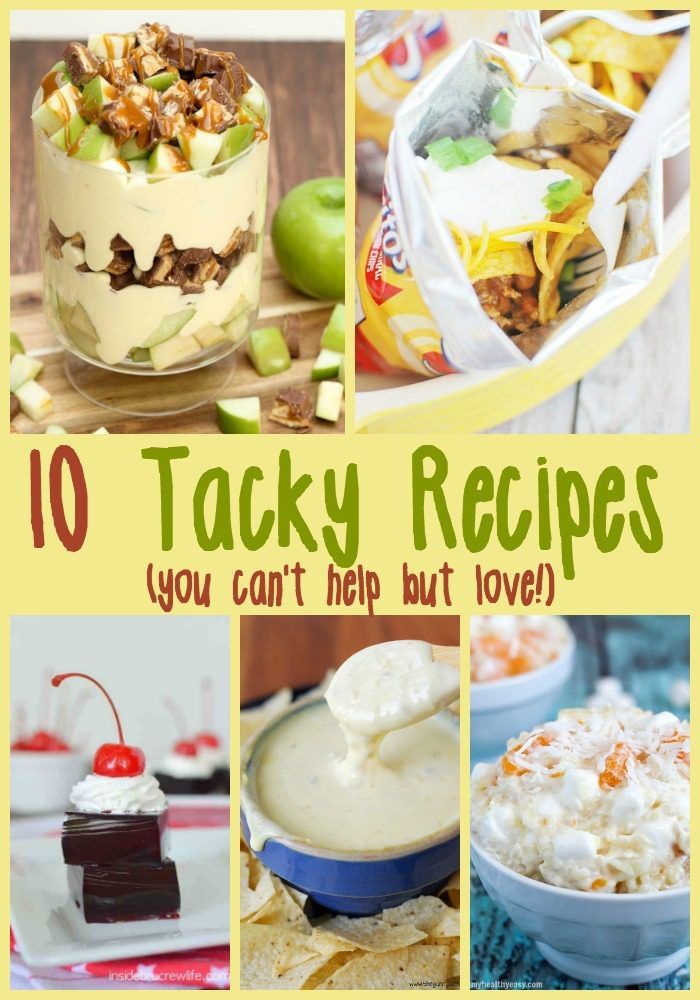 How many classic recipe favorites involve less than glamorous ingredients like Velveeta, Jell-O, or Cool Whip? Sure, these processed foods might have lengthy ingredient lists and could be called tacky, but they sure do make for some tasty treats! The next time you are headed to a potluck, hold your head high when you bring one of these tacky recipes, and watch it disappear. No one can resist a good white trash recipe ;)
What are some of your favorite low-class recipes? One of my favorite examples is fruit salad with mini marshmallows. This tasty treat was a must at every holiday meal when I was growing up. If you haven't tried it, the marshmallows soak up the fruit juice a little and get soft. They add such a nice, sweet flavor and fun texture to plain ol' fruit salad.
Marshmallow fruit salad was a standard dish in Mississippi, but I got some ridiculing in California when I told people about it. Apparently, San Franciscans are too high brow for marshmallows in their fruit, but not me! I love the taste and the nostalgia of it.
Those big family dinners where we had the redneck recipes I remember fondly have faded away. My family has spread out. My grandma passed away. Her house was recently leveled because it was in such disrepair, and her property has a new owner. Now I just have to hold onto the memories, and food is always a good way to bring back memories! What are some recipes that you hold dear even if they aren't very fancy?
Check out these 10 Tacky Recipes that are irresistible!