This satisfying Meat and Potatoes Casserole features ground beef or turkey sauteed with vegetables, covered in potatoes, and smothered in a light, creamy sauce. Bake the ground turkey and potatoes casserole up tonight for a dinner your family will love and impress everyone with the final result! Also, what is one real benefit of this recipe is its versatility. Not only you can always switch from turkey to ground beef if you are a red meat lover, but also you can add some extra veggies. A healthy and delicious treat combined together to create a perfect dish.
Therefore, that's also an amazing way to make some room in your fridge! It is perfect to eat with your family and your friends. You might want to try this dish out!
First of all, let's see where did my idea for this Ground Turkey and Potatoes Casserole recipe came from… Do you like shepherd's pie? Well, I've only had it a couple of times, and I wasn't impressed. However, I'm sure it could be good if the mashed potatoes on top were done well.
Unfortunately, the versions of ground turkey recipes I've had were topped with bland potatoes, which kind of ruined the experience for me. I haven't thought I'm a mashed potato snob till now, but maybe I am. So, yes, if they aren't smothered in gravy, I think they need to be pretty flavorful on their own.
Ground Turkey Meat and Potatoes Casserole Tips
So, yes, this hearty but healthy casserole was inspired by shepherd's pie. However, I wanted to change up the topping a bit to add more flavor and texture. Therefore, I topped it with frozen potatoes, which browned nicely and created a chewy instead of mushy topping. Also, the casserole is smothered in a creamy sauce, but it's made with only one tablespoon of butter so is actually pretty light.
As mentioned before, you can make the casserole recipe with ground beef too, if you prefer. Actually, I made it twice this week because I wanted to improve the recipe a bit after the first time. So, I used beef first and ground turkey the second time. All in all, me and my family preferred the ground turkey with potatoes casserole. However, we are turkey meat lovers, so our opinion is a little subjective.
This isn't what I would call a quick weeknight dinner. It uses two skillets plus a baking dish and takes over an hour to make including baking time. However, it's great for a Sunday dinner or for making ahead if you are home to cook during the day. It will totally with it, believe me! Even though it takes some extra time and energy, the result is extremely delicious and also good for you! If you don't like it, you can try our delicious Chinese recipe of ground turkey with green beans.
How's the Meal?
Last but not least, I have the one pictured here in the refrigerator for tonight's dinner, and I can't wait to dig in (again) later. So, I hope you will love this recipe as much as we did! There is no better treat than this for any occasion. Even in a simple family meal, this will do its job!
Ground Turkey and Potatoes Casserole Recipe
Well, the time to start preparing your Ground Turkey and Potatoes Casserole finally came! So, good luck and keep in mind to closely follow the steps and indications! Have fun!
Print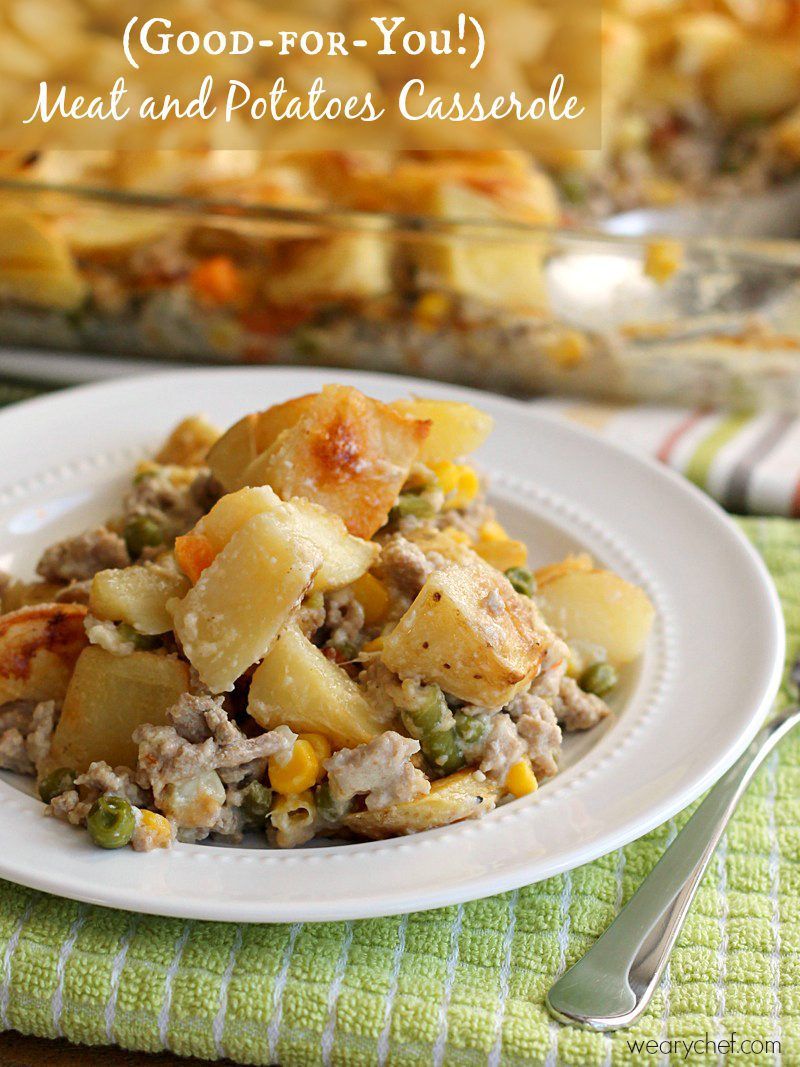 Simple and Quick Meat and Potatoes Casserole
This stick-to-your-ribs dinner is actually pretty light and good for you!
Total Time:

1 hour

Yield:

6

1

x
Instructions
Preheat oven to 400 degrees F. Spray a 9 x 13″ baking dish with cooking spray.

Heat a large skillet over medium-high heat. Add ground meat, onion, oregano, salt, and pepper. Cook, stirring often and crumbling the meat, until onions are tender and meat is mostly cooked through. Stir in garlic and vegetables, and continue cooking until vegetables are heated.
Meanwhile, in a smaller skillet, heat butter over medium heat. Whisk flour into melted butter until smooth. Stir in milk a small amount at a time, whisking constantly to keep mixture smooth. Bring sauce to a simmer. Turn off heat, and stir in cheese, a pinch of salt, and pepper to taste.
Stir sour cream into meat mixture, and spread meat and vegetables into the prepared baking dish. Arrange an even layer of frozen potatoes over the meat, and then pour the cream sauce evenly over the potatoes. Gently jiggle the pan back and forth a few times to allow the sauce to sink into the meat a bit.
Bake in preheated oven for 45-60 minutes, until potatoes are browned to your liking.
Notes
If you want to use fresh potatoes, just dice them, and soak them in water for about 5 minutes. Then, drain them and dry them on a kitchen towel. That step helps to wash some of the starch off the potatoes, and they will crisp up better in the oven.
Author:

Prep Time:

15

Cook Time:

45

Category:

Casseroles, Dinner

Cuisine:

American
Nutrition Information of Ground Turkey and Potatoes Casserole
Per serving:
| | | | |
| --- | --- | --- | --- |
| Calories | 456 kcal | Carbohydrates | 21 g |
| Calcium | 376 mg | Fat | 29 g |
| Sugar | 5 g | Monounsaturated Fat | 11 g |
| Vitamin A | 427IU | Vitamin C | 5 mg |
| Iron | 2 mg | Protein | 26 g |
| Cholesterol | 97 mg | Potassium | 927 mg |
| Fiber | 2 g | Sodium | 471 mg |
Final Thoughts
All in all, that is the recipe and all you need to know about the meat and Potatoes Casserole recipe. So, now, it's your turn to share your taught and advice on this in the comment section below.
Tell us everything: How was the final result of this casserole recipe? Did your family enjoy it? (Also, keep in mind that I appreciate the negative feedback too). Did you need to improvise when it came to the ingredients list? If so, what did you replace and with what?
In addition, please, don't hesitate to ask any further questions in the comment section too. I am here for you!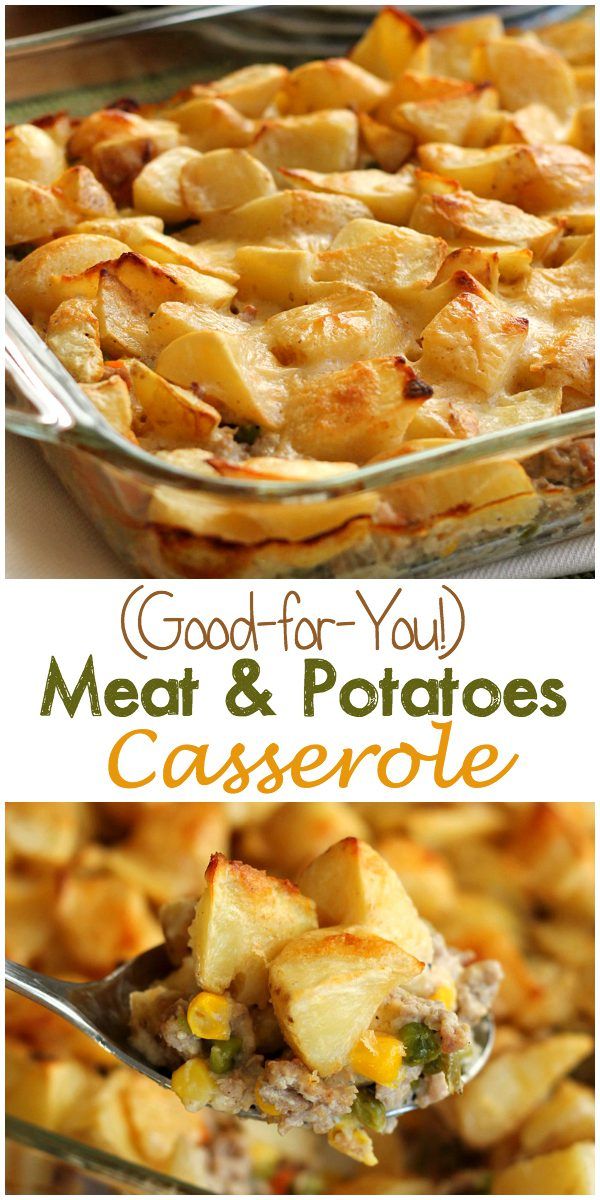 Why Will You Love Ground Turkey and Potatoes Casserole Recipe?
This casserole includes the tastes of comfort food that are sometimes just plain and simple.

On a chilly day, it acts as a warm blanket, insulating you from the inside out.

Instead of pasta, this casserole is low in carbs.

Both straightforward and original.

As a result, there is a tonne of variations you may attempt with it to alter the flavors to your personal choice.
Storage Tips for Ground Turkey and Potatoes Casserole
For 1-2 days, the potato dish can be stored in the refrigerator. Use a container made of glass or plastic that has an airtight lid.

For 1-2 months, frozen potato casserole can be kept. Use a lidded container or one that is sealed to prevent moisture buildup during storage. You can also put the dish inside of a baking dish and store it in the freezer.

The casserole won't keep fresh for more than six hours at room temperature.
Last but not least, you'll also love these stick-to-your-ribs casseroles that are good for you too!