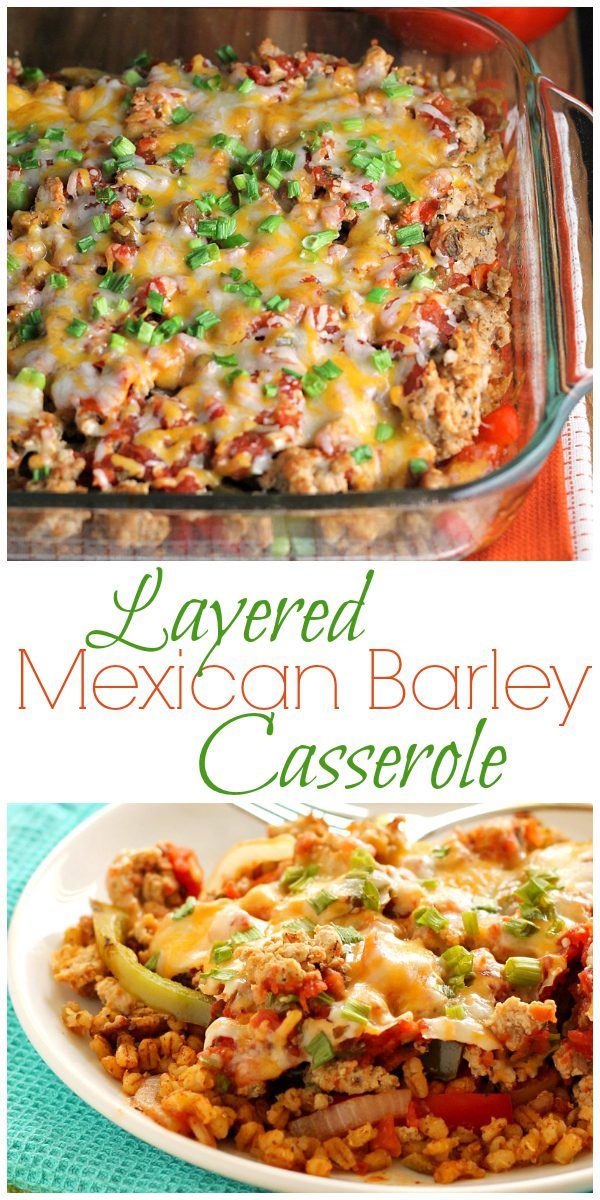 I made this Layered Mexican Barley Casserole a few weeks ago, and it was so dang good. I have wanted to show it to you, but other recipes kept elbowing their way in front of the line. Barley is a modest ingredient that no one ever remembers, so it's used to that kind of mistreatment. Today it will finally have its moment to shine!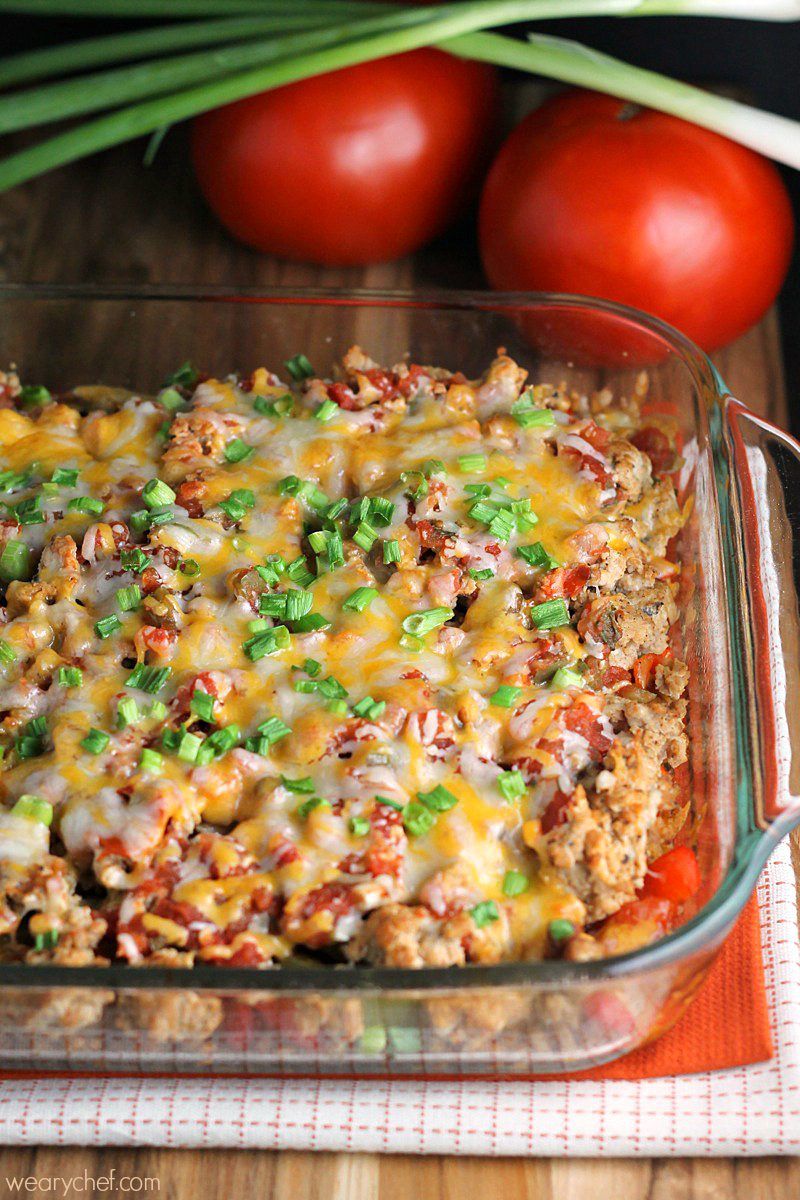 Do you like step-by-step recipe photos? If so, you must be disappointed with me on a regular basis. I'm not usually one to take step-by-step photos for a lot of reasons. It's hard to cook and take photos at the same time for one thing, and I'm usually in a hurry for one reason or another.
Also, whether day or night, the lighting in my kitchen is horrible. I have to either carry what I'm cooking to the dining table for decent photos or just take bad pictures with the fluorescent and halogen lights in there. Lastly, editing all those photos is time consuming! All that said, this layered dish was just too fun looking to not take photos, so I bring you this (poorly lit) animated gif of the recipe process!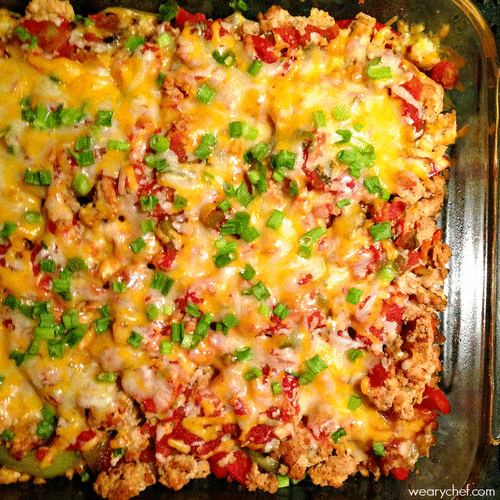 As I mentioned, I made this a few weeks ago and can't remember now why I used barley. I think it was something like I was going to use rice, but I had been wondering what to do with the random cup of barley in my pantry for a while. Whatever the reason, I'm so glad I did! It gave a nice hearty, chewy texture to this casserole that wouldn't have happened with rice. In fact, I'm thinking about how I can start using barley more often!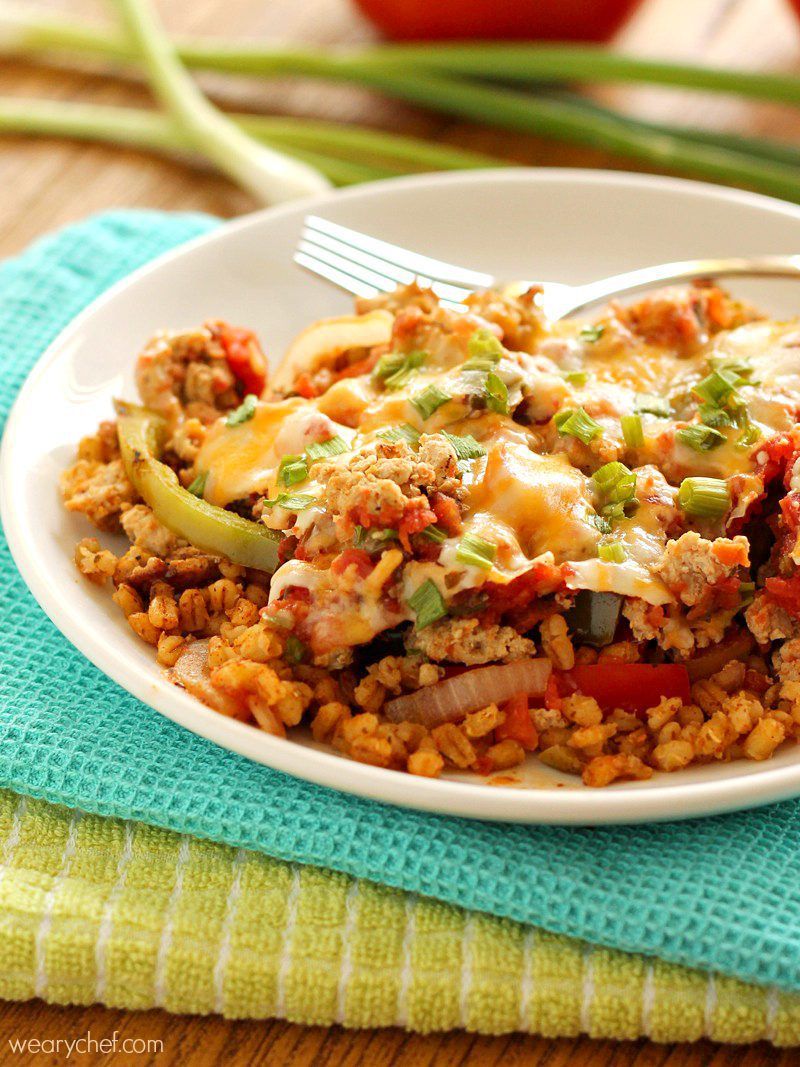 One word of caution (although "caution" might be a little strong since we're talking about dinner not race car driving): Don't add salt to the meat. I know you want to and it seems really, really plain as written, but the chicken broth and salsa already have a lot of salt, and you'll regret it if you add more sodium to the party. There's plenty of flavor going on in there!
Also, you could saute the peppers and onions with the meat if you prefer. I wanted the layered effect, and I had time to cook them separately since I had to wait for the barley anyway, but feel free to skip that extra step if you'd like. I think that's about it. You are ready to be set loose on this tasty barley casserole recipe! Have fun :)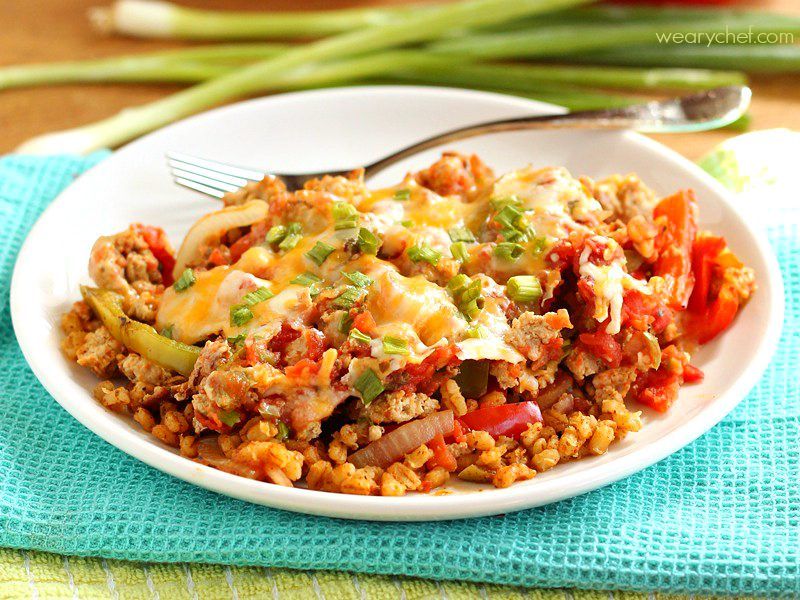 Print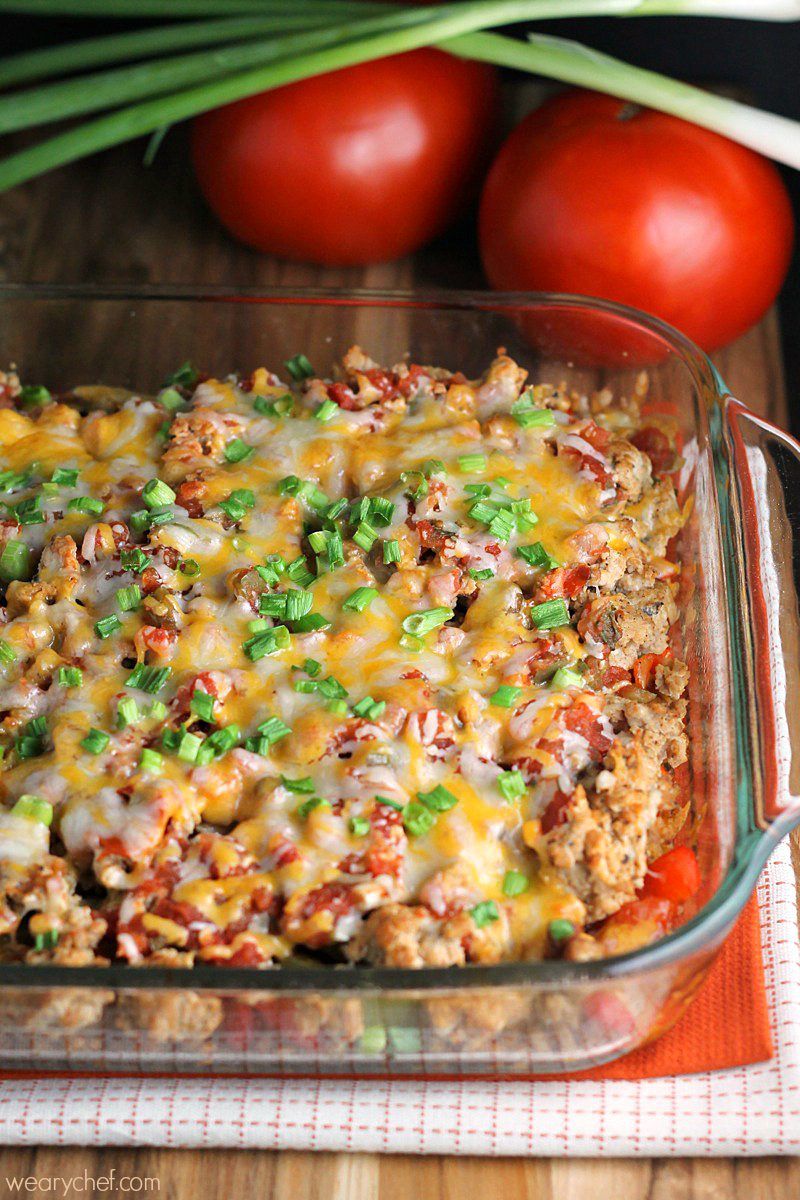 Layered Mexican Barley Casserole
Barley finally gets to be the star of the show in this delicious casserole recipe!
Total Time:

1 hour

Yield:

6

1

x
Instructions
Bring chicken broth, chili powder, cumin, and oregano to a low boil in a medium saucepan. Stir in barley, cover, and reduce heat to low. Cook 45 minutes or until liquid is absorbed. (You could do this step a day or two before and keep the barley in the refrigerator until you are ready to make the casserole.)

About 20 minutes before your barley is ready, preheat oven to 400 degrees F. Spray a 13 x 9″ baking dish with cooking spray.

Spray a large skillet with cooking spray, and heat over medium-high heat. Add onion and bell pepper strips, sprinkle with a pinch of salt, and saute until vegetables are tender. Remove from pan to a bowl. (You can cook the vegetables with the meat in the next step if you prefer.)

In the same skillet, add the ground meat, garlic powder, and chili powder, Saute meat, crumbling as it cooks, until cooked through.

Now it's time to assemble! Spread the cooked barley in the bottom of the baking dish. Spread the peppers and onion over the barley, and then the cooked meat over that. Spread the salsa over the meat, then cheese on top, and finally sprinkle with green onions.

Bake in preheated oven for approximately 15-20 minutes until cheese is melted. (Baking time will increase if the ingredients were not hot when you assembled the dish.)
Author:

Cook Time:

60

Category:

Main Dish

Cuisine:

Mexican
 Want more baked Mexican goodness? Try these recipes!