Cheesy Mexican Meatballs are a little spicy, a lot cheesy, and one of those meals that the whole family goes crazy for! It's a make-ahead meal which makes my life easier too, especially on super busy days!
Hi everyone! My name is Amy from Little Dairy on the Prairie. Let me guess, right about now you are wondering if I live on a real dairy farm. (People ask me that all the time.) Yes! My family owns a dairy farm in cold Idaho!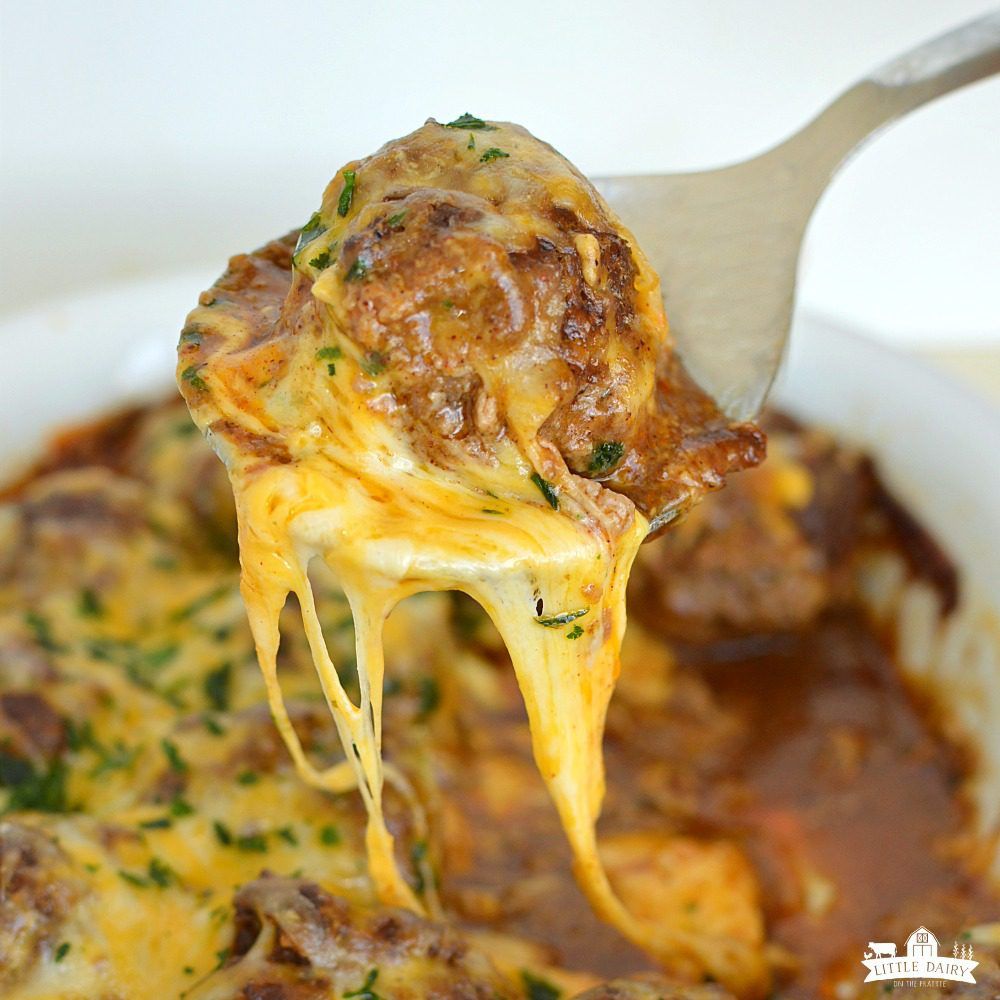 My husband, three boys, and I spend almost all of our time milking, feeding, bedding, and taking care of our cows! We milk about a thousand cows and ALL of our milk is made into cheese and is sold to Chipotle restaurants! Okay, that's my life in a nutshell and probably enough about my crazy farm life. Now, let's talk about Cheesy Enchilada Meatballs!
Raise your hand if you could eat Mexican food almost every day and still love it! I have two hands raised high in the air! Of course enchiladas rank right up there on the list of favorite Mexican food. Somedays though I just don't have time or the ingredients to make enchiladas, which is where these meatballs come in.
Cheesy Mexican Meatballs
A meatball is ground meat that has been shaped into a ball; sometimes, other seasonings such as crackers, chopped onion, eggs, butter, and salt are also used. Cooking methods for meatballs include frying, baking, steaming, or braising in sauce. Meatballs are popular all across the world. These heavy meaty balls are available in a variety of regional cuisines. The majority of the time, they are made with ground meat blended with vegetables and flavor. They are mostly distinguished by the spices that are utilized, as well as the accompanying sauce.
To give these simple Mexican meatballs a rich, peppery flavor, this recipe utilizes spicy, aromatic flavors like oregano, cumin, and paprika. The meatballs are covered in a vivid sauce with adobo flavor that only requires three ingredients. There are numerous varieties of meatballs made with various meats and seasonings. They are tasty little morsels of low-carb, spicy, and cheesy delight and are a wonderful party snack. They would be perfect for your upcoming Cinco de Mayo party alongside a cocktail, some chips, and salsa. These meatballs are spicy because of the oregano and spices.
One cuisine that shows up on our menu is cheesy Mexican meatballs. A quick, flavorful one-pan meal that your entire family will enjoy that serves as a weeknight dinner or a fantastic dish for a gathering or sports day. This Cheesy Mexican Meatball Pan is filled with tender, seasoned beef meatballs cooked in a flavorful sauce and topped with gooey, melty cheese. These Cheesy Enchilada Crockpot Meatballs are a tasty, gooey, and amazing appetiser meal that is ideal for parties. They are cheesy, spicy, and addictive.
How to Make Mexican Meatballs in Enchilada Sauce?
Cheesy Mexican Meatballs are so quick to make and only require a few ingredients you probably already have on hand. Let me show you how it works! First, add ground beef, spices, and oats to a bowl. It's okay to mix the meat together with your hands. Form meat into meatballs.
I scoop the meat out with a cookie scoop, just like I would if I were making cookies. Sometimes I stop right there and leave them in a rustic-looking scoop. If I have an extra minute and am feeling ambitious, I roll the meatballs with my hands to make them look all fancy! Next, pour a can of enchilada sauce over the meatballs.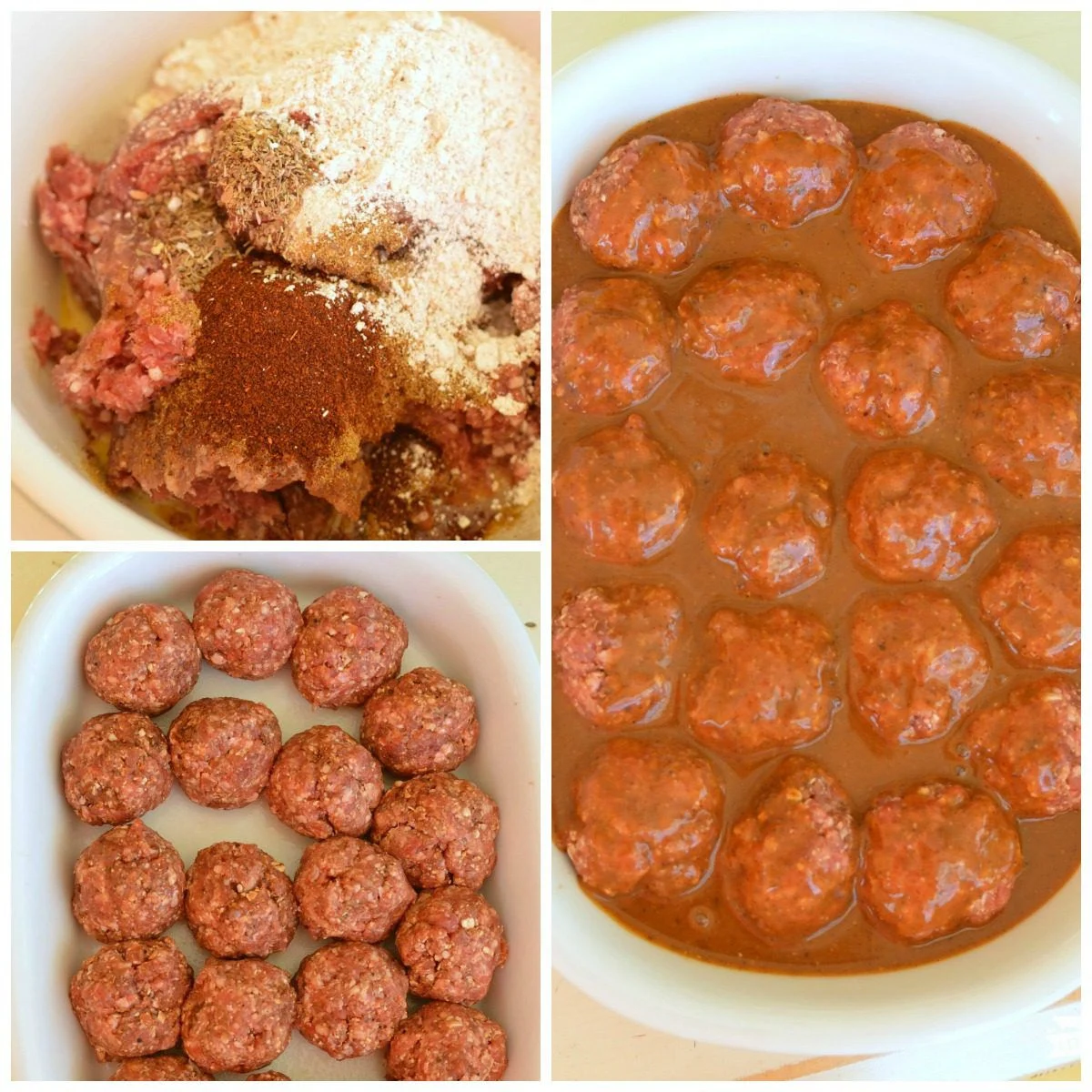 Now, bake your Mexican meatballs. Remove from the oven and cover with cheese. Don't skimp here…cheese is the BEST! Return to the oven and continue baking until the cheese is melted and gooey! Serve warm!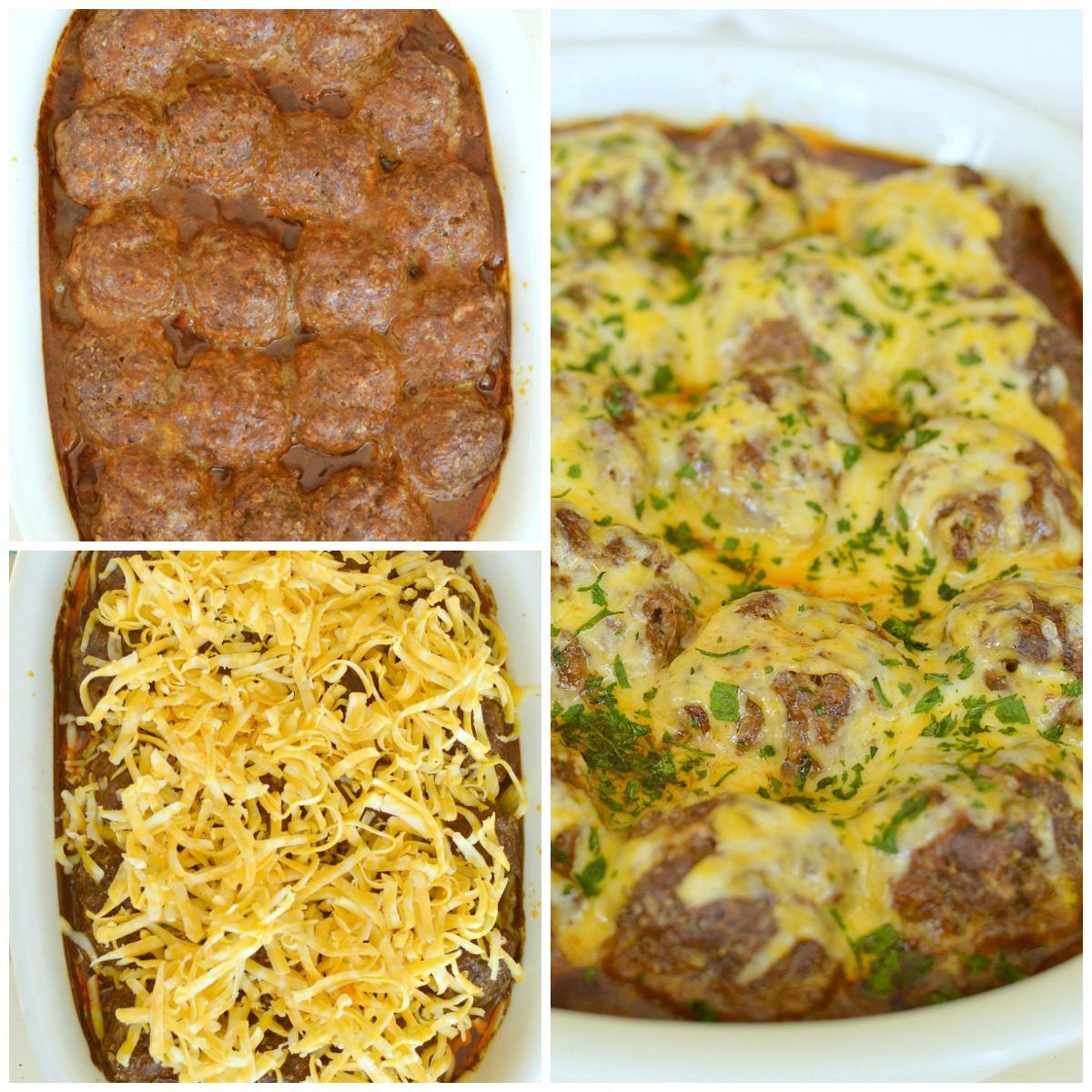 Just check out all that cheese! There are several ways to serve Cheesy Enchilada Meatballs. We usually serve them over, or next to, a bed of Cheesy Spanish Rice.
Sometimes we serve them in a tortilla kind of like a taco! So yummy! Add as many Mexican fixings as you can think Guacamole, lettuce, diced tomatoes, sliced olives, salsa, and sour cream! Heck, you could even put Cheesy Spanish Rice right in the tortilla shell with all the other fixings! So yummy!
Cheesy Mexican Meatballs is one of those recipes that is a regular on our meal rotation! I'm pretty sure after you try them they will make an appearance on your menu fairly often too!
Print
Cheesy Mexican Meatballs
These easy enchilada meatballs are an easy make-ahead recipe your family will love!
Total Time:

55 minutes

Yield:

4

1

x
10

ounces

red enchilada sauce divided (I used mild)

1

pound

ground beef

3/4

cup

oats (I measure them then grind them in my blender until they are coarsely ground.)

2

eggs

1 teaspoon

salt

1/2 teaspoon

onion powder

1/2 teaspoon

garlic powder

1/2 teaspoon

pepper

1 teaspoon

oregano

1/2 teaspoon

cumin

1 teaspoon

chili powder

1/2 teaspoon

hot sauce optional

2

cups

grated cheese (cheddar, monterey jack, colby jack, and pepper jack are all good choices)
cilantro for garnish, if desired



Instructions
Preheat oven to 350 degrees. Grease a 9 x 13″ inch baking dish.
Mix 1/4 cup enchilada sauce, ground beef, oats, eggs, salt, onion powder, garlic powder, pepper, oregano, cumin, chili powder, and hot sauce. I use my hands to combine them.
Form meatballs by hand or with a cookie scoop. (I like to use a medium sized cookie scoop, about 2 tablespoon size.) Drop meatballs into the 9 x 13″ pan. (Most of the time I leave the meatballs in the rustic shape of the cookie scoop. Once in awhile I do roll the meatballs until they are perfectly round. They taste the same either way!)
Pour remaining enchilada sauce over meatballs. Cover and bake in preheated oven for 30 minutes.
Uncover and sprinkle cheese over meatballs. Bake for 10 more minutes or until cheese is melted.
    Serve right out of the oven!
Author:

Prep Time:

15

Cook Time:

40
Nutrition Information of Cheesy Mexican Meatballs
Per serving
| | | | |
| --- | --- | --- | --- |
| Calories | 514 kcal | Carbohydrates | 13 g |
| Protein | 36 g | Fat | 34 g |
| Saturated Fat | 15 g | Potassium | 414 mg |
| Iron | 4 mg | Sodium | 1615 mg |
| Vitamin A | 816IU | Fiber | 2 g |
| Sugar | 4 g | Vitamin C | 1 mg |
| Cholesterol | 164 mg | Calcium | 406 mg |
Best Ways to Cook Meatballs for Infants
Take into account these suggestions before you begin to make meatballs.
Use Fresh and Well-cooked Meats:
Fresh meats are preferable for your baby's nutrients, flavor, and safety. To guarantee that the meatballs are simple to chew and swallow, they must also be fully cooked. Uncooked meat is more difficult to swallow, increases the chance of coughing, and increases the risk of bacterial infections. When you are in doubt, verify the meat's temperature with a food thermometer and particular request cooking instructions to ensure uniformity.
Mix With Herbs and Vegetables for Flavor
The flavor and nutritional benefits of the meatballs are enhanced by the use of herbs and veggies. You can also add bread crumbs, whole wheat flour, or oat flour for a better texture. Before creating meatballs with a lot of ingredients, check for allergies and start the recipes with simple herbs to avoid any overbearing flavors.
Feed in Small Portions
To make it work, keep the servings tiny enough that your infant can grab the meatballs and bite on them with ease. Moreover, the meatballs should be soft to the taste and easily break when your youngster bites into one. It is preferable to make the meatball recipe easy and have all the components. Harder foods, such as cooked and chopped vegetables, can be added for toddlers older than a year old; however, they must first be finely minced.
Why Make Mexican Meatballs Recipe?
It's a nutritious and low-calorie lunch or snack.

They are tasty enough to serve as appetizers on their own. Serve them with white rice and veggies for a filling supper, or put them in tacos or sandwiches.

The dish has a smokey, meaty, acidic, and slightly sweet flavor profile.
Health Benefits
Additionally, the beef used to make meatballs is a good source of minerals, especially zinc, iron, and vitamin B12. The National Institutes of Health state that zinc is a great source of antioxidants involved in DNA replication and repair. The fact that meatballs are so widely available, simple, and fairly priced is one of great popularity. Almost any type of meat can be used to make meatballs, and since the meat is mashed and blended with herbs and other tastes, even inexpensive pieces of meat can become tasty. It has multiple health advantages.
Body growth. Meatballs include animal protein, which has a structure like that of the human body and is more easily digestible than vegetarian protein. Proteins comprise the majority of the body's growth in living things like people, including the muscles, skin, heart, and lungs.
Brain intelligence. those people who eat meatballs have a good intelligence level. As a result of the numerous vitamins in meat that are beneficial for brain ability.
Power booster. Meatballs contain fat that is useful as a store of energy and energy. The fat contained in meatballs serves as a solid source of energy for the human body, in addition, fat also works for the human body to make longer satiety.
Storage Tips For Cheesy Mexican Meatballs
Storing: cool the meatballs and after that place them in an airtight container for 5 days in the fridge.
Freezing: It would be wonderful to prepare a double batch and freeze these! Let cooked meatballs cool fully before putting them in an airtight bag or container with a zip-top lid, removing as much air as you can. Place in the freezer with a "Reheat By" date for 3–4 months.
Uncooked meatballs should be arranged in a single layer, not touching, on a baking sheet. After 20 to 30 minutes of freezing, until they are solid, place them in a freezer-safe bag. Don't forget to include a "Cook By" date; they can be frozen for up to two months. To prepare, defrost in the refrigerator overnight and then prepare according to the recipe.
Reheating: In a small pot, combine the sauce and meatballs; cover and simmer on medium-low until well heated. If it seems dry, you can add more broth or water. As an alternative, you might warm them in the microwave.
More Easy Mexican Meals You Need To Try