If you are like me I am sure you have made or eaten plenty of sour cream and onion dips that are made with French onion soup mix or flavoring packets. Now those can be good, but this dip is GREAT! The only problem is that it is so good I always have to make a double batch because we eat it so quickly.
Why I love the taste of homemade sour cream and onion dip
Making onion dip from onion soup packets is quick, easy, consistent and generally a crowd pleaser. However, this homemade sour cream and onion dip really takes things to the next level. The flavor from the caramelized onions is deep and sweet and simple few ingredients, and less sodium, makes the dip taste lighter so it is easy to eat and feels much healthier.
What is the difference between French onion dip and onion dip?
French onion dip is inspired by French onion soup and is typically made with French onion soup mix and sour cream or but can also be made by making onion dip and adding a little bit of beef bouillon to it. The beef bouillon is the main difference between the two. The addition of beef bouillon makes the dip have a richer flavor.
Tips in making sour cream and onion dip
This recipe really allows the two main ingredients of sour cream and the rich, caramelized sweet onions to shine, and the result is an extremely cravable dip.
I highly recommend making this one the day before, as giving the flavors more time to develop and meld makes a big difference. You can also add a teaspoon of onion powder or a tablespoon of dehydrated onion if you want even more flavor.
Ingredients in sour cream and onion dip
Although you can use any onions for this recipe I recommend Vidalia onions. They are nice and sweet and still give nice flavor to the dip. Standard yellow or white onions also work well. After making this a few times I have had fun substituting minced shallots or scallions (or green onions) or one cup of the onions as ways to switch things up. If you use scallions separate the white bottoms and reserve the green tops. Use the bottoms as a substitute for some of the onions and cook with the onions. Then thinly slice the green tops and stir them in right before serving or use as a garnish. The green scallion tops will give the dip a little extra fresh onion kick and some nice color.
Oil: I recommend using a neutral oil with a reasonably high smoke point. Canola oil, grapeseed oil, peanut oil or sunflower seed oil all work great. You can use olive oil but it will add some flavor. If you like to cook with butter, make sure it is clarified butter otherwise, the milk solids will burn while caramelizing the onions.
Sweet onion: I live in Atlanta, Georgia so Vidalia (learn more about Vidalia onions here) is all I ever use and what I recommend. You can use any sweet onions, yellow onions or white onions instead.
Salt: This helps the onions caramelize and also brings out the flavor in the dish
Sugar: This helps give you a little flexibility if your onions are not as sweet or do not caramelize as much
Garlic: Garlic is often left out of sour cream and onion dip recipes but it does add a nice little bit of extra flavor
Sour cream: This recipe is designed to be made with one 2 cup (16oz) container of sour cream so there are no leftovers.
Lemon: A little bit of lemon juice helps brighten the dish and enhance all the flavors. After the dish sits overnight, the lemon flavor dissipates, but the overall dip flavor is much better due to the lemon juice. If you do not have fresh lemons to juice, store-bought lemon juice will also work.
Ingredient substitutions for onion dip
Although this recipe is specifically for sour cream and onion dip, you can also make it with crema Mexicana (recipe here), or mayonnaise and cream cheese. I recommend using a combination of at least two of the three ingredients (crema Mexicana, mayonnaise and cream cheese). I personally like the sour flavor from sour cream in my dip but a combination of cream cheese and mayonnaise is also great. This will result in a richer and slightly sweeter dip.
How to make sour cream and onion dip
The trick to this recipe is getting a really nice caramelization on the onions so they have some nice darker brown bits but are not burnt.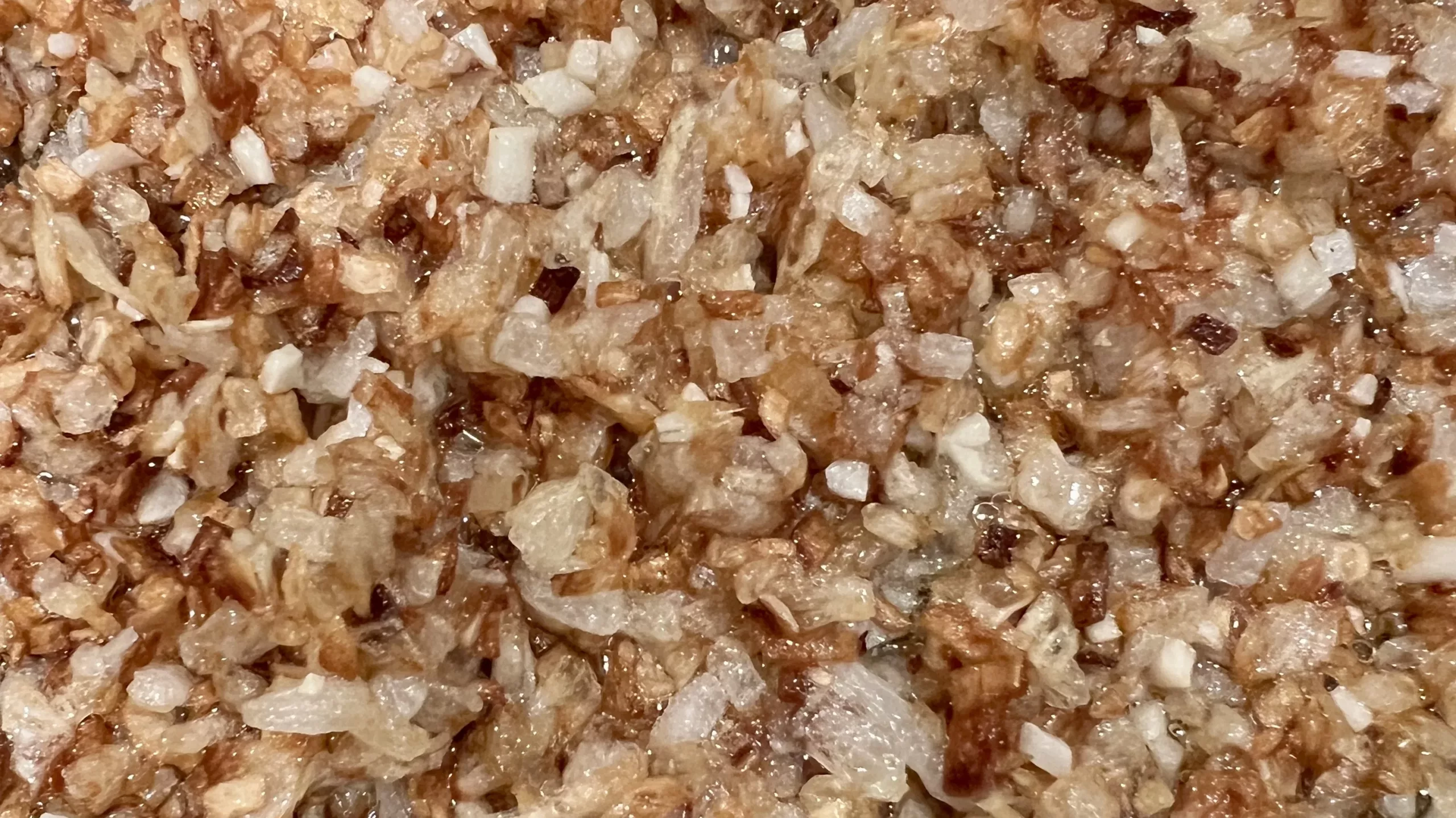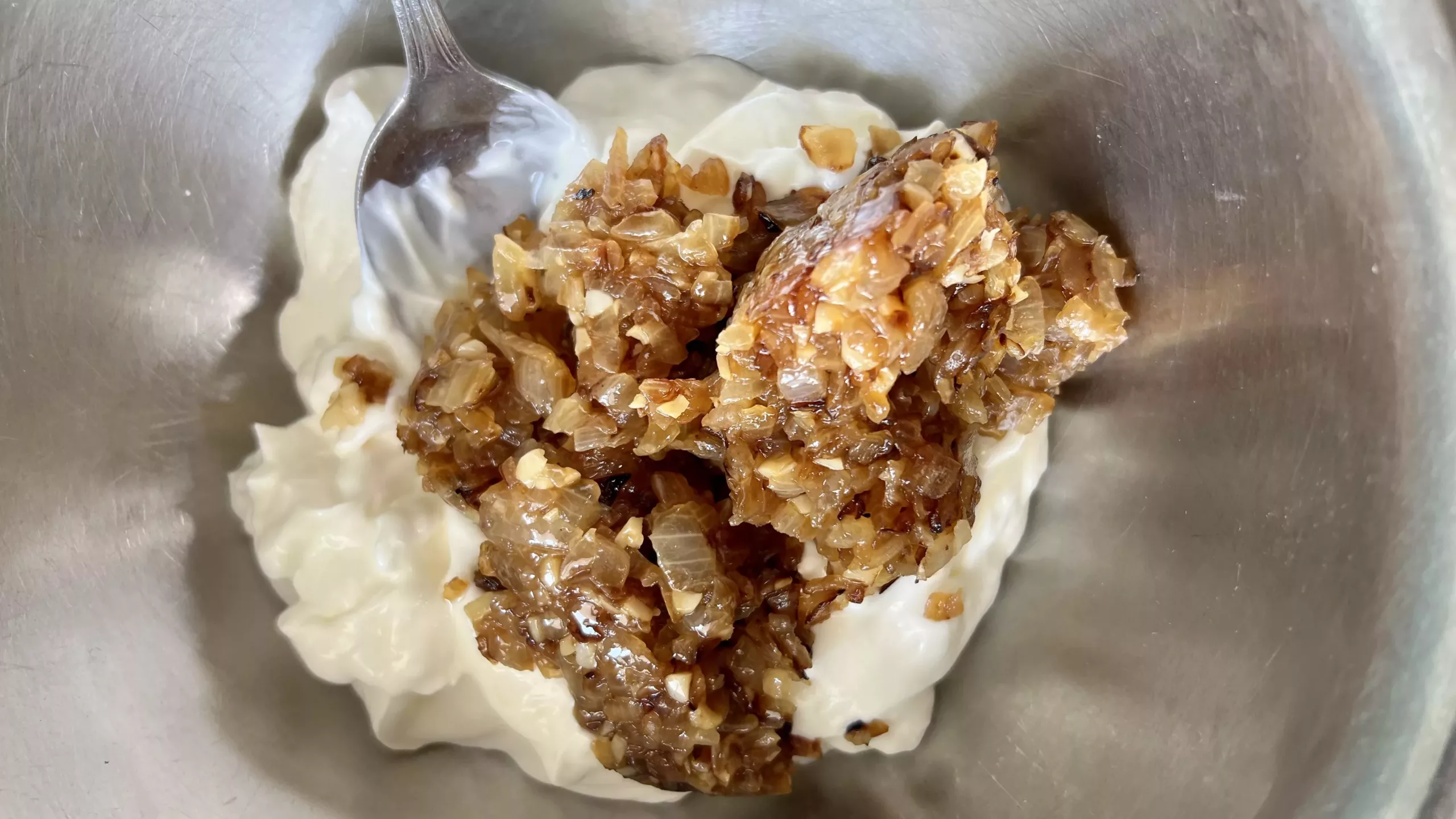 Mince, finely chop the onions so that they are minced
Heat oil in a medium skillet over medium-high heat until warm
Saute the onions with the salt and sugar over medium-high heat for 10 minutes, stirring every few minutes so that they brown nicely but do not burn
Chop the garlic
Saute the garlic with the onions for another 2 minutes so the onions are brown and the garlic is soft and not burnt
Strain off excess oil (let cool and save the oil in your fridge in an airtight container to use the next time you are sauteing vegetables or chicken).
Stir, in a medium mixing bowl stir the onions and garlic into the sour cream and lemon juice. Mix in a little onion powder or dehydrated onion if desired
Cover and store overnight in the fridge so the flavors can meld and develop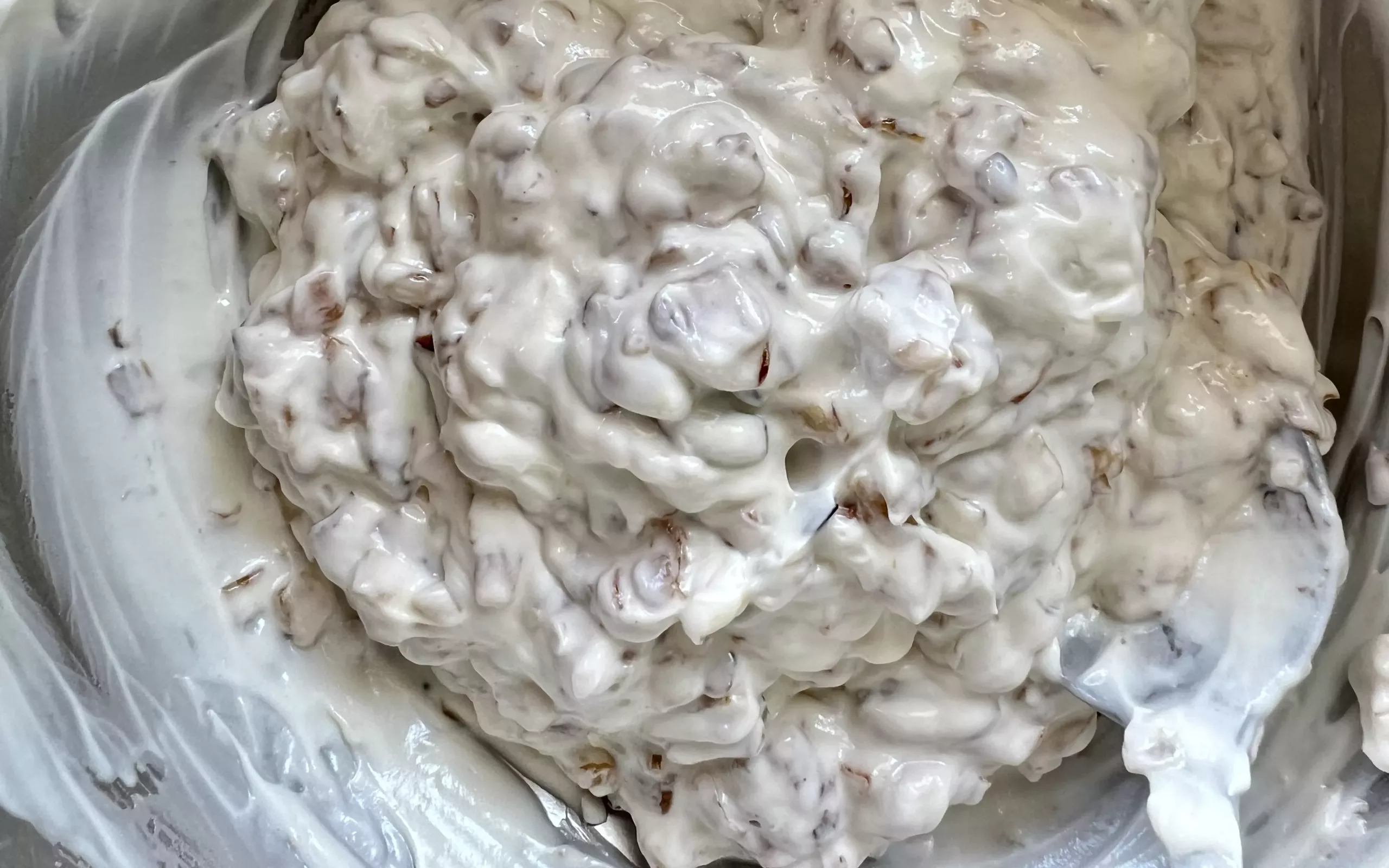 Print
Sour Cream and Onion Dip
Total Time:

20 minutes

Yield:

2.5 cups
1/4 cup oil (canola or other neutral oil)
1 large onion (sweet Vidalia is my favorite), minced, about 2.5 cups
1 teaspoon salt
1/2 teaspoon sugar
3 cloves of garlic, minced
2 cup sour cream
1 lemon, juiced or 1 Tablespoon lemon juice
Optional: 1 Tablespoon of dehydrated onion or 1 teaspoon of onion powder
Instructions
Finely chop the onions so that they are minced

 Heat oil in a medium skillet over medium-high heat until warm

 Saute the onions with the salt and sugar over medium-high heat for 10 minutes, stirring every few minutes so that they brown nicely but do not burn

 Chop the garlic

 Saute the garlic with the onions for another 2 minutes so the onions are brown and the garlic is soft and not burnt

 Strain off excess oil (let cool and save the oil in your fridge in an airtight container to use the next time you are sauteing vegetables or chicken).

 Stir, in a medium mixing bowl stir the onions and garlic into the sour cream and lemon juice. Mix in a little onion powder or dehydrated onion if desired

 Cover and store overnight in the fridge so the flavors can meld and develop
Author:

Prep Time:

20

Category:

Dip
Keywords: Sour Cream and Onion Dip