Back to School Dinners including Oven Tacos, Beef Caesar Salad, Pizza Sliders, and lots more!
You guys, school starts Monday! I'm 90% happy and excited and 10% sad. It has been a really good summer, and I'll miss the freedom of doing what we want when we want. I do crave getting back to a schedule and routine though. It's good for my kids and good for my blog, but we sure have had fun hanging around and going on little adventures for the past couple months!
This week's dinner menu focuses on back to school dinners. I'm talking about meals that you can throw together in a jiffy or that simmer away on the stove or slow cooker while you do other things like help with homework, go to piano lessons, or all the other things you have going on during the school year.
Personally, I like to keep our lives outside of school pretty unscheduled. One kid has a couple appointments he goes to each week, but beyond that we don't have many weekly commitments. My best friend has four boys, and they are all in sports all year round. Her days revolve around who needs to be where for practices or games. That's not the life for me, but I know it is for LOTS of parents. That's why you need these seven easy dinner recipes!
To save you even more time, you can add these recipes to your meal plan and then customize it with the recipes you want to make and build a grocery list too. Find more details at the end of the post.
Now, let's get to the back to school dinners!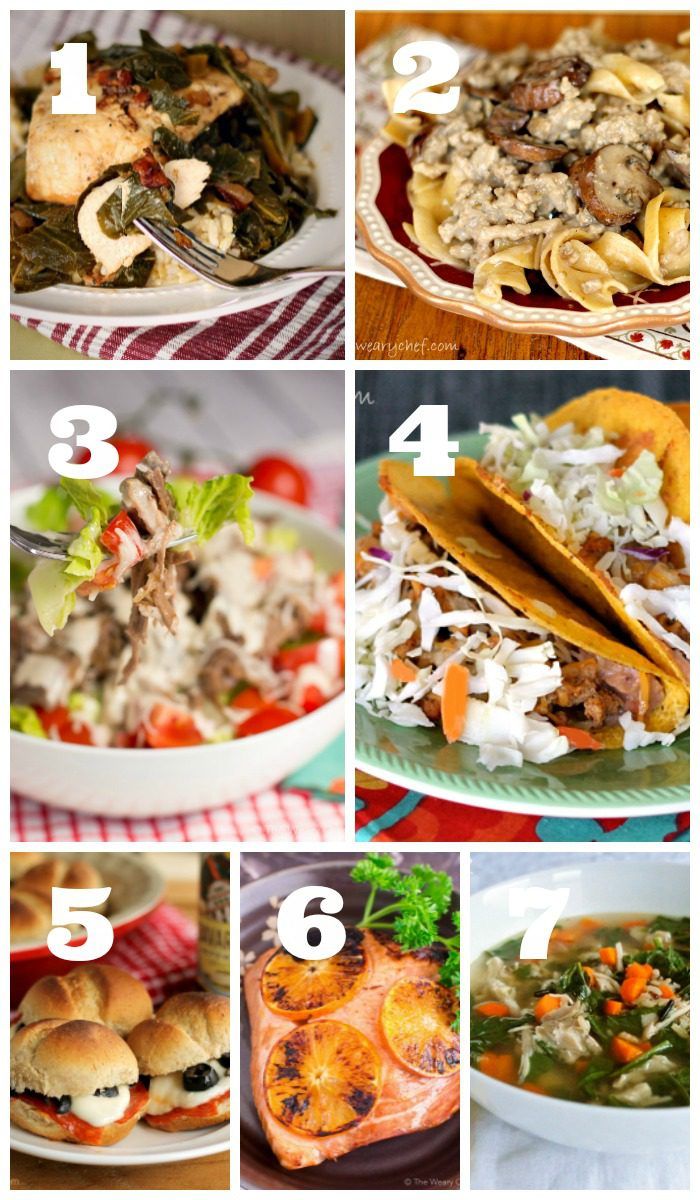 Click the button below to add all these recipes to your meal plan, and then you can click here to customize your menu and create a grocery list. (You can also go there to build a meal plan from scratch if you want to choose different recipes.) If you have any problems or questions with this feature, email me!
January 1SaturdayDay 1
January 2SundayDay 2
January 3MondayDay 3
January 4TuesdayDay 4
January 5WednesdayDay 5
Breakfast
Sour Cream Strawberry Muffins (12)
Dinner
Chicken and Greens with Wine and Bacon (4)
Healthy Hamburger Stroganoff from Scratch (4)
Slow Cooked Beef Caesar Salad (6)
Easy Oven Baked Tacos (4)
Pizza Sliders (4)
Dessert
Apple Cinnamon Oatmeal Cookies (18)
Click on a recipe for more detailsSelected Recipe: Selected Recipes:
Save to Meal Planner Add Course Print Recipes Print Plan Generate Shopping List
Add GroupAdd Ingredient Save Print