This fresh-tasting Cucumber Salsa is quick and easy to make, and it goes perfectly with chips and fish tacos! It's Mystery Dish time again! If this is new to you, once a month one blogger chooses a list of ingredients, and a group of us creates a recipe using a certain number of ingredients from the list.
This month's host is The Pajama Chef, and she put together this super fun list: Coffee (grounds or brewed), sour cream, farro, almonds, cherries, watermelon, cantaloupe, jicama, cucumber, tomatoes, infused or flavored olive oil, fresh herbs (any kind), cornmeal, and hot peppers (any kind).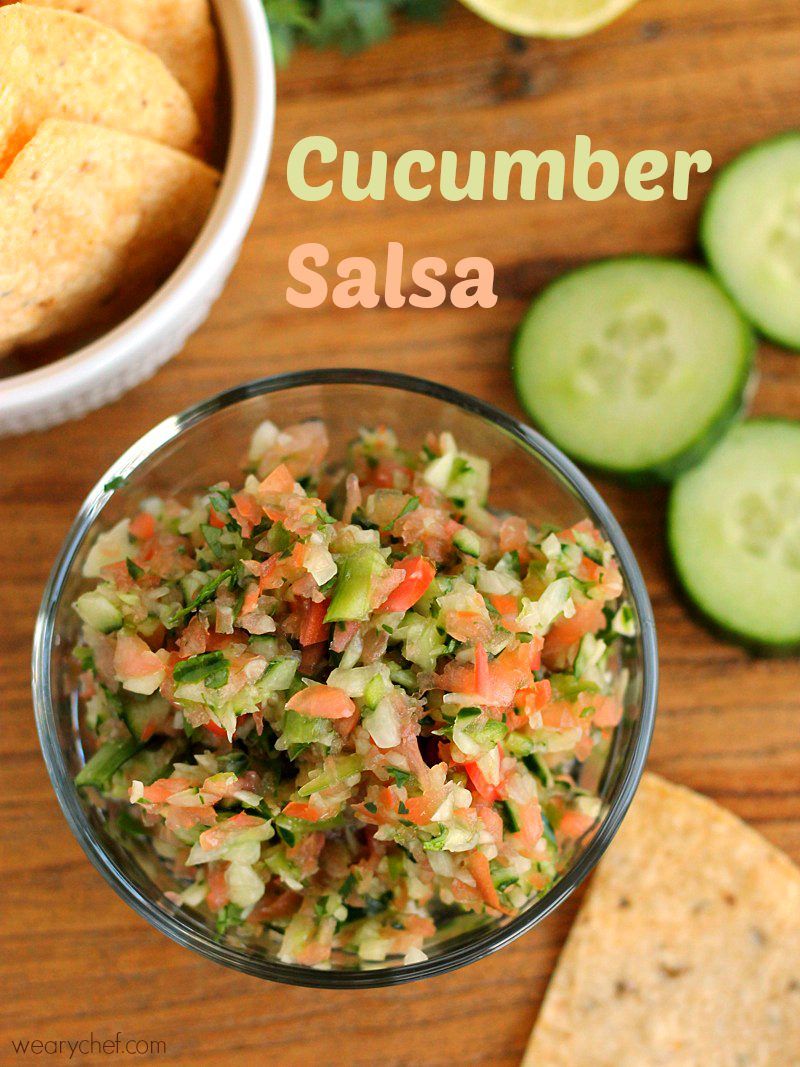 Last month I had a hard time coming up with three ingredients to use together. This time around, I had too many ideas! With so many tasty fruits, vegetables, and versatile ingredients, the possibilities were endless. I decided on this tasty cucumber salsa, and I have a cocktail recipe coming up next week that I almost used in its place.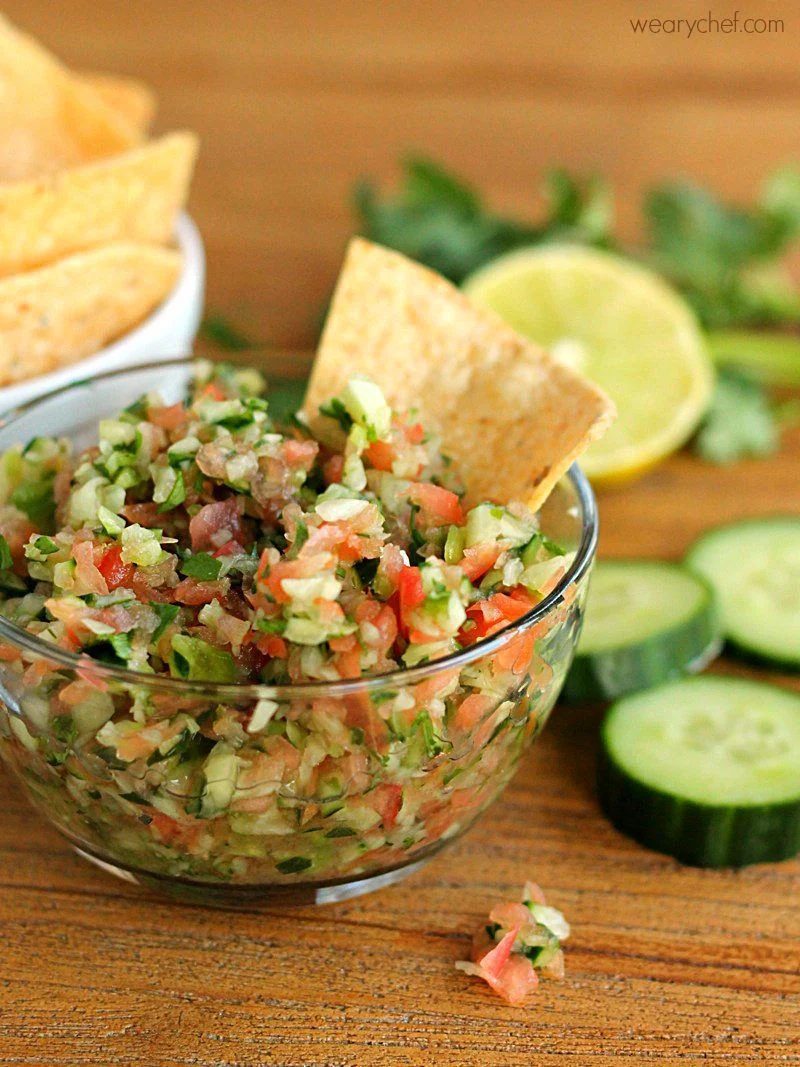 Cucumber Salsa
This cucumber salsa recipe uses four ingredients from the Mystery Dish list: Cucumber, tomatoes, herbs (cilantro), and hot peppers (jalapeño). I have been wanting to bring you a food processor salsa recipe since I got my Ninja recently. It is so dang easy to make salsa in that thing! It seriously takes about five minutes, and it's cheaper, fresher, and better than store-bought salsa. (It's funny that my first Mystery Dish post was all about not having a food processor, and look at me now!)
I liked the idea of cucumber salsa, but I was a tad nervous to taste it for fear that it would taste like, well, cucumbers. Do you know what it tastes like? Good! You don't exactly taste cucumber, but it just tastes very crisp and fresh. I usually think fresh cilantro brightens up salsa, and the cucumber enhanced that. We got busy gobbling this down with chips as soon as it was done, but we restrained ourselves to save some for fish tacos for dinner.
Cucumber Salsa Ingredients
The cucumber is a tasty and healthy vegetable that is crunchy, energizing, and simple to eat. Daily consumption of cucumbers can have significant positive effects on your health. The numerous vitamins and antioxidants found in cucumbers make them very nutritious food to include in your diet. This crisp, tart cucumber salsa goes well with grilled fish or can be served by itself as a simple side dish. Well-balanced and simple to prepare, the dish can be made a day or two in advance or eaten immediately, crisp & fresh. The taste mellows and the cucumber softens as it sets. The ideal healthy snack or appetizer, this simple salsa is packed with flavor.
Introduce diced, fresh cucumber to the salsa for a cool twist. Naturally, it tastes fantastic when paired with tortilla chips, but it also makes a superb topping for fish tacos or plain grilled salmon. A terrific keto-friendly, gluten-free option to add flavor and excitement to any dish is cucumber salsa. A little lime juice and zest add an acidic balance to all these flavors. Cucumber is the highlight of this recipe. The English cucumber base of the green salsa, which is rich in texture and taste, is chopped finely.
English Cucumber
English cucumbers have a thin, ridged skin and are perfectly straight. The flavor is sweeter than a typical cucumber and the seeds are relatively little. It doesn't require peeling or seeding before eating because of the thin skin and tiny seeds! The brilliant green hue of the flesh makes it appealing to use in recipes. The grocery store sells it with a plastic covering since the thin skin is so fragile. Cucumbers used for standard slicing are shorter, have thick, dark green skin, and have very large seeds. Since the seeds and thick skin can be bitter, they are frequently removed during cooking. You must first peel and seed it before using it here. Although it doesn't quite have the same flavor as English cucumber, it is still delicious.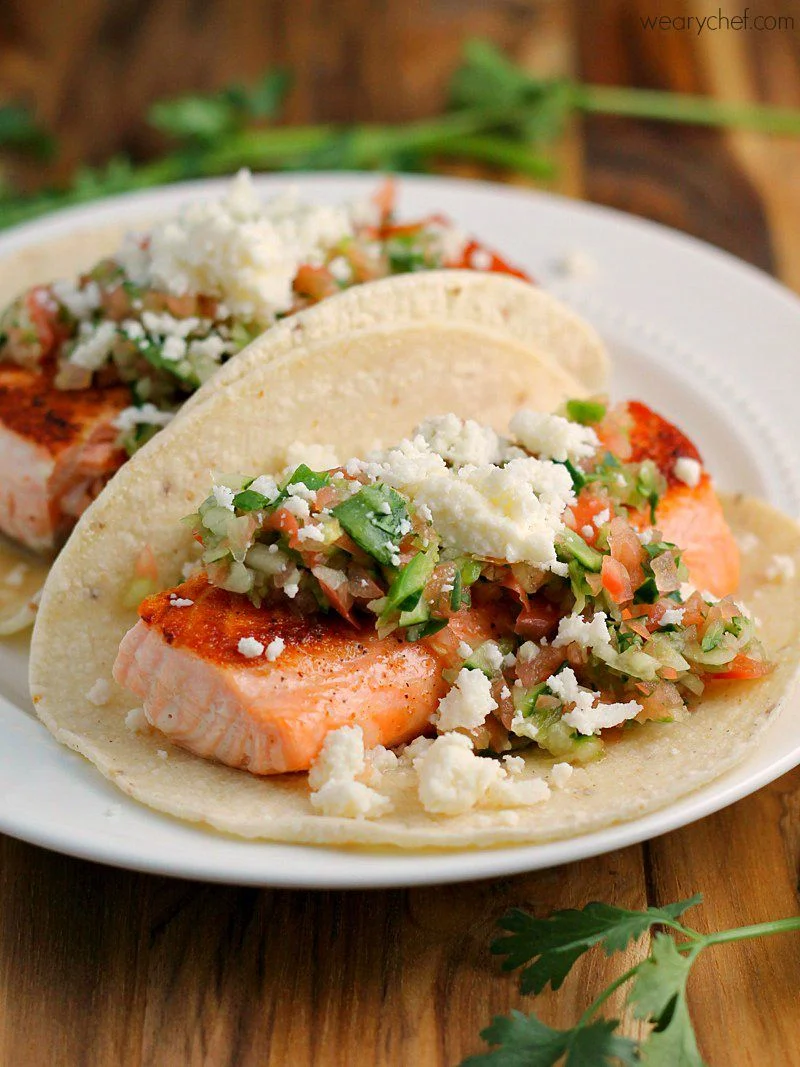 For these salmon tacos, I just sprinkled the salmon with Cajun seasoning and browned it on both sides until it was medium rare. Then I arranged the fish in tortillas (gluten-free corn tortillas in my case), topped it with fresh cucumber salsa, and crumbled queso fresco on top.
Print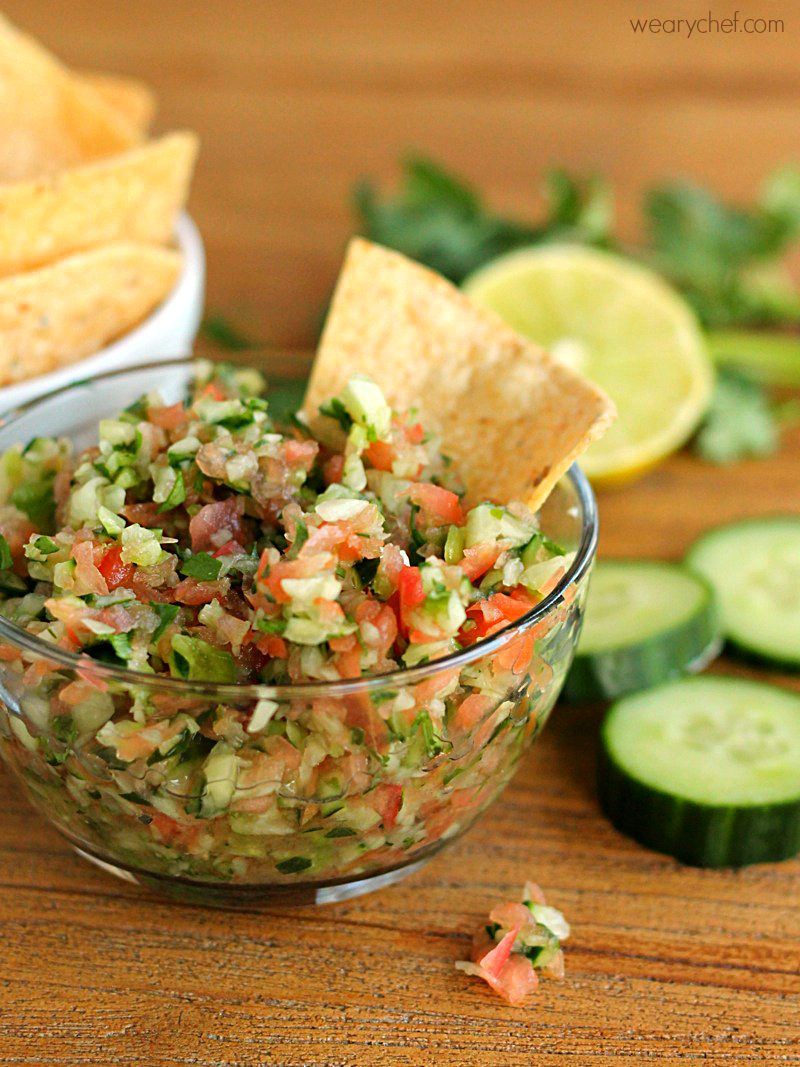 Cucumber Salsa
This easy cucumber salsa tastes fresh and delicious!
Total Time:

15 minutes

Yield:

2

1

x
1/2

English cucumber cut in half lengthwise and seeded

1

large tomato quartered and seeded (or substitute

2

roma tomatoes)

1

jalapeño ribs and seeds removed

2

cloves garlic minced or crushed

2 tablespoons

cilantro leaves

1 tablespoon

lime juice

1/2 teaspoon

kosher salt
Instructions
Place all ingredients into a food processor, and pulse until evenly chopped. Add additional lime juice or salt to taste.
Serve over tacos or with chips for dipping.
Notes
Using a food processor makes this recipe very fast, but of course you can dice all the ingredients by hand if you prefer.
Author:

Prep Time:

15

Category:

Appetizers and Snacks, Mexican Food

Cuisine:

Mexican
Nutrition Information
Per serving:
| | | | |
| --- | --- | --- | --- |
| Calories | 46 kcal | Carbohydrates | 3 g |
| Calcium | 7 mg | Fat | 3 g |
| Sugar | 1 g | Sodium | 2 mg |
| Vitamin A | 175IU | Vitamin C | 8.3 mg |
| Iron | 0.1 mg | Protein | 1.2 g |
How does this recipe work?
This salsa is delicious and simple.
The cucumbers bring freshness to a whole new level.
Mix the ingredients for a delightful and cool salsa.
It is excellent as a side dish, a topping for chicken or fish, or eaten with tortilla chips.
Health Benefits
Cucumbers contain a lot of water, which can help you stay hydrated. Moreover, the fiber boost they provide you with keeps you regular and prevents constipation. Vitamin K keeps your bones healthy and aids in blood clotting. Numerous functions of vitamin A include support for the immune system, eyesight, and reproductive health.
Promote Hydration
Since they contain 95% water, cucumbers are a great method to stay hydrated on a hot day. Yes, 95%, which is why some people refer to it as nature's most hydrating vegetable. Due to their high water content, they are also excellent additions to juices and smoothies.
Improve Memory
Fisetin, an anti-inflammatory flavone found in cucumbers, is important for maintaining brain function. Additionally, while fisetin can be found in other plants, it is particularly abundant in cucumbers. As a result, cucumbers have been linked to memory enhancement and assistance in preventing memory loss.
Aid in Weight Loss
Calories matter when it comes to losing weight. Cucumbers are a fantastic food to help with weight loss because each cup only has 16 calories. Without adding many calories to your day, they can help you feel full. As previously mentioned, they are also packed with nutritious vitamins that will provide your body with a balanced diet of nutrients, which is essential for healthily reducing weight.
Maintain Healthy Digestion
By keeping you nourished, any vegetable with high water content can aid in healthy digestion. Cucumbers, especially their skin, contain dietary fiber, though, which helps to give your stools more volume and speed up the elimination process.
Have Anti-Cancer Benefits
One of the best things you can do to keep fit and lower your risk of cancer is to take a lot of fruits and vegetables. A member of the Cucurbitaceous family, cucumbers in especially, contain significant levels of essential minerals that may help avoid cancer.
Reduce Inflammation
Multiple problems might arise as a result of oxidative stress. Cucumbers are one of several foods, luckily, that can reduce inflammation. This is because lignans, a kind of polyphenol, are present. If cucumbers are applied directly to the skin, they can also relieve inflammation externally.
Promote Healthy Skin
Cucumbers are incredibly refreshing and can help you calm down, they also have wonderful skin benefits when applied topically. Cucumbers, which are most commonly utilized in the eyelids, cool the area and reduce facial swelling. Sunburn can be effectively soothed with the help of cucumbers.
Risks of Cucumber Salsa
Consuming cucumbers provide relatively minimal dangers. The pesticide that producers use on them could be one issue. Peel the skin off or wash it under warm running water before eating. That will guarantee that eating your cucumber is safe.
The skin of cucumbers is naturally waxed. Cucumbers lose their wax when they are washed after being picked, so before producers ship them to supermarkets, they slap a synthetic wax back on. While extending its shelf life, the wax also harbors bacteria. Although the wax itself is not dangerous, peeling the cucumber's skin can reduce the likelihood of cross-contamination. The majority of the nutrients, however, are found in the skin. A better choice could be to buy organic produce and thoroughly wash your cucumbers before eating.
Storing Tips
Refrigerated homemade cucumber salsa for 4 days. Even though it tastes best when it's fresh, it keeps well and gets tastier over time.
You'll also love this grilled pork with lemon avocado salad!
What would you make using this ingredient list? Let me know in the comments!