This fresh-tasting Cucumber Salsa is quick and easy to make, and it goes perfectly with chips and fish tacos!
It's Mystery Dish time again! If this is new to you, once a month one blogger chooses a list of ingredients, and a group of us creates a recipe using a certain number of ingredients from the list.
This month's host is The Pajama Chef, and she put together this super fun list: Coffee (grounds or brewed), sour cream, farro, almonds, cherries, watermelon, cantaloupe, jicama, cucumber, tomatoes, infused or flavored olive oil, fresh herbs (any kind), cornmeal, and hot peppers (any kind).
Last month I had a hard time coming up with three ingredients to use together. This time around, I had too many ideas! With so many tasty fruits, vegetables, and versatile ingredients, the possibilities were endless. I decided on this tasty cucumber salsa, and I actually have a cocktail recipe coming up next week that I almost used in its place.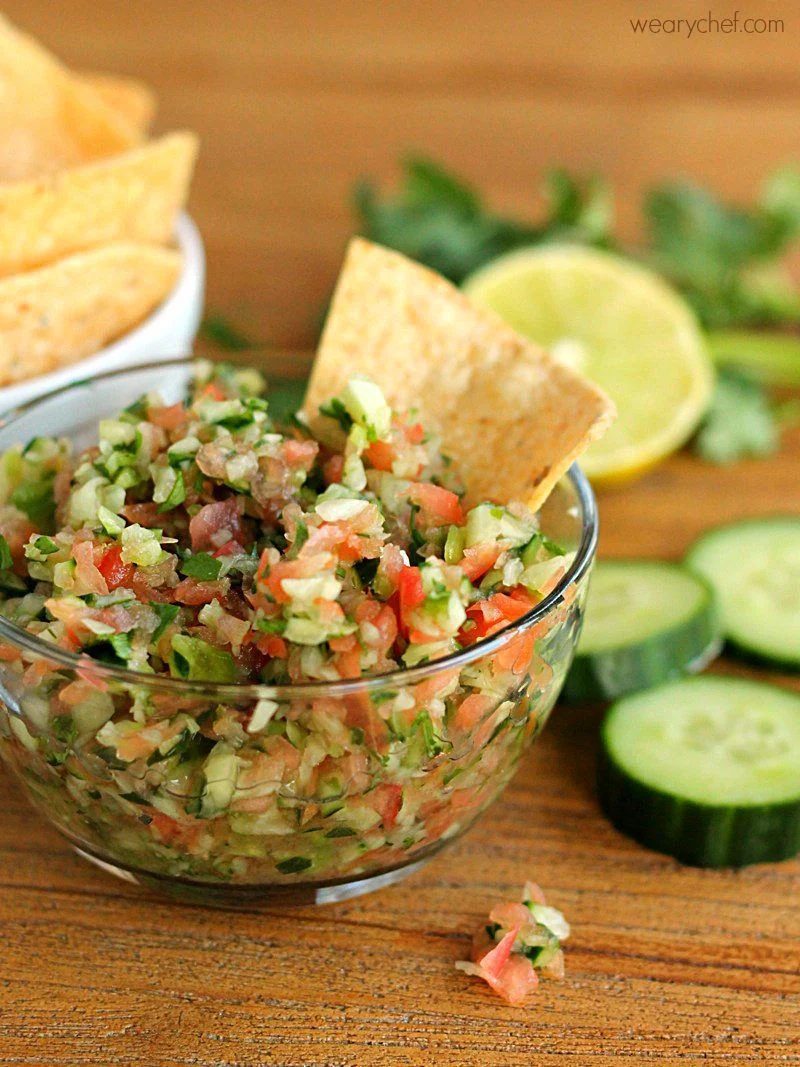 This cucumber salsa recipe uses four ingredients from the Mystery Dish list: Cucumber, tomatoes, herbs (cilantro), and hot peppers (jalapeño). I have actually been wanting to bring you a food processor salsa recipe since I got my Ninja recently. It is so dang easy to make salsa in that thing! It seriously takes about five minutes, and it's cheaper, fresher, and better than store-bought salsa. (It's funny that my first Mystery Dish post was all about not having a food processor, and look at me now!)
I liked the idea of cucumber salsa, but I was a tad nervous to taste it for fear that it would taste like, well, cucumbers. You know what it tastes like? Good! You don't exactly taste cucumber, but it just tastes very crisp and fresh. I usually think fresh cilantro brightens up salsa, and the cucumber enhanced that. We got busy gobbling this down with chips as soon as it was done, but we restrained ourselves to save some for fish tacos for dinner.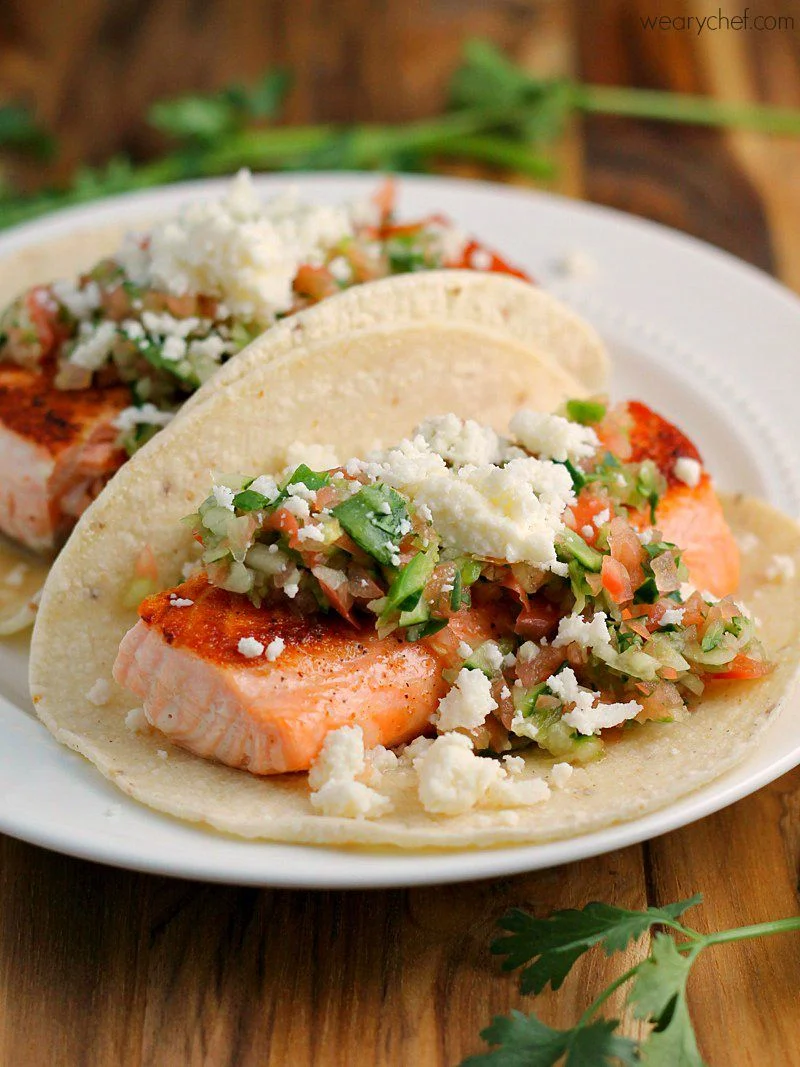 For these salmon tacos, I just sprinkled the salmon with Cajun seasoning and browned it on both sides until it was medium rare. Then I arranged the fish in tortillas (gluten-free corn tortillas in my case), topped it with fresh cucumber salsa, and crumbled queso fresco on top.
What would you make using this ingredient list? Let me know in the comments!
| | |
| --- | --- |
| | |
Place all ingredients into a food processor, and pulse until evenly chopped. Add additional lime juice or salt to taste.

Serve over tacos or with chips for dipping.
Using a food processor makes this recipe very fast, but of course you can dice all the ingredients by hand if you prefer.
You'll also love this grilled pork with lemon avocado salad!