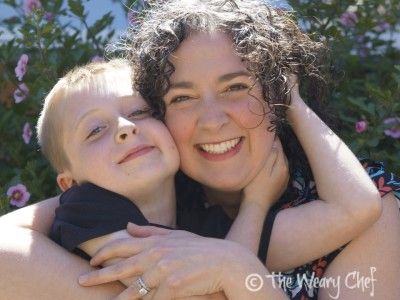 As a mom of boys, I'm always a tad jealous when I see little girls clinging to their mothers or playing quietly.  My kids are ALWAYS on the move.  I can't imagine having a child who doesn't want to stray far from me or who isn't speaking way louder than a conversational volume at all times.  Yesterday, however, I was able to see that sometimes boys can be easier than girls.
It was the last day of first grade, and we had a FABULOUS teacher this year.  When I picked up The Tall One after school, all the girls from his class were sobbing. I'm not talking about getting a little teary.  They were tears-streaming, snotty-nosed wailing. Meanwhile, my child posed for a goofy photo with his teacher and then ran around talking about how great it was that it was summer break. While we skipped home celebrating the last day, other moms would be spending the evening consoling their heartbroken daughters.  I got off easy on that one.
Speaking of summer break, next week I will be unavailable for blogging (mostly), but I have something very special planned for your menu.  I think you will love it, so be sure to come back next Saturday to check it out!
Now, onto this week's menu full of easy dinner recipes! Enjoy!
Don't miss out on any recipes, photos, or funny tidbits!Follow me on:Twitter, Facebook, Pinterest, Google+ or Bloglovin!You can subscribe to posts by email too!Just enter your email address here.I'm looking forward to keeping in touch with you!