Thanks so much to Smithfield for sponsoring today's Spicy Mac and Cheese recipe! I am a long time fan and ambassador of their marinated fresh pork, and I just know you will love today's comfort food dish using leftover rib meat.


If you ask me, you really can't beat macaroni and cheese. Pasta and cheese together? Nothin' better. Oh, wait. Adding tender, spicy pork meat might actually make it even better. Just look at this luscious macaroni and cheese!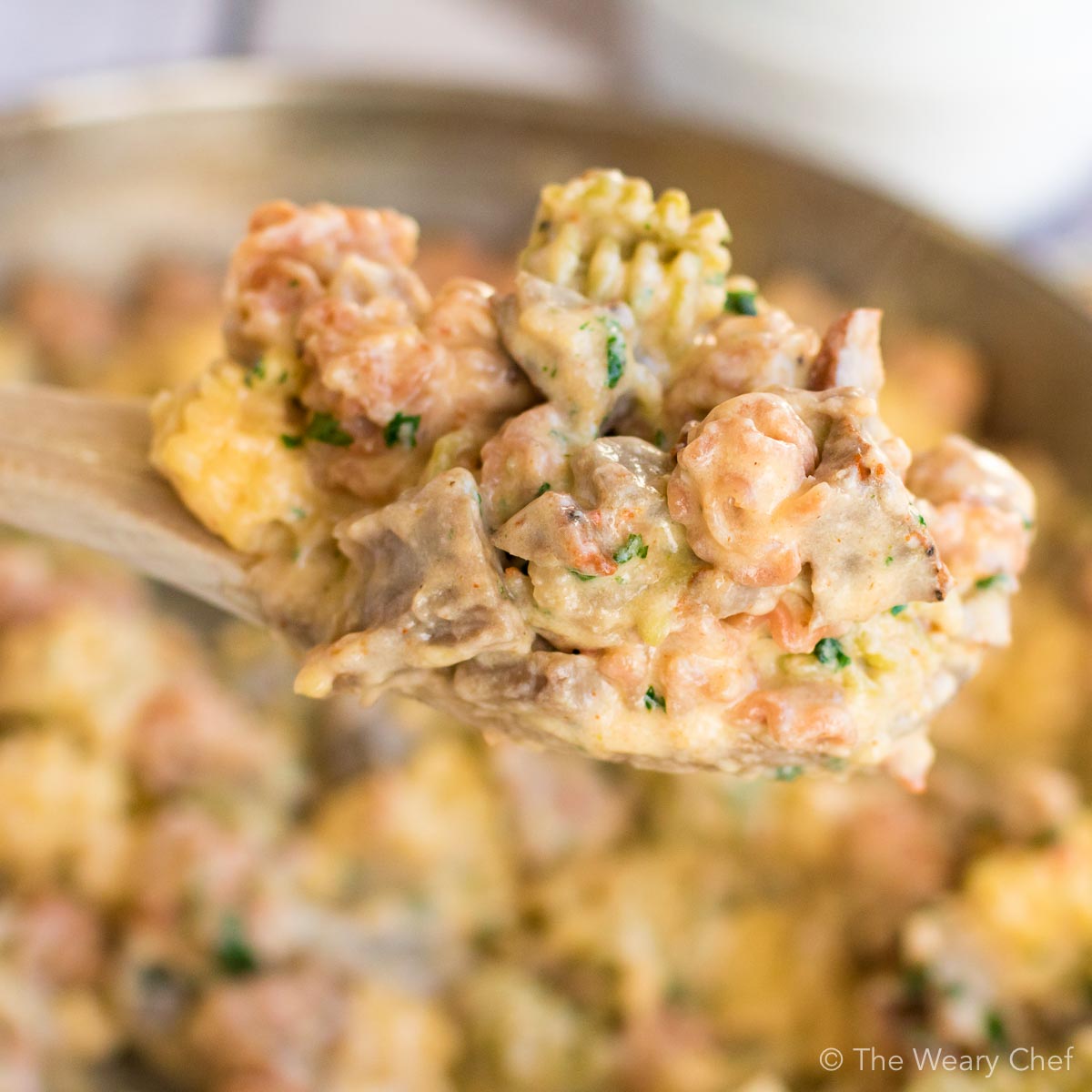 Guess where I got the pork meat. Just guess! Did you say leftover rib meat? I bet you didn't because I wouldn't have guessed that. I usually think ribs are just good for eating on their own, and I hadn't tried to do anything else with them. This time though, we first enjoyed Smithfield Southwest Style Peppercorn St. Louis Style Pork Spareribs on their own with that Deviled Egg Potato Salad, and I saved the leftover meat for this spicy mac and cheese recipe. I loved the marinated fresh pork ribs both ways!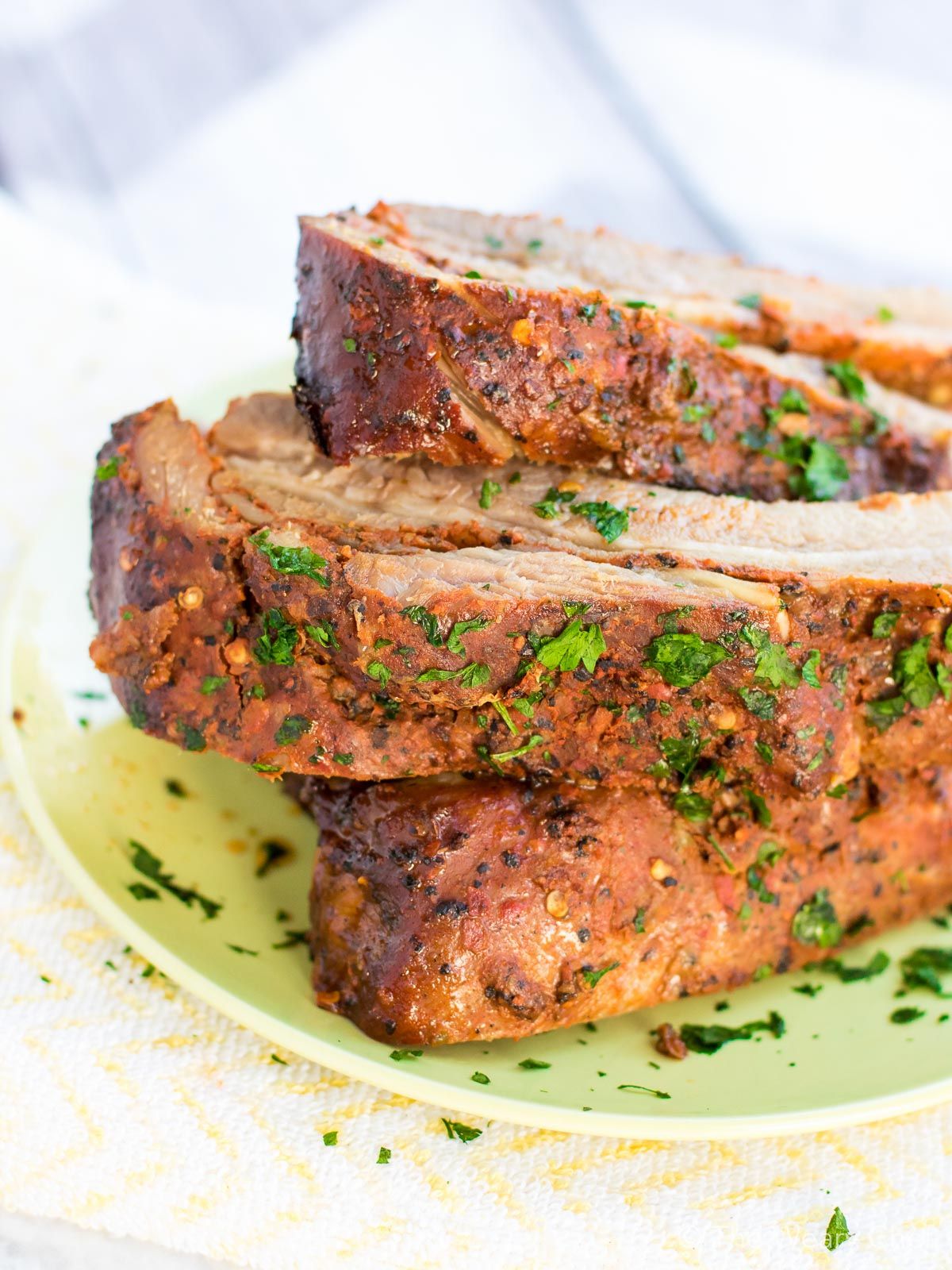 When I cooked the ribs initially, I put them in the slow cooker on low all day. It literally took me less than five minutes to prepare succulent ribs for dinner. I cut the rack of ribs in half so they would fit in the crock pot, stacked them in there, and set it to low. I was home during the day, so I flipped them a couple times, but you don't even have to do that. These ribs were cooked perfectly with zero effort! The southwest flavor is pretty spicy, which was great on its own, and the the meat had all the seasoning I could want for the mac and cheese.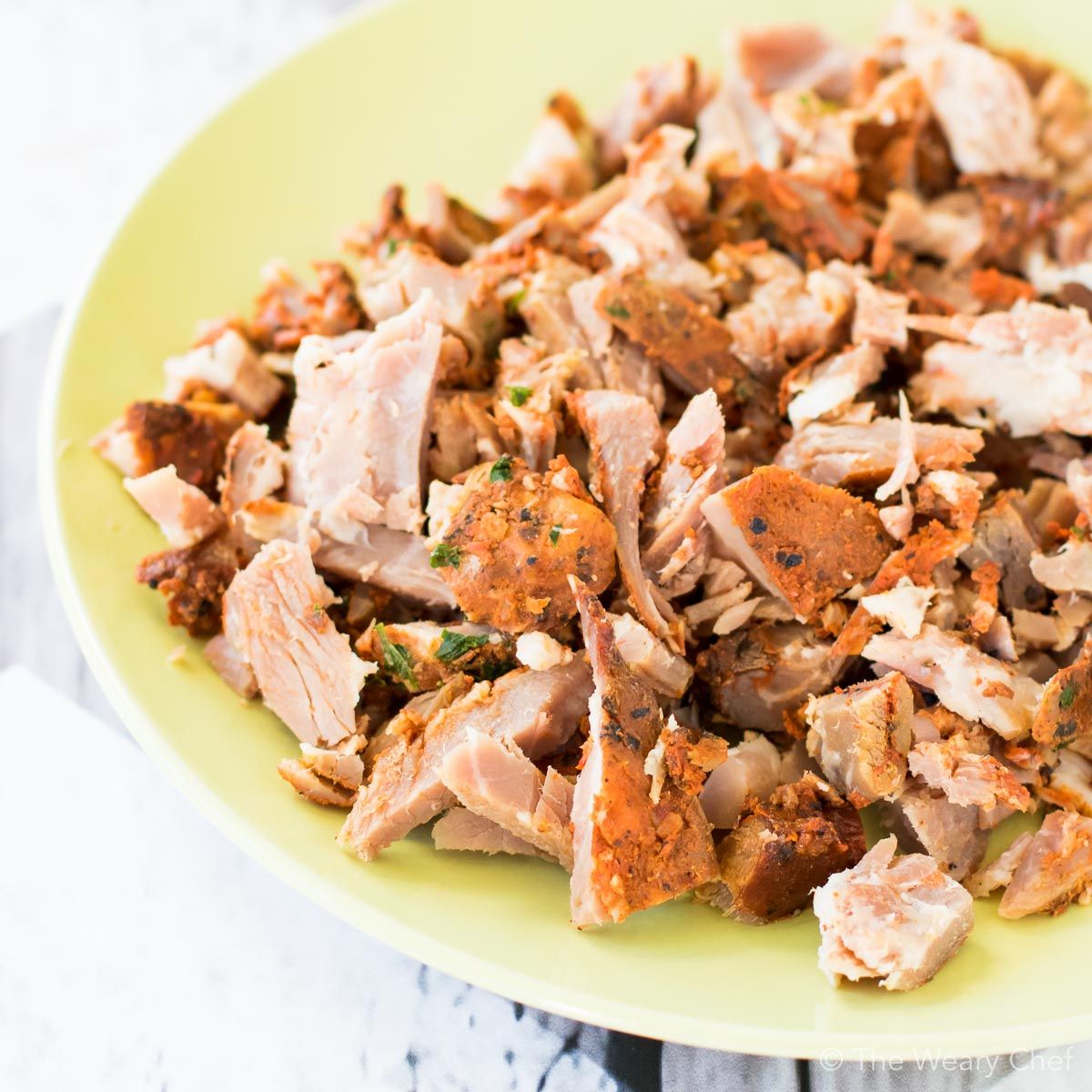 It's up to you if you want to pull the meat off the ribs while they are warm or do it later after they've chilled. It kind of depends on when you feel like doing the extra prep work because either way works. I just put the cooked ribs, bones and all, into the refrigerator and then pulled off the meat when I was ready to cook the pasta dish.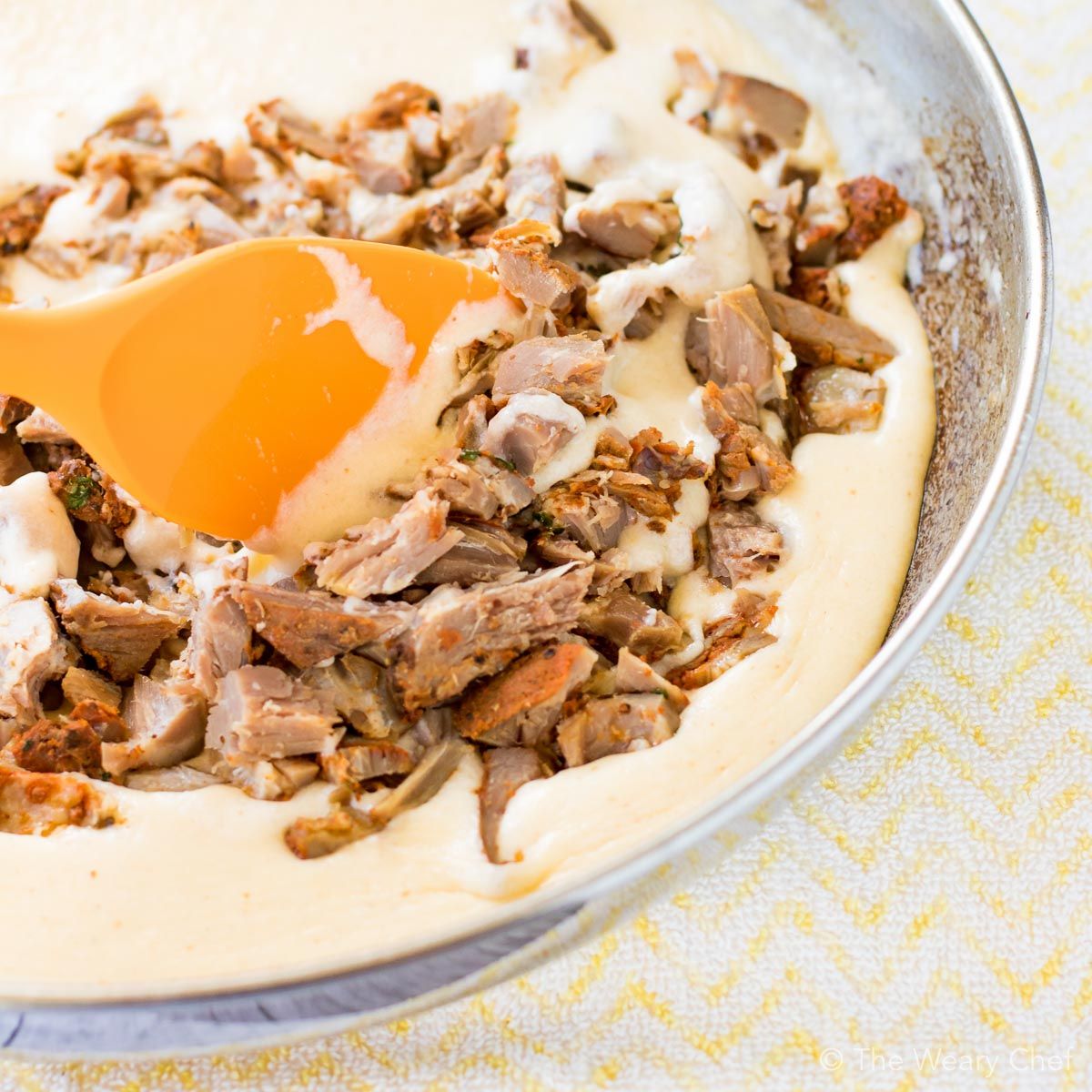 This base stovetop mac and cheese recipe is great on its own, but the pork adds so much richness and flavor to the dish. You could change up the flavor of the ribs to suit your fancy. Smithfield offers marinated ribs in Memphis, Kansas City, and Carolina BBQ flavors. You can't go wrong with any of them, but I always pick the spicy option when it's available!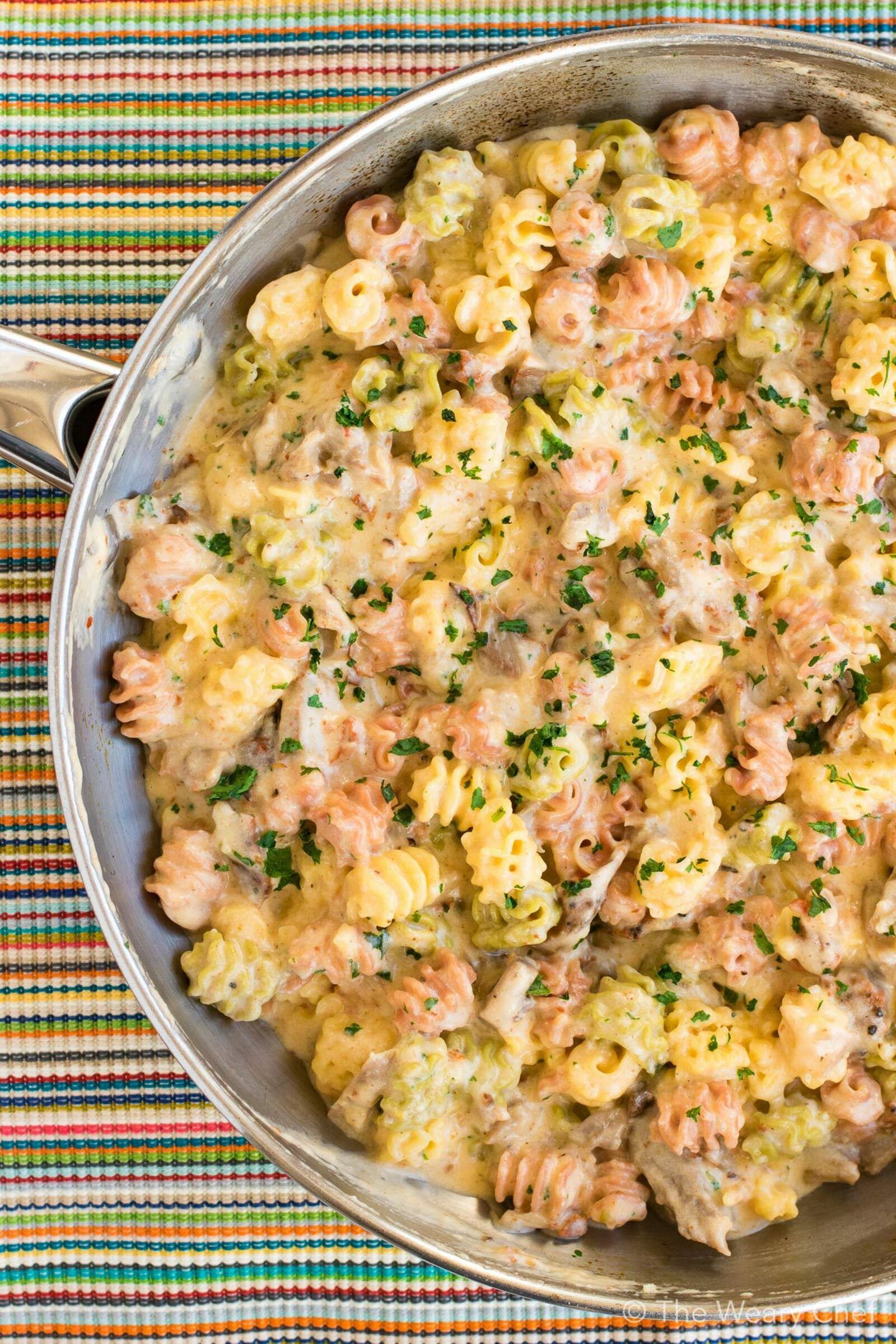 Print
Spicy Mac and Cheese with Pork
This stovetop mac and cheese recipe with pork rib meat is satisfying but easy to make!
Total Time:

30 minutes

Yield:

6

1

x
Instructions
Bring a medium pot of lightly salted water to a boil. Cook pasta according to package directions, and drain.

While pasta cooks, melt butter in a 12″ skillet over medium-high heat. Whisk in flour until a smooth paste forms.

Whisk in milk about 1/4 cup at a time until mixture is smooth before adding more. Once all milk is added, bring to a low boil, whisking almost constantly.

Reduce heat to medium-low, and add shredded cheese. Stir until cheese is melted. Then, stir in chopped pork and most of the cilantro. Allow to cook for about 3 minutes to allow pork to heat through.

Add pasta, and stir until well combined. Turn off heat. Sprinkle remaining cilantro over the top if desired, and serve immediately.
Author:

Prep Time:

10

Cook Time:

20
Thanks again to Smithfield for sponsoring today's recipe. Don't forget to follow them on Facebook for more recipes, special promotions, and more!