You'll just love this well-seasoned, baked tri-tip roast baked in your oven the moment you taste it, believe me! It will be a great meal for your family and friends. It is a great dish for special occasions and simple family events.
Baked Tri-Tip Steak in the Oven
It is time for a red meat recipe that will impress everyone in your family, especially your own taste buds. This baked trip tip roast in the oven made my life so much easier because it is so time-saving. Not to mention that all my little meat lovers adore it! It is fun and easy to make.
A steak, commonly known as "beef steak," is a piece of meat that is typically cut across the muscle fibers and may not contain a bone. It can also be a hot skillet but is typically grilled. Furthermore, steak can be chopped and cooked into a patty for hamburgers, or it can be cooked in sauce, as in kidney pie with steak. The beef cut known as "tri-tip" has excellent marbling, or fat streaks running through the meat. It is usually sold with a fatty tip on one or both sides.
Due to its triangular shape, the tri-tip is sometimes referred to as the "Newport steak" and the "triangle roast." It comes from the bottom sirloin and is now available in most supermarkets. In the 1950s, when the Santa Maria rub was also developed, it gained popularity in Santa Maria, California. The tri-tip is family-size, economical, and has a deep, savory beef taste. When food is grilled, it develops a wonderfully pink, soft interior and a crisp, caramelized exterior. A perfectly medium-rare tri-tip roast is prepared in the oven after being spice-rubbed.
This part of the meat is not expensive and easily affordable for everyone. Its taste is delicious and when it serve with sauce enhances the taste. You can eat leftovers cold or reheated and they store well for several days. Despite being a difficult cut with many muscular fibers running through the meat, it has a great flavor. It is a hearty, filling steak that is delicious, juicy, and tender. It is also ideal for meal prepping for sandwiches, salads, wraps, or a low-carb lunch that will keep you going all week.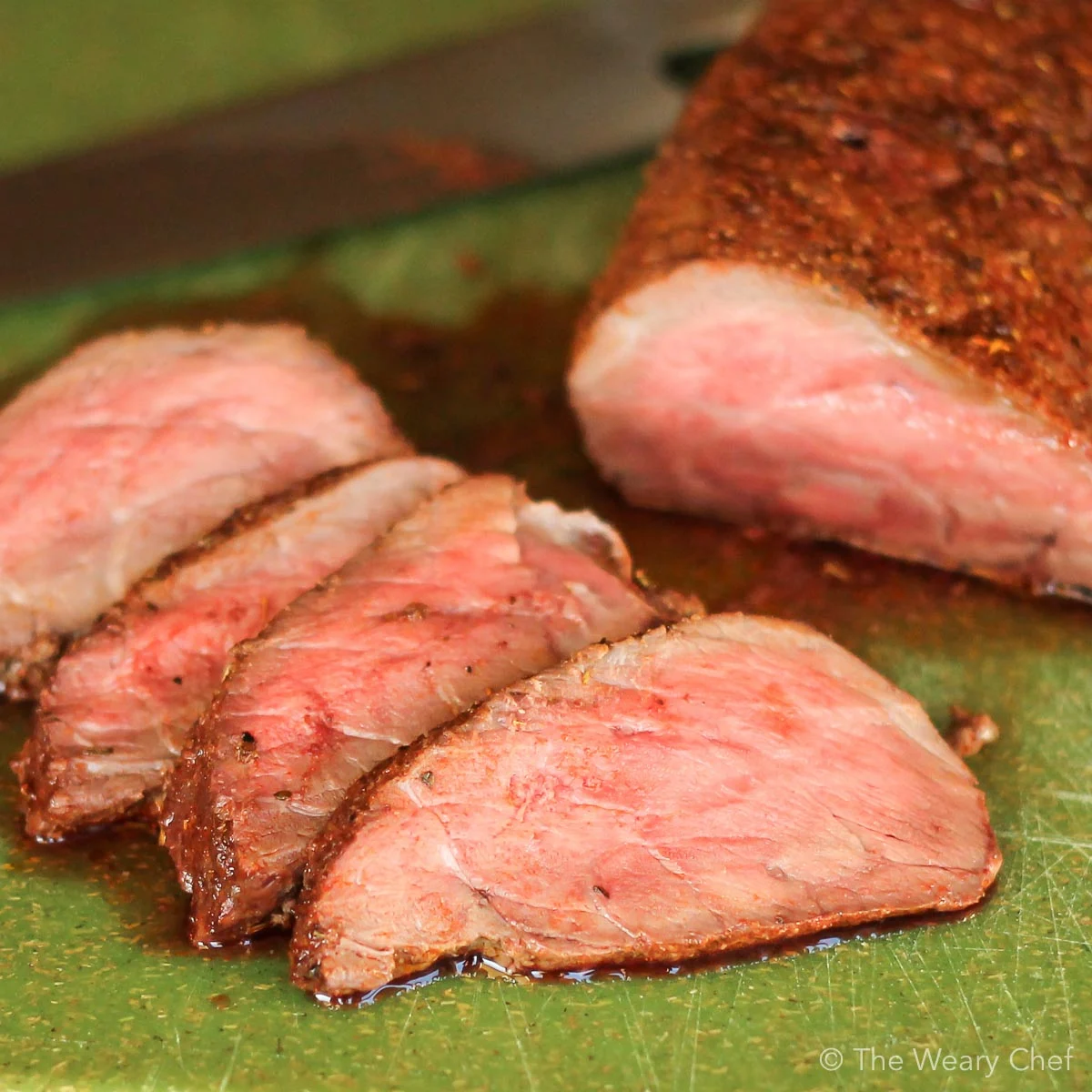 Tips & Tricks For A Perfectly Baked Trip-Tip Roast
If your family is anything like mine, everyone should love steak, adults and kids alike. So, this would be a perfect meal for a dinner with loved ones. Not to mention how easy to make can be! We have been eating a few family dinners together lately instead of our usual style of the boys eating earlier, and one of those meals was this baked trip tip roast. It just turned out beautifully! So, how will you be able to make such a wonderful outcome?
First of all, I would definitely recommend using a meat thermometer to pull it out at your favorite level of doneness. Therefore, digital meat thermometers have a numerical readout of information collected by the circuit testing device. In this way, these devices are useful in preventing meats to become under-cooked or over-cooked. So, you can definitely rely on one meat thermometer, especially when you cook rare, juicy beef.
Secondly, I aimed for 145 degrees F, which was rare and juicy. Some very important advice is to adjust your cooking time as needed depending on the size of your roast. Also, the way you and your family eat your beef should always be a guide for achieving the best cooking time. It is essential to always adapt all of our recipes to your family and your personal preferences and needs, in order to cook at your best. Please, keep that in mind!
Last but not least, I have made this recipe with tri-tip roast or London broil, both with excellent results. The London broil does dry out if cooked beyond medium-rare since it is so lean. So choose a more marbled cut of beef if you aren't looking for a rare roast.
How To Perfectly Bake Tri-Tip Roast in the Oven
Print
Baked Tri-Tip Steak in the Oven
You'll love this well-seasoned, baked tri tip roast baked in your oven. A perfect way to serve steak to a crowd!
Total Time:

55 minutes

Yield:

4

1

x
1 tablespoon

olive oil

2 teaspoons

paprika

1 teaspoon

Italian seasoning

1/2 teaspoon

kosher salt

1/2 teaspoon

garlic powder

1/2 teaspoon

onion powder

1/2 teaspoon

chili powder

1/4 teaspoon

cayenne pepper or to taste (optional)

1 1/2

pound

tri tip roast
Instructions
Preheat oven to 350 degrees F.
Combine olive oil and spices, and let roast sit at room temperature while oven heats.
Line baking sheet with aluminum foil. Rub all sides of roast with spice mixture, and bake in preheated oven for 40-60 minutes to desired level of doneness. (I like to cook to an internal temperature of 145 degrees for rare steak.)
Allow steak to rest for at least five minutes before cutting into 1/2″ thick slices to serve.
Author:

Prep Time:

10

Cook Time:

45

Category:

Dinner, Red Meat

Cuisine:

American
Nutrition Information of Baked Tri-Tip Roast
Per serving:
| | | | |
| --- | --- | --- | --- |
| Calories | 55 kcal | Carbohydrates | 5 g |
| Calcium | 19 mg | Fat | 4 g |
| Sugar | 3 g | Monounsaturated Fat | 2 g |
| Vitamin A | 1033IU | Vitamin C | 1 mg |
| Iron | 1mg | Protein | 1 g |
| Cholesterol | 1 mg | Potassium | 86 mg |
| Fiber | 1 g | Sodium | 1197 mg |
Why Will You Love This Baked Tri-Tip Roast Recipe?
Simple weeknight supper.

Extremely easy seasoning.

It's very juicy and delicate.

It's the ideal method for preparing tri-tip.

Excellent substitute for grilled tri-tip.

Serves many people.
Health Benefits of Baked Tri-Tip Roast
When planning a healthy menu, steak might not be the first food that comes to mind. Although red meat has long been linked to muscle growth, many individuals still wonder whether or not steak may be a good addition to their diet due to worries about heart health. Steak has advantages that can help you satisfy your nutritional demands when consumed in moderation. To change your eating habits, try replacing freshly cooked steak with packaged meats.
It Packs on the Protein
Protein is a crucial nutrient for maintaining the health of our skin, hair, nails, bones, and joints. Moreover, it is essential for tissue healing and muscular growth. Additionally, the body must produce enzymes, hormones, and other substances. Steak is a delicious item to include in your diet if you feel that your diet is deficient in protein. In actuality, 3 ounces of steak provide a massive 26 grams of protein for your body.
It Can Prevent Iron Deficiency
One of the most crucial nutrients for our bodies is iron. It is essential for getting oxygen from the lungs to the body's tissues and organs.
Additionally, it is critical for both cellular and hormone production. The National Institute of Health recommends that both men and women consume at least 8 mg of iron daily. Get at least 27 if you're a breastfeeding or pregnant woman. Steak is fantastic because it has a lot of iron in it.
It Can Improve Your Smile
Steak is usually not thought of when discussing foods that enhance your smile. Proteins, minerals, and nutrients found in steak are crucial for maintaining strong teeth. It also contains phosphorus, which supports the preservation of bone and tooth enamel.
It Can Strengthen Your Immune System
This is a result that steak includes significant amounts of zinc, a vitamin that supports a better immune system. It also increases muscle mass and supports mental health.
It Can Aid in Weight Loss
people who want to lose weight avoid steaks and other meats. Although steak isn't necessarily a superfood for weight reduction, the appropriate cut and portion can assist you in losing weight. For starters, steak has a lot of protein, a nutrient that makes you feel satisfied. However, you must practice portion control if you want to use steak as food for weight loss.
Storage Tips for Baked Tri-Tip Roast
Serve: Before slicing, let Tri-Tip time rest for at least 10 minutes. Tri-Tip Roast that has been cooked can be left at room temperature for up to two hours before it needs to be chilled and stored.
Store: Sliced Tri-Tip should be stored for up to three days in the refrigerator in a plastic bag or airtight containers. Enjoy leftover food at room temperature or reheat in the microwave in 30-second intervals to avoid overcooking.
Freeze: Slices of Tri-Tip can be frozen for up to three months once they have cooled and are placed in a freezer-safe bag or container. Before reheating in the microwave or serving cold, let the food thaw over overnight in the frig.
Enjoy Your Perfectly Oven-Roasted Trip-Tip Roast!
A final advantage of this recipe is the time-saving cooking process. As everyone's meat is done at the same time, you can work on preparing side dishes while it is baking. That makes life much easier than grilling or searing steaks! Now, you can finally be a part of the chatter before eating and spend more valuable time with your kids. You can do so much more while leaving the baking to the oven.
Finally, it is time for you to get started! Please, do not hesitate to ask in the comments section any questions related to this recipe. I know it can sound complicated when you cook beef for the first time, but don't worry! We are all here for you! Also, please keep everyone posted about your personal advice on this recipe and your own experience with it. We are all here to learn!
Moreover, if you are such a beef lover as me, here are more great recipes to cook this delicious red meat. So, take a look and give them a chance!