You probably have everything you need in your kitchen right now to make this Perfectly Easy Steak Marinade!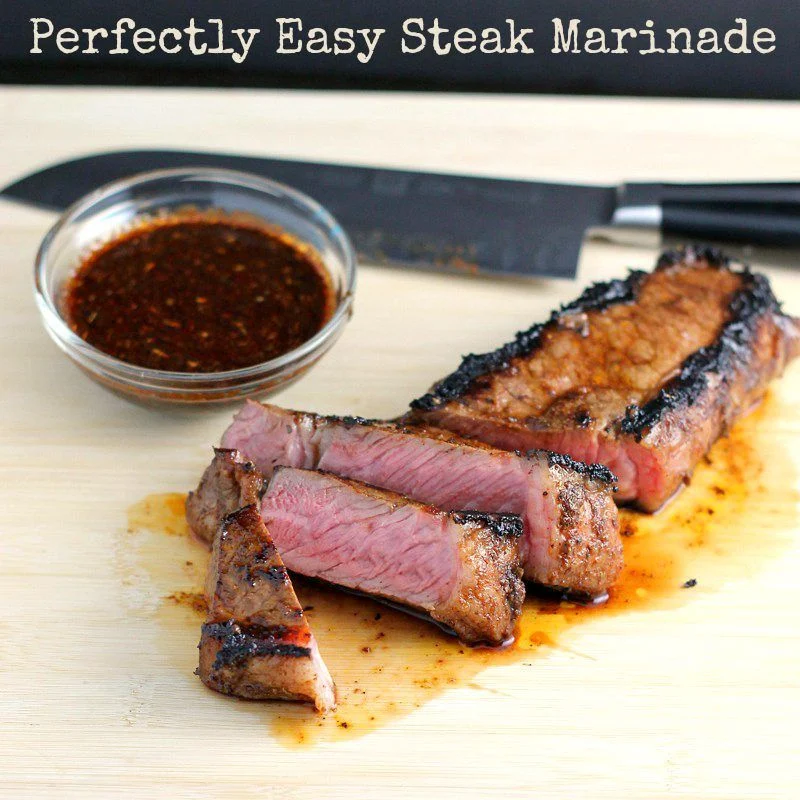 Last week I bought a big package of kind of cheap steaks. I'm not talking about on-sale cheap. I'm talking about not that great cuts of meat. I knew they might not be the most tender steaks we had ever eaten, but they would certainly better than no steak. Since I expected them to be a bit lacking in flavor and texture on their own, I wanted help them along with a good marinade for steak. I remembered pinning this Best Steak Marinade in Existence recently, so I looked up that recipe. I didn't have all the ingredients called for, so I modified it a tad to come up with the recipe I'm going to share with you here. Now, I am a pretty literal person. I couldn't call this "THE Best Steak Marinade in the Galaxy" because I really haven't tried them all. There are about an infinite number of ways to marinate meat, and who am I to say that mine is the best? I also think you can hardly go wrong if you mix up a concoction of soy sauce and spices and pour it over steak. It's steak we're talking about here! It's pretty hard to mess it up. So, I would call this "A Pretty Good Marinade for Steak" or "A Perfectly Fine Meat Marinade." Soak your steak, chicken, or pork chops in this, and you won't be sorry. Adapted from Best Steak Marinade in Existence at AllRecipes.com.
","creation":"2″,"status":"done","type":"purr"} –>
[mv_create key="1″ type="recipe" title="Perfectly Easy Steak Marinade" thumbnail="https://wearychef.com/wp-content/uploads/2019/08/steak.jpg"]
| | |
| --- | --- |
| | |
Stir all ingredients together in a container with a tight fitting.

Add up to 2 pounds of steak or chicken, and shift the meat around until it's all thoroughly coated.

Cover container, and store in refrigerator to marinate for at least 15 minutes or up to 24 hours before cooking.