This week's easy dinner menu features Tuscan Chicken Soup, Quick Pork Fried Rice, Swiss Steaks, and lots more!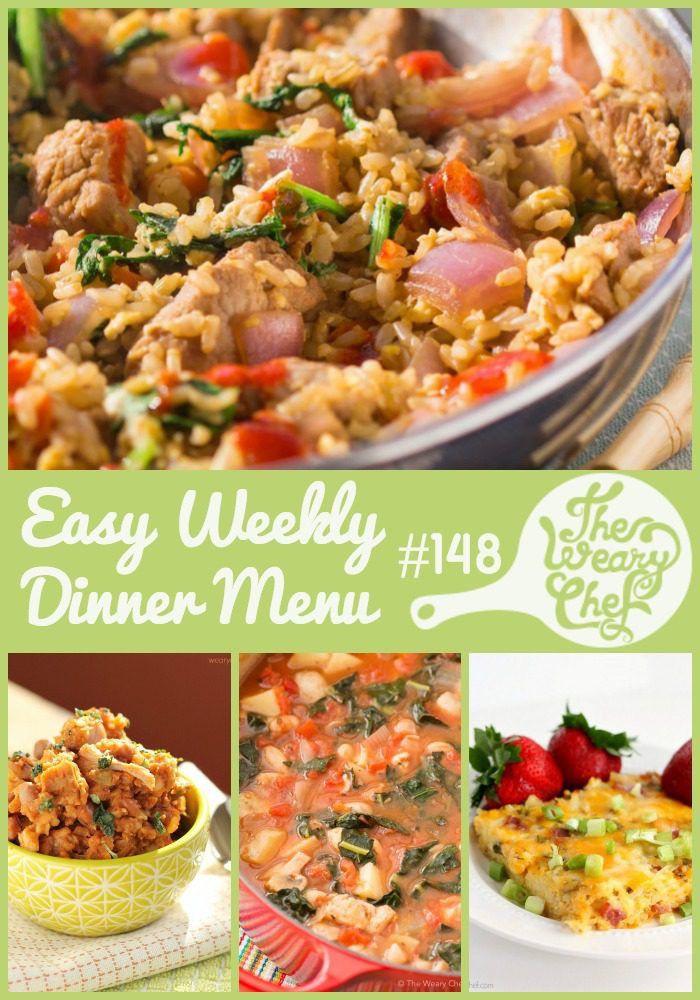 Hi! I have exciting news! Remember when I told you last week that we were working on getting a house in the country? We signed the papers today! We're going to get to be there for Thanksgiving, and it might even snow! I'm 95% excited and 5% panicked wondering what in the world we're doing taking on another mortgage and house to take care of. I'm sure it's going to be awesome. (Tell me it's going to be awesome.)
Speaking of Thanksgiving, I'm going to take Wednesday and Thursday off next week. I hope you don't mind. I have hardly taken any days off since I started blogging nearly three years ago, even for holidays and vacations. I always feel like I need to have posts scheduled even if I'm going to be away, and I've come to the realization that that's just not fair. People take vacation days, right?? I think we're all friends here, and I think my friends would say, "Take a day off every once in a while, and maybe you wouldn't be so dang weary!" You're right. I'm going to do it!
When I say I'm taking a day off, what I mean to say is that I'm going to be cooking like crazy! It's Thanksgiving after all! Do you make the same ol' favorites every year or try new recipes? We usually make the same stuff: Turkey, dressing, gravy, green bean casserole, maybe mac and cheese, roasted vegetables, and pumpkin pie for dessert. Sometimes I might change up the turkey or sneak and extra side in there, but that's pretty much it. I would love to hear your Thanksgiving menu. Tell me in the comments!
In the meantime, let's talk about easy dinners. Heaven knows none of us want to be cooking anything complicated while we're getting ready for cooking the feast of the year! This week's menu is big on easy and low on turkey (so you don't get tired of it before Thursday). Click on the recipe names to see the full post. Let's go!
Looking for an appetizer to serve over the holiday weekend? These bacon-wrapped pork bites eat like a meal!