Despite the name, this Easy Swiss Steak tastes like All-American food to me. This hearty cube steak recipe is easy to make, low in fat, and just right to warm up with on a cool evening.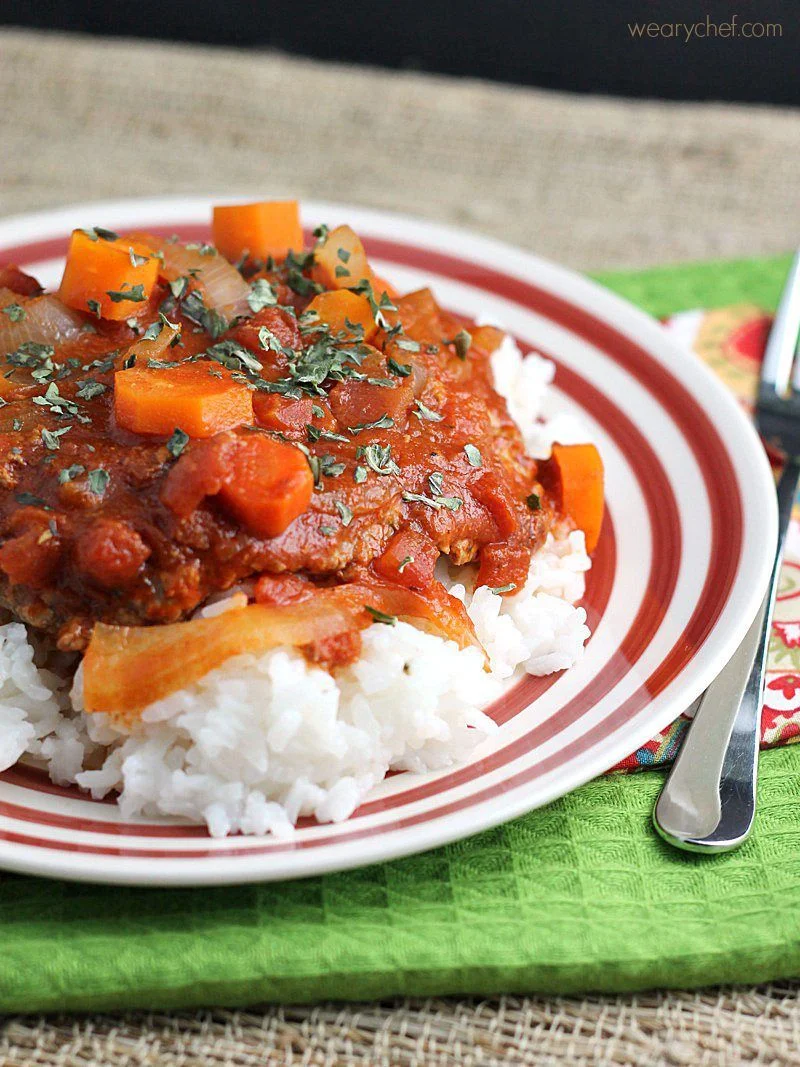 Easy Swiss Steak Vs. a Blue-Plate Special
I was all ready to talk about how this Easy Swiss Steak would be perfect for a blue-plate special. Then I started thinking about where the name "blue-plate special" came from, which took me to Wikipedia of course. As it turns out, originally diners served these daily specials on blue divided plates like this one: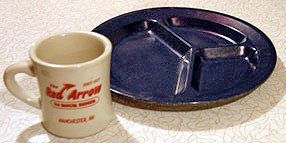 Well, that kinda ruins my plan seeing as how this Swiss steak is a one-dish meal. Unless you wanted to be a weirdo and put rice in one compartment, carrots and onions in another, and put the meat in the big part, it's really not meant for a divided plate.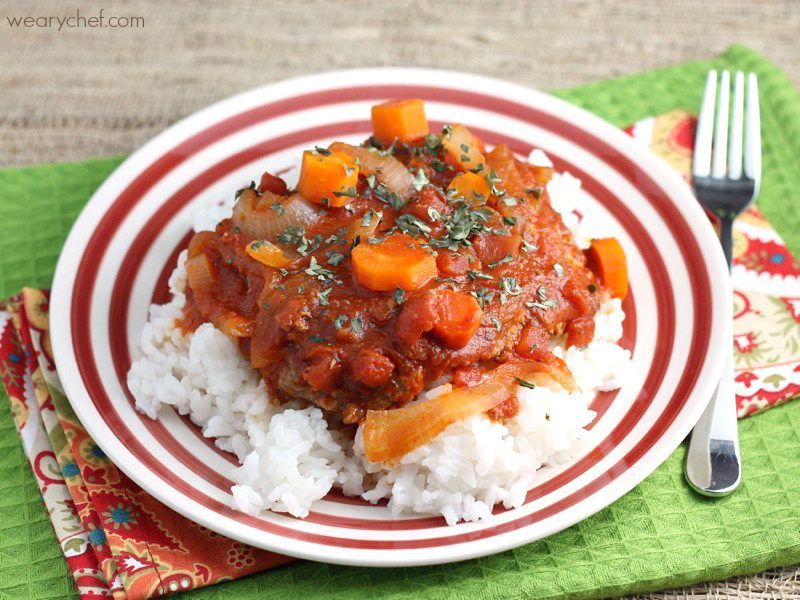 Why I Love Divided Plates?
Instead of talking about how this meal is like a blue-plate special since it's really not, let's talk about how much I used to love divided plates. When I was a kid, if I could have had a divided plate at every meal (dinner at least), I would have been in heaven.
Besides obvious things like red beans on rice or gravy on mashed potatoes, I didn't like my food to touch. Not only did I like everything on my plate to be segregated, but I also liked to eat one thing completely before moving on to the next. I'm glad to tell you that I now let my food touch the plate. I even mix turkey, dressing, and cranberry sauce all in one bite. This gives me hope that my picky kids will eat like normal people one day.
How to Make the Easy Swiss Steak Recipe
This Swiss steak is easy, low in fat, and loaded with tomato flavor. It tastes a bit like a beef stew but with a different texture from the cube steaks instead of chunks of stew meat. It calls for a whole can of tomato paste, but it would also be great for using the rest of a can after you've used a tablespoon for something else and don't know what to do with the rest. I haven't tried this one in the slow cooker, but I don't see why it wouldn't work great cooked on low all day. If you try it, let me know how it goes!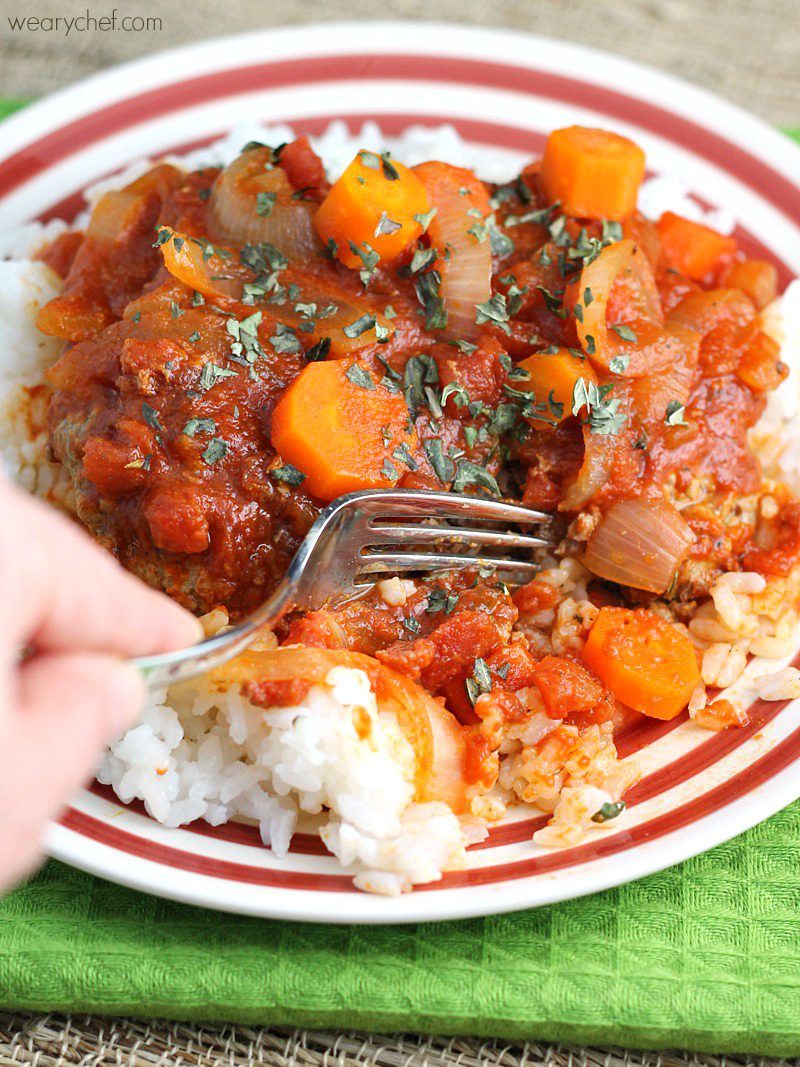 Print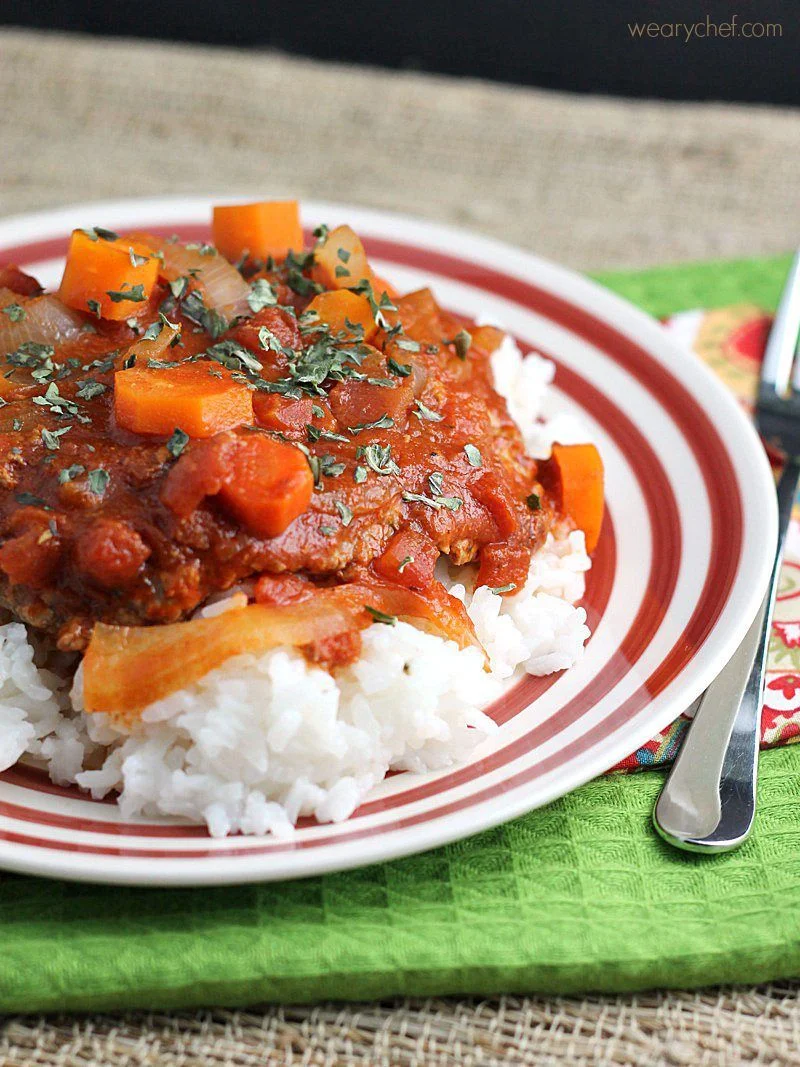 Easy Swiss Steak
This cube steak recipe is a hearty dinner just right for a cool evening.
Total Time:

2 hours 5 minutes

Yield:

4

1

x
2 tsp

. olive oil

1

sweet onion cut in half and sliced

3

carrots peeled and cut into rings

2

cloves garlic crushed or minced

16

oz

. cube steaks
salt and pepper or seasoned salt

15 oz

. can petite diced tomatoes

6 oz

. can tomato paste

16 oz

. can beef broth

1 tsp

. dried oregano
cooked rice, mashed potatoes, or egg noodles
Instructions
Heat oil over medium-high heat in a deep 10″ or 12″ skillet. Add onions and carrots, and sauté until onions are tender. Stir in garlic, and cook 1-2 minutes longer.
Lightly sprinkle both sides of cube steaks with salt and pepper or seasoned salt. Place meat on top of onions and carrots. Pour tomatoes over the meat.
Stir tomato paste, beef broth, and oregano together in a small bowl with a fork. Pour over meat.
Reduce heat to medium and simmer for 1 1/2 to 2 hours. Cover skillet mostly with a lid, making it a little offset so steam can escape and the sauce can reduce but tomato sauce doesn't splatter all over your stovetop.
Serve over rice, potatoes, or noodles.
Author:

Prep Time:

5

Cook Time:

120
You'll also love these fork-tender skillet beef dishes: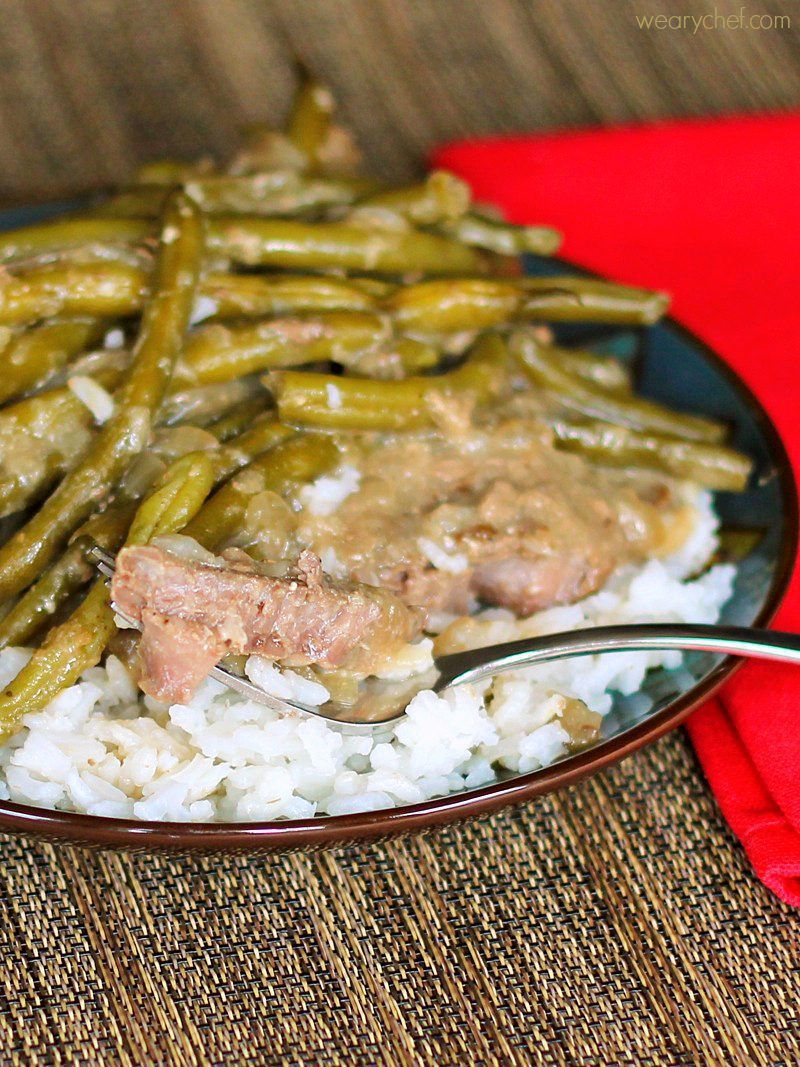 Final Thoughts
Enjoy a lovely meal with your family and friends with a dish that will make your day. This recipe is something you could do at home. A delicious and healthy treat that you will enjoy. Try making this on special occasions, your visitors will enjoy it. It's very easy to make. Try it out!
[wpurp-searchable-recipe]Easy Swiss Steak – This cube steak recipe is a hearty dinner just right for a cool evening. – olive oil, sweet onion (cut in half and sliced), carrots (peeled and cut into rings), garlic (crushed or minced), cube steaks, salt and pepper or seasoned salt, can petite diced tomatoes, can tomato paste, can beef broth, dried oregano, cooked rice, mashed potatoes, or egg noodles, , Heat oil over medium-high heat in a deep 10″ or 12″ skillet. Add onions and carrots, and sauté until onions are tender. Stir in garlic, and cook 1-2 minutes longer.; Lightly sprinkle both sides of cube steaks with salt and pepper or seasoned salt. Place meat on top of onions and carrots. Pour tomatoes over the meat.; Stir tomato paste, beef broth, and oregano together in a small bowl with a fork. Pour over meat.; Reduce heat to medium and simmer for 1 1/2 to 2 hours. Cover skillet mostly with a lid, making it a little offset so steam can escape and the sauce can reduce but tomato sauce doesn't splatter all over your stovetop.; Serve over rice, potatoes, or noodles.; ; – – Dinner – Red Meat – Rice Bowls – beef – carrot – tomato – – [/wpurp-searchable-recipe]