This scrumptious Chicken Bacon Ranch Flatbread Pizza is as easy as it is delicious! If you make extra chicken and bacon for meals earlier in the week, you can have it on the table in under 20 minutes, which is perfect for busy nights.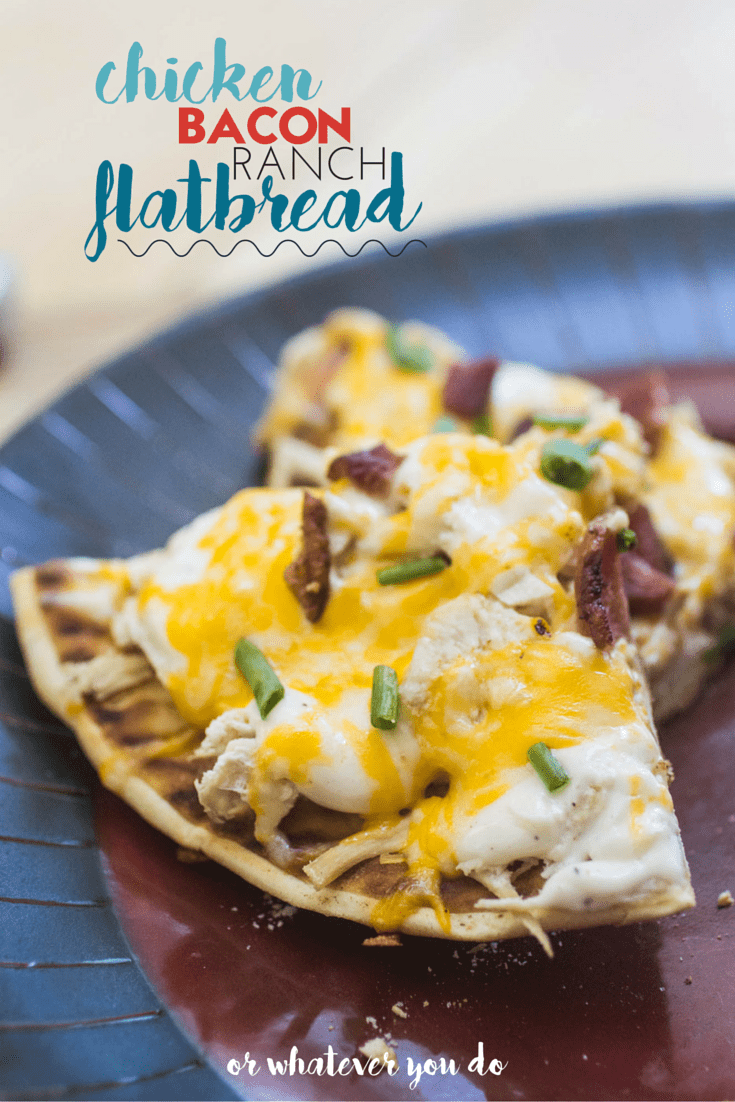 Some days I just can't, you guys. Can't make even one thing from scratch because of dishes. And mess. And time. And toddlers. I just don't have it in me some days! I used to feel kind of guilty about that, like to live up to this reputation I've somehow acquired, I need to be whipping up some really fantastic meals, and doing it on the reg. Since that's my job, wasn't it a little weird to *only* do that stuff for my job and not just because?
Well, I've decided that it isn't. It is totally okay to make something super simple, and just because it is easy doesn't mean it isn't good. I wish I would've gotten there about 4 kids ago, and I would've saved myself a lot of internal grief.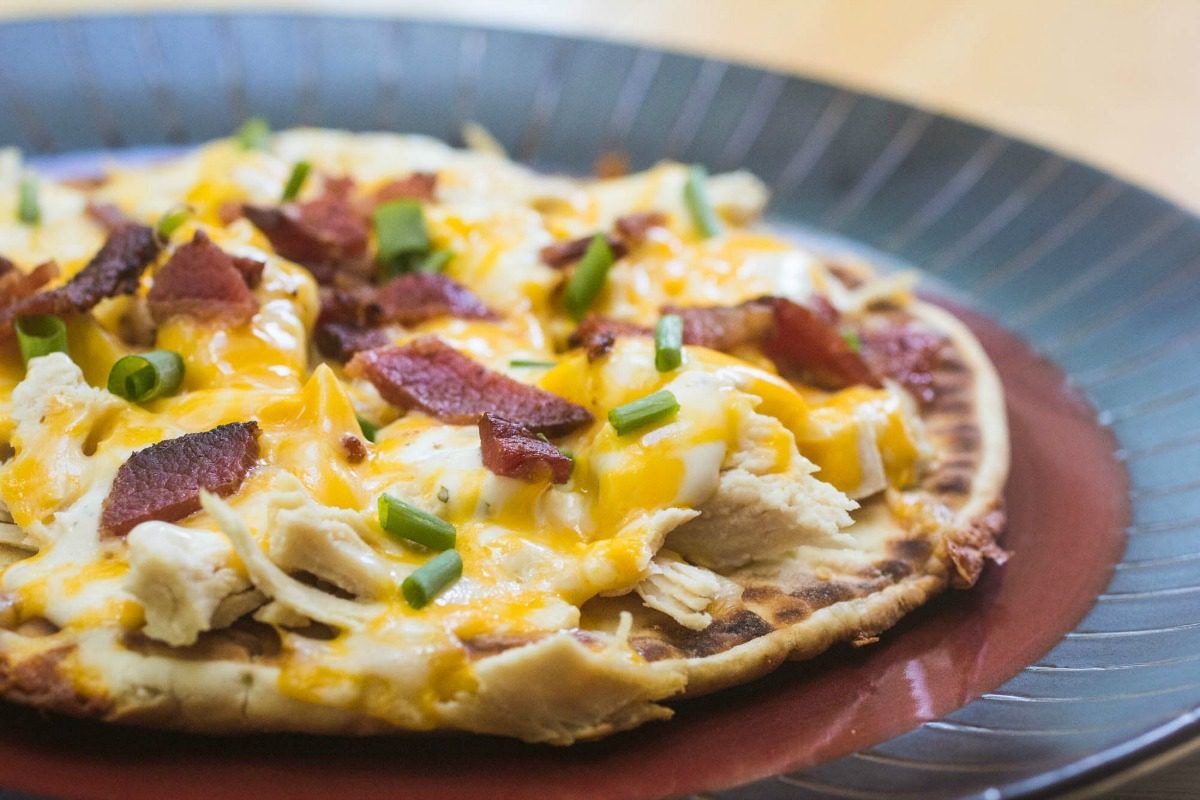 How Easy Is Chicken Bacon Ranch Flatbread Pizza?
This flatbread pizza comes together in a flash. 10 minutes in the oven, and you are good to go. The chicken I pre-make in bulk in my Instant Pot (affiliate link) from frozen in only 15 minutes early in the week, and then I get to use that chicken the entire week in several different dishes. #winning You can get my recipe for Instant Pot Shredded Chicken Breasts from Frozen on my site, Or Whatever You Do.
The bacon was also pre-made, leftover from a breakfast earlier in the week. I always try to make a little extra when I cook that kind of stuff. I don't always accomplish it (who knew that a family of NINE would eat so much food?), but when I do it pays off on my "quick dinner" nights. That's pretty much every weekday now that my full time job has me working a more traditional Monday – Friday schedule.
You can totally cook the chicken other ways though. Slow cooker. Frying pan. Bake covered in a shallow dish. Whatever suits your fancy. I'm actually a little surprised how much I'm loving the Instant Pot though. I'm pretty much the QUEEN of under-utilized small kitchen appliances, but this thing has actually earned its place in my kitchen. It hasn't been relegated to the basement storage cabinets like the Sous Vide machine and my huge electric roaster.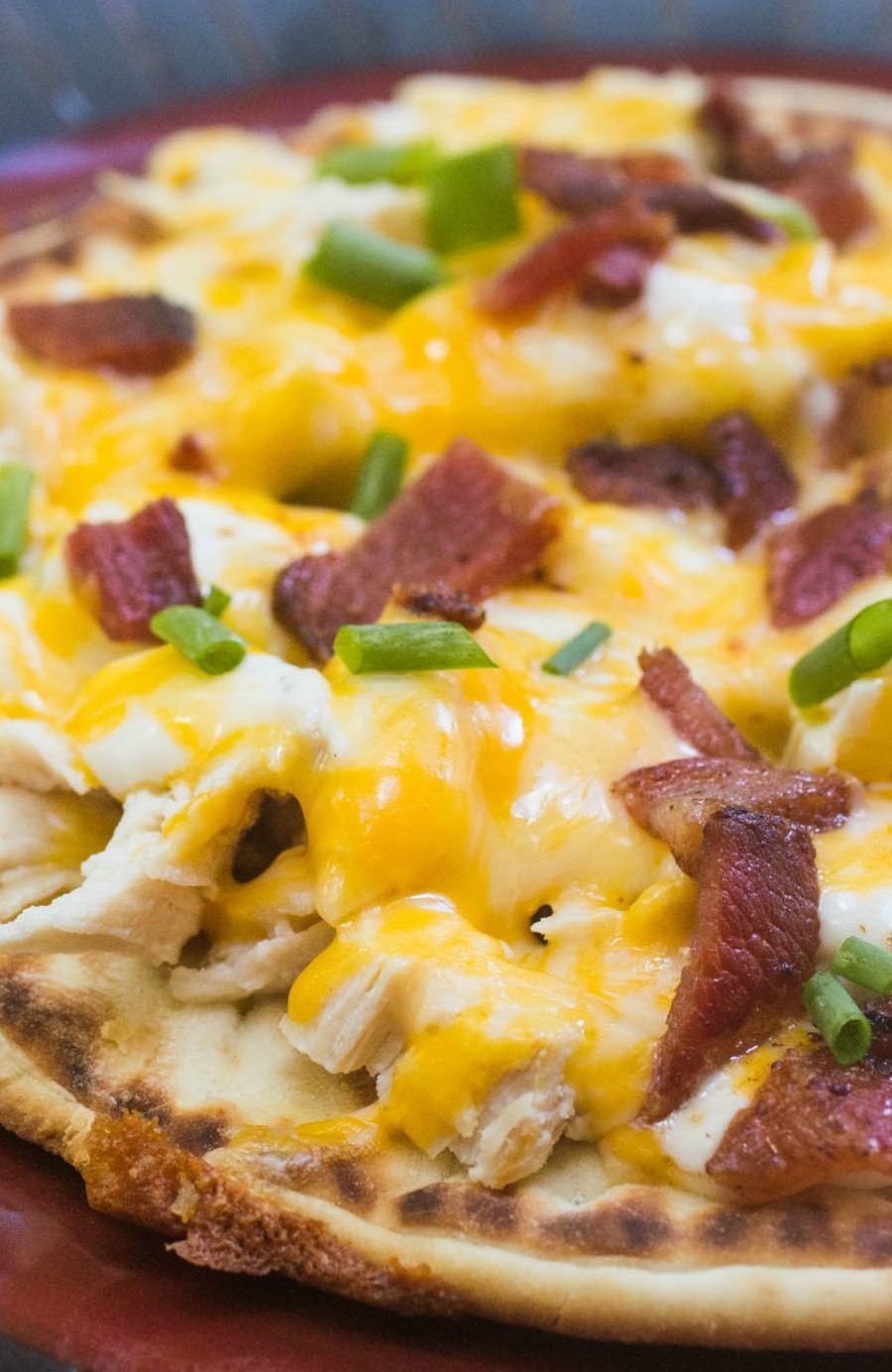 The flatbread I buy at Costco. It is soft and tender but also holds up well to either oven cooking or pan cooking. I'll even use it for a quick garlic bread sometimes. Buy your favorite brand, or even those little pre-made pizza crusts if you like your base a little thicker. This filling would also be good stuffed into uncooked pre-made biscuit dough, sealed shut, and baked. It would be GREAT rolled up pinwheel-style into pre-made pizza crust, sliced, and baked on parchment. It is super flexible. I hope you love it like we do!
Print
Chicken Bacon Ranch Flatbread Pizza
Total Time:

6 minute

Yield:

4

1

x
4

6-inch pre-made flatbreads

2

–

3

large boneless skinless chicken breasts cooked, cooled, and shredded

3/4

cup

creamy ranch dressing (approximate measure)

2

cups

shredded cheddar-jack cheese

6

pieces cooked bacon roughly chopped

4 tablespoons

chopped green onions
extra ranch for dipping
Instructions
Preheat oven to 325.
Place flatbreads on an extra-large, parchment-lined baking sheet. You may need to use more than one depending on the size of your breads and pans.
Evenly distribute the chicken over the flatbreads, top with the ranch dressing, then the cheese, then the bacon.
Bake at 325 for 10-12 minutes, or until cheese is melted and bubbly and the flatbread is warmed through.
Top with chopped green onions, and serve with a little extra ranch for dipping.
Author:

Prep Time:

10-20

Cook Time:

10
Also try these quick recipes for dinner…